The NBA's 2021 All-Star Weekend is upon us.
Unlike the sprawling, multi-day advertising activation we've all come to know and love, all of this year's festivities in Atlanta will be confined to a single evening: Sunday, March 7, starting at 6:30 p.m. ET.
The Skills Challenge and Three-Point Contest will take place prior to the All-Star Game, with the Slam Dunk contest slated for halftime. TNT has the broadcast in the United States, while Sportsnet and TSN3 will carry the events in Canada.
| Time (ET) | Event |
| --- | --- |
| 6:30 p.m. | Skills Challenge |
| | Three-Point Contest |
| 8 p.m. | 1st half of All-Star Game |
| | Slam Dunk contest (halftime) |
| | 2nd half of All-Star Game |
There's no Rising Stars game this year, though the league did release the prospective rosters. Fans will have to use their imagination (or a video game) to envision what Zion Williamson catching a lob from LaMelo Ball and dunking the ball through soon-to-be-30-year-old Denver Nuggets rookie Facundo Campazzo might look like.
The All-Star Celebrity Game, the least important but perhaps most emblematic event in non-pandemic years, was also left on the cutting room floor - a slap in the face for the Disney Channel stars and celebrity chefs who'd hoped to hear their names called.
Another presence that will be notably absent at State Farm Arena this year? The fans.
"There will be no NBA functions (for fans) to participate in," commissioner Adam Silver told ESPN's Ramona Shelburne. "We appreciate their support and hope they'll watch our All-Star Game on television ... this is a television-only event in Atlanta."
Below you'll find the lists of all the NBA players who are participating in this year's events, with a few historical tidbits you can use to impress your colleagues at the virtual water cooler on Monday morning.
Skills Challenge 🤹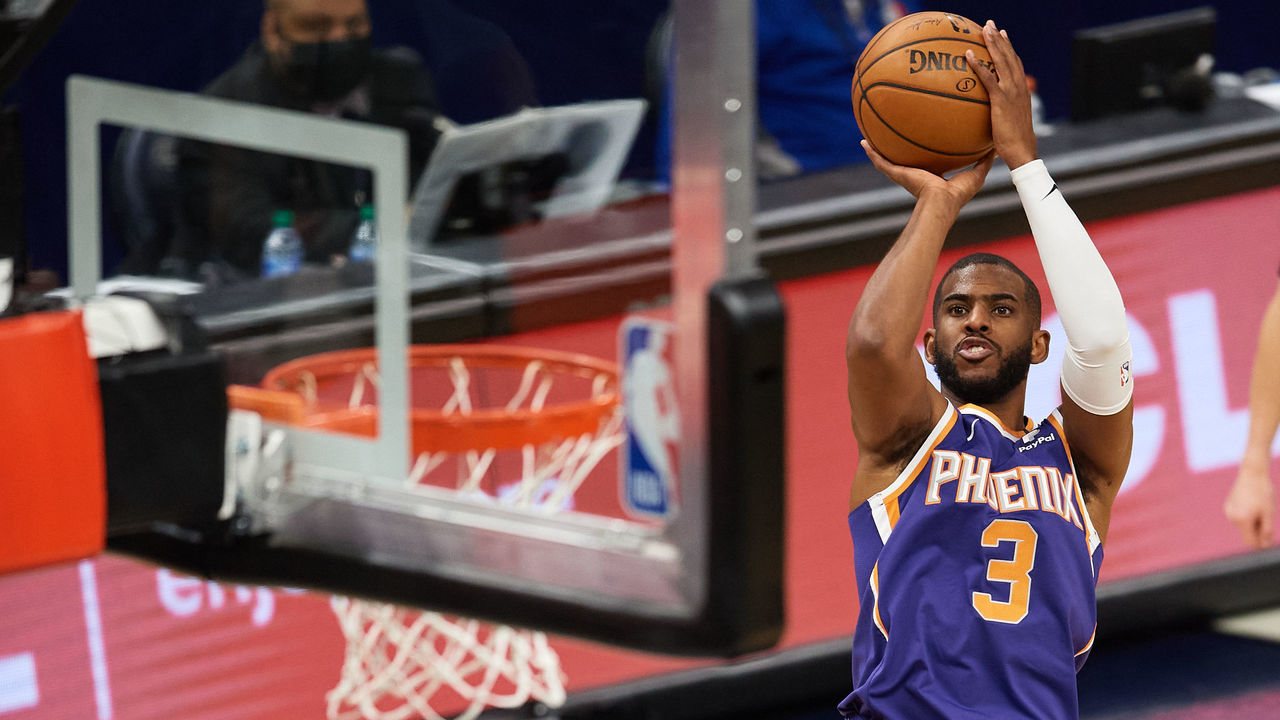 | Player | Team |
| --- | --- |
| Robert Covington | Portland Trail Blazers |
| Luka Doncic | Dallas Mavericks |
| Chris Paul | Phoenix Suns |
| Julius Randle | New York Knicks |
| Domantas Sabonis | Indiana Pacers |
| Nikola Vucevic | Orlando Magic |
Luka Doncic, Chris Paul, Domantas Sabonis, and Nikola Vucevic have each participated in previous years, though none have won the event.
Paul's first of four appearances to date came in 2006, the fourth year the competition took place; the Phoenix Suns All-Star hasn't participated since 2011, however.
Robert Covington is the only non-All-Star of the bunch. Why is the veteran Portland Trail Blazers forward making the trek to Atlanta? As part of this year's All-Star Weekend, the NBA has pledged an estimated $3 million to organizations that support Historically Black Colleges and Universities. Covington happens to be the lone current NBA player to have gone to an HBCU, graduating from Tennessee State in 2013.
Three-Point Contest 🎯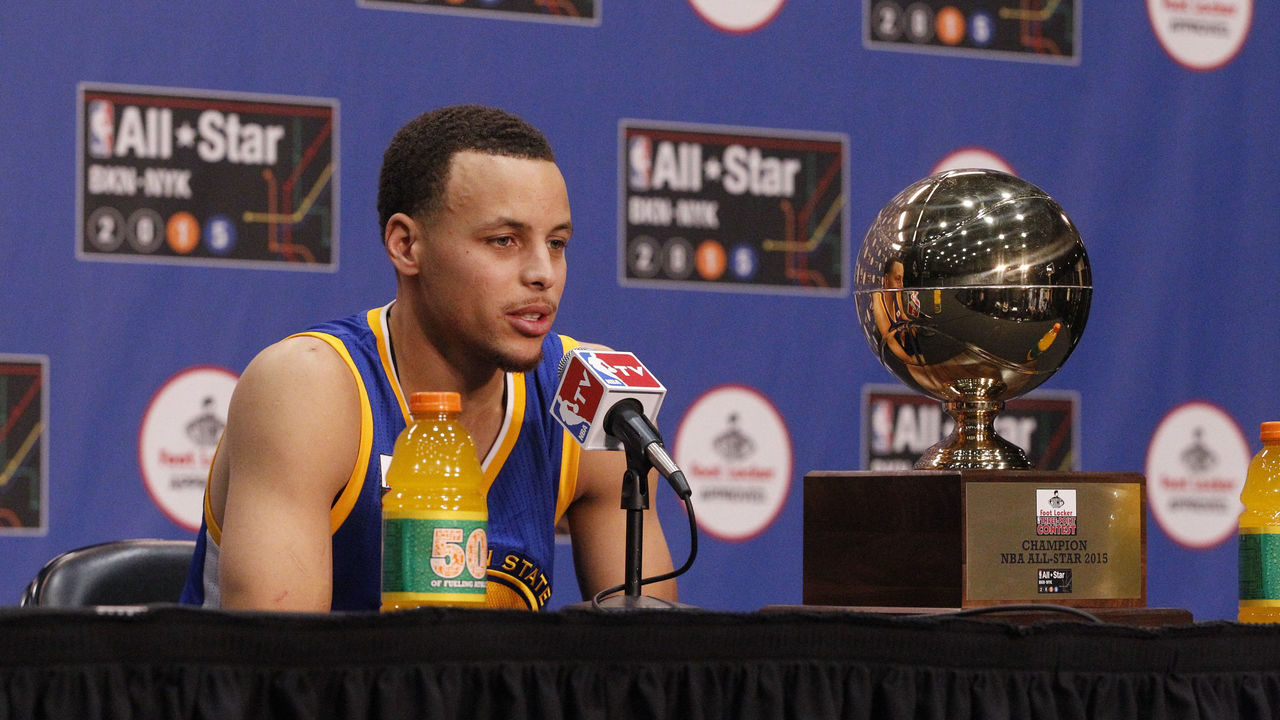 | Player | Team |
| --- | --- |
| Mike Conley | Utah Jazz |
| Jaylen Brown | Boston Celtics |
| Stephen Curry | Golden State Warriors |
| Zach LaVine | Chicago Bulls |
| Donovan Mitchell | Utah Jazz |
| Jayston Tatum | Boston Celtics |
After Mike Conley officially replaced Devin Booker as a participant late Friday, Stephen Curry (2015) is now the only member of the field to have previously won the Three-Point Contest. The reigning champion, Sacramento Kings guard Buddy Hield, is not competing this year.
With his seventh appearance, Curry will move within one Three-Point Contest of Craig Hodges' all-time record of eight.
We've all heard of players who are able to hit dozens of threes in practice without a miss. With no fans in the building, will this be the year someone breaks Hodges' record for makes? The former Milwaukee Bucks and Chicago Bulls role player connected on 21-of-25 shots in a single round during the 1986 Three-Point Contest, then matched the mark again in 1991.
Click here for theScore's betting preview of the Three-Point Contest.
Slam Dunk contest 🔨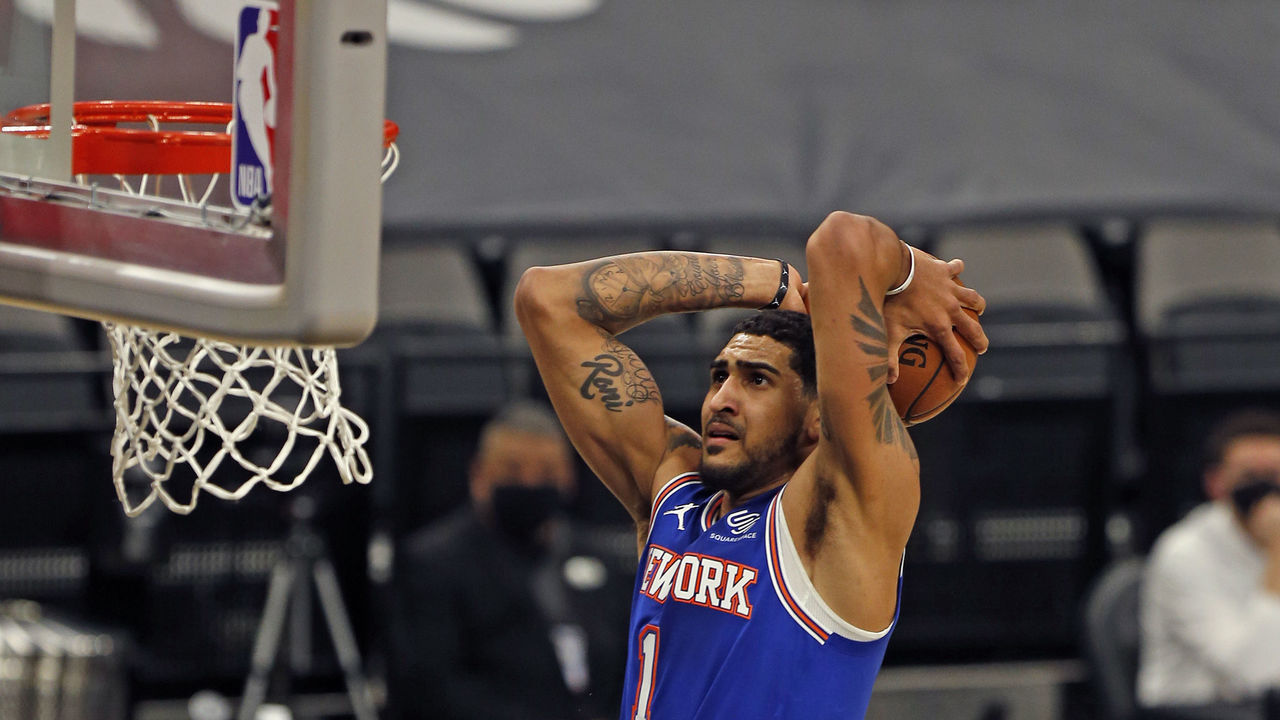 | Player | Team |
| --- | --- |
| Anfernee Simons | Portland Trail Blazers |
| Cassius Stanley | Indiana Pacers |
| Obi Toppin | New York Knicks |
Barring a late addition, this year's three-man field will represent the first time the Slam Dunk contest has featured fewer than four participants.
The trio has combined for 20 in-game dunks this season, with New York Knicks rookie Obi Toppin accounting for 18 of them.
Ironically, Indiana Pacers rookie Cassius Stanley has yet to dunk in his NBA career, whiffing on his two career attempts. He's also only played 23 minutes across eight games so far, so we can cut him some slack.
In any case, after last year's controversial scoring by Dwyane Wade, this year's panel of judges will surely have a firm idea of what constitutes a great dunk; each of Dominique Wilkins, Dee Brown, Spud Webb, Jason Richardson, and Josh Smith have previously won the event.
Click here for theScore's betting preview of the Slam Dunk Contest.
All-Star Game ⭐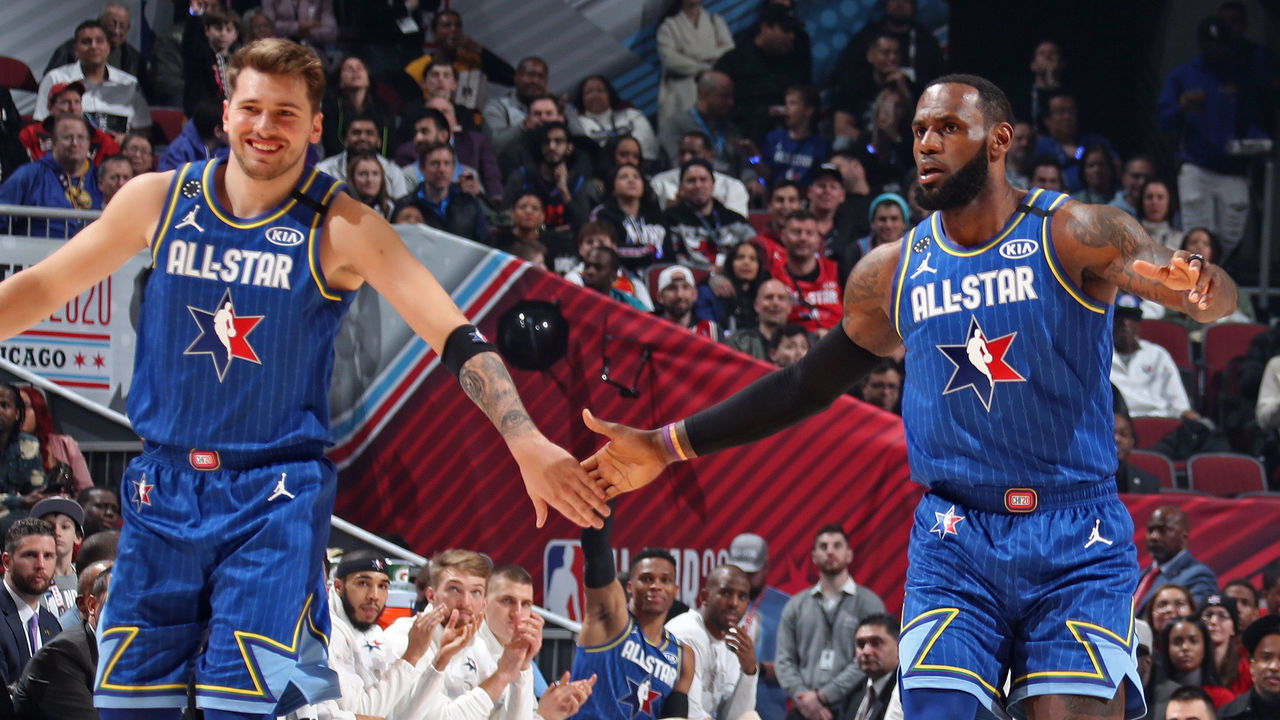 Starters
| Team LeBron | Team Durant |
| --- | --- |
| G Stephen Curry (Warriors) | G Kyrie Irving (Nets) |
| G-F Luka Doncic (Mavericks) | G Bradley Beal (Wizards) |
| F LeBron James (Lakers) | G-F Jayson Tatum (Celtics) |
| F Giannis Antetokounmpo (Bucks) | F Kawhi Leonard (Clippers) |
| C Nikola Jokic (Nuggets) | C Joel Embiid (76ers) |
There are still 12 All-Stars per conference. But as has been the case since 2018, the actual game-day rosters were determined through a schoolyard-style draft.
As the Western Conference's top vote-getter, LeBron James is an All-Star captain for the fourth straight year. Coincidentally, "King James" wound up drafting his two former opposing All-Star captains, Curry (2018) and Giannis Antetokounmpo (2019 and 2020).
Kevin Durant's ailing left hamstring will prevent him from suiting up on Sunday, but the Eastern Conference's top vote-getter still drafted his squad. With the Brooklyn Nets forward out of action, Boston Celtics wing Jayson Tatum was promoted from the reserve pool to the starters.
Reserves
| Team LeBron (HC Quin Snyder) | Team Durant (HC Doc Rivers) |
| --- | --- |
| G Chris Paul (Suns) | G James Harden (Nets) |
| G Damian Lillard (Trail Blazers) | G Donovan Mitchell (Jazz) |
| G-F Ben Simmons (76ers) | G Mike Conley (Jazz)** |
| G-F Jaylen Brown (Celtics) | G-F Zach LaVine (Bulls) |
| F Paul George (Clippers) | F Zion Williamson (Pelicans) |
| F-C Domantas Sabonis (Pacers)* | F-C Julius Randle (Knicks) |
| F-C Anthony Davis (Lakers)** | C Nikola Vucevic (Magic) |
| C Rudy Gobert (Jazz) | |
* Sabonis was named as Durant's All-Star replacement.
** Conley was named as Booker's injury replacement, who in turn was replacing Anthony Davis.
This year sees five players earn their first career selections; Jaylen Brown, Zach LaVine, Julius Randle, Conley, and Williamson join the exclusive club.
There are eight international players in the game this year, headlined by starters Antetokounmpo (Greece), Luka Doncic (Slovenia), Joel Embiid (Cameroon), and Nikola Jokic (Serbia).
To date, no non-American player has garnered the game's top honors, now officially called the Kobe Bryant Most Valuable Player Award. The most-recent winner is Kawhi Leonard. With three career wins, LeBron has an opportunity to match Bryant and Bob Pettit's shared record of four All-Star MVP trophies.
For the second straight year, the final quarter of the All-Star Game will be untimed, relying instead on a "final target score," otherwise known as the Elam Ending. The threshold for victory will be the leading total at the end of the third quarter plus 24 points; if Team LeBron is leading 100-95 heading into the fourth, the target score for either team to win is 124 points.