With trade season in full swing and the deadline less than four weeks away, NBA teams are ramping up efforts to get deals done. As the contenders and pretenders separate themselves into buyers and sellers, we get a better sense of who could hit the market.
One of the themes of this year's trade season is how a group of flawed, if not washed-up, big men might tilt the balance of power. Several contenders need a big man who can eat up bench minutes and survive against the league's best bigs, like Joel Embiid. Here's a rundown of what those bigs do and don't bring to the table, with some thoughts on where they might end up.
Andre Drummond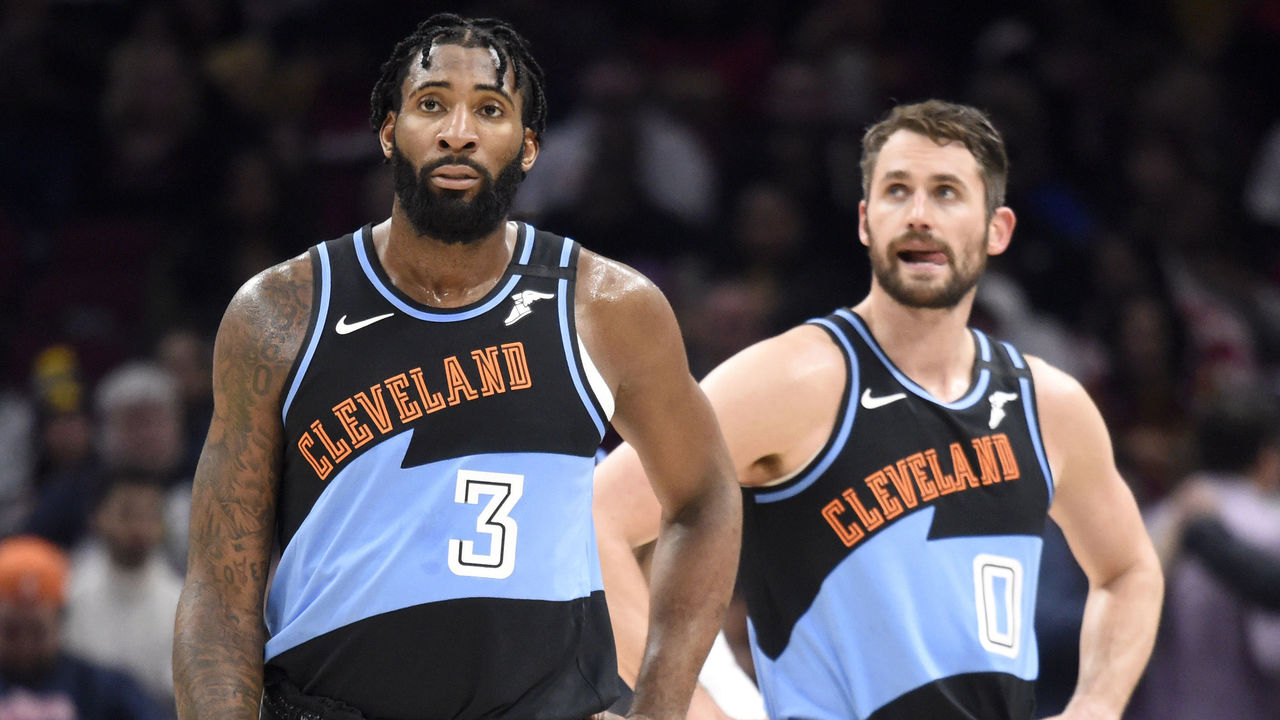 Unlike the other players on this list, Drummond isn't exactly washed up. He's still only 27 years old and can stuff a stat sheet in his sleep.
Drummond's issue is that his impact has never matched his statistical production. Can you put together a trade package for a nearly $28.8-million player who hasn't proven to be worth that salary without downgrading your roster?
Before being shut down by Cleveland in mid-February to maintain his trade value, Drummond was averaging 17.5 points, 13.5 rebounds, 2.6 assists, 1.6 steals, and 1.2 blocks in less than 29 minutes per game. But dig deeper, and it's tough to figure out how the two-time All-Star really moves the needle for contenders.
The bulk of the problem can be found on the offensive end.
It's one thing to be an interior big man without much shooting range if you're an insanely efficient finisher inside who demands opposing defenses' attention as a roller. In addition to being a great screener, that's how Rudy Gobert manages to bring value to the offensive end despite not being the most refined offensive big man.
Drummond's a non-shooting center who also can't finish inside.
He's never been a great finisher, but his efficiency has fallen off a cliff this season. Drummond's 52% field-goal percentage at the rim ranks in the sixth percentile among big men, according to Cleaning The Glass. He's also shooting less than 40% between three and 10 feet of the basket. Among the 76 players who've finished at least 30 possessions as the roller in pick-and-rolls, Drummond ranks 75th in efficiency (0.84 points per possession), ahead of only the Raptors' Aron Baynes.
What Drummond can do on the offensive end is create multiple-chance possessions with his stellar rebounding.
On the defensive end, few are better than Drummond at wiping the boards to close a possession, and he's got surprisingly good hands, as evidenced by his steal rate this season (97th percentile among bigs).
Still, you'd need to be a game-changing type of defensive presence to negate Drummond's type of offensive liability, and he's not mobile or consistent enough on the defensive end to be that type of player.
If you're a team in need of a rebounding boost and a big body to bang with the league's behemoths, Drummond's your guy. But how do you make the math work?
Take the Raptors, for example. Toronto is a surprisingly competent offensive team that reaches its defensive ceiling when playing small and owns a bottom-three defensive rebound rate. Drummond would be a clear upgrade over Baynes when it comes to filling minutes in bigger and more traditional lineups. But who's Toronto giving up to make the number work under the NBA's rules?
They're not trading Kyle Lowry for Drummond. Norman Powell and a bunch of the Raptors' expiring contracts works math-wise, but Powell's offensive value is worth more than Drummond's defensive and rebounding skills. Plus, why would Cleveland move Drummond for a bunch of players who likely won't be part of the team's future, without picks involved?
The Nets could use a big but have little left to move after acquiring James Harden. If the Celtics used their historically large trade exception on Drummond, it would be a letdown for Boston. The Wizards could package all of their expiring contracts to get in the mix, but does a mediocre team who already owes a future first-rounder (to Houston) really want to trade more picks? The Mavs make some sense despite Drummond being a bad fit with Luka Doncic, but where do they send Kristaps Porzingis, who's under contract through 2024?
All the power to Drummond for landing the massive extension he signed with Detroit in 2016, but his current salary and the player he has - or rather hasn't - become is now holding him back from getting out of a bad situation in Cleveland and joining a contender before free agency.
Al Horford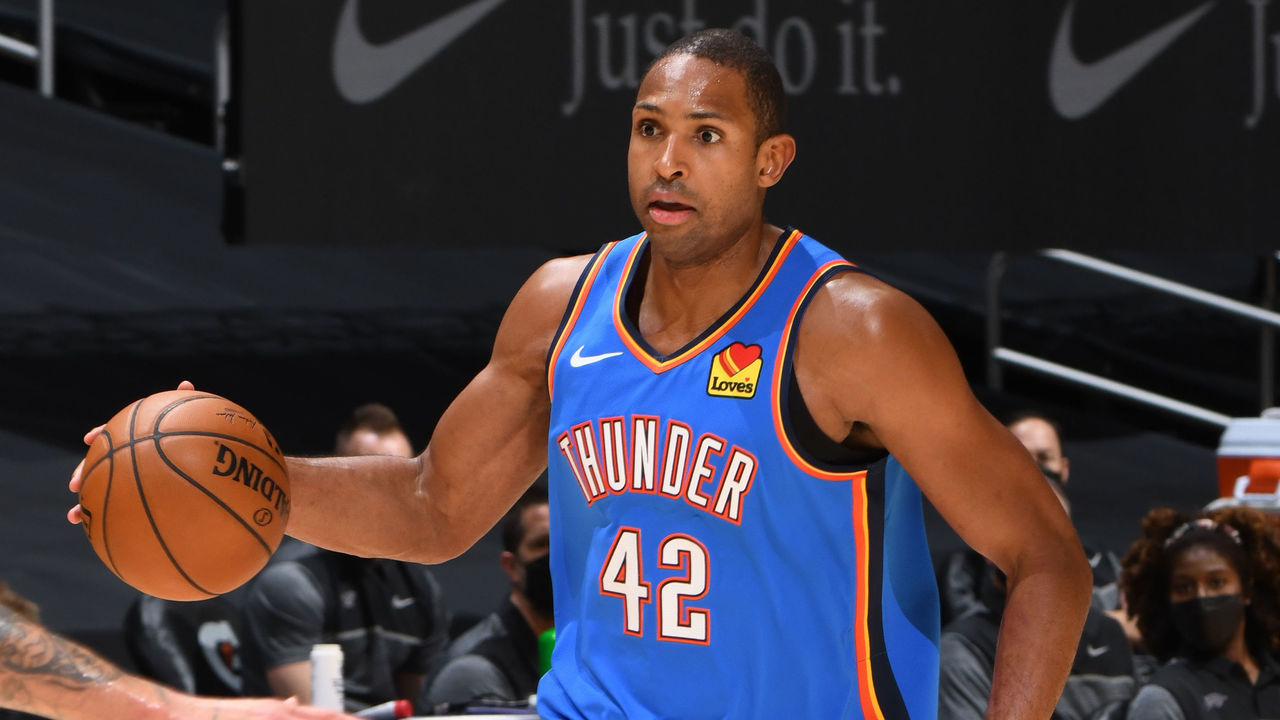 Horford's renaissance has been one of the many things to watch during a quietly exciting season in Oklahoma City. Unlike Drummond, Horford could raise a team's ceiling on both ends of the court.
The 34-year-old, five-time All-Star is averaging 14.2 points, 6.8 rebounds, and 3.6 assists while shooting better than 50% from 2-point range and 36% from deep on more than five 3-point attempts per game.
Horford's basketball IQ is off the charts, and his playmaking vision is still there. He's been one of the best passing big men in the league this season and doesn't turn the ball over.
Though Horford's no rim runner and no longer the individual offensive player he once was, his 22.5% usage rate this season is his highest in seven years and the second-highest of his 14-year career. That indicates just how anemic Shai Gilgeous-Alexander's supporting cast is in OKC - ranked as the second-worst offense in the league. But Horford wouldn't be tasked with such a burden on a better team.
The veteran's ability to shoot, pass, and screen makes him a good fit for almost any team, and his pick-and-pop game keeps defenses honest in the playoffs.
On the defensive end, what Horford lacks in size compared to a player like Drummond, he makes up for in guile, positioning, and mobility, the latter of which seems to have returned this season after Horford lost a step in recent years. He ranks 15th among 81 listed centers in ESPN's defensive real plus-minus, sandwiched between Bismack Biyombo and Jusuf Nurkic.
Given his ability to be plugged into any system on either end of the court, teams ought to be more willing to match Horford's $27.5-million salary in trade packages than they are Drummond's. The issue with Horford is he's owed $27 million next season and at least $14.5 million in 2022-23.
Trading for an expensive, aging veteran to put your team over the top is one thing. Acquiring an expensive, aging veteran with multiple years left on his contract is another.
To move Horford, the Thunder would likely have to add draft capital, or the team would have to take back bad money attached to a younger player that fits Oklahoma City's timeline better.
The hypothetical deal I keep coming back to involves the Warriors and Andrew Wiggins. Golden State would be a bigger threat this season with Horford in the fold. They'd be an absolute force again when Klay Thompson returns next season, and Horford is more or less on the same contract timeline as Thompson, Steph Curry, and Draymond Green. Horford could also serve as a stopgap in the middle as James Wiseman continues to develop while bringing more to the table than Kevon Looney.
The Warriors could make that move to bet heavily on the present and still be heavily invested in their future between Wiseman and the top-three protected pick owed to them by the league-worst Timberwolves this summer (which becomes an unprotected 2022 pick if Minnesota lands in the protected range). The Thunder, meanwhile, could take a chance on Wiggins without disrupting their own treasure chest of draft assets.
Blake Griffin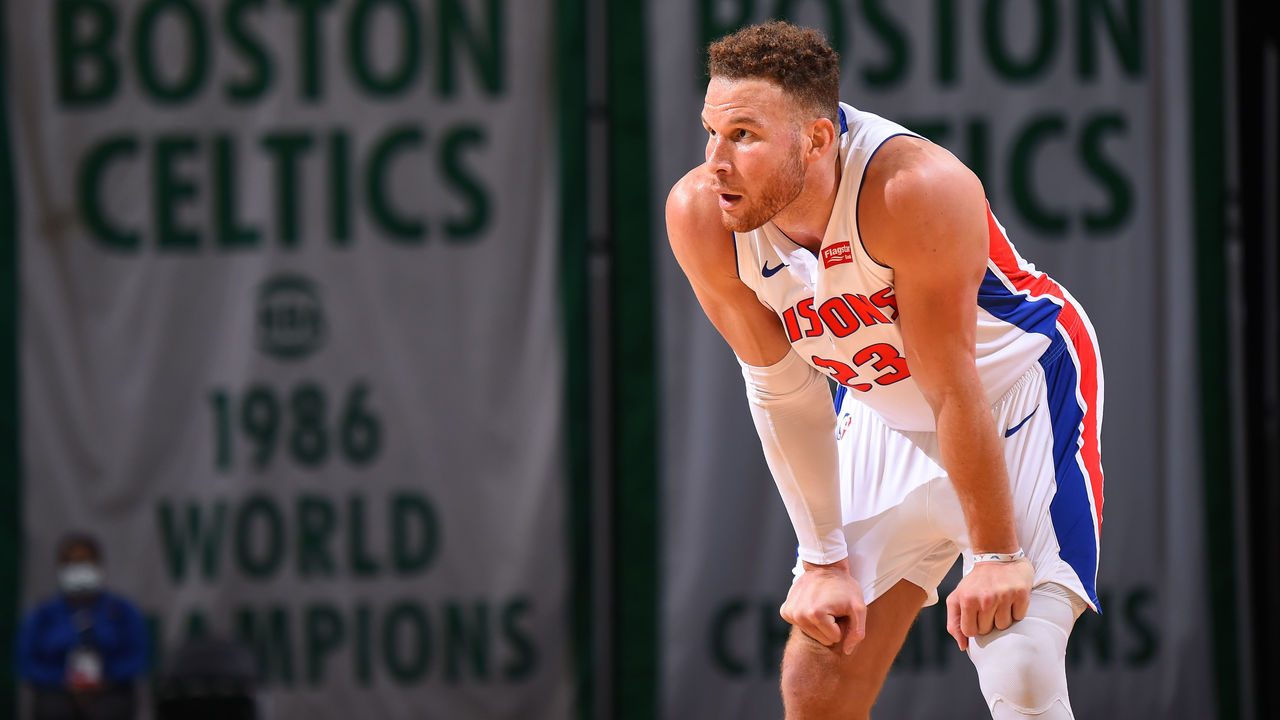 Like Drummond, Griffin was shut down in mid-February so the Pistons could determine a way forward, whether by trade or buyout. Like Horford, Griffin has money owed to him beyond this season in the form of a $38.9-million player option for 2021-22 that he's sure to exercise.
Of the three bigs on this list, Griffin seems to fit the mold of a buyout candidate best. His strengths and weaknesses are the toughest to pin down.
It's hard to believe we're only two years removed from Griffin's sensational, All-NBA campaign in 2018-19. In 20 games this season, Griffin averaged 12.3 points, 5.2 rebounds, and 3.9 assists on 37-32-71 shooting. He's still an excellent passer who can almost act as a point forward if need be. But he lacks the explosiveness that once defined his game. Without the ability to consistently get to the rim, and with a jump shot that's shakier than ever, defenses won't respect Griffin enough for him to exploit the full power of that playmaking.
Griffin, already a weak defender, has further faded with age on that end as well.
Finding a home for the six-time All-Star is easier if he's bought out, as any contender looking to fill some frontcourt minutes with a low-risk, high-upside talent would be on the phone. But it also depends on the role Griffin envisions for himself at this stage of his career. If he can accept a lesser role on a contending team, the Heat, Nets, Lakers, and Celtics are just a few franchises that make sense. If a bought-out Griffin wants to prove his worth in a larger role before hitting the free-agent market again, a Hornets team on the playoff bubble could be the best fit.
DeMarcus Cousins
Cousins is already a free agent after coming to an agreement with the Rockets on his release, and I'd expect to see him land with either the Lakers or Nets.
Boogie can play bully ball in the paint, and a two-game run on Jan. 23 and 26 included a combined 47 points, 28 rebounds, seven assists, and five steals. That teased the return of his former greatness, but Cousins remains a shell of his former self after a string of devastating injuries.
His ability to finish at the rim has been even worse than Drummond's, ranking 194th in efficiency out of 195 players who have attempted at least 50 shots in the restricted area. His already shaky jumper is as unreliable as ever. And his defensive role at this point is simply being large and rebounding.
Joseph Casciaro is theScore's senior basketball writer.