NBA Power Rankings: Lakers navigate mini-slide to retain top spot
Maddie Meyer / Getty Images Sport / Getty
The NBA Power Rankings are selected by a panel of theScore's basketball editors.
Postponements, health protocols, and lopsided scorelines have produced many bizarre results this season. Here's where things stand with a quarter of the campaign in the rearview.
1. Los Angeles Lakers (15-6)
Previous rank: 1
The Lakers suffered back-to-back defeats for the first time this season after falling to the Pistons on Thursday. There might be defensive concerns when Anthony Davis - who missed that game with a bruised quad - is out.
2. Utah Jazz (15-5)
Previous rank: 9
Despite having their 11-game winning streak snapped by the Nuggets, the sharpshooting Jazz are on pace to set a new NBA standard for perimeter proficiency with 17 made 3-pointers per game.
3. Los Angeles Clippers (16-5)
Previous rank: 4
A healthy and revitalized Paul George is proving his disappointing play last season was merely an aberration. The six-time All-Star is shooting the lights out, connecting on a career-best 47.4% of his 3-point attempts.
4. Milwaukee Bucks (11-8)
Previous rank: 2
The regular-season Bucks are clicking on all cylinders again: Milwaukee leads the league in offensive rating and point differential. The question, as always, is what this team does in the postseason.
5. Philadelphia 76ers (15-6)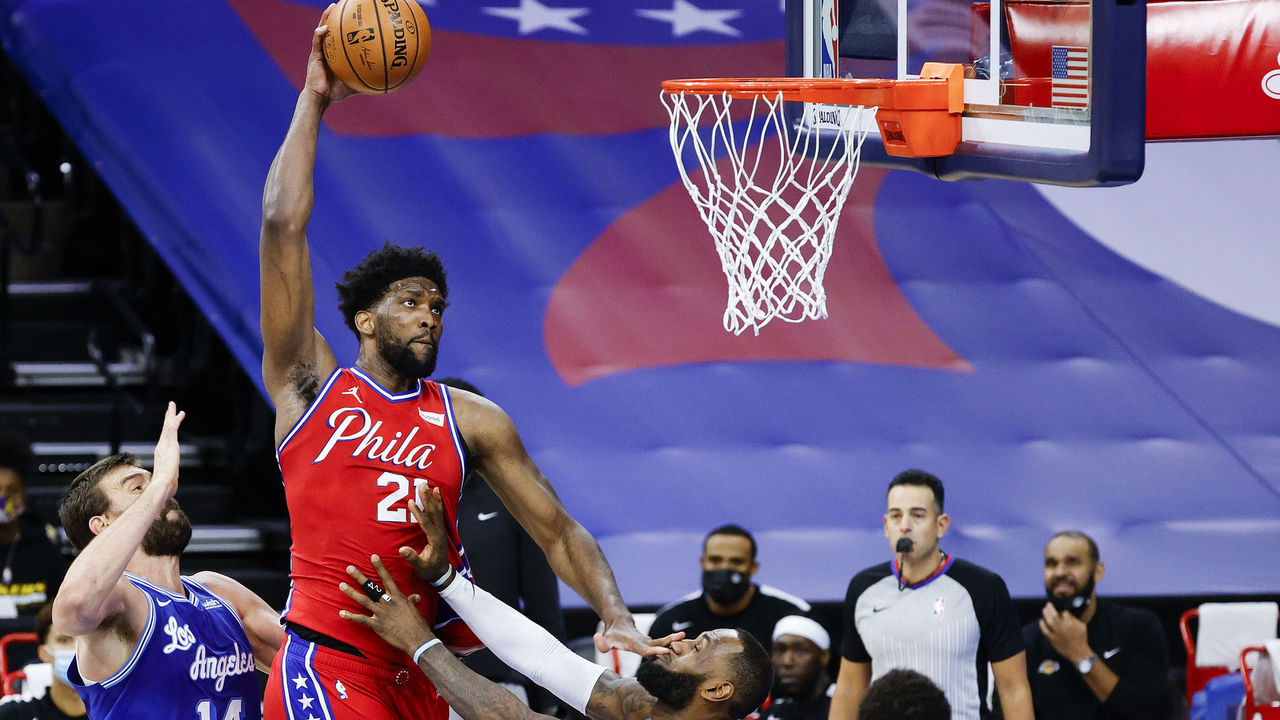 Previous rank: 5
The Sixers are 11-0 this campaign when Doc Rivers' preferred quintet of Tobias Harris, Danny Green, Joel Embiid, Ben Simmons, and Seth Curry start together. Is that good?
6. Brooklyn Nets (13-9)
Previous rank: 3
This tweet says it all:
The Nets are a threat to beat anyone if they can find anything resembling defensive chemistry. Replenishing some of their big man depth is the place to start.
7. Denver Nuggets (12-8)
Previous rank: 10
The Nuggets secured a marquee victory by ending the Jazz's run, though Gary Harris' injury and PJ Dozier's continued absence have rendered Mike Malone's backcourt sparse. It's Facundo Campazzo time!
8. Boston Celtics (10-8)
Previous rank: 6
The Celtics are better than their record suggests as they went 2-3 without Jayson Tatum, who contracted COVID-19. Their mark should fix itself now that he's back, but they have a tough trip out West this week.
9. Indiana Pacers (11-9)
Previous rank: 7
Basketball isn't the Pacers' sole focus right now. Here's to a full, speedy recovery for Caris LeVert, who underwent surgery to remove a cancerous mass on his kidney last week.
10. Phoenix Suns (10-8)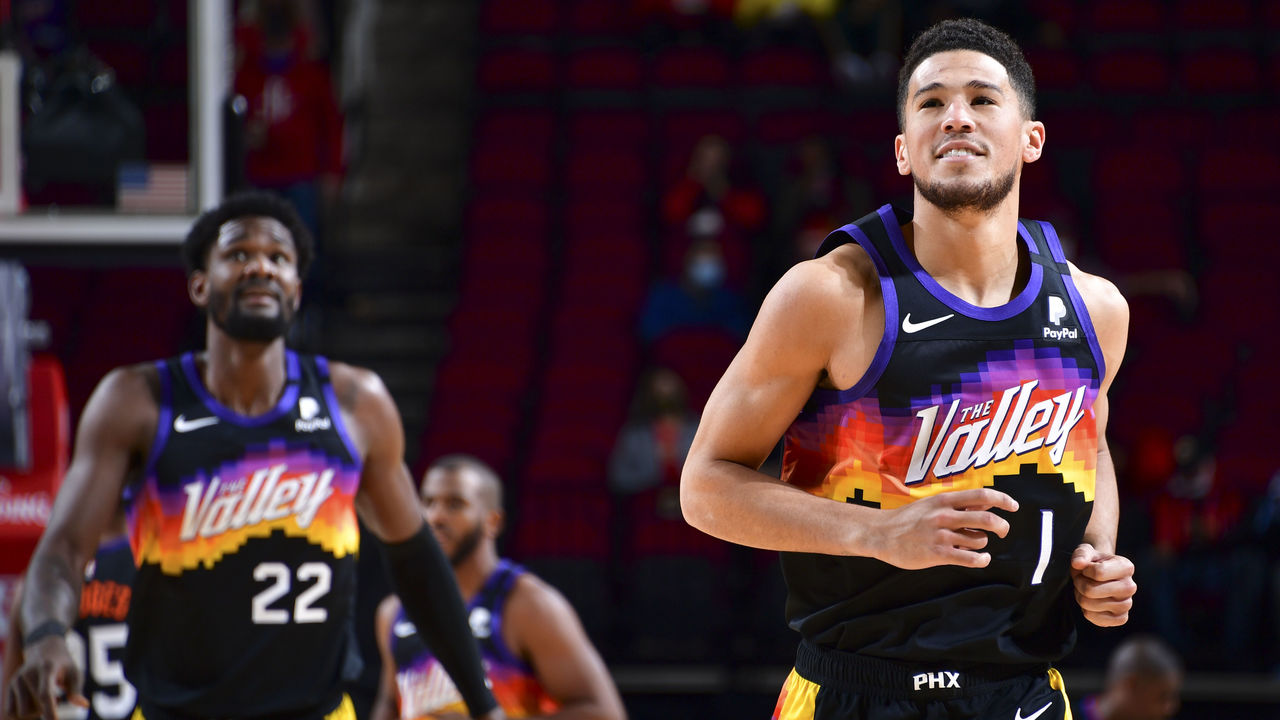 Previous rank: 8
The Suns notched two important wins after Chris Paul called them out Wednesday for their poor play. It's too early to tell, but that kind of accountability may have been the timely shot in the arm Phoenix needed.
11. Golden State Warriors (11-9)
Previous rank: 14
Steve Kerr made a wise move starting Kevon Looney over James Wiseman. The Warriors score an additional 13.6 points per 100 possessions with Looney on the floor, per Cleaning The Glass.
12. San Antonio Spurs (11-9)
Previous rank: 16
Derrick White looked healthy in his return Saturday after re-aggravating a toe injury during his Jan. 1 season debut. The Spurs fared alright in his absence but White likely helps them avoid a play-in.
13. Houston Rockets (9-9)
Previous rank: 21
Houston is playing its best stretch of basketball now that the James Harden saga is in the rearview mirror. John Wall and Victor Oladipo have meshed well in the early stages of their backcourt partnership.
14. Memphis Grizzlies (8-6)
Previous rank: 18
Memphis didn't look like it hadn't played in 12 days during Saturday's win over the Spurs, with seven players scoring in double digits. Its six-game winning streak is now the league's longest after Utah's loss Sunday.
15. Portland Trail Blazers (10-8)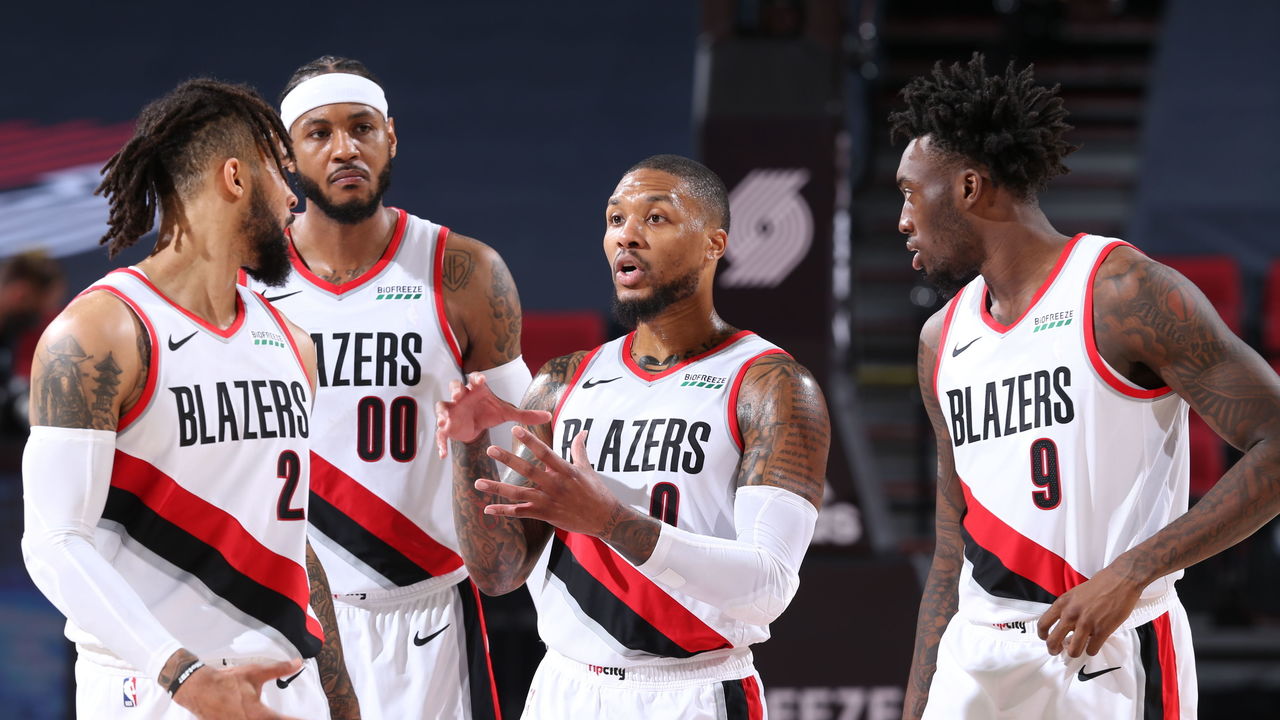 Previous rank: 13
The Trail Blazers' postponed games the last two weeks were helpful. They'll be without CJ McCollum and Jusuf Nurkic for the foreseeable future.
16. Atlanta Hawks (10-9)
Previous rank: 15
Clint Capela is off to a torrid start in his first season with the Hawks. The 6-foot-10 center has been effective in the pick-and-roll and is among the Association's top rebounders and shot-blockers.
17. Dallas Mavericks (8-12)
Previous rank: 11
The Mavericks are struggling despite Luka Doncic's brilliance. They've lost five straight and eight of their past 10 games. Kristaps Porzingis' return hasn't improved matters, with Dallas going 3-8 since the big man's season debut.
18. Cleveland Cavaliers (9-11)
Previous rank: 23
The Cavaliers' eighth-ranked defense has held opponents to the fifth-lowest effective field-goal rate (50.8%) this season. However, some of that is negated by poor defensive rebounding, which is odd considering Andre Drummond leads the league in defensive and overall boards.
19. Toronto Raptors (8-12)
Previous rank: 19
Those back-to-back one-point losses to the Warriors and Blazers continue to haunt the Raptors, who could've been sitting in seventh place at .500 right now. Toronto needs to address its minus-28.3 net rating in clutch settings. Fast.
20. New York Knicks (9-12)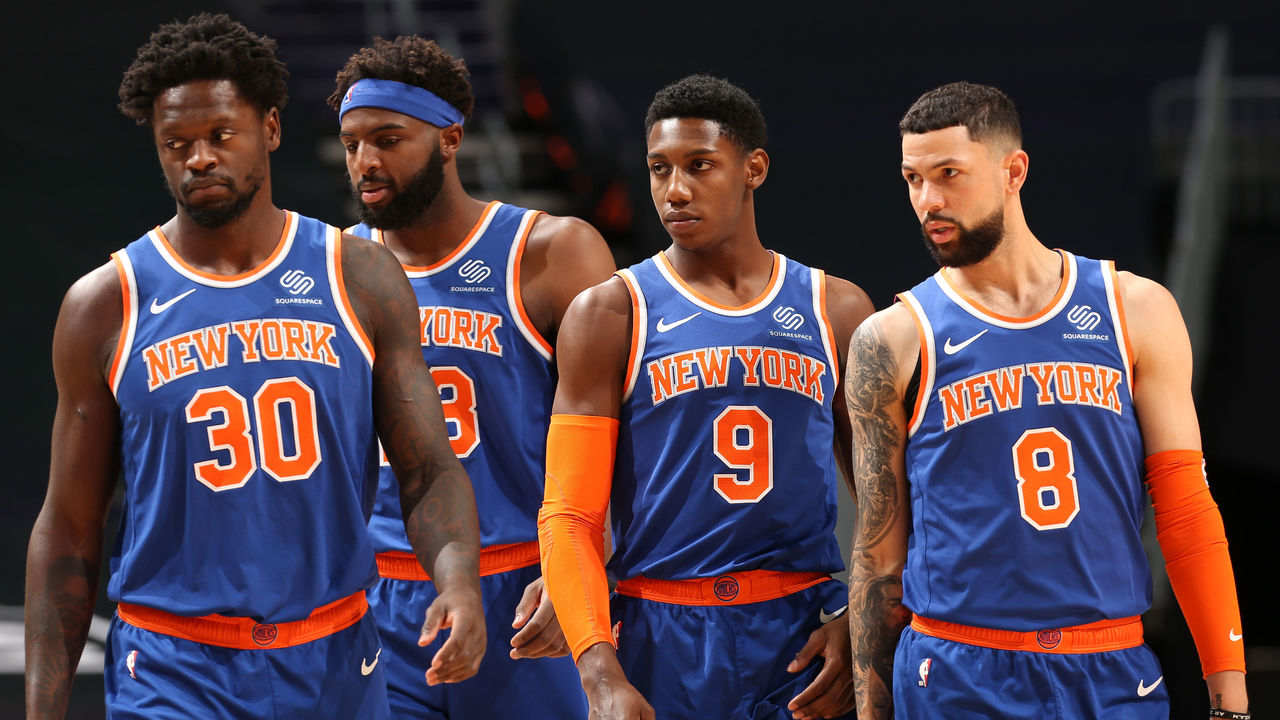 Previous rank: 25
As is often the case with Tom Thibodeau-coached teams, defense has been the Knicks' calling card. New York owns a top-five defensive rating through the first 21 games of the season.
21. Oklahoma City Thunder (8-10)
Previous rank: 26
The Thunder's near-.500 record is nice, but make no mistake, this is a young team that's still learning. OKC ranks at, or close to, the bottom of the league in point differential and offensive rating.
22. Chicago Bulls (7-11)
Previous rank: 24
Zach LaVine has been the focal point of Chicago's much-improved offense. The sixth-year guard is averaging career highs in multiple categories, including scoring, assists, and field-goal percentage.
23. Charlotte Hornets (9-11)
Previous rank: 22
Cody Zeller's return to health means fewer minutes for Bismack Biyombo. Not only is Zeller platooning at center with PJ Washington to good effect, but he also crowned Giannis. For real.
24. New Orleans Pelicans (7-11)
Previous rank: 17
Growing pains abound in The Big Easy. The Pelicans have the third-worst defensive rating in the league during their 2-9 stretch. Even with the sturdy Steven Adams anchoring the backend, they've allowed 118.8 points per 100 possessions in that span.
25. Miami Heat (7-12)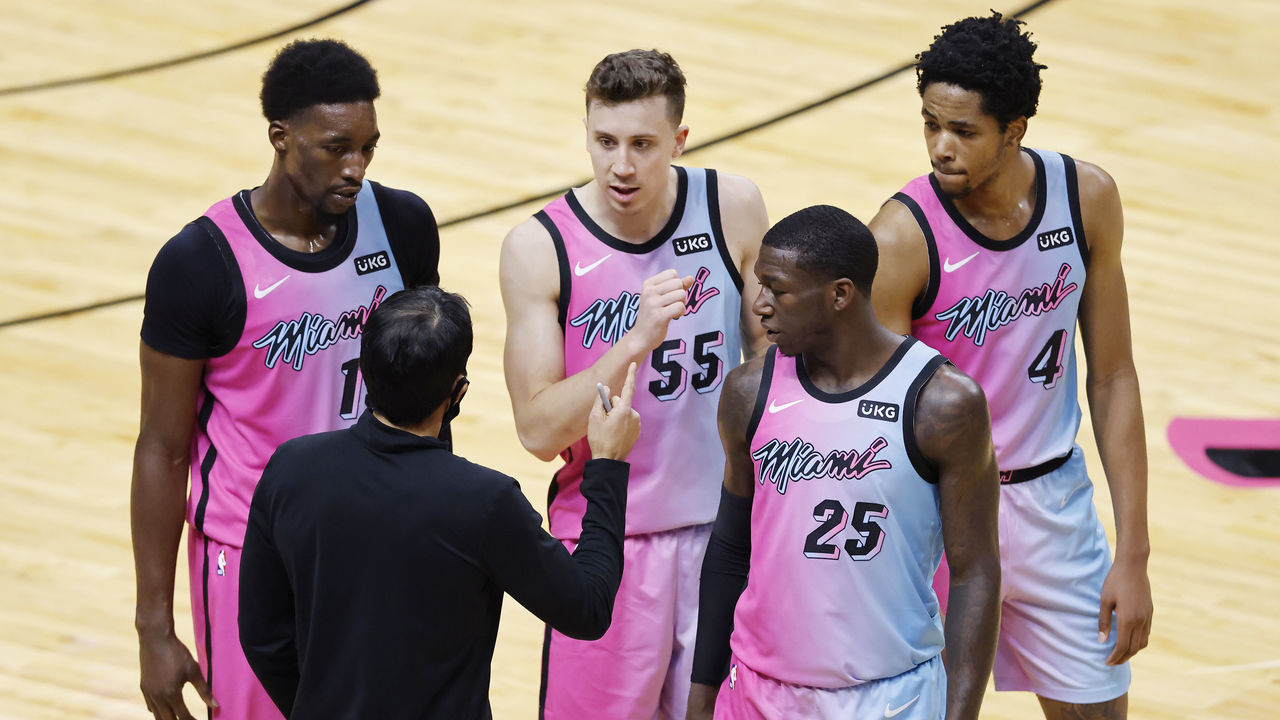 Previous rank: 12
The Heat's record isn't indicative of their ceiling. Erik Spoelstra has been forced to shuffle through various lineups with virtually half of his roster absent due to injuries as well as health and safety protocols.
26. Sacramento Kings (8-11)
Previous rank: 28
The Kings' defense needs to be a lot better if they plan on snapping their NBA-leading 14-season playoff drought. Sacramento owns the league's worst defensive rating by nearly three points per 100 possessions.
27. Orlando Magic (8-13)
Previous rank: 20
The Magic have lost 11 of 13 games since Markelle Fultz tore his ACL. They're also dead last in both net rating (minus-13.1) and effective field-goal rate (48.1%) during that span. Assemble the tanks.
28. Detroit Pistons (5-15)
Previous rank: 30
Jerami Grant loves being a No. 1 option. He's nearly doubled his scoring average from last season to 23.6 points per game while averaging career highs in rebounds, assists, blocks, steals, and 3-point percentage.
29. Washington Wizards (4-12)
Previous rank: 27
It's hard to determine the Wizards' ceiling when Rui Hachimura has only appeared in half of their games, Thomas Bryant is done for the year, and the team as a whole was grounded for nearly two weeks due to health protocols.
30. Minnesota Timberwolves (5-14)
Previous rank: 29
Karl-Anthony Towns, D'Angelo Russell, and Anthony Edwards have played just 21 minutes together so far. The Timberwolves wait with bated breath for KAT's return from league health protocols. Nothing else matters.
Comments
✕
NBA Power Rankings: Lakers navigate mini-slide to retain top spot
  Got something to say? Leave a comment below!