Damian Lillard's latest heroics ensured the Portland Trail Blazers will enter the final days of the NBA's bubble restart in the driver's seat of the Western Conference playoff race, but Tuesday's results as a whole left fans with a mouth-watering Thursday to look forward to.
Here are some takeaways from Tuesday's action:
Nothing like Dame Time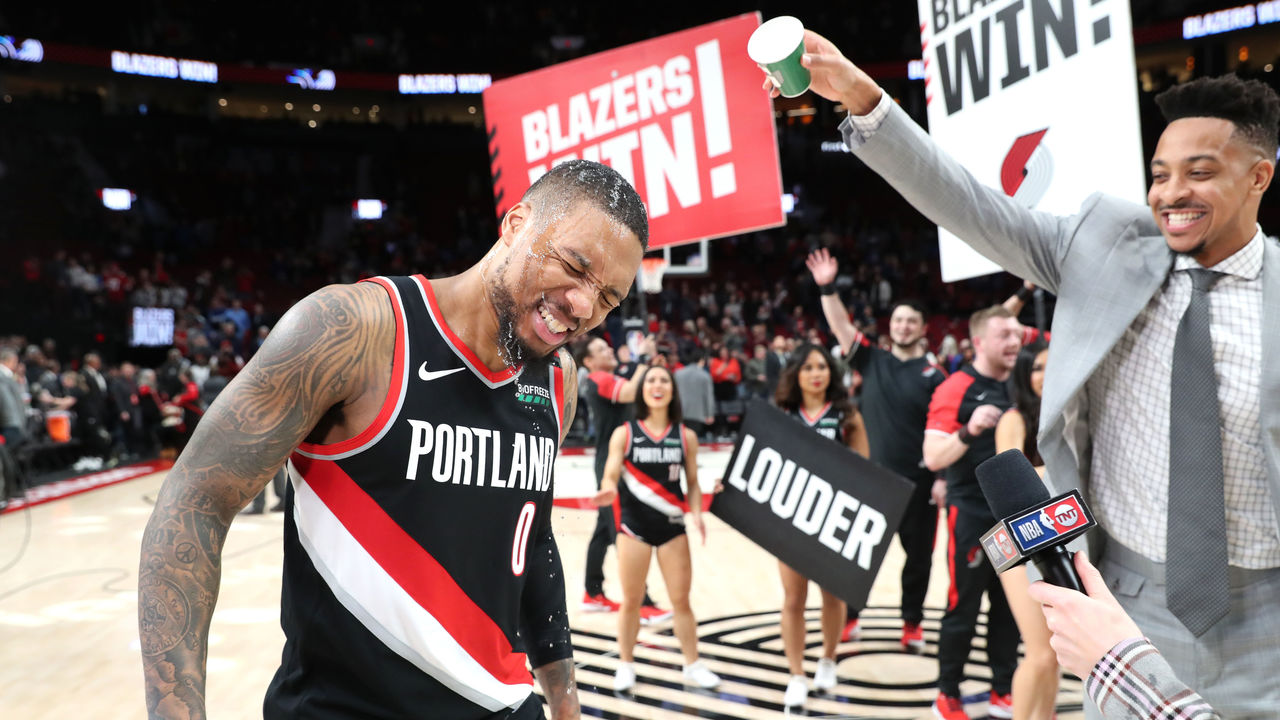 It sometimes feels impossible to keep up with the plethora of star talent in the modern NBA, and it can be tough to truly absorb and appreciate what each of those transcendent talents is capable of on a night-to-night basis.
Regardless of how Portland's season ends over the coming days and weeks, let's take at least a moment to give Lillard his flowers.
Lillard, one of the best scorers and clutch players of his generation, is doing things this season that should have us considering where he ranks among the greatest offensive talents ever.
After a 61-point outburst against Dallas on Tuesday, Lillard's now averaging career highs of 29.8 points and eight assists on 46-40-89 shooting, accomplishing the rare feat of somehow becoming more efficient while upping his already sky-high usage. The only players who have averaged at least 29 points on 62% true shooting are Stephen Curry, Kevin Durant, Karl Malone, and Adrian Dantley. Lillard and James Harden are set to join that group this year. What makes the presence of Lillard, Harden, Curry, and Durant so special on this list is that the four modern stars can score as efficiently as dominant interior big men of the past while being volume shooters.
Lillard's performance against Dallas made him just the second player in history - and the first since Wilt Chamberlain 57 years ago - to record at least three 60-point games in a single season. He's also the first player in Trail Blazers history to record back-to-back 50-point games.
Add up all of his individual possessions (which includes turnovers) and assists Tuesday night, and Lillard scored or created 81 points on 51 possessions. That's good for an absolutely absurd rate of 1.59 points per possession. After checking into the game for the final time with 9:23 remaining, Lillard proceeded to score or assist on 30 of the Blazers' final 34 points.
He also got perhaps the most well-deserved shooter's bounce of the season:
Rick Carlisle's Mavericks didn't do themselves any favors Tuesday by continuing to deploy a drop coverage against Lillard, who is a pick-and-roll maestro on an average day against smarter defenses. You're asking for trouble when you allow a player with Lillard's combination of shooting range, ball-handling, and vision to comfortably step into open space every time he comes off a screen.
Porzingis' positioning when guarding the Lillard-Nurkic pick-and-roll in the highlight below is essentially what the Mavs were giving Dame all night:
Dallas isn't the only team guilty of this. Portland's potential play-in opponent (should the Blazers qualify) or the Lakers (in a potential first-round matchup) will be flirting with disaster if they dare to be this careless in a high-stakes game against Lillard.
Four teams, two spots, one play-in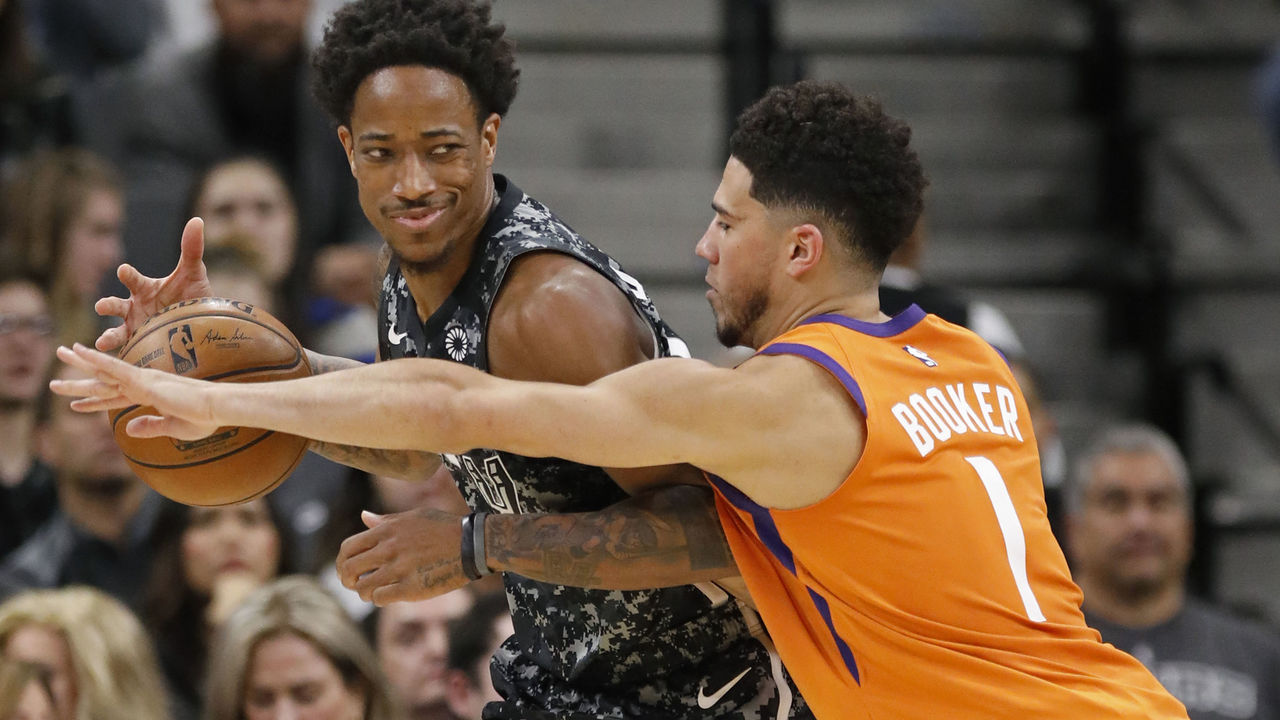 Lillard's season-saving performance means Portland will enter its final regular-season game (against Brooklyn Thursday night) in eighth place in the Western Conference, a half-game up on Memphis, Phoenix, and San Antonio.
Memphis fell to 1-6 in the bubble following a beatdown by the Celtics on Tuesday. The Grizzlies went from a healthy 3.5 games up on ninth when games tipped off less than two weeks ago, to a demoralized team likely needing a win in their season finale just to force a play-in.
Between the continued clutch efforts of Devin Booker and DeMar DeRozan, the Suns and Spurs lived to see another day by beating the resting 76ers and Rockets on Tuesday.
Phoenix's seven-game win streak - the franchise's longest in 10 years - now has the Suns in position to perhaps make the playoffs for the first time since 2010. San Antonio's 5-2 record in Orlando has the Spurs on the precipice of extending the team's playoff streak to an NBA-record 23 seasons.
While I maintain the NBA's best course of action once a bubble plan was enacted would have been to scrap conferences and allow the top 16 teams to make the playoffs, the league could not have asked for anything better than this with the current format.
Fans of the Blazers, Grizzlies, Suns, and Spurs may wish they didn't need to sweat out every last second of the regular season to learn their favorite teams' postseason fates. Still, the current standings and potential for sheer chaos on Thursday are invigorating for the NBA.
Here's how the West's two play-in spots will be won, with a reminder the eighth-place team will only need to win one play-in game this weekend, while the ninth-place squad will need to win Saturday and Sunday:
Portland clinches eighth with a win over Brooklyn, OR if all of the Grizzlies, Suns, and Spurs lose
Portland finishes ninth with a loss + two of MEM/PHX/SAS losing
Portland is eliminated with a loss + two of MEM/PHX/SAS winning
Memphis clinches eighth with a win over Milwaukee + a Blazers loss
Memphis clinches ninth with a win + Blazers win, OR with a loss + both of PHX/SAS losing
Memphis is eliminated with a loss + one of PHX/SAS winning
Suns clinch eighth with a win over Dallas + both of POR/MEM losing
Suns clinch ninth with a win + one of POR/MEM losing
Suns eliminated with a loss OR both of POR/MEM winning
Spurs clinch eighth with a win over Utah + all of POR/MEM/PHX losing
Spurs clinch ninth with a win + two of POR/MEM/PHX losing
Spurs eliminated with a loss OR two of POR/MEM/PHX winning