With five more games in the books, all 22 teams in the NBA's Disney World restart have now played at least once. Here are three takeaways from Saturday's action:
Don't sleep on T.J. Warren
I'm not saying you should've seen a 53-point explosion coming from a guy who never scored more than 40 in a game or averaged 20-plus in a season, but Warren's been an impressive scorer for longer than most people have been willing to admit.
He steadily improved over five years in Phoenix on a mostly dysfunctional Suns team, which led many pundits to dismiss his individual offensive accomplishments. As is often the case for players in Warren's position, his numbers were tossed aside under the pretense that someone has to score on a bad team.
Yet if anyone actually took the time to dig into Warren's numbers, they would've seen a player who, like Devin Booker (though obviously less prolific), wasn't just scoring on a bad team. Warren was scoring efficiently on a bad team, which isn't easy to do when you're putting up a decent amount of shots without much supporting talent around you to share defensive attention.
Despite the fact the Suns had a solid, improving young scorer on their hands who was locked into a team-friendly contract, Phoenix traded Warren to Indiana without recouping any tangible value. Yes, the Suns were able to sign Ricky Rubio - a much better fit for Phoenix - after parting with Warren, but the fact the Pacers only parted with cash considerations and actually acquired draft assets along with Warren shows how undervalued the 26-year-old was.
As the 76ers are now painfully aware, Warren can score in a variety of ways from a number of spots around the court, whether he's putting the ball on the floor or catching and shooting: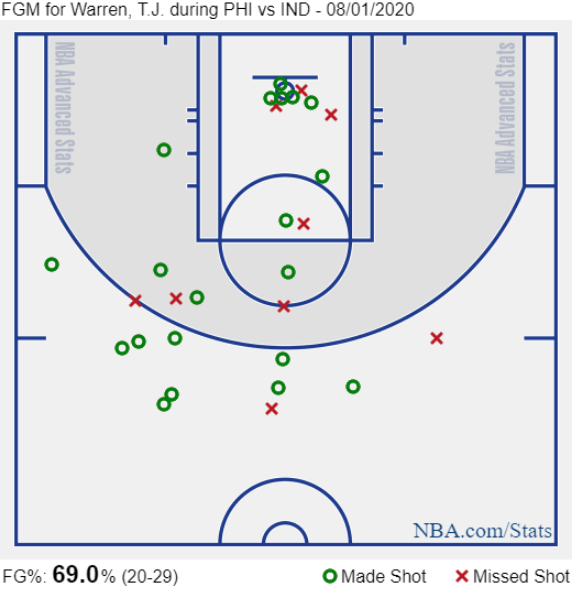 Warren's now averaging 19.2 points on 54-40-82 shooting this season, emerging as the leading scorer on a Pacers team playing at a 49-win pace despite dealing with a number of injuries to key players at various points in the year. The Pacers were missing Malcolm Brogdon and All-Star big man Domantas Sabonis on Saturday itself.
Over the last three seasons, Warren's averaging 19 points on 57% true shooting. Not bad for a guy who was traded literally for cash, who's set to earn under $13 million in each of the next two seasons.
Kyle Lowry's superstar impact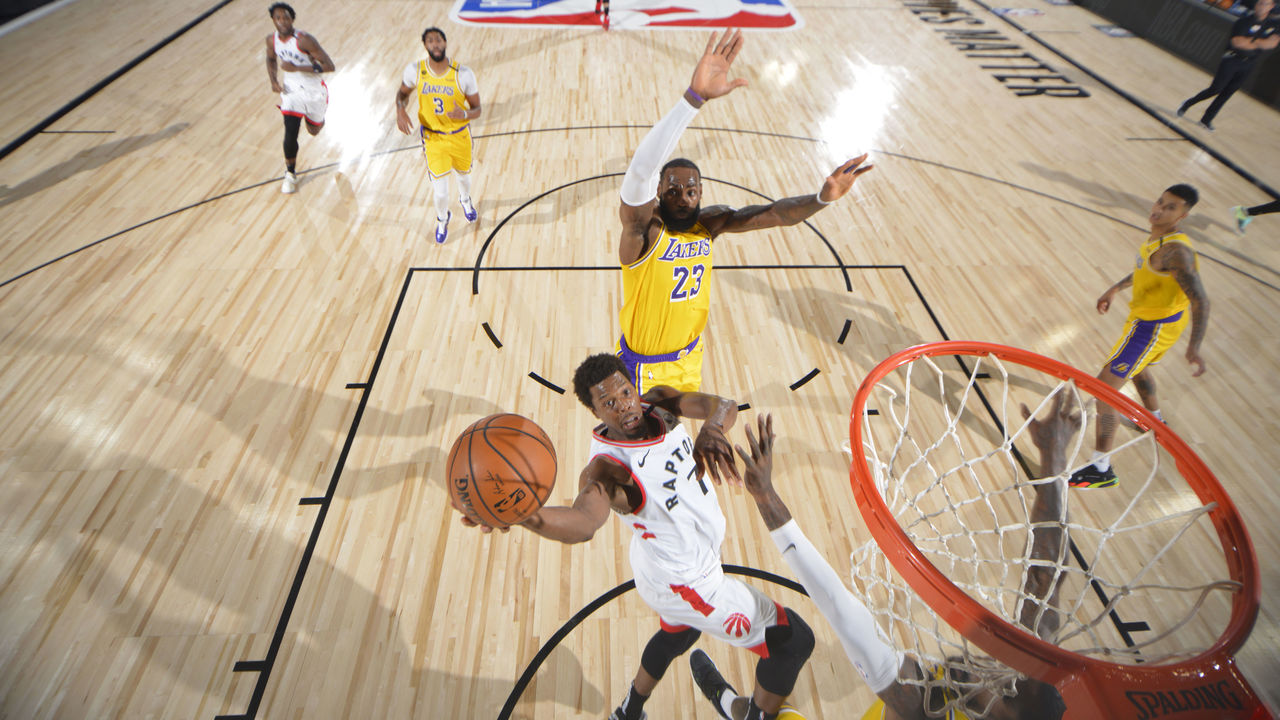 Undersized point guards who put their bodies on the line and play heavy minutes are supposed to be breaking down by their mid-30s. Not Kyle Lowry, though, who showed in the defending champion Raptors' bubble debut that he's still playing arguably the best basketball of his Hall of Fame career at age 34, pandemic be damned.
Lowry gave the Lakers a steady diet of all that makes him great throughout Saturday's contest.
The six-time All-Star scored a game-high 33 points on 50% shooting, pulled down a career-high 14 rebounds - against a top-five rebounding team - and dished out six assists while finishing plus-24 in 35 minutes. The 6-foot guard had four more rebounds than anyone else on the floor and combined to score or create 46 points on 32 possessions. And that's barely going into detail on his overall impact on Toronto's 107-92 win.
Lowry's long been hailed as a basketball genius whose greatest contributions come in the hidden areas of the game, the ones not always accounted for on a stat sheet. Against the Lakers, he served as an impact rim-protector by showcasing his knowledge of opposing offenses and timing his help defense to perfection, including on drives by LeBron James. He also continues to be an effective screener on inverted pick-and-rolls, with the Raptors once again digging up gold by having Lowry screen for Pascal Siakam in the closing minutes of a close game:
Tally it all up and whether you're the type of observer who geeks out on those hidden details, or a casual fan who wants to see traditional production, one thing was abundantly clear on national television Saturday night: in a game featuring LeBron, four All-Stars, and three likely All-NBA selections, Lowry was the best player on the court.
With all due respect to Siakam, Lowry remains the most valuable contributor on a Raptors team playing at a 59-win pace. His defense paces Toronto, and the 14-year vet is averaging 20 points, 7.6 assists, and five rebounds on 59.2% true shooting. The only other players to put up those numbers in a season: Larry Bird, Wilt Chamberlain, James Harden, LeBron James, Magic Johnson, Michael Jordan, and Chris Paul.
Same old Sixers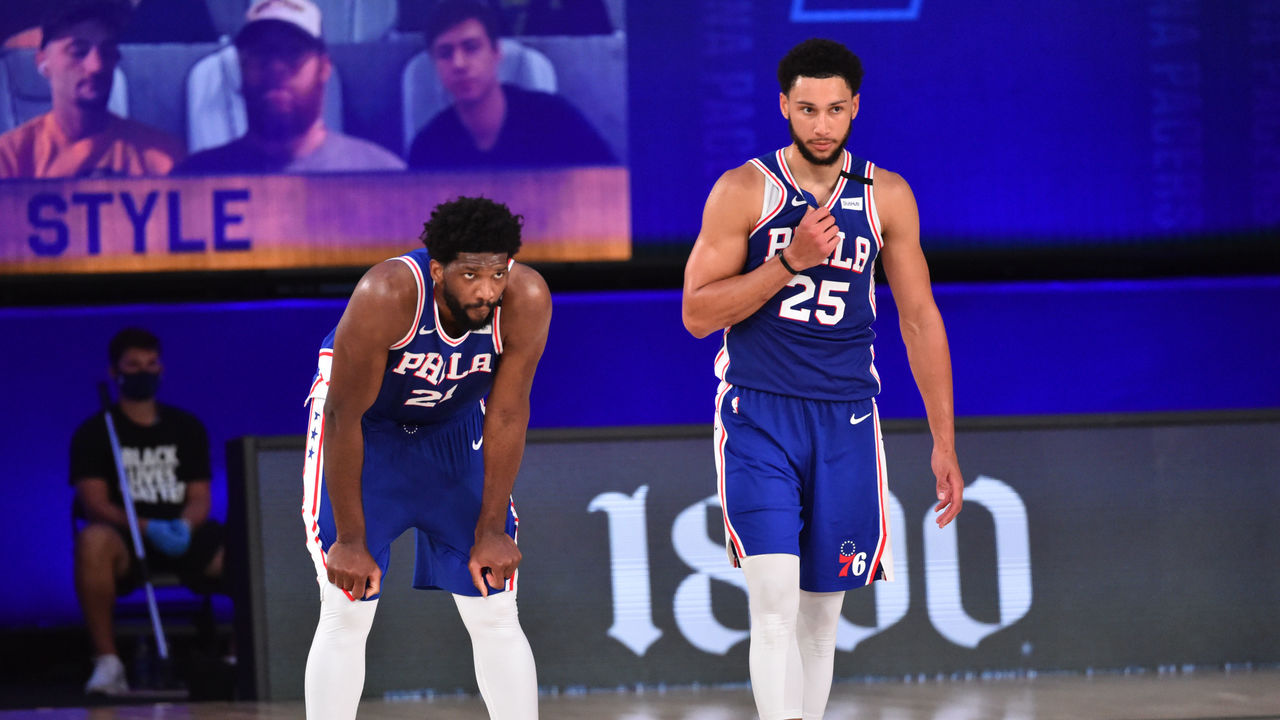 Philadelphia entered the restart as perhaps the league's most fascinating team, but if their Disney opener was any indication, the same issues continue to plague this disappointing contender, as the 76ers lost to a Pacers team without Brogdon and Sabonis and which was limited due to Myles Turner's foul trouble.
Turnovers have been an issue throughout the Brett Brown era, but Philly coughed up the basketball 21 times against the Pacers. To put that in perspective: the 76ers recorded only 20 assists.
The team also still looks woefully dependent on Joel Embiid. Philly was plus-21 in 34 minutes with the big man on the court, but an unfathomable minus-27 in 14 minutes with Embiid on the bench. Meanwhile, Al Horford - who the Sixers owe up to $81 million over the next three years - still looks two steps slow coming off the bench.
Oh, and there was a little bit of infighting.
One positive to be found in Saturday's loss (aside from Embiid's individual domination): the team's more sensible starting five, which now includes Shake Milton's shooting in place of Horford, and Ben Simmons at power forward, scored in ways the Sixers have struggled to in the past. Though it's an extremely small sample, if Philly can find a way to build on that while maintaining its terrifying defensive upside, a legitimate contender still lies within.
The counter to that: we're talking about a sixth-place team after a loss in game no. 66. At what point do we stop waiting for the Sixers to realize their perceived potential and accept that the dysfunctional 39-27 team in front of us might be exactly who they are?