Top 25 rookie seasons in NBA history: No. 3 Magic Johnson
Focus On Sport / Focus on Sport / Getty
The greatest rookie seasons in NBA history share a number of qualities, starting with individual statistical dominance. However, you can't overlook the context beyond the box score; initial expectations, team success, and overall legacy all matter.
While we wait for the 2019-20 season to resume, theScore's NBA editors have dusted off the record books to determine the top 25 rookie seasons in league history.
No. 3 in our series is Los Angeles Lakers icon Earvin "Magic" Johnson. Catch up on previous posts in the series here.
Before the Association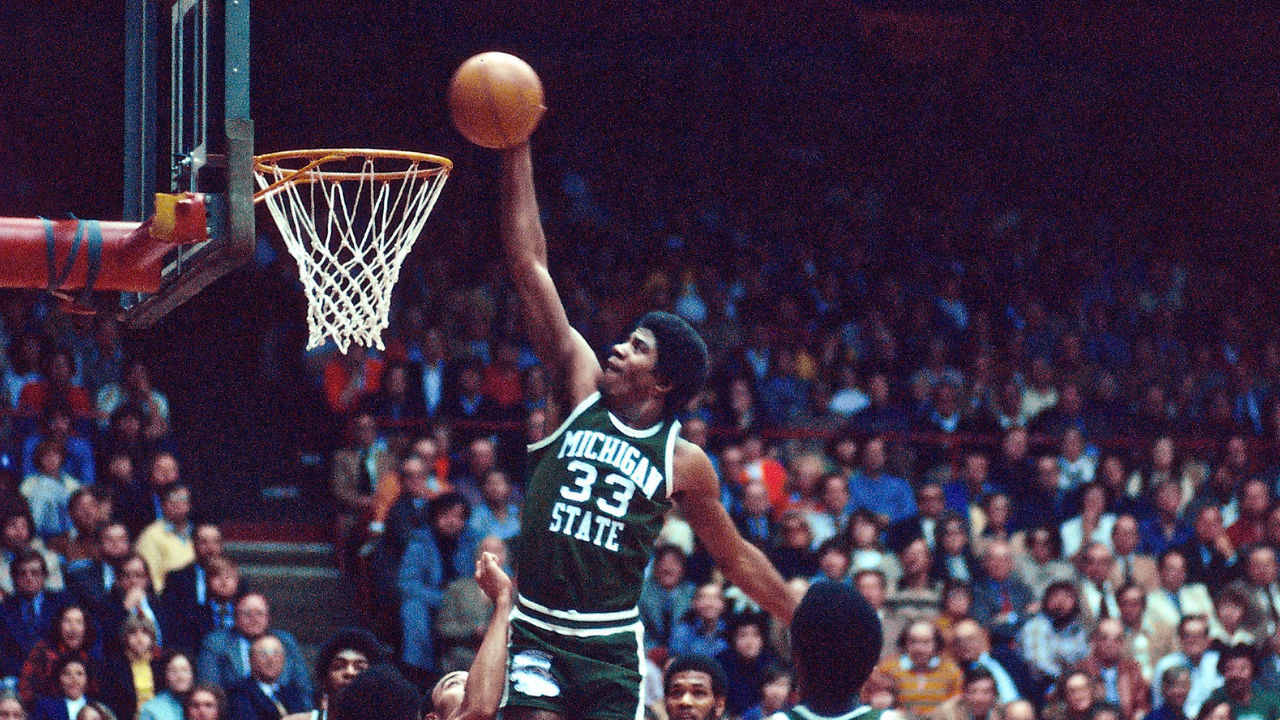 In part due to coach Jud Heathcoate's willingness to play him at guard instead of forward, as well as proximity to Johnson's hometown of Lansing, the phenom committed to Michigan State. At 6-foot-8, Johnson had already broken the mold.
In two years with the Spartans, Johnson averaged 17.1 points, 7.9 assists, and 7.6 rebounds per game. As a sophomore, he led the program to the 1979 championship game, outdueling Indiana State's Larry Bird for the title. Magic was named the tournament's Most Outstanding Player in addition to being a consensus All-American.
Draft day
The events of the 1979 draft - and thus, modern basketball history - were put in motion in August 1976: the then-New Orleans Jazz gave up their first-round picks in 1977, 1978, and 1979, plus a 1980 second-round pick, for the Lakers' 1978 first-rounder, a 1977 second-rounder, and the rights to sign 33-year-old shooting guard Gail Goodrich.
Goodrich averaged 14.2 points and 4.5 assists across three seasons in New Orleans before retiring after the 1978-79 season; that summer, the Lakers used one of the Jazz's first-round picks to select Johnson first overall, completing one of the most lopsided trades in NBA history.
The Lakers already had a solid point man in Norm Nixon, who averaged 17.1 points, 9 assists, and 2.5 steals per game in 1978-79. The team's brass ultimately - and wisely - elected to draft Johnson anyway and worry about individual roles later.
Individual success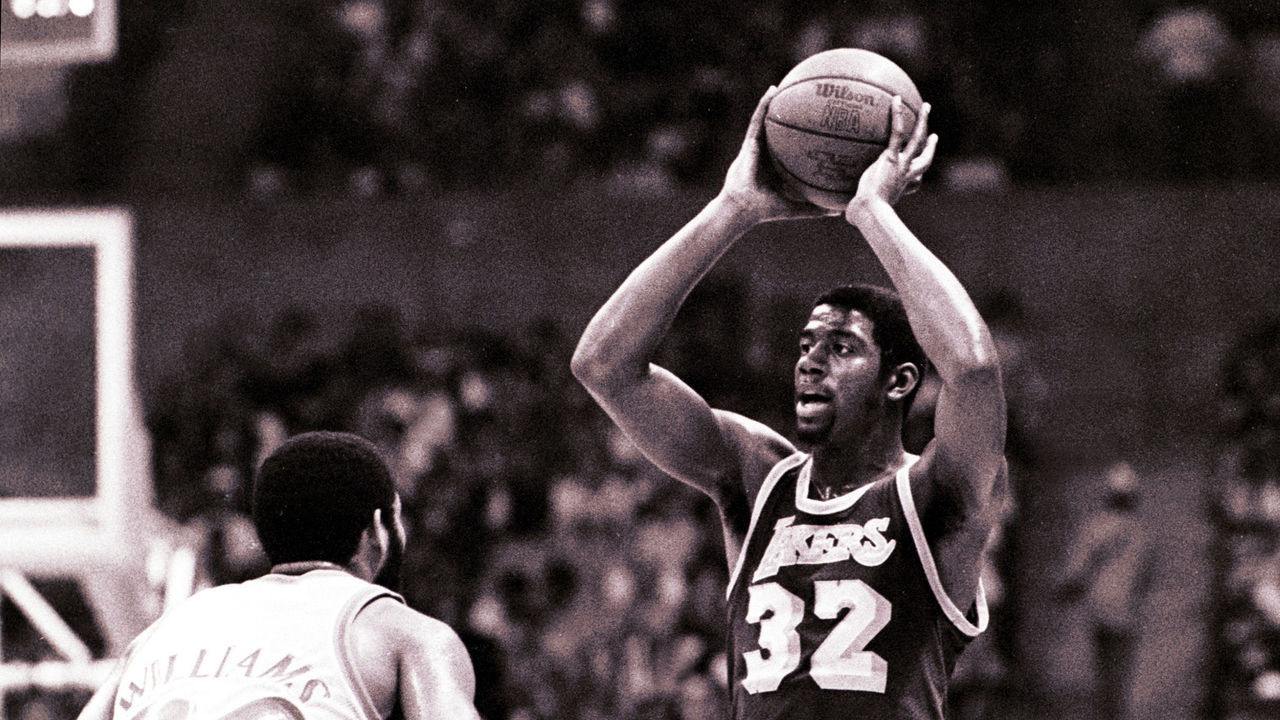 Johnson's numbers in his rookie campaign were nearly identical to those of his sophomore year at Michigan State.
In over 36 minutes per game, the 20-year-old put up 18 points, 7.7 rebounds, 7.3 assists, and 2.4 steals per contest with the Lakers; that combination had never been seen before in NBA history, and has only been matched by Michael Jordan, Fat Lever, and Johnson himself. Owing to his versatility, Johnson led the league with seven triple-doubles.
Naturally, the rare combination of skills and production for a team as prominent as the Lakers caught the world's attention. Johnson was named a starter in the All-Star Game, where he dropped 12-2-4 with three steals and two blocks in 24 minutes. At season's end, he was named to the All-Rookie first team.
However, Johnson did not win Rookie of the Year in 1980 - top honors went to Larry Bird, his career-long nemesis. Bird was drafted by the Boston Celtics in 1978 but opted for another year of college before turning pro, pitting the 23-year-old Bird against the 20-year-old Johnson in the 1980 Rookie of the Year race.
Of course, Magic had the last laugh in 1980; Johnson captured Finals MVP while leading the Lakers to the championship over the Philadelphia 76ers. The rookie with the million-watt smile averaged 21.5 points, 11.2 rebounds, 8.7 assists, and 2.7 steals in the series.
Team success
Remember, Johnson joined a 47-win Lakers team that already boasted Kareem Abdul-Jabbar, a pair of young scorers in Nixon and Jamaal Wilkes, and Michael Cooper - a perennial All-Defensive team selection who had only appeared in three games as a rookie in 1978-79.
While Abdul-Jabbar had yet to lead the Lakers to a championship in his first three seasons with the team, there were high expectations he and Johnson, fresh off his NCAA title run, had the potential to break through.
The duo proved their supporters right. After improving to 60 wins in the regular season, the Lakers beat the Phoenix Suns and Seattle SuperSonics in the playoffs before Julius Erving's 76ers to secure Los Angeles' first NBA title since 1972. Even with Abdul-Jabbar absent for Game 6, Johnson played center at times in the title-clinching match.
Enduring legacy
While Johnson didn't win Rookie of the Year, he remains the only first-year player in NBA history to ever capture Finals MVP. That distinction should prove nearly impossible to match as more players enter the NBA at an earlier age and rebuilding teams are far more cautious when it comes to trading potentially high draft picks.
Of course, Year 1 was only the beginning for Johnson. He collected five total championships in the 1980s, in addition to three MVP awards, 10 All-NBA team selections, 12 All-Star appearances, and a handful of single-season assists and steals titles.
Sadly, the 1991 revelation that he'd contracted HIV led to Johnson leaving the NBA at just 32. He contributed to the Dream Team's gold medal at the 1992 Olympics, and, after understanding of his illness improved, made a 32-game comeback with the Lakers in 1996. Ultimately, his NBA career effectively ended in 1991.
Johnson entered the Hall of Fame twice, first in 2002 as an individual, then in 2017 as a member of the 1992 U.S. men's national team.
Come back tomorrow to see who came in at No. 2 in theScore's Top 25 Rookie Seasons series.
Comments
✕
Top 25 rookie seasons in NBA history: No. 3 Magic Johnson
  Got something to say? Leave a comment below!