The greatest rookie seasons in NBA history share a number of qualities, starting with individual statistical dominance. However, you can't overlook the context beyond the box score; initial expectations, team success, and overall legacy all matter.
While we wait for the 2019-20 season to resume, theScore's NBA editors have dusted off the record books to determine the top 25 rookie seasons in league history.
No. 18 in our series is former Los Angeles Clippers rookie sensation Blake Griffin. Catch up on previous posts in the series here.
Before the Association
Griffin was a dominant force in two seasons at Oklahoma before declaring for the 2009 NBA Draft.
He could have easily been a lottery selection in the 2008 draft after averaging 14.7 points and 9.1 rebounds in an impressive freshman year, but the native of Oklahoma City elected to return to the Sooners for another season.
Griffin took a substantial leap forward as a sophomore, becoming one of college basketball's biggest stars. He dominated with averages of 22.7 points, an NCAA-best 14.4 rebounds, 1.2 blocks, and 1.1 steals per game, finishing the season as the consensus player of the year.
Draft day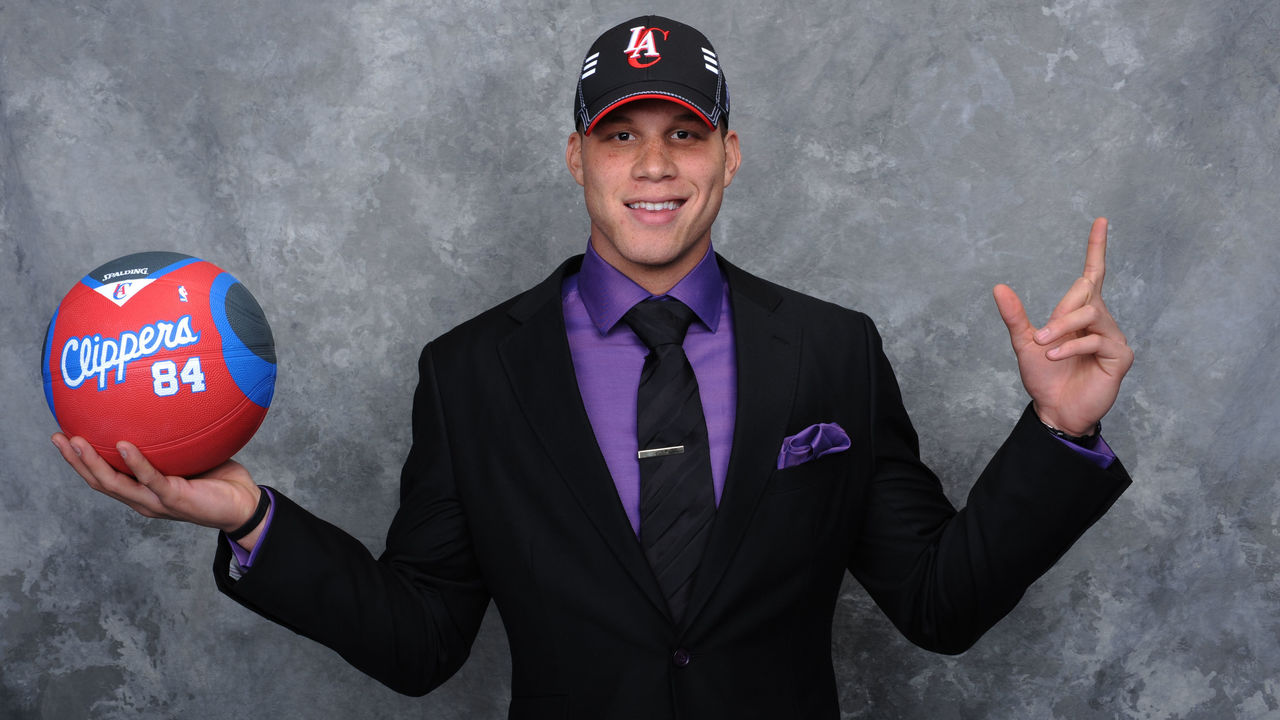 In the weeks leading up to the 2009 NBA Draft, Griffin was widely considered the most surefire prospect in his class. The Clippers, meanwhile, had made it known immediately after winning the draft lottery that they intended to take the Oklahoma product first overall.
Other notable players who entered the league that same year include James Harden, Stephen Curry, Jrue Holiday, and DeMar DeRozan. At the time, all of those players had far more question marks surrounding their pro potential than Griffin did coming out of college.
Amid the Clippers' long losing track record, Griffin's arrival provided a much-needed jolt of excitement to a fan base desperate for a winner.
Individual success
Griffin suffered a stress fracture in his knee during the 2009-10 preseason, and the injury sidelined him for the entirety of what was supposed to be his rookie campaign. Soon after he finally arrived in the NBA, the power forward made it abundantly clear that his delayed debut was well worth the wait.
Griffin's electrifying athleticism captivated Clippers fans from Day 1 and helped him emerge as a leading offensive weapon for the club. He played all 82 games of his rookie season in 2010-11, averaging team highs with 22.5 points and 12.1 rebounds in 38 minutes per contest as a 21-year-old. Those scoring and rebounding totals led all rookies that season, while his rebounding average was the fourth-highest in the entire league.
Griffin easily claimed Rookie of the Year honors and qualified for his first career All-Star Game that season. During All-Star Weekend in Los Angeles, he won the Slam Dunk Contest by jumping over a sedan.
Team success
Many projected the Clippers to be a team on the verge of a playoff berth as Griffin arrived and new head coach Vinny Del Negro took over for interim bench boss Kim Hughes.
But Los Angeles failed to meet expectations in the prized rookie's stellar debut season. The Clippers finished 13th in the Western Conference with an underwhelming 32-50 record.
Enduring legacy
Griffin's rookie season was a sign of things to come over the next half-decade before injuries began to limit the talented forward's production. He earned four more consecutive All-Star nods following his debut campaign, and he served as a vital piece alongside Chris Paul, DeAndre Jordan, JJ Redick, and Jamal Crawford as the Clippers made six straight playoff appearances from 2011-17.
Unfortunately, Griffin's tenure in Los Angeles ended on a sour note. Seven months after signing him to a five-year, $175-million maximum contract, the Clippers unexpectedly dealt their prized forward to the Detroit Pistons in January 2018.
Come back on Wednesday to see who came in at No. 17 in theScore's Top 25 Rookie Seasons series.