Tex Winter, hoops genius and mentor to legends, was sports' best assistant coach
Icon Sportswire / Getty Images
After "The Last Dance" reminded fans of the greatness of Scottie Pippen existing in the shadow of Michael Jordan, theScore's feature writers decided to examine some of the most compelling second bananas in other sports. Previous entries in the series came from college football, MLB, NHL, and NBA.
When Tex Winter died in 2018, Scottie Pippen honored his longtime critic, admirer, and basketball mentor with a heartfelt Twitter thread. The Hall of Fame forward wrote Winter was a perfectionist, a proponent of teamwork, and a wellspring of knowledge of how to pick apart a rival defense. With the 1990s Bulls, Winter's job was that of backseat kingmaker; without him on the bench, Pippen mused, could Chicago have won zero NBA titles rather than six?
No matter the answer, that Pippen even indulged this staggering hypothetical was a tribute to Winter - one all-time second banana endorsing the genius and influence of another.
Winter, Phil Jackson's deputy with those Bulls and with the Shaq-Kobe Lakers, is probably pro sports' greatest assistant coach. Jackson famously retired from coaching with 11 rings; the first nine came with Winter by his side, the 10th with Winter working elsewhere in the organization. The imprint he left on these superlative teams was spiritual - at least on offense, where even Michael Jordan was persuaded to subsume his talents into Winter's signature, egalitarian system.
That system was the triangle. As the Bulls' and Lakers' astounding success confirmed its merits - the movement, passing, and cohesion it encouraged by design; the creativity it engendered within clear structural bounds - people in the know came to consider Winter a legend. Shortly after Winter won his last championship, Los Angeles Times columnist Bill Plaschke likened him to one of the Wright brothers educating pilots. Winter's brain, Jackson once said, was that of a basketball god.
"He's a brilliant man," Jerry Krause, the late former Bulls general manager, said about Winter in 1996, at the outset of Chicago's second three-peat. "The finest offensive mind in basketball."
| Tex Winter | NBA championships |
| --- | --- |
| Bulls (assistant coach) | 6 (1991' 1992' 1993' 1996' 1997' 1998) |
| Lakers (assistant coach) | 3 (2000' 2001' 2002) |
| Lakers (consultant) | 1 (2009) |
Winter's given names were Morice Fredrick; his home state of Texas, where he was born in 1922, inspired the nickname he received as a teenager when his family moved to California. Because he didn't rise to NBA acclaim as Jackson's right hand until he was a senior citizen, his life included many other designations: elite collegiate pole vaulter; World War II Navy fighter pilot; and guard who played basketball at USC for head coach Sam Barry, the man credited with thinking up and running the earliest version of the triangle.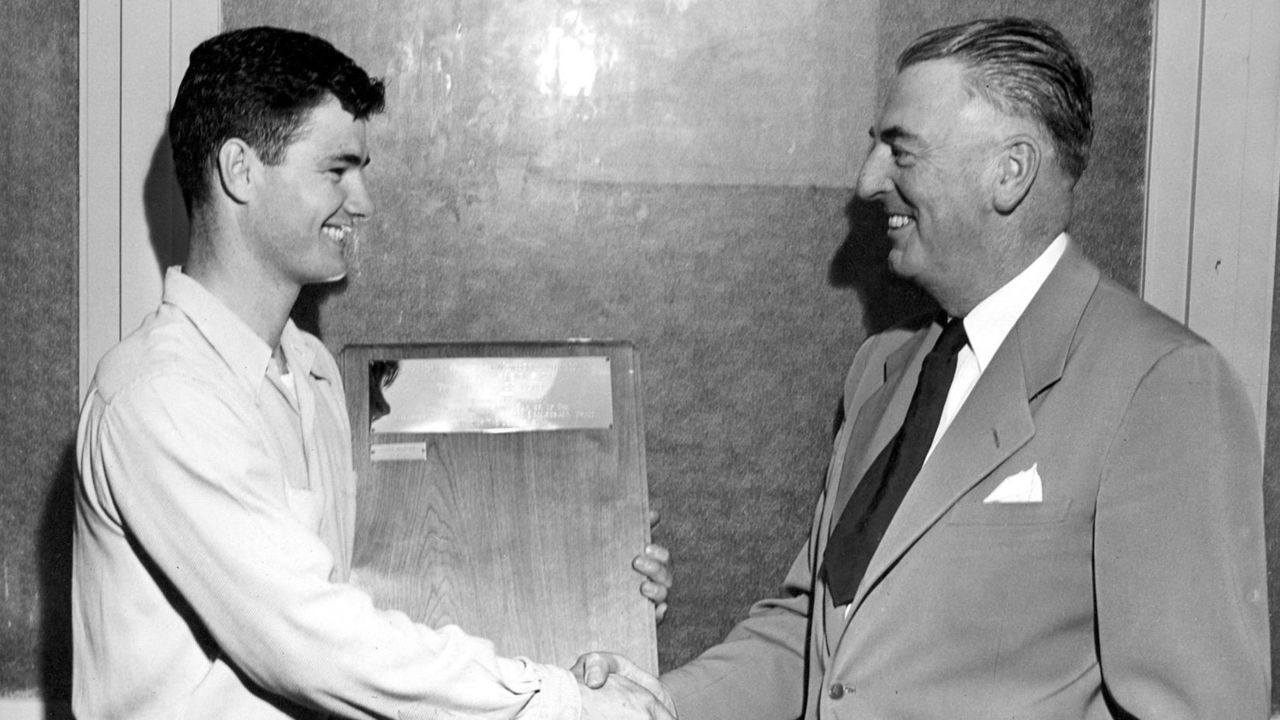 Winter honed that offense over his 30 years coaching NCAA teams of varying quality and common pluck. At Kansas State in 1958, his first Final Four team beat squads led by Wilt Chamberlain and Oscar Robertson. At Northwestern in 1978, his Wildcats lost 19 games but almost stunned Magic Johnson and Michigan State. In between at Washington, the fits he gave Lew Alcindor and John Wooden's UCLA dynasty once elicited this compliment from Wooden: "Even if all five Washington players should break their legs, there'd be ample reason to fear Winter."
By 1985, Winter was 63 and considering retirement when Krause, newly hired as the GM of the Bulls, phoned him to deliver on an old promise. Krause was a young scout for the NBA's Baltimore Bullets (now the Washington Wizards) when, in the 1960s, he befriended Winter, began to revere his basketball smarts and philosophy, and vowed to make him his future first NBA hire. Undeterred by the 51-78 record that Winter slumped to in a brief stint as Houston Rockets coach in the early '70s, Krause brought him aboard to serve as the Chicago staff's resident mentor.
As was covered in Episode 4 of "The Last Dance," Winter's advocacy for the triangle didn't quite take with Bulls coach Doug Collins, who crossed Krause by relegating Winter to a silent note-taking role at practice. In the meantime, Krause directed another assistant to listen to and learn from Winter - then fired Collins and elevated that assistant, Jackson, to head coach in 1989, with the understanding that Jackson would implement and champion Winter's offense.
That required Jackson and Winter to sell Jordan - who averaged 34.9 points a game in Collins' three seasons at the helm - on the idea that maximizing his teammates' involvement was in everyone's best interest, an essential adjustment to overcome the Bad Boy Pistons in the playoffs. Winter was known to describe the ethos of his system as "five fingers in a glove" - five teammates spacing the floor in triangle formations, cutting interchangeably, and throwing pinpoint passes to strain the defense and create an open shot.
Beyond those basic principles, Winter's offense developed a reputation for complexity. As Jackson explained during "The Last Dance," 33 options could arise from a single pass that generated motion; players decided what to do with the ball based on how that action and subsequent ones were defended. Once the Bulls got the hang of it, the triangle unlocked Pippen's full potential as a ball-handler and playmaker, the shining example of a singular talent blossoming in a setup that asked everyone on the floor to contribute.
"(Players) will pretty much conform to what you're doing if it makes sense," Bill Cartwright, the Bulls center who played for Winter and Jackson in the early '90s and coached alongside them in the late '90s, told theScore recently. "Once we were able to play really well with ball movement, and guys found out what they could do inside of that offense that was going to be beneficial for themselves, it was great."
Cartwright said Winter was the best teacher in basketball, rare to offer praise but gracious with his time and lucid in his explanations. Empowered by this guidance, the Bulls and Lakers still had to labor to try to meet his expectations. Winter was blunt and fiery, which complemented Jackson's Zen Master persona. In games, practices, and film sessions, Winter was unafraid to challenge the head coach or any star in his sightline. More than once, former Bulls guard Steve Kerr has said, Winter urged Jackson to sub him in for Jordan when His Airness erred or forced shots.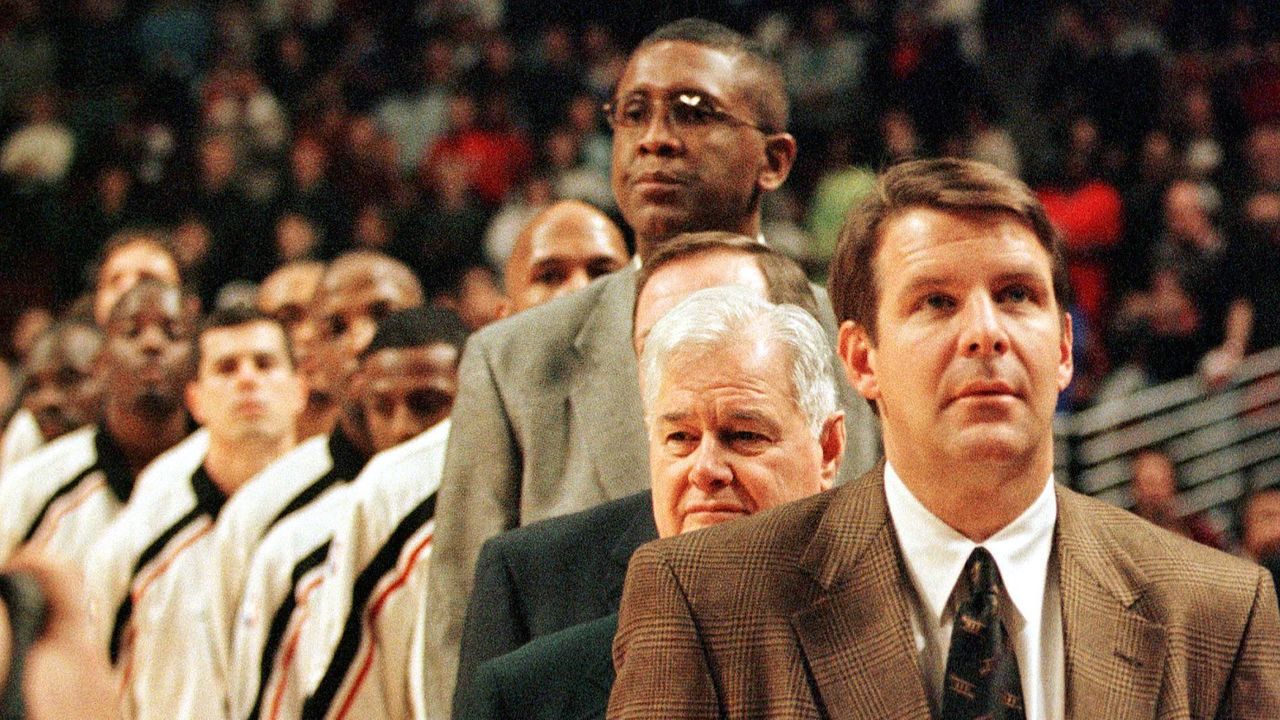 "The term 'old school' probably was invented with Tex in mind," former Chicago center Bill Wennington wrote in "Tales From the Bulls Hardwood," his 2004 memoir. "He wanted guys off the floor in practice or in games when he saw that the effort wasn't there. Tex wasn't the disciplinarian, but he was the guy telling Phil which of us needed to be disciplined."
Winter was a stickler for the fundamentals. Players should rebound and pass with two hands, he maintained; in the triangle, to ensure adequate spacing, they should stand 15 to 18 feet apart. These fixations sometimes overtook him at surprising times. After Chicago beat Portland in one game of the 1992 Finals, Winter's wife, Nancy, had to urge him to savor the win rather than lament certain Horace Grant mistakes. Kobe Bryant once remembered Winter chiding members of the 2001 Lakers for throwing improper chest passes - as the team was awaiting the start of its championship parade.
Those stories aren't meant to suggest Winter couldn't share in a laugh. In 2009, at 87 and in his final season around the NBA, he joked to reporters that he didn't mount the peach basket used in the very first basketball game, but he was on hand to hold the ladder. Several years earlier, foreshadowing his future role as a Lakers consultant - "insultant," he liked to call himself - he starred in the below commercial for IBM, spreading word about the triangle to NBA legends such as George Gervin and Moses Malone.
Winter's longevity enabled him to seemingly meet everyone in the sport. One day with the Bulls, Cartwright said, he mentioned the Chuck Taylor All-Stars sneakers he'd worn on the court in high school; it just so happened that Winter knew the real Chuck Taylor, having played on a wartime basketball team for the eponymous Converse salesman and World War II military officer. Comparatively surprising was the feat Winter secured at his 2011 Hall of Fame induction. Long after their relationship ruptured in the final seasons of the Bulls dynasty, Jackson and Krause shook hands at the ceremony out of admiration and respect for the assistant coach.
To Krause, that it took so long for Winter to be enshrined in the Hall as a contributor was a grievous injustice; in 2009, he skipped Jordan's induction because Winter wasn't in yet, he said. After Winter died in 2018, homages from his most celebrated students further attested to his greatness. Jordan, in a statement, said he "learned so much" from Winter. On Twitter, Bryant wrote, "He taught me how to study every detail." Former Bulls and Lakers guard Ron Harper chimed in, sharing with the L.A. Times his effusive praise: "Tex was the best coach of all time, and he was (always) going to keep it real."
Winter, Pippen tweeted at the time by way of summation, "leaves a helluva legacy behind. Student of the game. Hall of Famer. 9 NBA championships as a coach." Then there was the wisdom, imparted behind the scenes, that helped power most of those title runs.
"He taught me how to become a better offensive player. How to be patient on the floor. How to take criticism," Pippen wrote. "How to win."
Nick Faris is a features writer at theScore.
Comments
✕
Tex Winter, hoops genius and mentor to legends, was sports' best assistant coach
  Got something to say? Leave a comment below!