Ultimate 5: The best Kings lineup since '95
Lisa Blumenfeld / Getty Images Sport / Getty
While hoops remain on hiatus, theScore's NBA editors will be compiling ultimate starting lineups for each team in the Association. The catch: Only players who have been in the league since the 1995-96 season can be included.
The Sacramento Kings were on pace to miss the playoffs for a 14th consecutive season before the NBA's current hiatus. While the last decade-and-a-half hasn't exactly been memorable, Sacramento did qualify for eight playoff appearances over a 10-year span from 1995-2005.
Given that era of prosperity, the Kings have a stronger pool of All-Star caliber talent to choose from over the past 25 years than one would initially think.
Guard
Mike Bibby
Bibby arrived in Sacramento ahead of the 2001-02 campaign and made an instant impact, helping the Kings get within one game of the NBA Finals. Sacramento was a playoff mainstay with Bibby on the roster, qualifying for the postseason in five of the six full regular seasons he played with the club. Bibby was also durable, appearing in 80 or more games in five seasons with the club.
The New Jersey native enjoyed his best seasons while playing in a Kings uniform, averaging 17.6 points, 5.4 assists, and one steal in 476 career games with the franchise.
Guard
Mitch Richmond
Richmond gave the Kings a much-needed offensive jolt after arriving via trade from the Golden State Warriors. The Hall of Fame shooting guard was the team's leading scorer in each of his seven seasons with Sacramento, averaging 23.3 points along with 4.1 assists and 1.3 steals.
The Kansas State product also made five consecutive All-NBA teams, six consecutive All-Star appearances, and won the 1995 All-Star Game MVP while with the Kings. Even Michael Jordan once called him the toughest shooting guard he had to defend.
Despite his scoring brilliance, though, Richmond only helped the Kings qualify for one postseason appearance.
Forward
Peja Stojakovic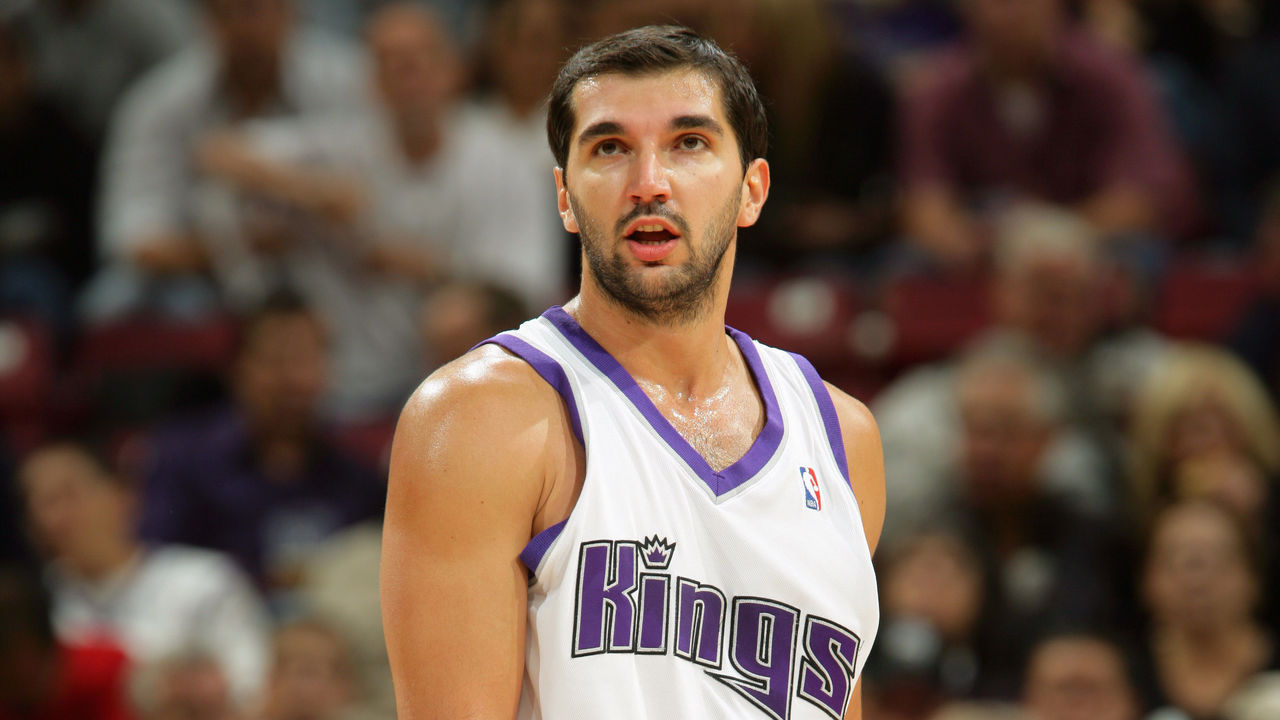 Stojakovic was ahead of his time as a long-range marksman during the early 2000s.
After coming off the bench during his first two seasons, Stojakovic emerged as a go-to scoring option as a full-time starter. From 2000-01 to 2004-05 (his last full season with the Kings), the Serbian averaged 21.1 points while connecting on 40.8% of his 3-pointers and 89.3% of his free throws. He made three straight All-Star appearances and an All-NBA team during that span.
The former 14th overall pick still leads the Kings in all-time 3-pointers made with 1,070. Further, Stojakovic accumulated 59.8 win shares with the franchise, ranking him fourth behind Hall of Famers Oscar Robertson, Jack Twyman, and Bobby Wanzer.
Forward
Chris Webber
Of all the great players that suited up for the Kings during the mid-2000s, Webber shines above the rest.
Acquired through a trade for a package headlined by Richmond, the University of Michigan was a consistent double-double threat during his seven seasons in Sacramento. Across 377 starts, Webber averaged a stellar 23.5 points, 10.6 rebounds, 4.8 assists, 1.5 blocks, and 1.5 steals.
A four-time All-Star and five-time All-NBA selection as a King, Webber was unequivocally the team's franchise star during its most successful run within the last 25 seasons.
If not for some highly questionable officiating during the 2002 Western Conference finals, Webber's Kings could have very well advanced to The Finals for the first time since the 1950-51 campaign, when the franchise was based in Rochester, New York.
Center
DeMarcus Cousins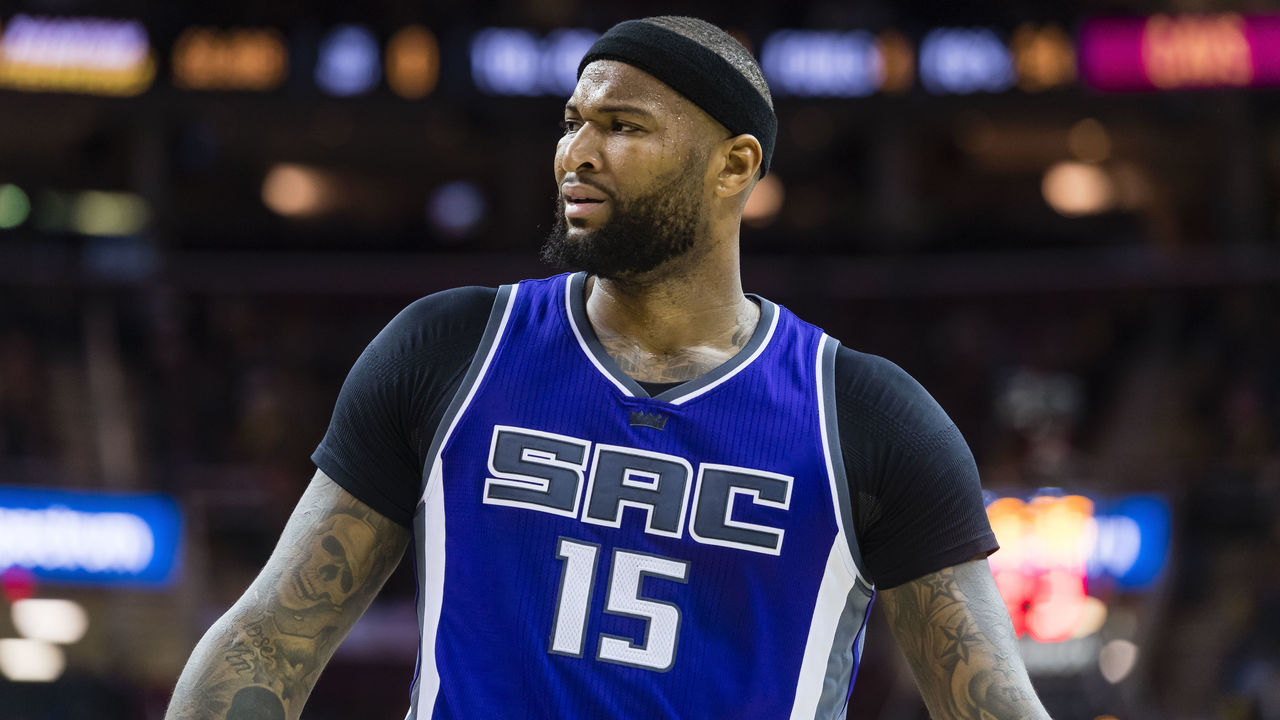 Drafted out of Kentucky with the fifth overall pick in 2010, Cousins emerged as one of the league's most dominant centers while playing for Sacramento.
An overwhelming offensive force around the rim, Cousins' strength has allowed him to bully his opponents down low for easy buckets. Over the course of his seven-year run on the Kings, he averaged 21.1 points, 10.8 rebounds, three assists, 1.4 steals, and 1.2 blocks in 470 games.
However, Cousins' temperament has occasionally held him back. He racked up numerous suspensions and fines while playing for Sacramento.
Just Missed
Buddy Hield
Hield has emerged as one of the elite volume long-range shooters in today's game.
After breaking Stojakovic's single-season franchise record with 278 treys in 2018-19, Hield was on pace to eclipse 300 made 3-pointers this season before the current hiatus.
Vlade Divac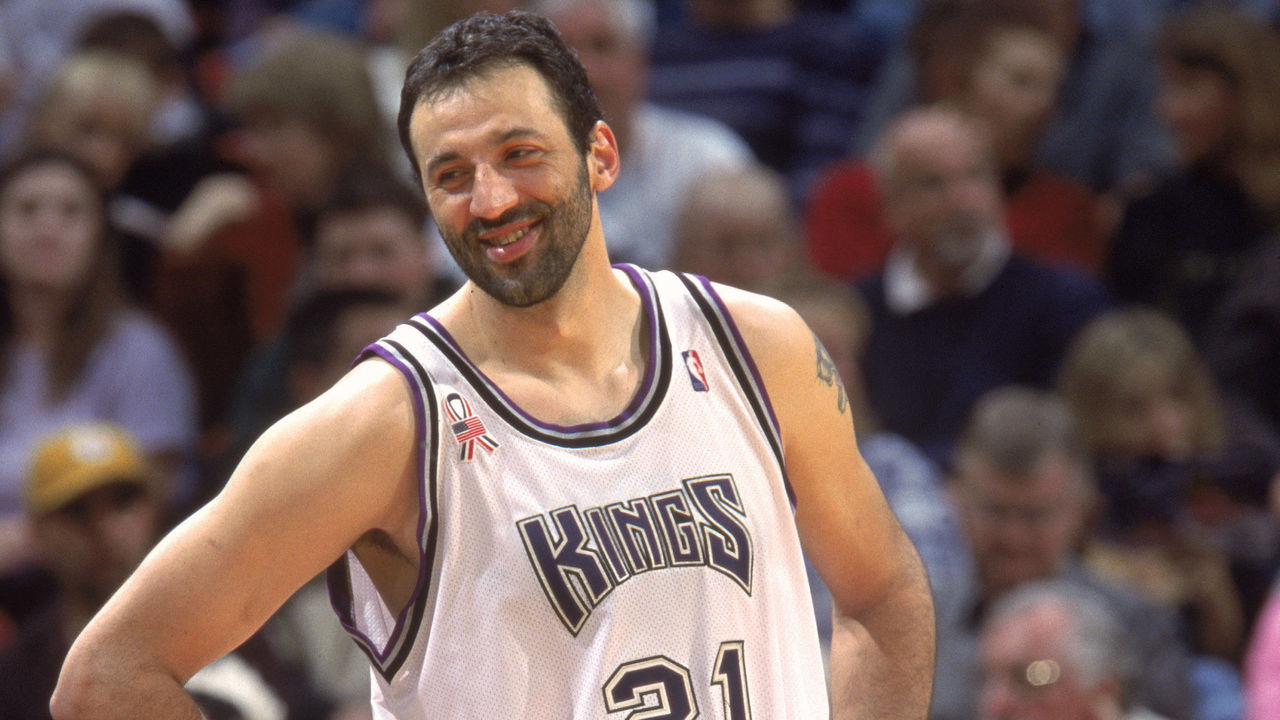 The Hall of Fame center and current Kings general manager played six seasons with the organization from 1998 to 2004. Divac's veteran leadership helped Sacramento grow from a rebuilding club into a playoff regular.
De'Aaron Fox
If Fox spends a few more seasons producing at his current rate, he could certainly make a case to supplant Bibby on this list. But with only two-plus seasons under his belt and no playoff appearances, we can't jump the gun just yet.
Comments
✕
Ultimate 5: The best Kings lineup since '95
  Got something to say? Leave a comment below!