The Case for No. 1: Anthony Edwards is a star with room to grow
Photo illustration by Nick Roy / theScore
One year after Zion Williamson emerged as the clear-cut No. 1 pick, the top of the 2020 NBA draft class appears to be wide-open. A few players could make a case to be chosen first overall. As draft season approaches, theScore looks into the prospects vying to prove they're the best of the bunch.
Halfway through Anthony Edwards' sixth college game, his Georgia Bulldogs trailed Michigan State by 21 at the Maui Invitational. Edwards' first appearance on a major stage began quietly, as he finished the first half with just four points.
The second half, though, provides compelling evidence for why Edwards might be the best player in his draft class. The 18-year-old nearly carried his team back, scoring 33 points and draining seven 3-pointers. Someone who didn't watch the game might assume Edwards caught the Spartans sleeping after they built a big lead, but many of the shots the 6-foot-5 guard created and made were of a highly difficult nature.
With a little space, he knocked down a long 3-pointer from midway between the arc and midcourt. Without space and with his back to the basket, he turned around and buried a long baseline jumper over a defender. He pulled up for a three in transition. He made one off the catch. His final stat line of 37 points, six rebounds, four steals, and three blocks - against the No. 3 team in the country - validated his status as one of the 2019 class' top recruits.
"It's the reason why he got all the hype, it's the reason why he got a name like that," Michigan State guard Cassius Winston said postgame. "You let a player like that get going, it's very difficult to slow him down and that just feeds into everybody on the team."
The 37 points were a season high for Edwards, who declared his intentions to enter the NBA draft in late March. Even as he averaged 19.1 points and 5.2 rebounds and earned SEC Freshman of the Year honors, much of his one year in college occurred under the radar. Despite the presence of the nation's No. 1 freshman, Georgia struggled to a 16-16 record and finished second to last in the SEC. The cancellation of the NCAA Tournament didn't hurt Edwards' prospects because his team was unlikely to appear in it.
But that 20-minute outburst against a good Spartans team showcased Edwards' potential. At only 18 years old, the athletic 6-foot-5, 225-pound guard enters the NBA with room to grow. He's one of a small group of players in contention to be selected first overall - LaMelo Ball, James Wiseman, and Obi Toppin also among them.
Edwards' high school coach, Tysor Anderson, said the youngster's commitment is what separates him from the field.
"Thanksgiving Day, Christmas Day, New Year's Day, any other times when kids are not supposed to be in the gym and getting work, he is," Anderson, now the coordinator of basketball operations at Jacksonville State, told theScore. "So I think that that in itself will just be really valuable for him. ... Now that he's going to be a professional and responsible for filling a lot of the hours in his day, the fact that (basketball is) how he likes to spend his time will be very, very helpful."
Anderson watched Edwards' evolution firsthand. He accepted the head coaching job at Holy Spirit Prep in Atlanta in June 2018. At the time, Edwards was entering what looked to be his junior season.
Anderson didn't yet know Edwards, but days before he took the job, buzz surrounding the young guard exploded after his performance at the Pangos All-American Camp in California. Edwards stood out in a field that included likely lottery pick Isaac Okoro, as well as two of the top three players in the 2020 recruiting class in Cade Cunningham and Evan Mobley.
One week later, Anderson traveled to Charlottesville, Virginia, to watch Edwards compete in the NBPA Top 100 camp. He had a revelation while observing his new star player perform against the country's best prospects.
Anderson's grandfather, Hall of Famer Lefty Driesell, coached players like Len Bias and John Lucas Sr. at Maryland. Anderson's uncle, Chuck Driesell, coached Iowa star Luka Garza in high school.
Could Edwards be better than them all?
"I just remember thinking, 'Damn, this kid is far better than I thought,'" Anderson said. "And honestly, the first thing I thought was he might be the best player that anyone in my family has ever coached."
Anderson said Edwards was the most impressive player on the Under Armour AAU circuit. And by the end of that summer, Edwards was considered the best in the 2020 recruiting class. But hype grew even more in November 2018 when Edwards reclassified to the 2019 class. The 247Sports Composite ranked him second, behind Wiseman.
Edwards averaged 25.7 points, 9.6 rebounds, and 2.1 steals per game for Holy Spirit, taking the Cougars to the state championship game.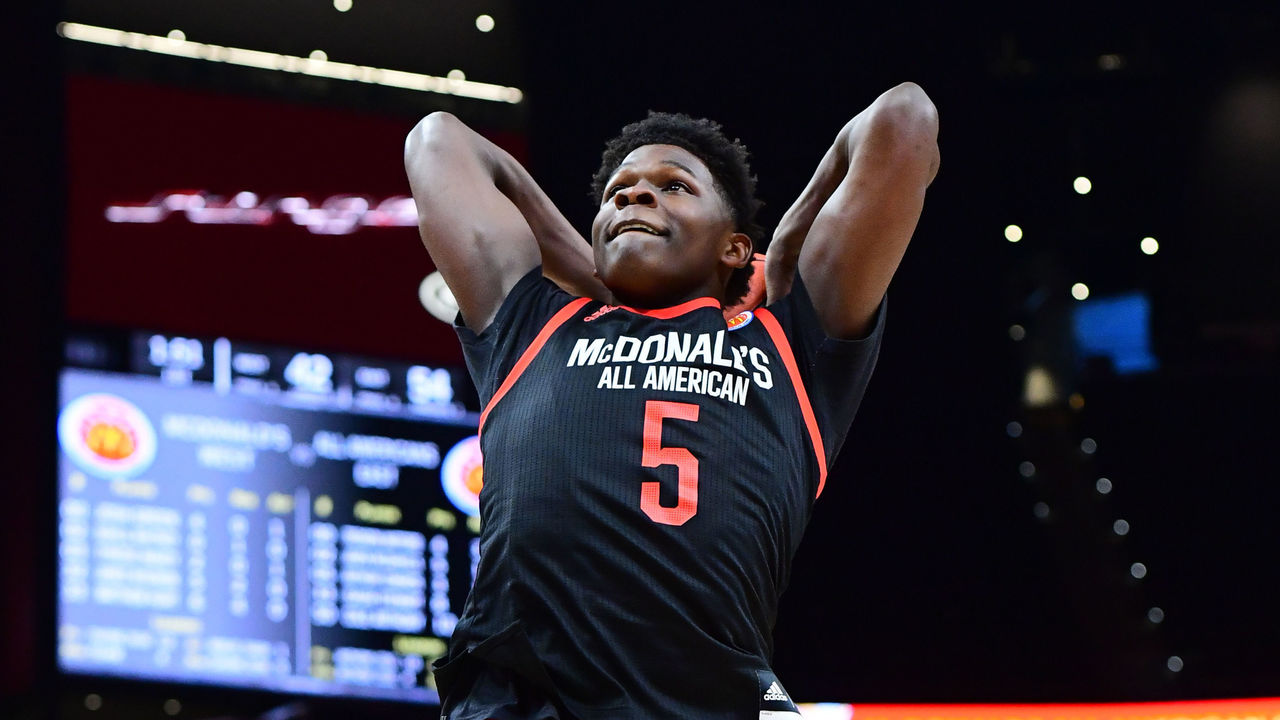 There, he impressed Anderson more than ever. Despite a sore knee and his future already secure - Edwards committed to Georgia in February 2019 - he stayed on the court, scoring 27 points in a three-point loss.
"I didn't think we were going to get him back in that game," Anderson said. "And I remember even saying, 'Look, this is not a situation where it's worth it for you to risk anything.' I remember him looking at me, like, 'Coach, I'm going back in this game.'
"He carried us and we weren't able to pull it out, but that was some resolve that he showed."
By choosing to stay close to home and play at Georgia, Edwards entered a situation where he would be relied upon to shoulder the load. Few, if any freshmen were asked to do more. Edwards led the SEC with 505 field-goal attempts and finished second with 245 3-point attempts. He had more games of 20-plus shot attempts (seven) than he did games of fewer than 10. (three). He often created his own opportunities; only 37.9% of his made field goals were assisted, according to barttorvik.com.
Edwards' efficiency was hindered by his sheer number of shot attempts and the fact that he became opposing defenses' main focus. He shot just 29.4% from three but was still a good finisher at the rim (69%). His solid free-throw percentage (77%) is perhaps an indicator that his 3-point shooting could improve at the next level depending on his role and the types of shots he receives.
At 18 years old, he still has room to develop. He's certainly not a finished product; in his final two games at Georgia, Edwards shot just 8-of-35 from the field.
Anderson said Edwards is coachable, especially when it comes to his individual game. He's looking forward to seeing how his former player performs when surrounded by teammates who are at his level or better.
"He hasn't really had that for the last several years," Anderson said. "He's just always been far and away the best player on his team. That was true with me, it was true in college his one year. So watching him fit into a team in the NBA where he's not the guy who's doing absolutely everything will be fun to watch."
Mark Cooper is theScore's NCAA writer.
Comments
✕
The Case for No. 1: Anthony Edwards is a star with room to grow
  Got something to say? Leave a comment below!