While hoops remain on hiatus, theScore's NBA editors will be compiling ultimate starting lineups for each team in the Association. The catch: Only players who have been in the league since the 1995-96 season can be included.
The Phoenix Suns have had some lean years of late, last qualifying for the playoffs in 2010 while posting just one winning record in that span. There's still a rich talent pool to draw from, though, particularly from the team's "Seven-Seconds-or-Less" heyday of the mid-aughts.
Here are the members of the Suns' ultimate starting five since 1995.
Guard
Jason Kidd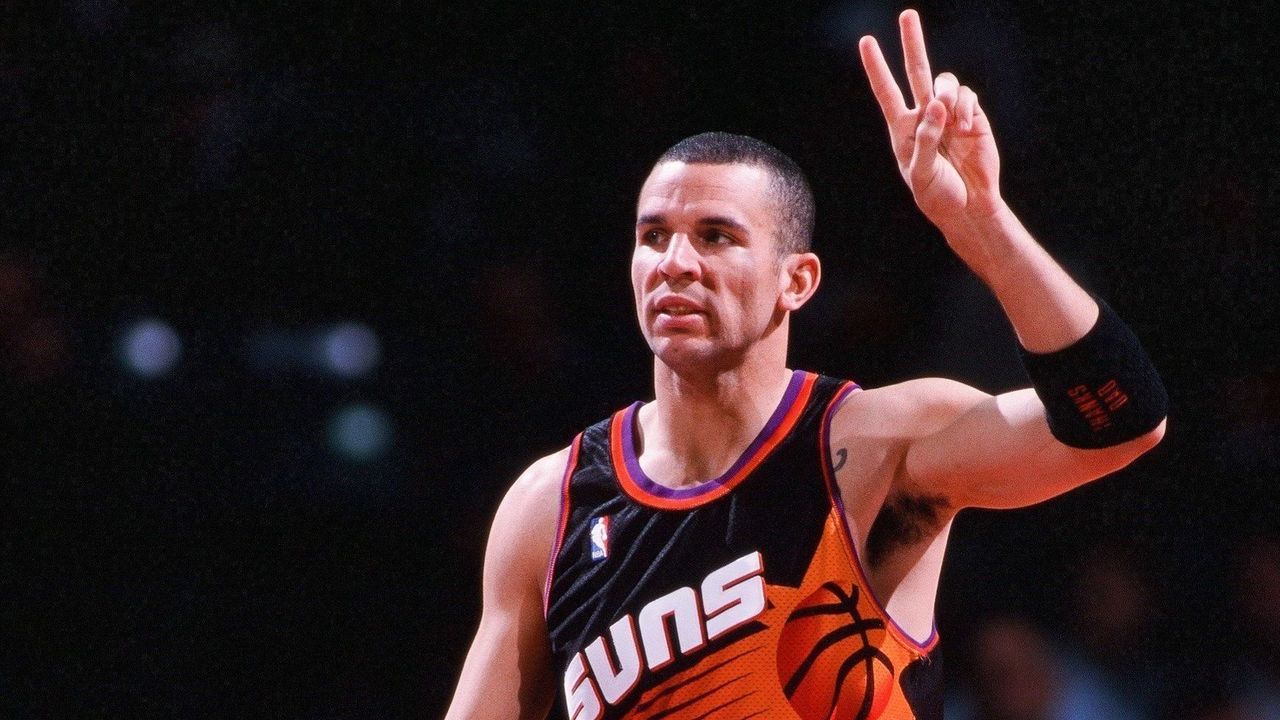 Kidd's time with the Suns from December 1996 through June 2001 wasn't as memorable as his tenure with the New Jersey Nets, nor as fruitful as his time with the Dallas Mavericks. But the Hall of Famer was still pretty much at the height of his abilities.
Kidd put up 14.4 points, 9.7 assists, 6.4 rebounds, and 1.6 steals per game in 309 regular-season outings with the Suns. He played in three All-Star Games, earned two All-NBA first-team selections and two All-Defensive selections (one first-team, one second-team), captured three of his five career assist titles, and finished fifth in MVP voting in the lockout-shortened 1998-99 season.
The only blemish on Kidd's on-court resume: The Suns were 1-5 in playoff series while he was in Phoenix.
Guard
Steve Nash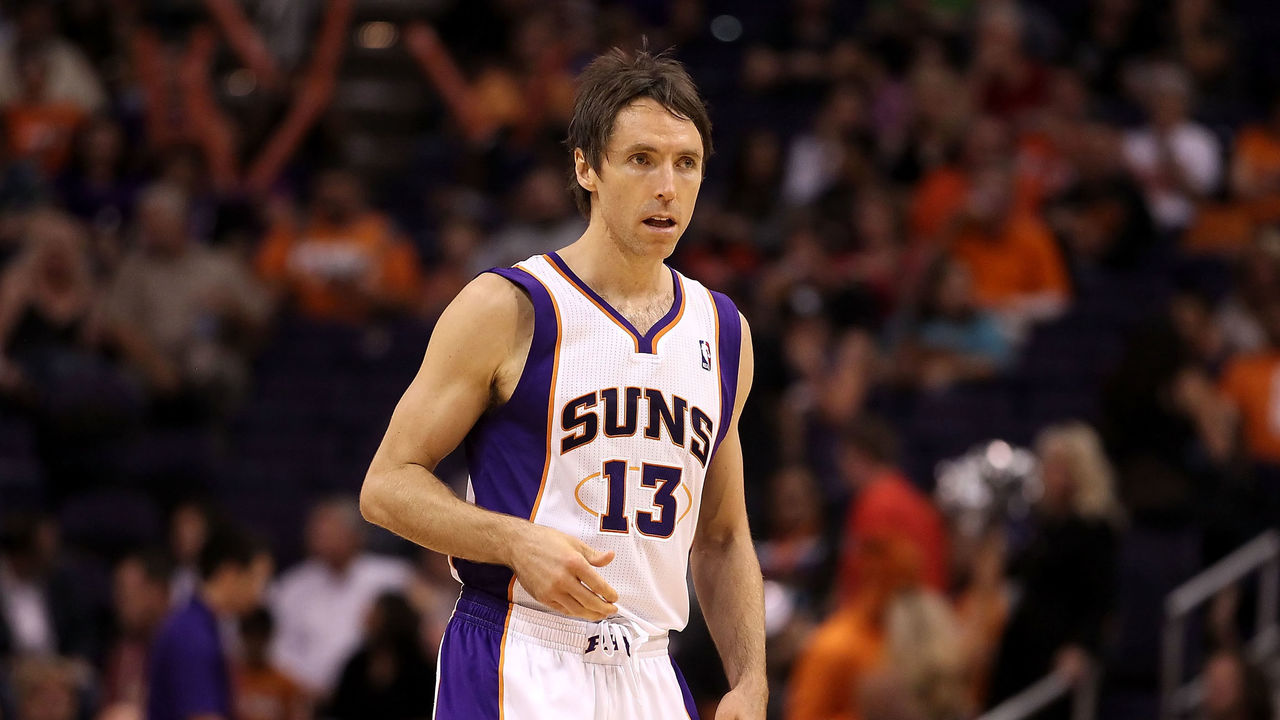 The Suns screwed up when they traded Nash to the Mavericks after his second NBA season. Luckily, they got a chance at a do-over six years later. In his eight-season run with Phoenix from 2004-12, the feisty Canadian averaged close to 16 points and 11 assists per game, earned six All-Star nods and five All-NBA selections, led the league in assists five times, qualified for the 50-40-90 club four times, and of course, won league MVP honors in both in 2005 and 2006.
Despite preconceived notions about teams that rely heavily on outside shooting, the Suns made the playoffs in five of six seasons with Nash back and running the show, reaching the conference finals in 2005, 2006, and 2010.
Wing
Devin Booker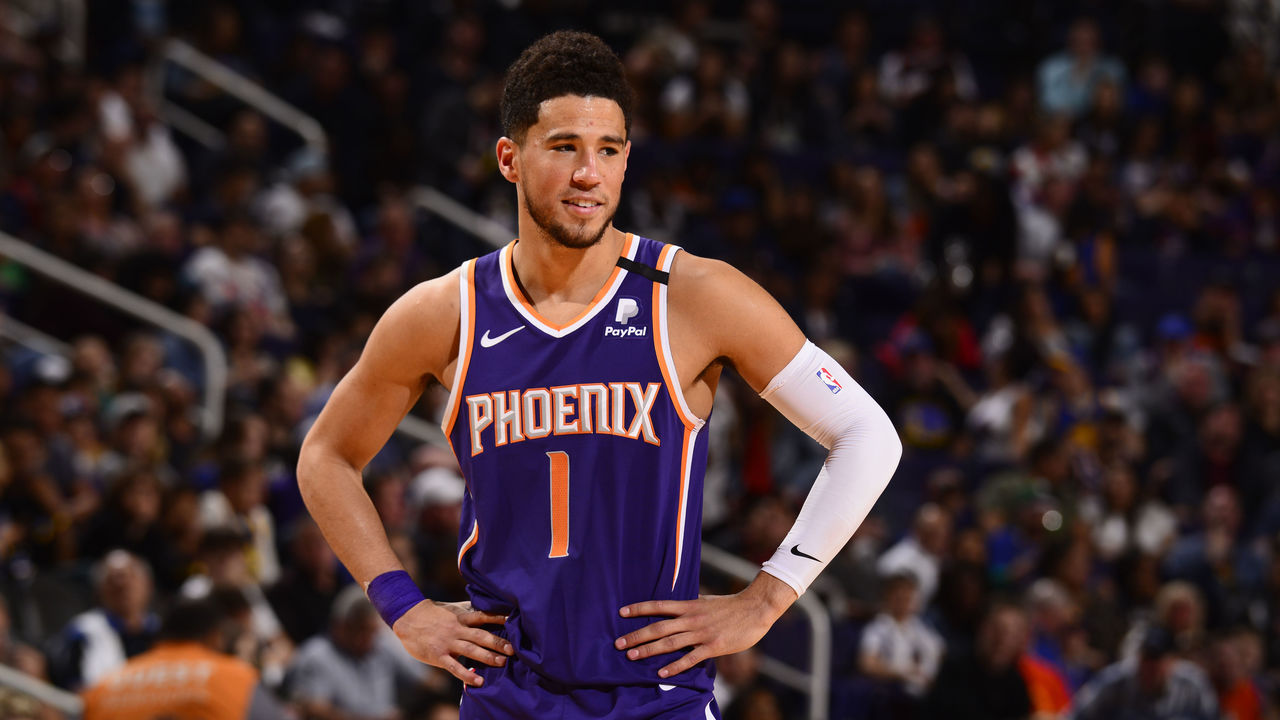 Booker finally broke through as an All-Star in 2019-20 after seemingly falling short of the distinction several times. The high-scoring wing has averaged 22.3 points, 4.7 assists, and 3.6 rebounds per game through five NBA seasons.
Together with 2018 first overall pick Deandre Ayton, Booker has the Suns trending toward relevancy again. It won't happen in 2020 - even if the NBA resumes the season - but Phoenix could return to the playoffs as early as 2021.
Wing
Shawn Marion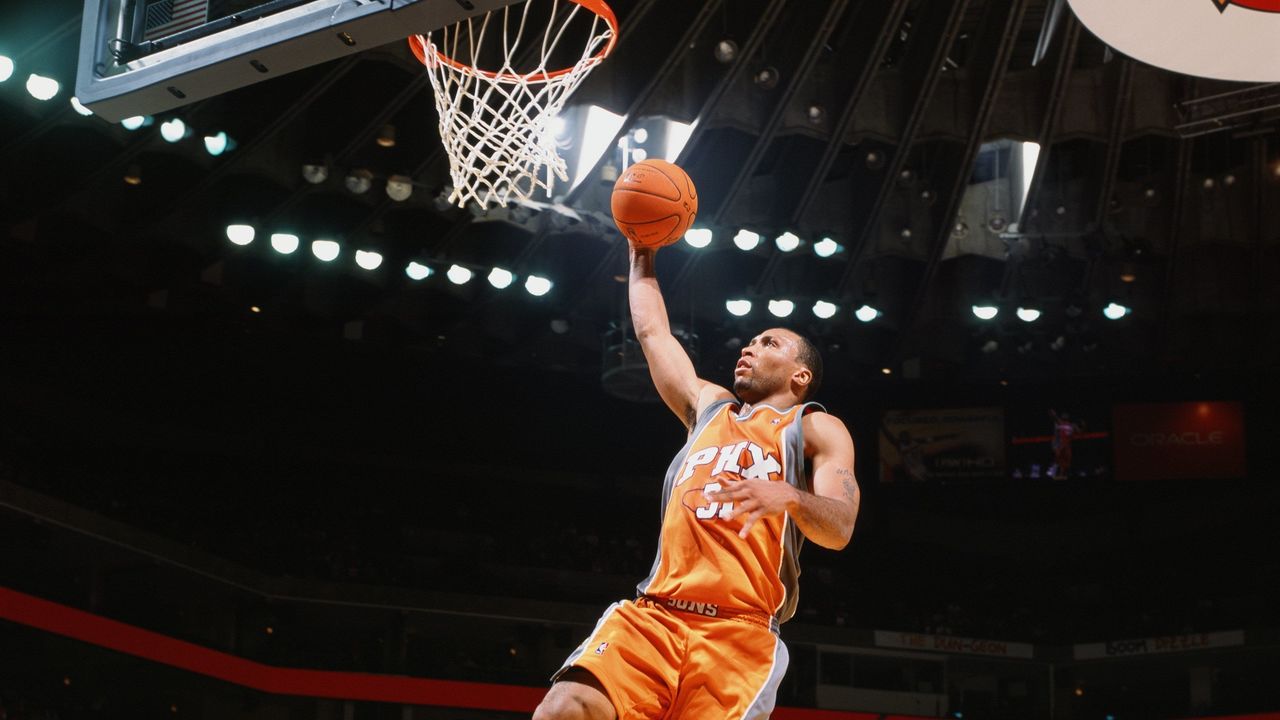 Marion deserves far more credit than he gets. From his selection at ninth overall in the 1999 draft until his inclusion in the Shaquille O'Neal trade during the 2007-08 season (a deal that effectively torpedoed the run-and-gun "Seven Seconds" era), "The Matrix" averaged 18.4 points, 10 rebounds, 1.9 steals, and 1.4 blocks per game.
A four-time All-Star and two-time All-NBA third-team selection, he also led the Suns in win shares five times from 2000-06 - including during the second of Nash's MVP seasons.
Marion's transformation into a small-ball 4 - running and spreading the floor on offense while muscling up with opposing bigs or kicking out to check perimeter players on the defensive end - unlocked the potential of those Suns teams. In a way, he changed the way the game is played today.
Center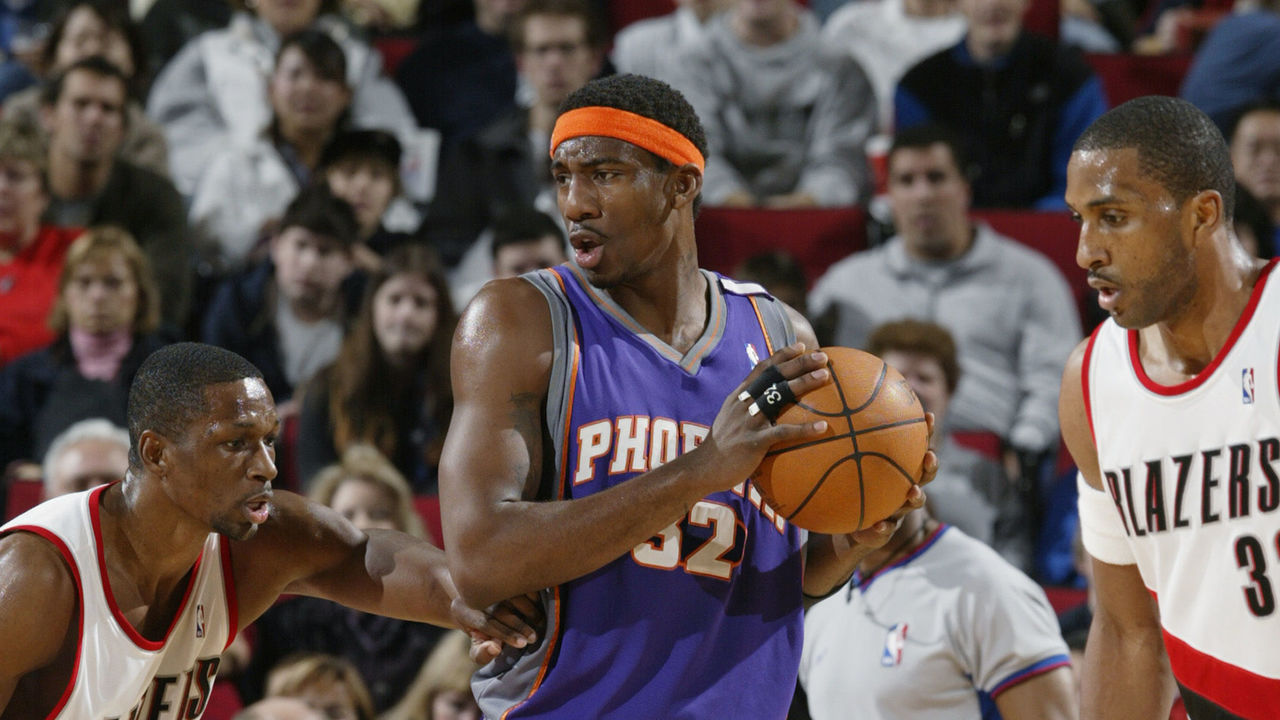 Amar'e Stoudemire
Save for the 2005-06 season when he missed all but three games, the high-flying Stoudemire was pretty much a star-level player from the moment he arrived in the NBA. The 2003 Rookie of the Year earned five All-Star nods and four All-NBA selections (one first-team, three second-team) in his eight years with the Suns.
In 516 regular-season games with Phoenix, "STAT" put up 21.4 points, 8.9 boards, and 1.4 blocks per outing. He consistently came through in the playoffs as well, scoring at least 35 points on seven occasions, including four games with 40 points or more.
Just Missed
Charles Barkley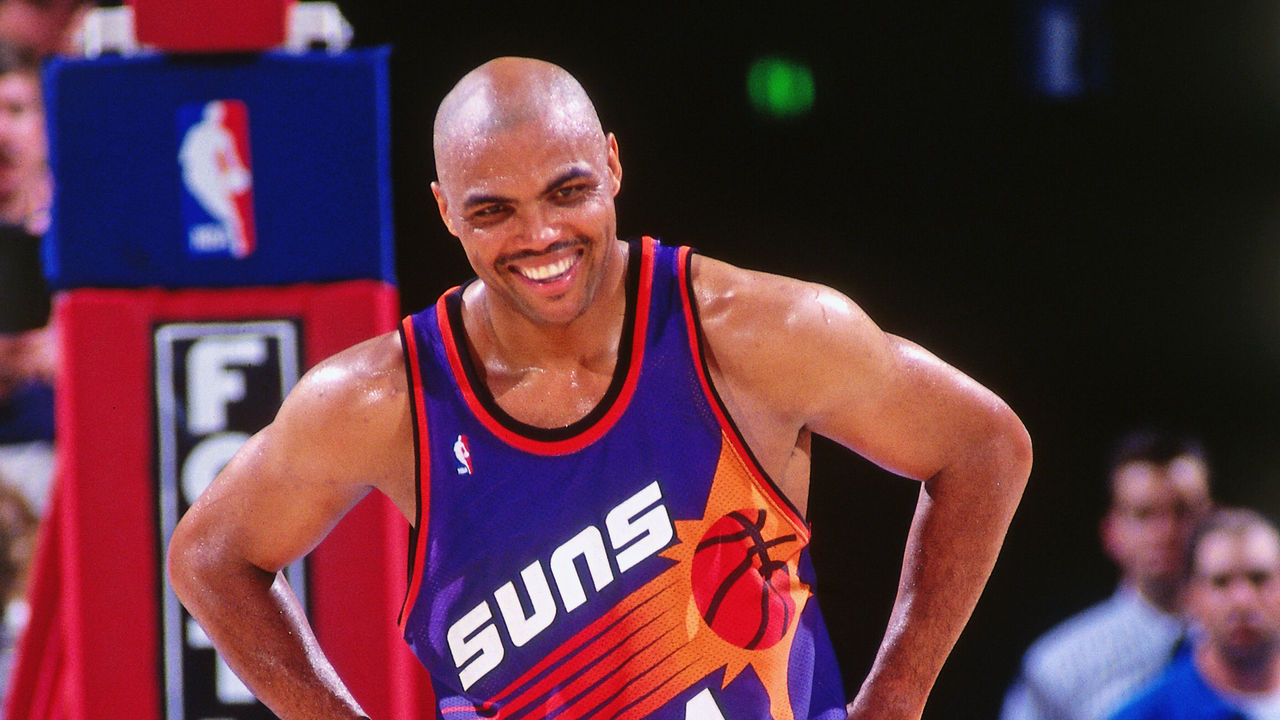 "Sir Charles" played four seasons with the Suns - but only one after our 1995 cutoff. Barkley put up 23.4 points, 11.5 boards, and 4.4 dimes per game with Phoenix and captured MVP honors in 1992-93, the same year he led the team to The Finals. But it didn't feel right to bump out Booker to squeeze in the "Round Mound of Rebound" on a technicality.
Kevin Johnson
Similarly, Johnson was a multi-time All-Star with the Suns in the early '90s, but he only made 182 appearances for them from 1995-96 onward. He put up close to 16-3-8 in that span - solid, but not good enough to squeeze out Nash or Kidd at guard.