The NBA season is suspended indefinitely due to the COVID-19 outbreak, and while the league hopes it will eventually be able to resume and conclude the 2019-20 campaign, that's far from a foregone conclusion. This week, we're asking some big questions that would be left unanswered if play doesn't resume.
Our Unanswered series has thus far aimed to dig into big questions related to how some contenders may have fared over the remainder of the season. Today, we take a brief detour to highlight a couple of incredible statistical achievements that may be forever lost to history and one decades-long team streak in peril.
Would Middleton have shot his way to immortality?
The NBA's famed 50-40-90 club is made up of legendary shooters who shot at least 50% from the field, 40% from deep, and 90% from the free-throw line in a single campaign. Last season, Malcolm Brogdon became only the eighth player to join the exclusive list, which also includes Stephen Curry, Kevin Durant, Steve Nash, Dirk Nowitzki, Reggie Miller, Mark Price, and Larry Bird.
Khris Middleton was on track to become the second Bucks player in as many seasons to shoot 50-40-90 until a four-game shooting slump sidetracked him and the campaign was abruptly suspended. Despite that slide, Middleton was only one made field goal shy of qualifying, knocking down 424 of 850 shots through 55 contests, so it's well within reason to believe the All-Star swingman could have made up the difference had the 2019-20 campaign played out.
And Middleton's entry would've been one of the most impressive yet.
The eight players mentioned above combined for 12 different 50-40-90 seasons but breaking down the numbers further highlights how special of a shooting year Middleton was enjoying.
For one, if you use the new statistical minimum - 82 made threes are needed to qualify for the 3-point percentage leaderboard as of 2013-14 - Nowitzki's season would no longer make the cut. (Dirk made 72 3-pointers in 78 games during the 2006-07 season when the statistical minimum was only 55 made threes.)
Secondly, none of Brogdon, Nash, or Price ever achieved the feat while scoring 20-plus points per game, meaning Middleton's season (21.1 points) might finish with him coming within 0.1 percentage points (49.9% from the field) of joining Curry, Durant, Miller, and Bird in the most exclusive section of an already restricted group. Even more impressive, Middleton's production was coming in only 30.1 minutes per game.
Alas, unless the regular season is resumed at some point, Middleton's final 2019-20 shooting splits will read 49.9-41.8-90.8. In this case, the difference between 49.9 and 50.0 is the difference between a great shooting season and one for the all-time record books.
Chasing Wilt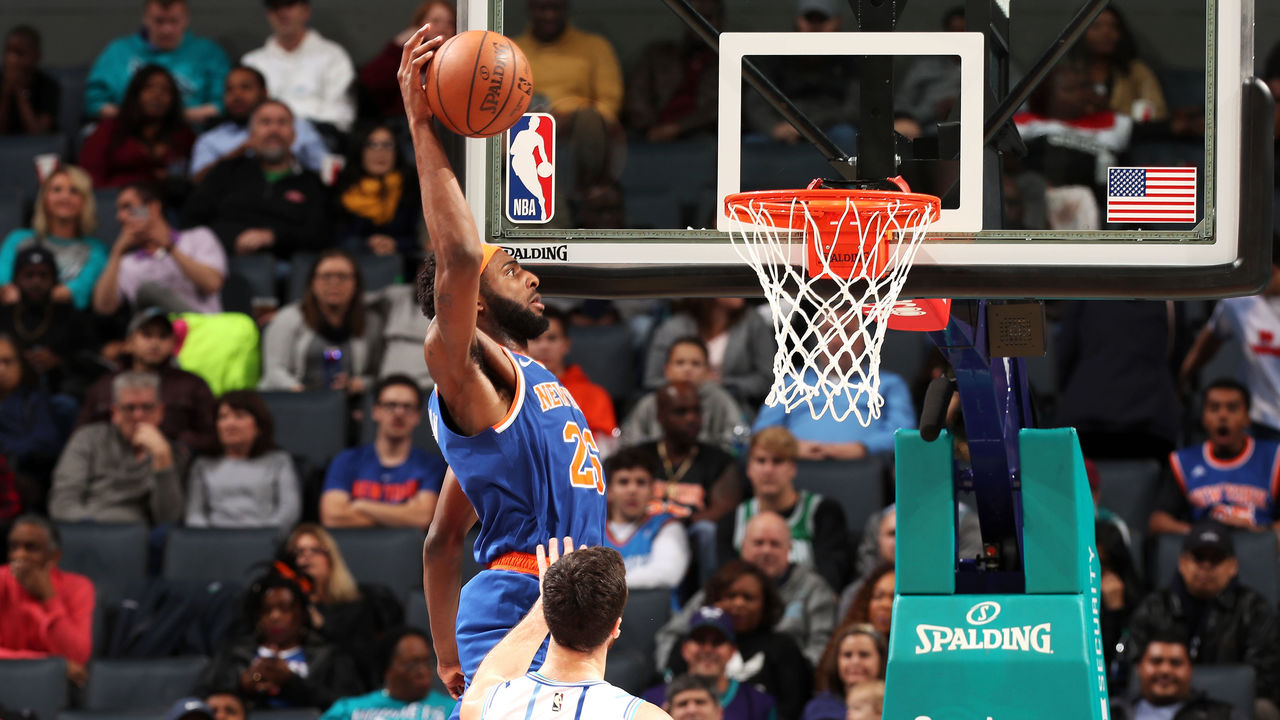 Speaking of the record books, how many people realize that a sophomore big man playing on one of the league's worst teams was on pace to break Wilt Chamberlain's 47-year-old record for highest field-goal percentage in a season?
Enter Knicks center Mitchell Robinson, who was averaging 9.7 points on 74.2% shooting through 61 games.
Chamberlain's record-setting 1972-73 season - the final year of his Hall of Fame career - saw the Lakers big man shoot 72.7% from the field (while averaging 13.2 points per game). In the near half-century since, the closest anyone's come to challenging that mark was when DeAndre Jordan shot 71.4% three years ago.
But here's the catch: While Robinson qualified for the in-season field-goal percentage leaderboard, his 253 made field goals leave him 47 shy of the 300 made field goals that the NBA cites as the minimum requirement to qualify for the end-of-season leaderboard.
Using Robinson's season average of 4.1 made field goals per game, the 21-year-old would've needed to play another 12 contests to reach 300. The Knicks still have 16 remaining on their schedule.
For now, we - and Robinson, himself - are left only with questions.
Given that no team played more than 67 games and some played as few as 63, will the league prorate their usual statistical minimums the way they would have in a lockout-shortened season? If the league were to take such action, would Robinson's record-breaking campaign be asterisked forever?
Had the season continued as normal, would the Knicks have shut the big man down once he reached the 300-field-goal benchmark with the record intact? And if Robinson cracked the 300 barrier while barely clinging to the achievement, would he have simply refused to continue shooting in what would be meaningless games? If a condensed finale to the regular season plays out at some point, does Robinson kick it into overdrive and start demanding the ball to ensure he can crack 300 made field goals?
Like the answers to so many other questions that a suspended season has left us with, we may never know.
Is Spurs' playoff streak in jeopardy or intact?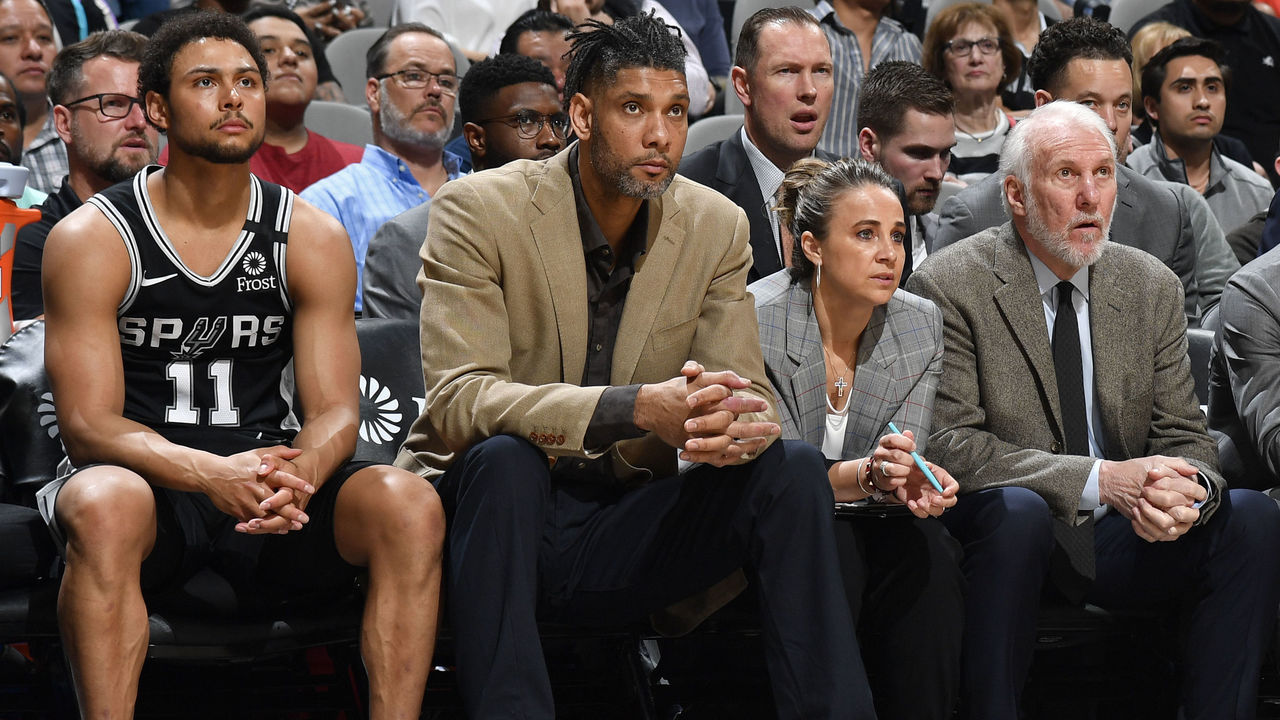 In sneaking into the playoffs by one game in 2018 then winning another 48 games last season, the San Antonio Spurs advanced to the playoffs for the 21st and 22nd consecutive years, eclipsing marks set by the Utah Jazz and Portland Trail Blazers from the mid-80s through early-2000s.
But there was one more team standing between the Spurs and sole possession of the longest playoff streak in NBA history. The 76ers/Nationals franchise also once qualified for 22 straight postseasons - a run that spanned two cities (Syracuse and Philadelphia) between 1949-50 and 1970-71.
It's no secret that the Spurs viewed a new record of 23 consecutive playoff berths something worth chasing this season, which is probably why they never seemed like serious sellers at the trade deadline despite a losing record.
At 27-36, San Antonio sits 12th in the suspended Western Conference standings, four games back of eighth place with four teams to leapfrog and only 19 games to do it. Had the season continued as is - or if the regular season is resumed in some fashion at some point - the Spurs extending their streak would have been a minor miracle. If the season is picked up with only the playoffs to play, will they get a chance to earn one of the last spots, or will the league simply take the 16 teams currently in postseason positioning?
More importantly, what happens if the season is canceled? How would we view San Antonio's nearly unprecedented streak? One could argue that between the lack of a 2020 postseason and the Spurs' standing when the campaign was suspended, they shouldn't get to pick up where they left off next year. The Spurs, on the other hand, could contend that since they had yet to be mathematically eliminated from contention, their streak would remain intact through a canceled season, and they would once again be targeting the all-time record next spring.