It's not easy to take stock of everything that transpires on a busy night in the NBA, particularly in these dog days of the season. Great performances and individual moments of brilliance can fall through the cracks and be lost in a sea of highlights and soundbites or pregame runways and wrestling gimmicks.
That rings especially true when those moments of brilliance are crafted by a star toiling away on a lousy team. Witness Bradley Beal, who just put together the finest 27 hours of offensive production you'll see this season.
Across a back-to-back that tipped off Sunday night in Chicago and ended with Beal's Wizards hosting the league-leading Bucks on Monday, the 26-year-old went off for 53 and then 55 points, joining legends named Michael Jordan, Kobe Bryant, Wilt Chamberlain, and Bernard King as the only players to score at least 50 points on consecutive days in the Association.
None of those players lost both games, however, as Beal's Wizards just did.
And that's where the criticisms begin. Forget "count the rings" - Beal can't even get love from a "count the wins" culture right now, and that's a shame.
Yes, Beal turned the ball over 16 times while recording only seven assists between Sunday's loss to the Bulls and Monday's overtime defeat to the Bucks. The Wizards, who also lost a home contest to the lowly Cavaliers last week, are now 4.5 games out of a playoff spot in the miserable "race" for the Eastern Conference's eighth seed. But if you can't appreciate the dazzling display of individual excellence Beal treated us to these last two nights, you're a full-fledged basketball curmudgeon.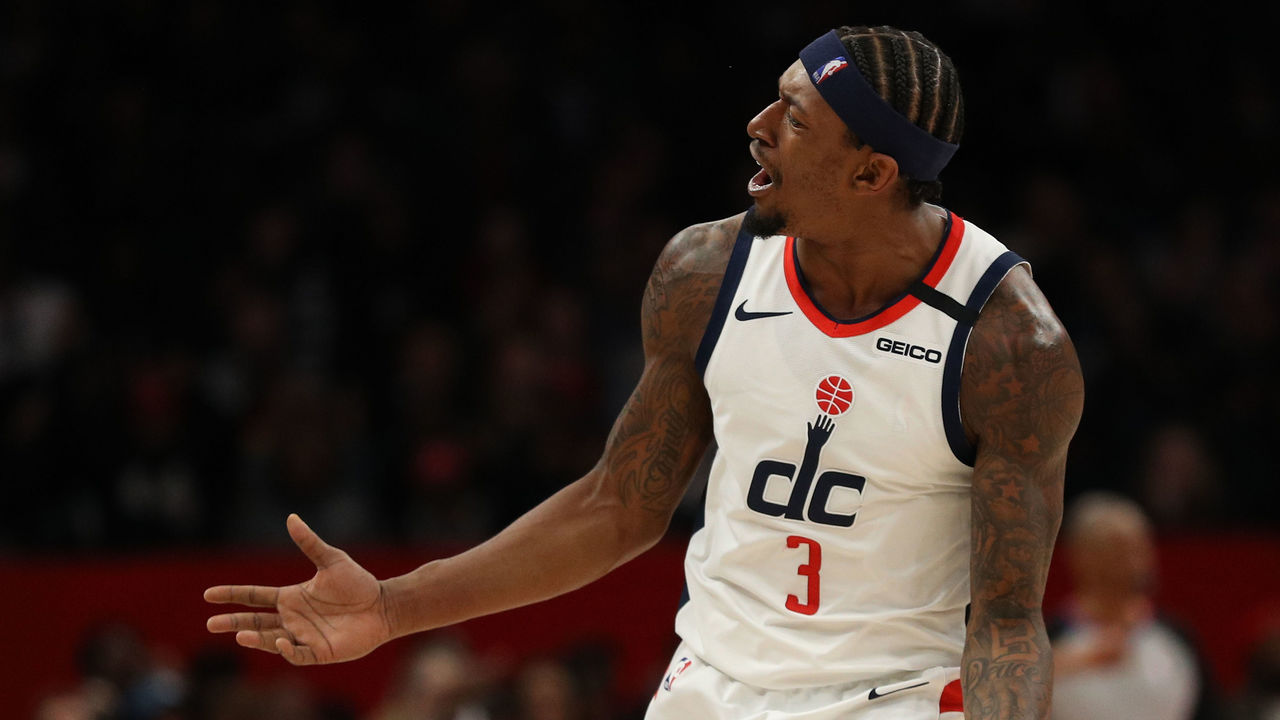 Over 80 minutes of ball during the span of 27 hours, Beal poured in 108 points on a sizzling 57-54-90 shooting line. The cacophony of turnovers doesn't diminish the absurdity of that production.
Take every Wizards possession between Sunday and Monday that ended in a Beal field-goal attempt, free-throw attempt, or turnover, and you're left with those 108 points on just 89 individual possessions, which works out to 1.21 points per possession. To put that in perspective, the Mavericks' league-leading offense - which is currently on track to be the most efficient NBA attack of all time - has produced 1.17 points per possession.
Beal was scoring at a rate so unbelievable - against the league's No. 1 and No. 11 defenses, by the way - that if you envisioned his two-night production in team metrics, it would be like an NBA squad owning the most efficient offense of all time despite also featuring the league's worst turnover rate. Suffice it to say, that's an implausible feat.
When the Bulls and Bucks gave Beal an inch of space, he pulled up and buried triples in their faces. When a defender lost him off the ball, he punished them with his catch-and-shoot game or with backdoor cuts. When opponents ran him off the 3-point line, he got to the rim or his sweet spots in the mid-range area with ease.
Ryan Arcidiacono, Zach LaVine, Shaquille Harrison, Tomas Satoransky, Thaddeus Young, Wesley Matthews, Donte DiVincenzo, George Hill, Khris Middleton ... all of them got the business from Beal during this insane stretch of offense.
Consider this snapshot: Beal scored 22 points over the final seven-and-a-half minutes of regulation against Milwaukee before adding another seven in the five-minute overtime. He dropped a double-nickel on the league's top defense to drag his sorry team - with Ish Smith, Ian Mahinmi, Isaac Bonga, and rookie Rui Hachimura starting beside him - to OT against a title-contending juggernaut on pace for 70 wins that had built up a 20-point lead.
Given how quickly the NBA news cycle spins, Beal's two-night eruption won't exactly be remembered as a "Where were you when?" moment, and it doesn't help his cause that the Wizards are 20-36.
Beal undoubtedly wears part of that record despite his season averages of 30 points and six assists.
He's looked disinterested far too often on the defensive end, and the biggest headlines attached to his name have revolved around the lucrative extension he signed that took him off the trade market, and his public displeasure with being an All-Star snub.
Nevertheless, you should be able to acknowledge a player's big-picture shortcomings without being jaded about their short-term awesomeness. Life and basketball careers are just too short to take performances like this for granted.
Joseph Casciaro is theScore's senior basketball writer.