To be fair, the NBA's regular season is already more than 65% complete. But with the All-Star break comes a chance to dole out midseason awards for MVP, Defensive Player of the Year, Rookie of the Year, Sixth Man, Coach of the Year, and Most Improved Player. Here are theScore's selections:
MVP and Defensive Player of the Year -
Giannis Antetokounmpo, Bucks
Only two players have ever won both MVP and Defensive Player of the Year honors in the same season: Hakeem Olajuwon in 1993-94 and Michael Jordan in 1987-88. Through 54 games in 2019-20, Giannis Antetokounmpo is primed to become the third.
Antetokounmpo, who earned theScore's unanimous midseason votes for both of the aforementioned accolades, tops the league in Defensive Box Plus-Minus and ranks in the 81st percentile in steal percentage, according to Cleaning The Glass. The Milwaukee Bucks' league-leading defense in 2019-20 has been a team effort, mimicking last year's template of taking away the paint by specializing Brook Lopez as a deep-drop rim-protector. But Antetokounmpo is the catalyst.
Like another strong defense in Toronto, the Bucks concede an above-average number of 3-point shots because they perpetually harass opponents inside the arc. But the Greek Freak has the ability to be everywhere at once, and there just aren't that many elite players with 7-foot-3 wingspans wreaking havoc in the NBA. He navigates screens expertly and can be on the perimeter in no time. He's the literal definition of a game-changer.
Offensively, Antetokounmpo's 30 points per game represent a higher scoring average than he posted during last year's MVP campaign, and the biggest factor has been his improved 3-point shot. Though his connection rate (31.3%) remains below the league average, his career-high five attempts per game from beyond the arc this season have further enhanced the gravitational pull he exerts on the floor.
The Bucks are the best team in the league by virtually every metric, and Antetokounmpo is the central reason why. - John Chick
Rookie of the Year - Ja Morant, Grizzlies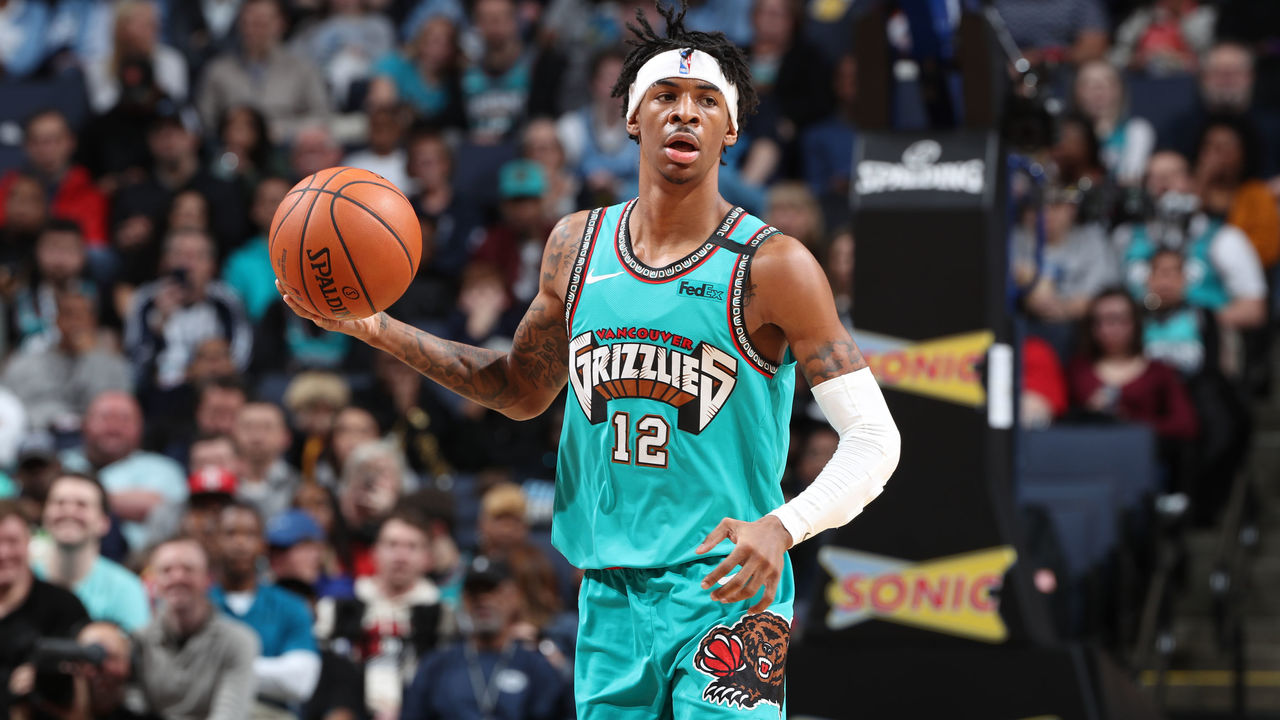 A unanimous choice by theScore's NBA panel, the Rookie of the Year award is Ja Morant's to lose. The electrifying floor general is already one of the league's most exciting players and has helped the Memphis Grizzlies obliterate preseason expectations and expedite what many once viewed as a lengthy rebuild.
In addition to his scoring prowess, Morant has been an elite distributor from the outset, leading his draft class in assists per game (7.1) and assist percentage (35.5%). The Murray State product also showcases an ability far beyond his years when it comes to closing out games, ranking among the league's top five in fourth-quarter scoring this season.
The eighth-seeded Grizzlies face a challenging schedule down the stretch, with 16 of their 28 remaining games coming against teams above .500. But if there's anything Morant has proven thus far, it's that the 20-year-old has the gumption and skill set to continue leading Memphis toward an unexpected playoff berth. - Josh Weinstein
Most Improved Player - Bam Adebayo, Heat
Bam Adebayo's raw statistical improvement is obvious, but it's not just because he's jumped from 23.3 minutes of action per game last season to a 34.5-minute average through 54 games in 2019-20.
| B. Adebayo | 2018-19 | 2019-20 |
| --- | --- | --- |
| PTS | 8.9 | 15.8 |
| AST | 2.2 | 4.9 |
| REB | 7.3 | 10.4 |
| STL | 0.9 | 1.2 |
| BLK | 0.8 | 1.2 |
| MPG | 23.3 | 34.5 |
The traditional box score stats only tell part of the story. Midway through his third NBA season - and first as a full-time starter - Adebayo is terrifying the Miami Heat's rivals as one of the most versatile defenders in the league. He has the strength to go toe to toe with the game's heavyweight centers, and the timing and athleticism to lock down flighty guards on the perimeter. Forcing Adebayo to switch onto a guard is hardly a victory for an opposing offense.
What distinguishes Adebayo from the NBA's other top defenders is that he's also one of the best pound-for-pound playmakers in the league. Only four other players listed at 6-foot-9 or taller are averaging at least 4.9 assists per game: LeBron James, Ben Simmons, Nikola Jokic, and Giannis Antetokounmpo. Most impressively, the 22-year-old's dramatic season-to-season improvement in assist rate - 14.2% to 22.5% - has come without much change in his turnover rate. - Andrew Joe Potter
Also receiving votes: Brandon Ingram, New Orleans Pelicans; Luka Doncic, Dallas Mavericks
Sixth Man of the Year - Montrezl Harrell, Clippers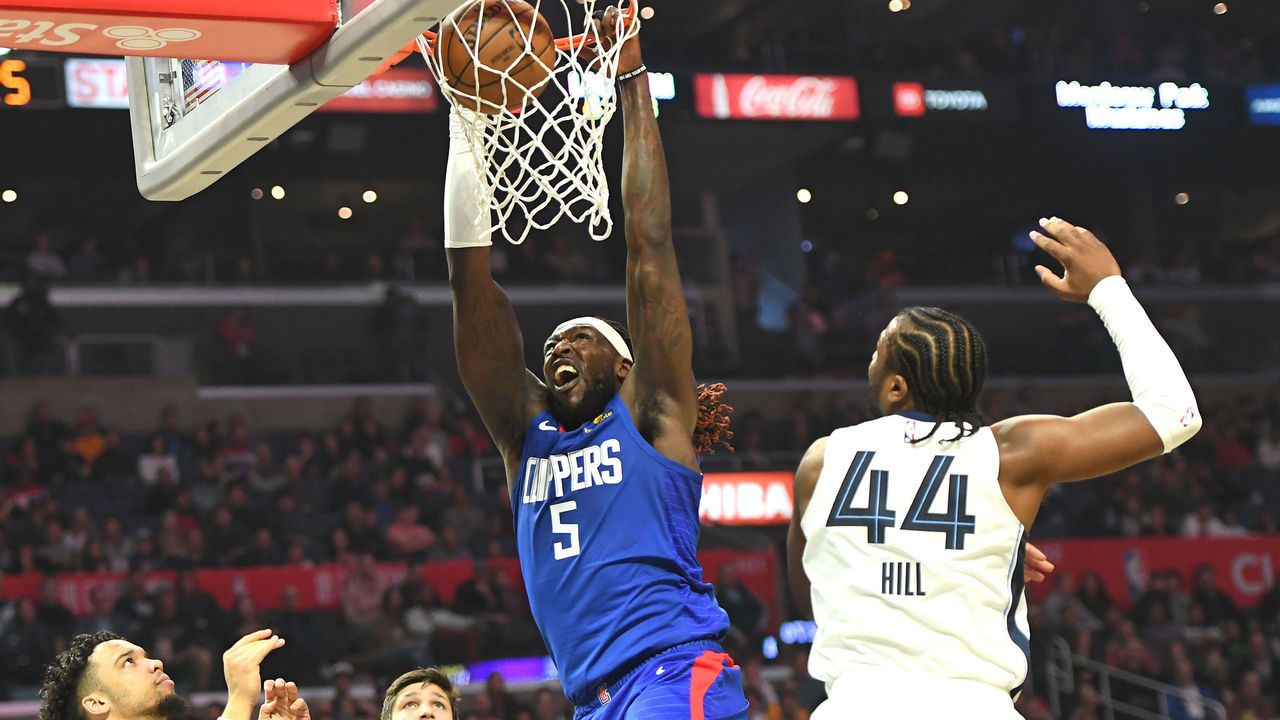 With the Los Angeles Clippers boasting star talents like Kawhi Leonard, Lou Williams, and Paul George, it's easy to overlook the significant contributions of a reserve like Montrezl Harrell. If that's the case, though, look no further than head coach Doc Rivers, who admitted in January that Harrell "means the world" to the Clippers, despite the fact his 28.4 minutes per contest this season rank sixth on the team.
Harrell's impact off the bench is clear, even beyond his 18.8 points and 7.1 rebounds per game. Among all NBA players to play in more than 25 games this season but start in nine or fewer, Harrell ranks third in scoring behind teammate Williams and Oklahoma City Thunder guard Dennis Schroder. He also boasts the trio's best true shooting percentage (59.8%) and effective field-goal percentage (57.6%), despite Schroder and Williams being vastly superior from 3-point range.
Another underrated aspect of Harrell's game is his ability to draw fouls; he leads the Clippers in both shooting fouls (152) and offensive fouls (33) drawn this season. He's also converted 65 and-1 buckets, more than doubling Leonard's 32 for the team lead, according to Basketball-Reference.
Though he's a relatively undersized frontcourt player at 6-foot-7, Harrell leads the Clippers with 2.7 offensive rebounds per game. His ability to provide an already proficient side with second opportunities is crucial, and it should help him earn recognition as this year's best reserve and a massive contract in free agency this summer. - Jonathan Soveta
Also receiving votes: Dennis Schroder, Thunder
Coach of the Year - Nick Nurse, Raptors
Months after losing Leonard and Danny Green, the Toronto Raptors entered the All-Star break with the NBA's third-best record. Nurse deserves a lot of credit for his team's first-half success, and theScore's NBA panel unanimously awarded him the midseason nod for Coach of the Year. Multiple key players have missed extended periods with injuries, yet the 52-year-old continues to make the most of the cards he's dealt.
Nurse is as creative a head coach as you'll find in the Association. He isn't afraid to roll out unconventional schemes. The former D-League Coach of the Year occasionally deploys the "janky" box-and-one defense that stifled the Golden State Warriors in last year's NBA Finals while also mixing up his zone and man-to-man coverages.
With the Raptors down 30 points to the Dallas Mavericks in a late December matchup, Nurse's use of a diamond press fueled the league's biggest comeback since December 2009. It's no coincidence the native of Iowa has a .715 win percentage through parts of two seasons as an NBA bench boss. Perhaps it's only fitting that Nurse and his staff manned the sidelines at All-Star Weekend in Chicago. - Chicco Nacion