"All we are right now is 1-0, fellas."
That line, delivered by Minnesota Timberwolves head coach Ryan Saunders after his new-look team upset the Los Angeles Clippers on Saturday, drew mockery around the NBA's social media landscape. After all, the Timberwolves were actually 16-35 and had just snapped a 13-game losing streak when Saunders' sound bite was shared by the team's Twitter account.
The Wolves, however, have no choice but to buy into the hope of their latest reset.
This is a team that's qualified for the postseason just once in the last 16 years. It hasn't won a playoff series since 2004. After a promising 10-8 start this season, Minnesota's dropped 28 of 34 games, including two losing streaks of at least 11. Franchise star Karl-Anthony Towns has suited up for only one victory in 19 appearances over the last two-and-a-half months.
"We've stressed since the (trade) deadline, since we made these moves and we have a ton of new faces … that we're 0-0 right now," Saunders said before Monday's loss in Toronto. "We want to take it game by game and focus on being good that day, and then we'll take care of tomorrow, tomorrow."
A whirlwind deadline week saw the Timberwolves ship out seven players and take back eight in three separate moves - a disorienting level of midseason roster turnover.
Gone is Andrew Wiggins, the enigmatic talent Minnesota acquired from Cleveland in 2014 for former face of the franchise Kevin Love. Robert Covington's 3-and-D skill set now belongs to Houston. Gorgui Dieng, who was the longest-tenured Timberwolf when this season tipped off, was sent to Memphis. In their places, Minnesota welcomed 23-year-old star D'Angelo Russell, the toughness of James Johnson, and the upside of Malik Beasley, among others.
Three of the Timberwolves' five starters in Toronto - and five players who played in the first quarter of Monday's game - weren't even on the roster a week ago.
While the Wolves are optimistic, those on the outside have less incentive to believe in the franchise's latest makeover. We've seen this story too often before.
Winning the 2015 draft lottery and adding Towns to a team with reigning Rookie of the Year Wiggins was supposed to be a catalyst for greatness. Luring coach Tom Thibodeau's no-nonsense, defense-first approach in 2016 was supposed to be a fresh start.
Trading for Jimmy Butler in 2017 was supposed to give the franchise a jolt. A year and a half later - following just one postseason trip - Butler was shipped to Philadelphia. Jimmy Buckets hadn't hardened the team's young duo in their short time together. He'd only exposed them.
The defensive potential Minnesota flashed with Covington in the mix was another fresh start, as was replacing Thibodeau with Saunders and hiring longtime Rockets executive Gersson Rosas to run basketball operations.
This season, the Timberwolves began traveling with lime-green carpets for use in their dressing rooms on the road. Four phrases are highlighted on those carpets: "Innovative," "Player-centric," "Family-oriented," and "Championship-driven." It's another fresh start through redecoration.
But where has all this change led the Timberwolves, except back to square one? How many times can you hide behind the comfort of a fresh start before starting fresh becomes stale, and you begin to notice the common threads?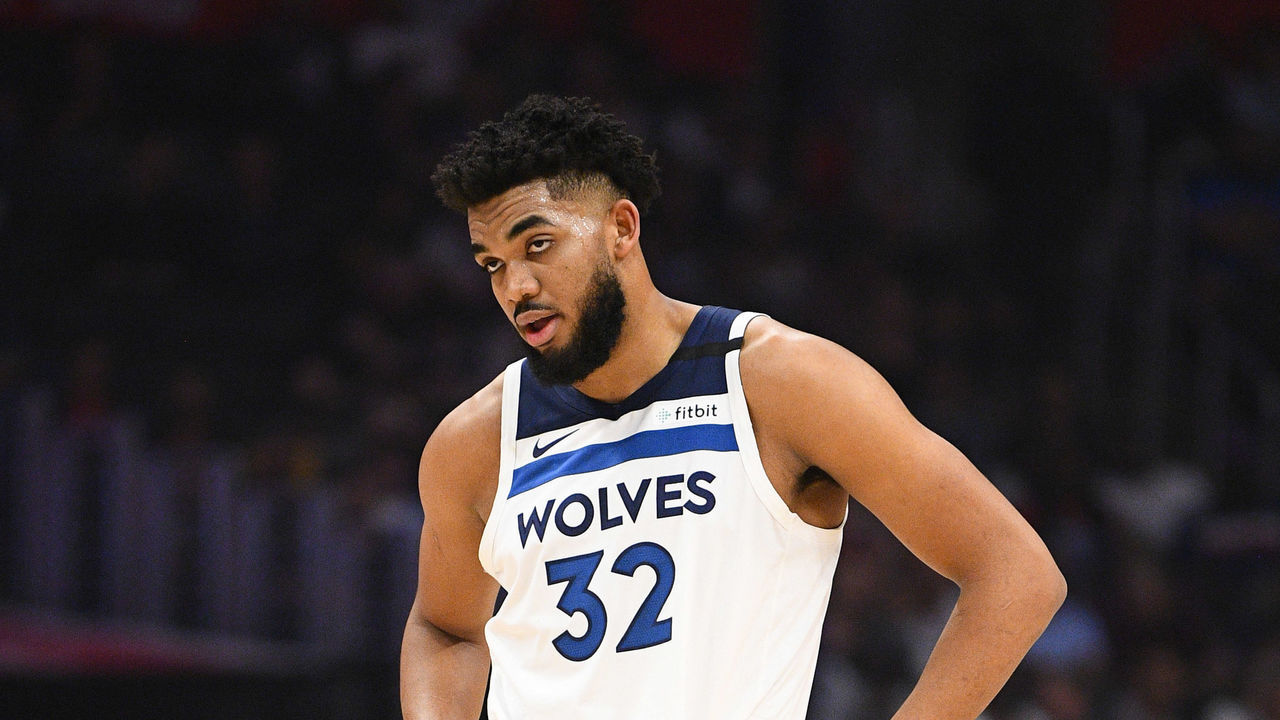 Towns is a transcendent offensive talent at his size - a 6-foot-11 big man averaging better than 26 points and four assists on 51-41-80 shooting while attempting just under eight 3-pointers per contest. But there are enough holes in both his game and his on-court demeanor to make you wonder if a team relying on him to be its best player can ever compete for anything of significance.
Though the metrics suggest he's a solid rim-protector, Towns is a disaster when defending in space. Any strides he'd made in that regard over the last couple of years have been lost this season.
On the offensive end, it can be maddening to watch a player with his otherworldly gifts coast through games. Monday's loss to the Raptors was a perfect example, as Toronto started the 6-foot-6 Rondae Hollis-Jefferson at center with both Marc Gasol and Serge Ibaka out of the lineup.
Towns should feast in such scenarios. Instead, in a game where the Wolves and Raptors combined for 263 points and no Raptor could match his combination of size and skill, the two-time All-Star recorded only 18 true shot attempts (which includes possessions that lead to free throws), with five of those coming in the final four minutes, when the game was already out of reach.
At least Towns recorded a team-high seven assists. He said after the game: "I feel passing's one of my strongest attributes, so if (teammates) get to a spot and the defense is giving me a window, no matter how small it is, I'm going to take it and make the pass. When (teammates) touch the basketball, it makes all of us happier. And for me personally, I get more enjoyment out of assists than points."
Towns might genuinely want to be a model teammate, but as a max-salary star, being the best teammate means grabbing a game by the throat, putting the team on your back, and dragging it to the finish line. Towns hasn't always looked comfortable with that component of a superstar's job description.
The injury-riddled Raptors poured in 137 points on 57% shooting Monday night, yet Towns lauded his team's "toughness" and "grit" in an 11-point loss. Is that the type of eternal optimism that will guide Minnesota through its latest rebuild, or is it the type of contentment that breeds defeatism?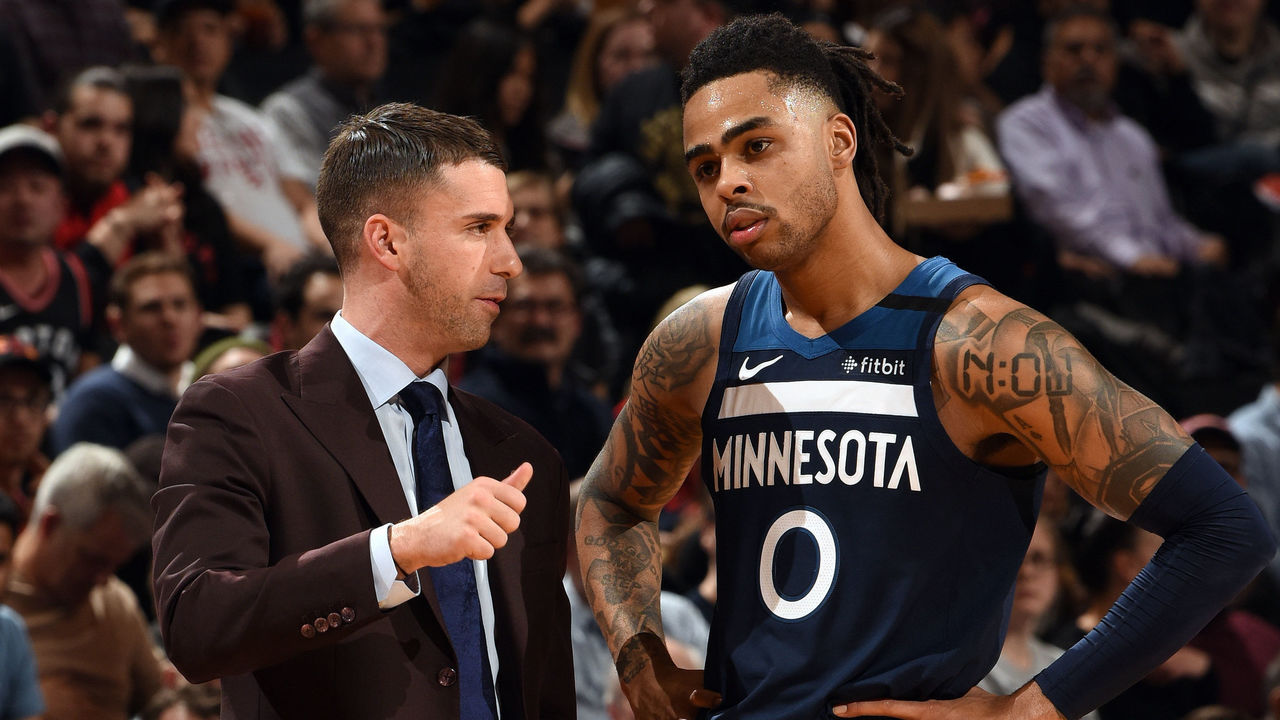 The addition of Russell may help Towns become a more effective offensive player. Russell's mastery of the pick-and-roll should make for one of the league's most efficient two-man games with Towns, and the point guard's shot profile suits the modern vision Saunders and Rosas have for their team. More than half (50.4%) of Russell's shots this season have come from behind the arc, where he's connected on a career-high 38% of his attempts. The Timberwolves, meanwhile, rank third in 3-point attempt rate but 29th in 3-point success.
The defensive end is where the questions will persist. As much as Towns and Russell can pick-and-roll their way to prolific production, opponents can just as easily gorge by targeting the duo in pick-and-roll actions on the other end.
Down the stretch of Monday's game, the Raptors repeatedly used Russell's man to screen for Pascal Siakam, knowing full well that Minnesota often switches everything on the defensive end. The results were as ugly as they were predictable, with Siakam, who finished with 34 points, and the Raptors getting whatever they wanted from those possessions.
The Timberwolves sit 14th in the Western Conference - 10.5 games back of the eighth and final playoff spot - so they can afford to treat the final two months of this season as a testing ground for how they want to build a team and two-way game plan around Towns and Russell.
"It's a whole new group, and chemistry is going to develop over time. Time's on our side right now. We're not in a playoff race or anything like that," Russell said Monday. "We're just worried about us. The more games, practices, and film sessions we can get under our belt, the better we'll be."
Wins and losses may not matter much between now and April, but the Timberwolves will need that time to set the stage for next season. The 2021 draft pick Minnesota surrendered to Golden State in the Wiggins-for-Russell deal is only top-three protected. The Timberwolves need to find a path to defensive respectability and overall competitiveness by next season, or the franchise might be hit with another haymaker it can't afford to absorb in the 2021 lottery.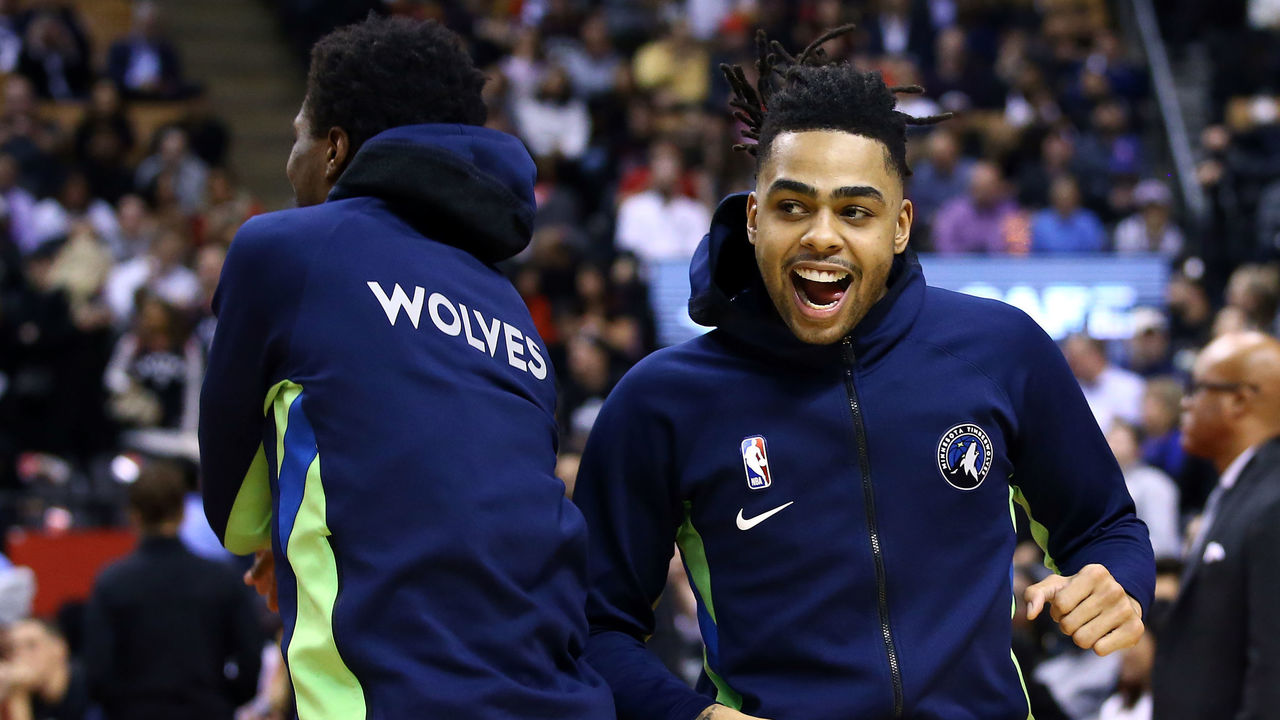 For now, the addition of Russell - Towns' closest friend in the league - seems to have quieted any reports of the center's discontent. In fact, inspired by the energy in Target Center during Saturday's victory over the Clippers (which Russell sat out due to injury), Towns and Russell purchased 2,000 tickets to give away for Russell's home debut on Wednesday.
"D'Angelo has felt nothing but tremendous love and care from the fans," Towns said. "We were just sitting around and wanted to do something special for our city. He couldn't play in the first game, so I thought the best way to repay the fans for their excitement and support in the game against the Clippers was to give them free tickets. We're very blessed that we have a great organization like the Timberwolves that was able to help us accomplish that."
Winning over the Twin Cities, where the Timberwolves own the league's worst attendance, is one thing. Winning games is something else. Towns and Russell are facing an uphill climb to ensure the Wolves' latest face-lift produces results.
If you ask them, though, past failures are irrelevant. The Timberwolves are merely 1-1.
Joseph Casciaro is theScore's senior basketball writer.