It was always going to end like this for David Fizdale in New York. He was doomed the day he agreed to take the gig at Madison Square Garden.
That's not a knock on the man who was fired as head coach of the New York Knicks on Friday. Fizdale was hired by an incompetent front office headed by team president Steve Mills and empowered by an owner for whom mere incompetence would be a massive upgrade.
In hindsight, Fizdale's biggest fault in all of this may have simply been believing that anything would change at 4 Pennsylvania Plaza. The Knicks' next head coach - after Mike Miller's run as interim bench boss comes to an end - needs to understand that nothing will so long as James Dolan is calling the shots.
Fizdale isn't blameless, and his track record as a head coach has been somewhat spotty since emerging as one of the NBA's most well-known assistants during his time on Erik Spoelstra's staff in Miami.
He was fired 19 games into his second season with the Memphis Grizzlies after struggling out of the gate and clashing with franchise center Marc Gasol. In 104 contests at the helm in New York, Fizdale failed to help the Knicks establish any semblance of a discernible identity on either end of the court. But he's a spirited, highly respected figure among stars around the league, which is more than you can say for the Knicks.
New York is well on its way to missing the playoffs for the 15th time in 19 seasons. It's won a single postseason series in the last two decades and remains on track to finish dead last in the Eastern Conference for the second consecutive year.
Along the way, Dolan's franchise has alienated superstars young and old, been found liable in a sexual harassment lawsuit, hired and fired a conveyor belt of coaches and executives - a fair number of whom have been out of their depth in their roles, as Mills is now - and turned its back on franchise icons.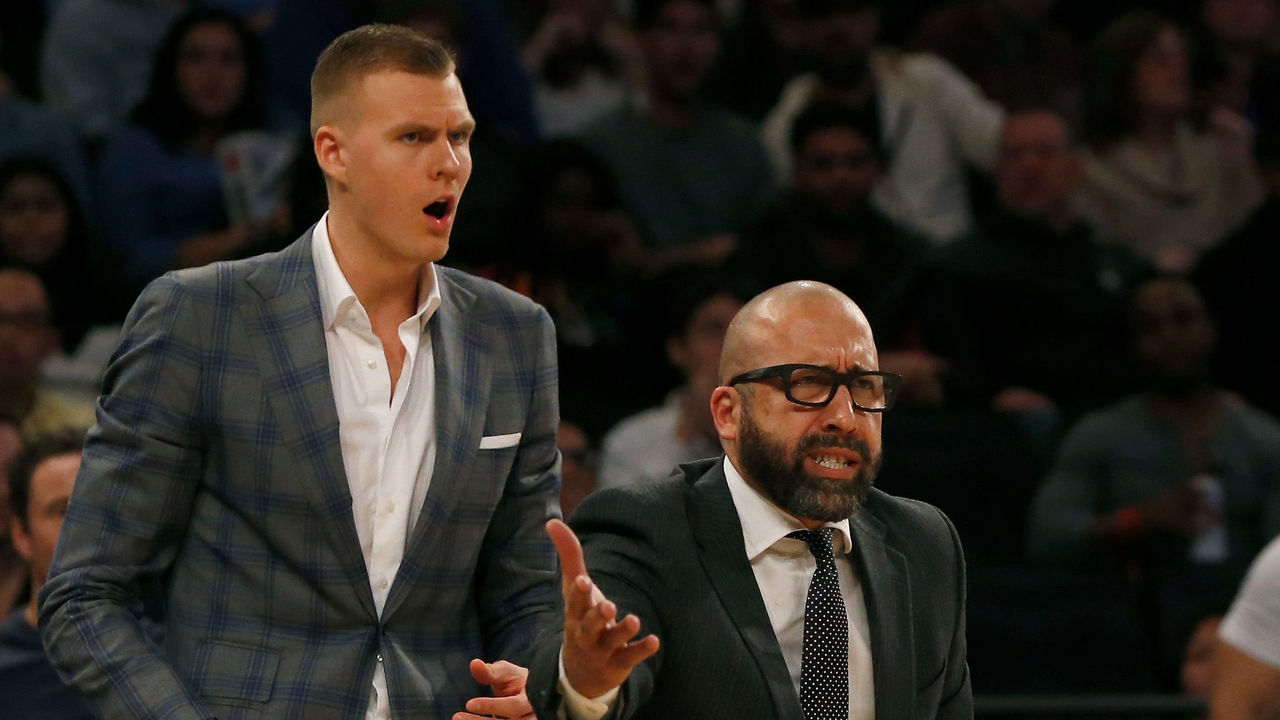 In the last year, alone, the Knicks traded Kristaps Porzingis - once trumpeted as the crown jewel of the team's perpetual rebuild - to clear cap space for a star-studded free-agent class, saw Dolan brag about the team's chances in that free-agent class, and then watched stars like Kawhi Leonard, Kevin Durant, and Kyrie Irving make their decisions without giving the Knicks so much as a meeting.
After signing four veteran power forwards of limited upside to short-term deals, Mills then had the audacity to label the 2019 offseason a success. He even claimed a lot of "max-type players" were interested in meeting with and playing for the Knicks, but that the team had other ideas for how it wanted to move forward with its rebuild.
The result? After losing 65 games last season, Fizdale was left with an even clunkier roster for the 2019-20 campaign, with nowhere near enough shooting or supporting talent to prop up rookie RJ Barrett. And when that ill-fitting roster stumbled early, as anyone with a modern basketball mind could have predicted they would, Mills held an impromptu press conference to lament the state of the team.
The Knicks were 2-8 at that point and have gone 2-10 since, not because of "effort and execution," as Mills bemoaned 10 games into the season, but because the team he assembled is directionless and nowhere near good enough. In that sense, it's a perfect microcosm of the organization as a whole.
Did the Knicks play hard enough for Fizdale? Maybe not, but all the effort in the world can't make up for being comically overmatched in almost every game. Did the team's young players develop adequately under Fizdale's stewardship? It's too early to tell. He wasn't given much of a shot, and he certainly wasn't given enough time. The same can't be said for Mills.
Fizdale is out of a job (though the Knicks still owe him approximately $17 million between now and 2022), and he'll wear the 21-83 record he compiled in New York, but at least he's free from the circus. As long as Dolan continues as MSG's ringleader and empowers inept execs like Mills, the Knicks will never be free from it. Whoever replaces Fizdale will find that out soon enough, just as he did.