2019 NBA Mock Draft 3.0: Zion taking over the Big Easy
The focus of the Association is slowly shifting to the 2019 NBA Draft on June 20. Here, theScore offers an in-depth look at the most realistic option for each team in the first round.
1. Pelicans - Zion Williamson, F, Duke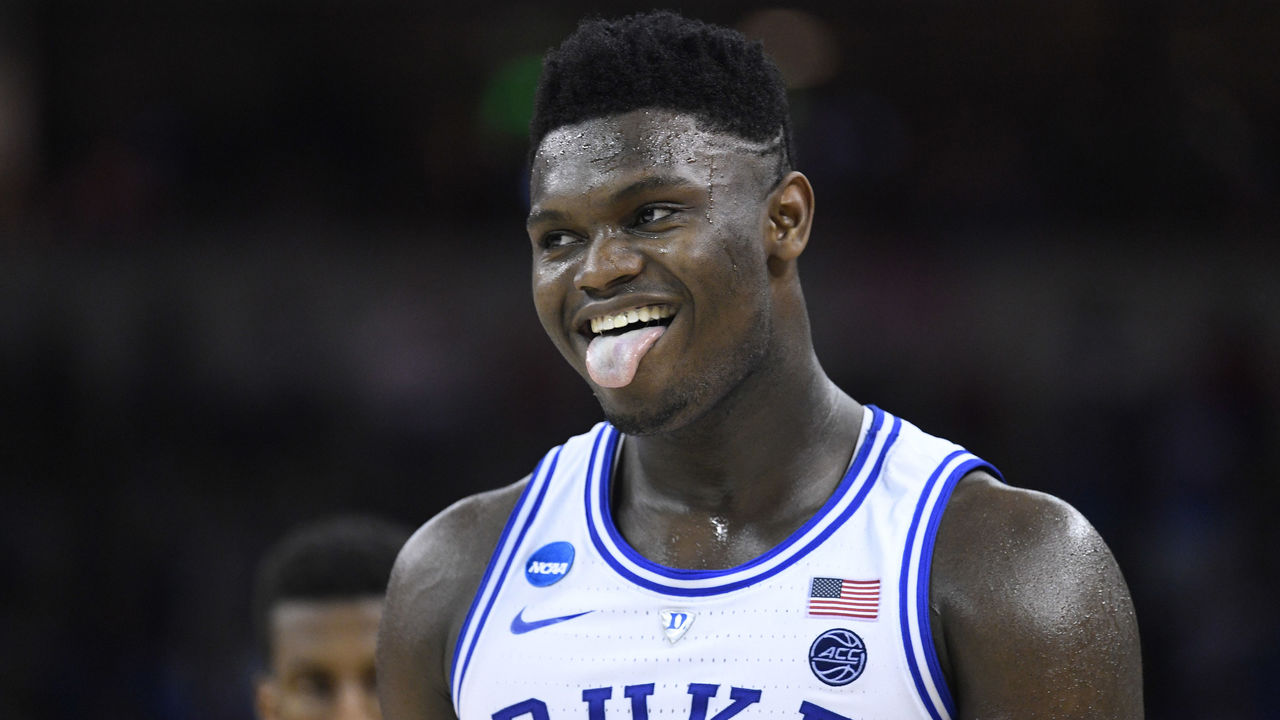 Nothing to worry about, Pelicans fans. Williamson is apparently ready to become the face of New Orleans after the struggling organization landed the No. 1 overall pick despite having just a six percent chance to do so.
Williamson rings in a new era for the Pelicans, who have already made multiple executive additions to create a more competent front office. The Duke product will need to be surrounded by shooters to be successful in the half court, but joining Alvin Gentry's fast-paced, transition-heavy offense should quickly turn him into a runaway favorite for Rookie of the Year.
2. Grizzlies - Ja Morant, G, Murray State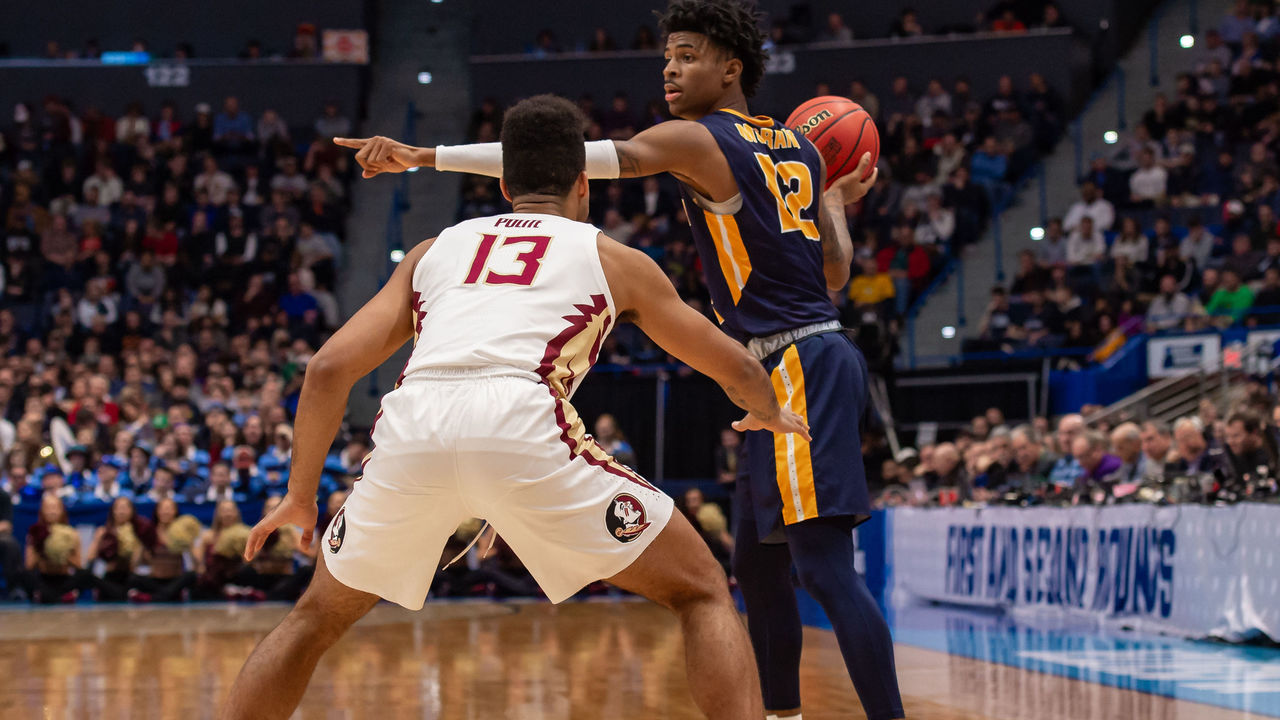 Morant to Memphis appears to be all but done, and fans of the rebuilding Grizzlies have reason to be excited. The explosive 6-foot-3 point guard has been compared to Russell Westbrook with a better outside shot and more sauce on his passes.
Barring a trade, Morant will begin his pro career behind or alongside Mike Conley, whose dozen years of NBA point guard experience should prove helpful for the 19-year-old South Carolinian.
3. Knicks - RJ Barrett, G/F, Duke
There may be concerns over Barrett's consistency after struggling at times in Duke's poorly spaced offense. However, the Canadian superstar is a versatile athlete who can play as a primary initiator or off-ball slasher and should fit in comfortably with the Knicks if they're able to land a couple of marquee free agents.
Barrett struggled to connect from the perimeter but has all the tools to succeed immediately. Although the Williamson hype has at times turned him into an afterthought, he did manage to lead the Blue Devils in scoring while becoming the ACC's all-time leading freshman scorer.
4. Lakers - Darius Garland, G, Vanderbilt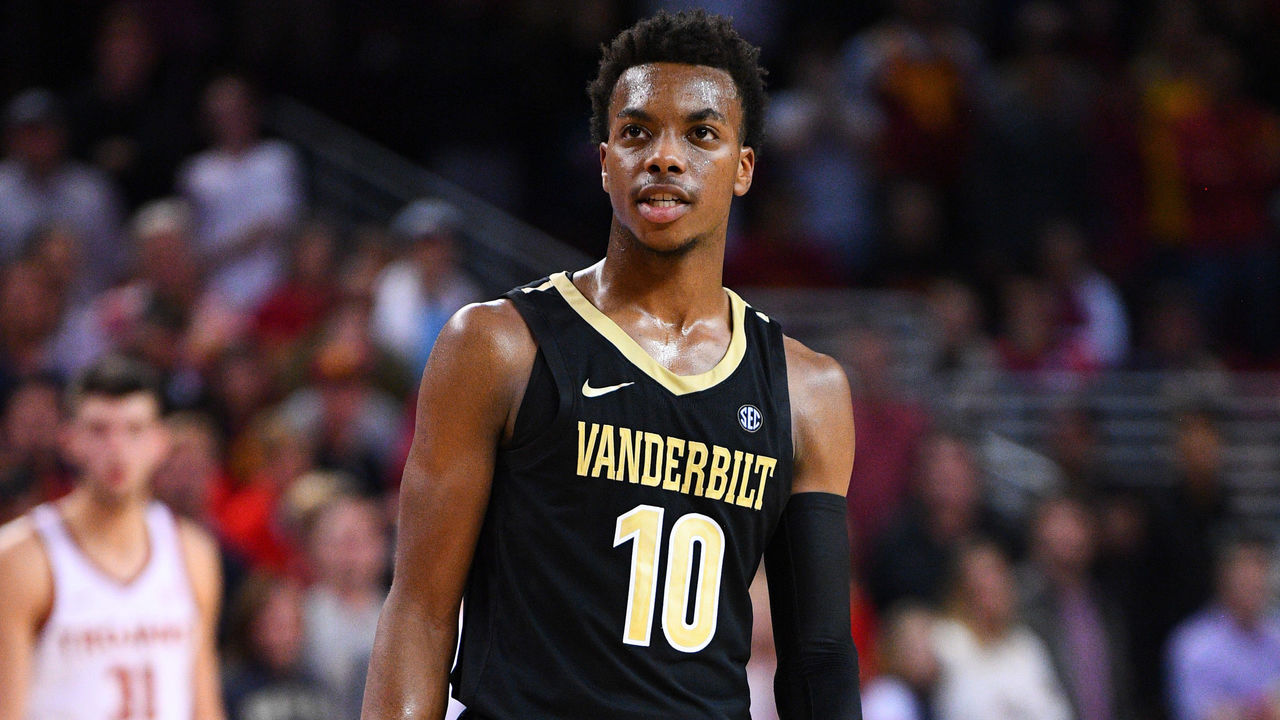 Garland's college career was limited to just five games, but he was considered a top-five pick a year ago, and still is. Like Morant, he's a gifted scorer, shooter, and passer at the point guard spot.
Garland represents a high-upside pick for the Lakers, who could put Lonzo Ball on the trade block in an attempt to upgrade their roster. Garland is also represented by LeBron James' agent Rich Paul.
5. Cavaliers - Jarrett Culver, G/F, Texas Tech
The Cavaliers reportedly have Culver ranked as their favorite non-Williamson player in the draft likely due to his incredible size and upside. The 6-foot-7 wing has elite potential on defense and can provide plenty of offense in the half court if given space.
Culver's inconsistent long-range jumper could hurt him if Cleveland expects him to flourish beside Collin Sexton. It doesn't help that the Red Raiders star occasionally disappeared this season, namely in the NCAA Tournament final, where he shot an atrocious 5-22 in the loss.
6. Suns - Coby White, G, North Carolina
Being in need of a point guard for two seasons now, logic should dictate the Suns take White here. His draft stock shot up after leading the Tar Heels' up-tempo offense all season while demonstrating an ability to create and hit his own shot.
7. Bulls - De'Andre Hunter, F, Virginia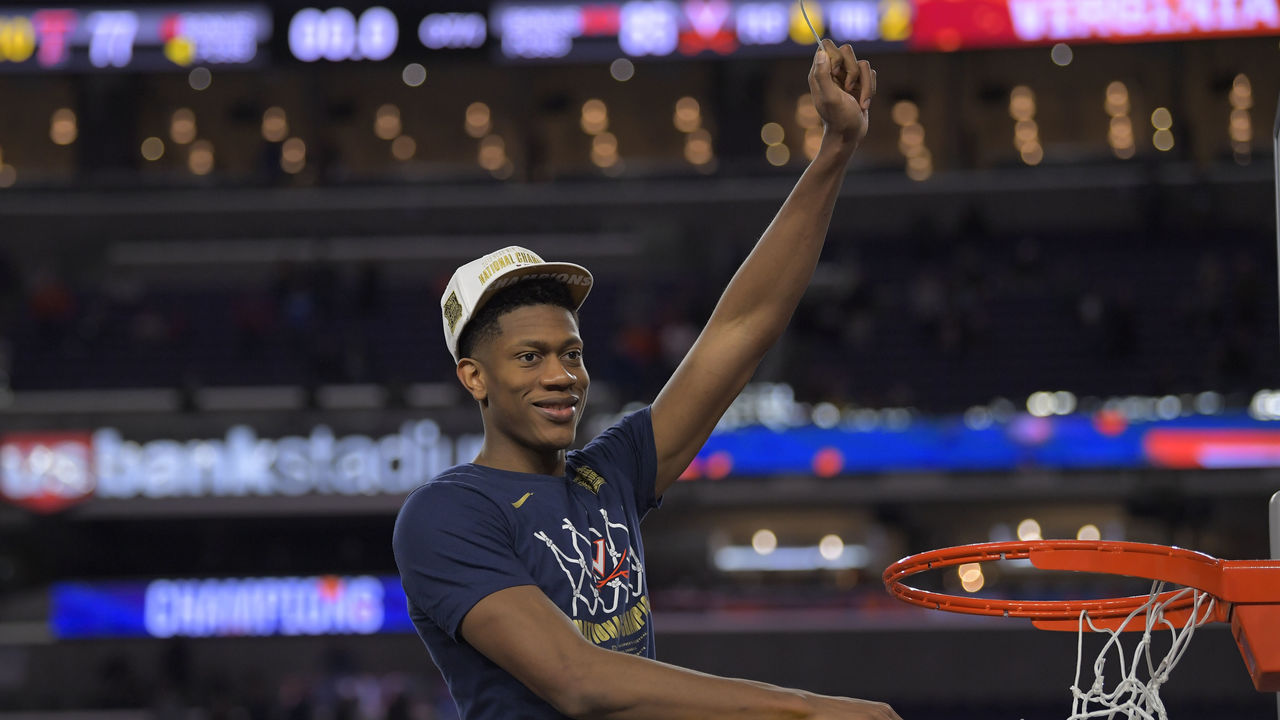 The Bulls would prefer to select one of the top three point guards after Kris Dunn continued to struggle as a lead playmaker. However, Hunter would prove to be a terrific consolation prize considering he'd be the most polished player available on the board and serves as a future 3-and-D piece to pair with Lauri Markkanen and Wendell Carter Jr.
8. Hawks - Cam Reddish, F, Duke
Reddish was a forgotten man behind Williamson and Barrett at Duke, and a knee injury may have contributed to a subpar showing in March. But given the Hawks' needs on the wing, his length, scoring ability, smooth jumper, and handle is a natural fit.
9. Wizards - Jaxson Hayes, C, Texas
Hayes' measurements stood out among the most impressive at the combine as he solidified his spot as a projected top-10 prospect. He stands just under 7-feet with a 7-foot-4 wingspan and should be molded into a legitimate rim-running, shot-blocking beast if developed correctly.
The Wizards may look to quickly shut down the Dwight Howard era after just nine games and Hayes serves as the perfect piece for the future. If Washington is looking to retain Bradley Beal long term while they await the return of John Wall, a long-limbed stud in the middle figures to be the ideal complement.
10. Hawks (via Mavericks) - Brandon Clarke, F/C, Gonzaga
Hawks received Mavericks' top-five protected first-round pick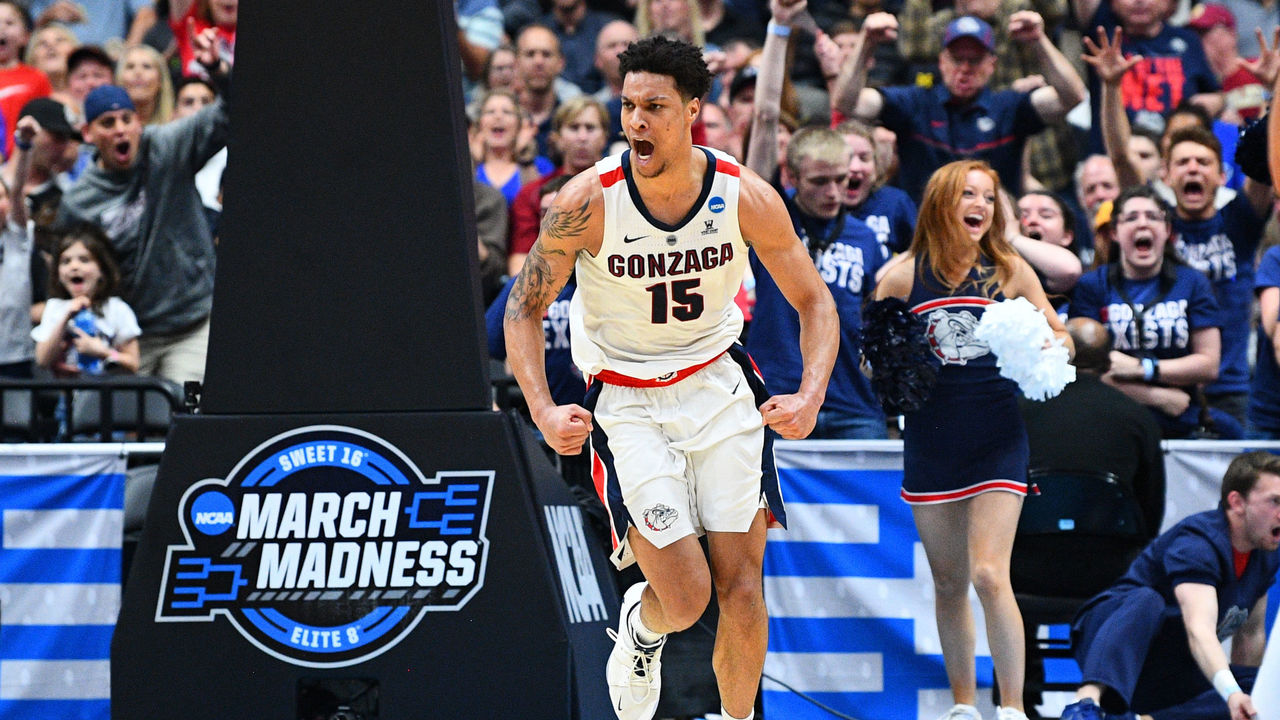 Clarke figures to be the second Canadian taken in this draft. While he's somewhat undersized (6-foot-8 with an identical wingspan), he's a natural shot blocker with elite-level athleticism who should develop into a starting-caliber NBA power forward. His ability to excel in transition also fits the Hawks' style.
11. Timberwolves - Nassir Little, F, North Carolina
Little spent a fair chunk of his freshman season with the Tar Heels projected as a top-three pick, but has since taken a hard fall thanks to his inconsistent role in Roy Williams' system.
Regardless, he remains a reasonable pick for the lottery due to his powerful athleticism and capabilities as a versatile defender. He showed plenty of promise from the perimeter prior to the season but connected on just 14 of his 52 attempts with North Carolina. If Little hopes to be more than Stanley Johnson, he'll need to find that same sort of swagger that had scouts excited about his potential.
12. Hornets - PJ Washington, F, Kentucky
Washington developed his outside stroke in his sophomore year at Kentucky, and paired with his strong rebounding, has become a solid stretch-four prospect. Despite a glut of forwards in various contractual situations, the Hornets need more production out of their frontcourt.
13. Heat - Kevin Porter Jr., G, USC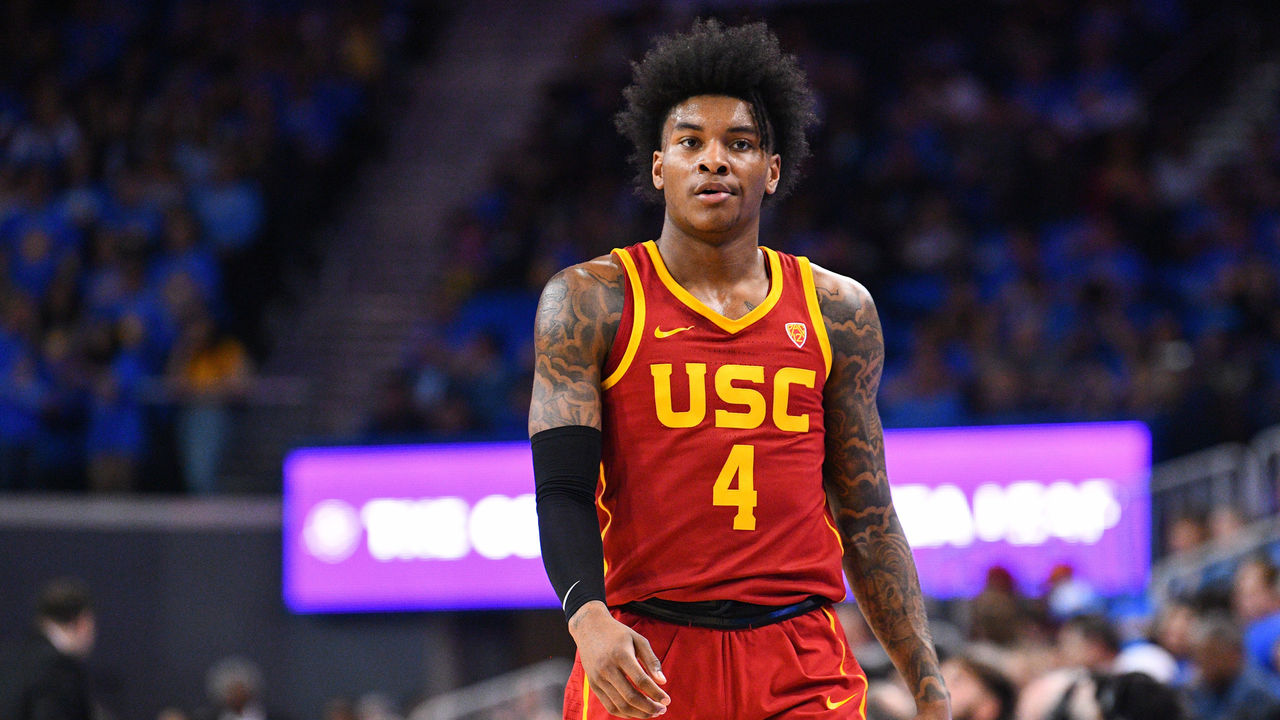 If there was ever an organization that could whip a player into shape, it's Pat Riley and Erik Spoelstra's grueling system in South Beach. The Heat are desperate for a legitimate perimeter scoring threat, leaving Porter as the desired pick.
The Trojans product was impressive when given the opportunity, but was limited due to injuries and a mysterious suspension surrounding "personal conduct issues" in January.
14. Celtics (via Kings) - Romeo Langford, G, Indiana
Celtics receive Kings' top-one protected first-round pick
The Celtics enter an offseason full of question marks with three first-round picks. While some or all could be packaged in a trade, if they keep them, Langford fits the bill here as a scoring wing with great ball-handling skills.
15. Pistons - Keldon Johnson, G, Kentucky
Despite making the playoffs, the Pistons can use help everywhere. Johnson could be a great starting point on the perimeter as the 6-foot-6 guard has excellent length and should develop into a perfect 3-and-D complement to Blake Griffin. There were times where he disappeared for the Wildcats, but he remains a rugged defender with a high ceiling.
16. Magic - Tyler Herro, G, Kentucky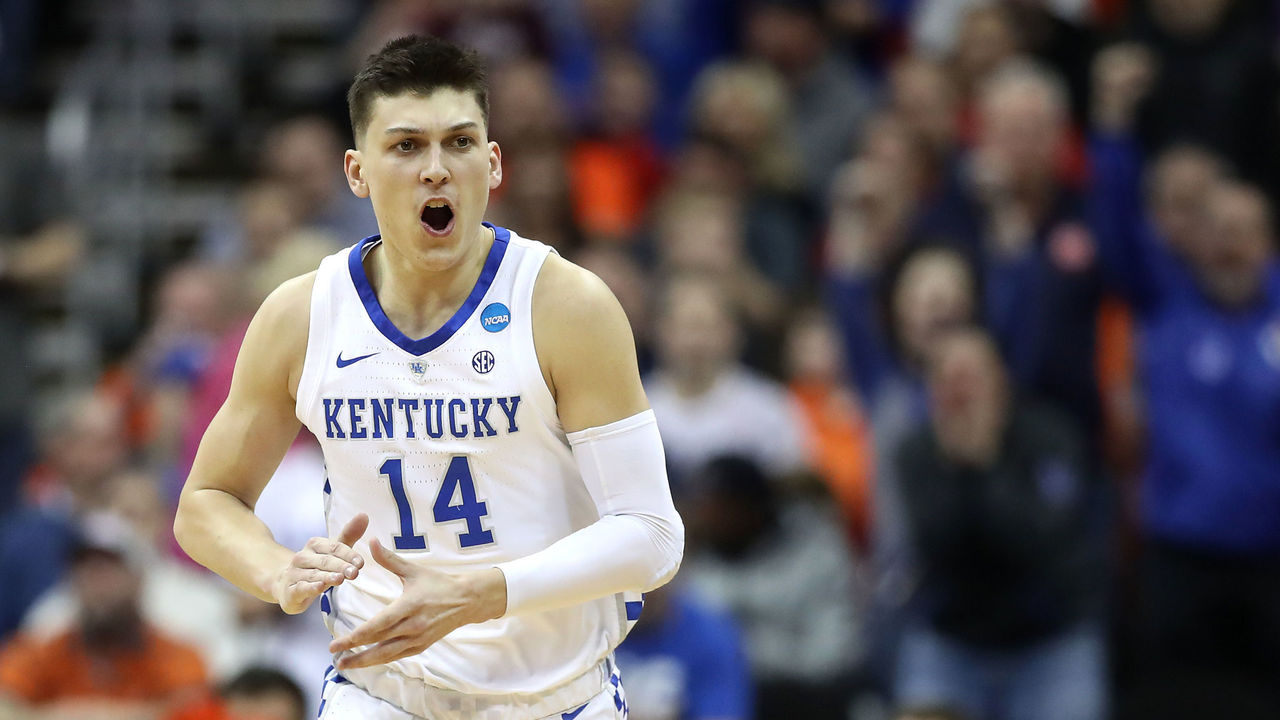 The Magic have key unrestricted free agents in Nikola Vucevic and Terrence Ross, but could also use another shooter in the backcourt. Pronounced "hero," the two-guard raised his draft profile during the NCAA Tournament thanks to a sweet shooting stroke and tenacious defense.
17. Nets - Sekou Doumbouya, F, France
Doumbouya is the 2019 international prospect to watch as the 6-foot-9 forward has incredible length and athleticism that could help him develop into a star. He's certainly raw in many ways but he's already shown plenty of potential from long range.
18. Pacers - Rui Hachimura, F, Gonzaga
The Pacers have several frontcourt players going into free agency, and Hachimura has the ability to play both forward spots thanks to his combination of athleticism and strength. While he's primarily a mid-range scorer, his perimeter shot improved in his junior year. Hachimura will become just the third Japanese-born NBA player.
19. Spurs - Bol Bol, C, Oregon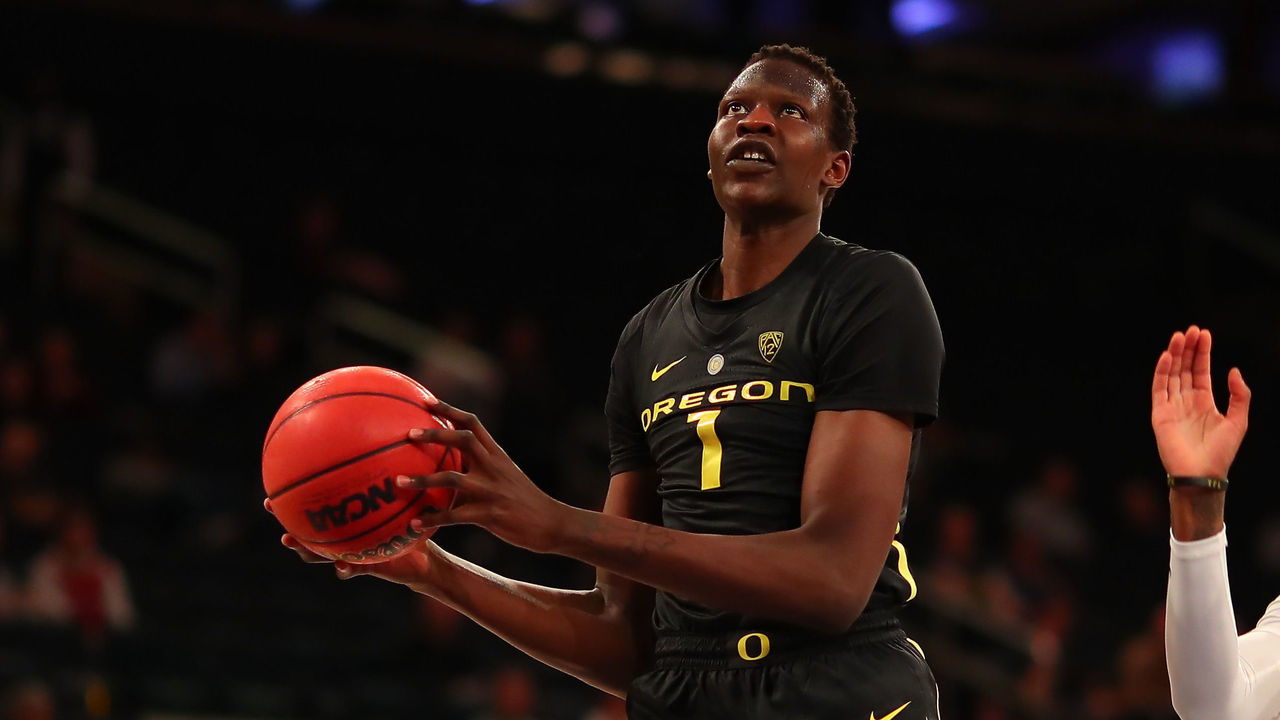 It's become impossible to project the correct destination for Bol, as the Oregon center could go anywhere from a late lottery pick to early in the second round.
At 7-foot-2, Bol may be the best shooter in the draft while providing elite rim-protection thanks to his ridiculous length. However, his struggles with balance, his 208-pound frame, and a broken foot that kept him out for all but nine games are absolute draft stock killers.
20. Celtics (via Clippers) - Nickeil Alexander-Walker, G/F, Virginia Tech
Celtics receive Clippers' lottery protected first-round pick
Alexander-Walker could go higher, but the Celtics could also pounce with one of their three first-round picks. The Canadian has great athleticism and length as a combo guard, and given the contractual situations of Kyrie Irving and Terry Rozier, drafting a player with playmaking skills would be prudent.
21. Thunder - Cameron Johnson, G/F, North Carolina
The Thunder will likely be desperate for some veteran shooters in the offseason but have no money to spend. Enter Johnson - the Tar Heels' 23-year-old sharpshooter who connected on 45.7 percent from behind the arc on 5.8 attempts per contest. There's no better NBA-ready fit beside Westbrook and Paul George.
22. Celtics - Talen Horton-Tucker, G/F, Iowa State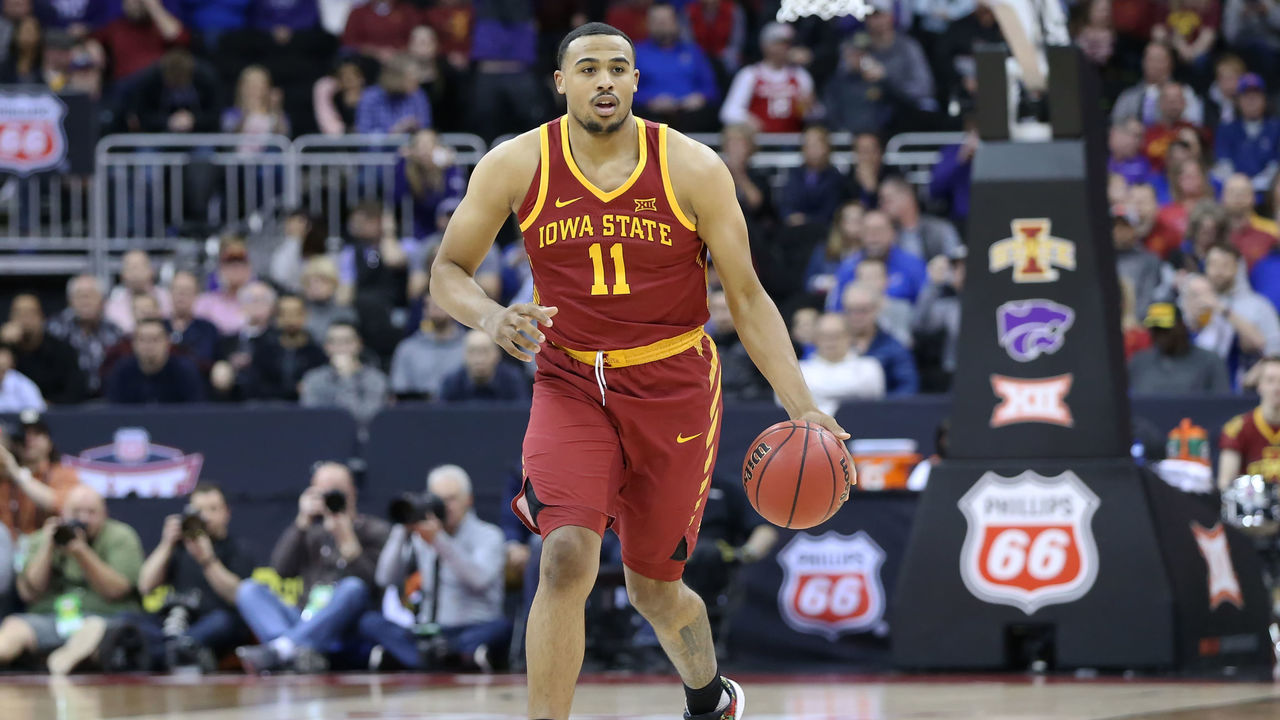 Horton-Tucker is an intriguing prospect with an unorthodox frame and an ability to guard four positions. At 6-foot-4 and 235 pounds, he's built like a fullback, but he also possesses a 7-foot-1 wingspan and 8-foot-7 standing reach. His 9.5-inch hand length was the seventh-longest at the combine - more than most centers at the event.
23. Jazz - Grant Williams, F, Tennessee
Though he did himself no favors with a surprisingly poor performance at the combine, Williams is still among the most reliable bets to immediately become an effective pro. The Vols star can be plugged in at either forward position and is a consistent 3-point jumper away from becoming a strong 3-and-D presence - something the Jazz could use to pair next to Rudy Gobert.
24. 76ers - Matisse Thybulle, G/F, Washington
Thybulle is a machine on perimeter defense, winning the NCAA's Naismith Defensive Player of the Year award. He has the tools to become a 3-and-D stud in the NBA but will need to improve his shooting to do so.
25. Blazers - Ty Jerome, G, Virginia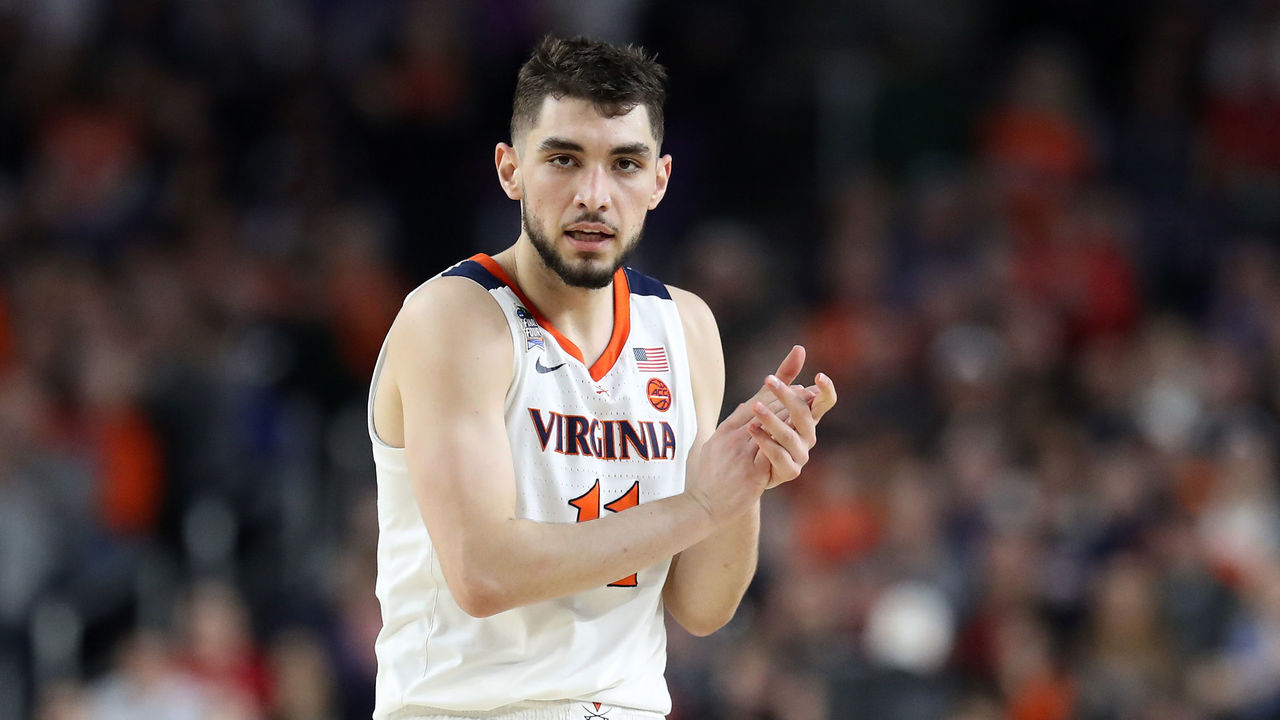 Jerome was a hero in Virginia two months ago and jumped up draft boards after an impressive combine. The 6-foot-5 guard will find a place in the NBA thanks to his ability to play off-ball, his efficient 3-point shooting, and his pesky defensive presence despite limited athleticism.
26. Cavaliers (via Rockets) - Luguentz Dort, G/F, Arizona State
Cavaliers receive Rockets' lottery protected first-round pick
Dort is another guard with a football player-like physique. He uses that bulk to bully opponents one on one, but also possesses some explosive athleticism and is a willing defender.
27. Nets (via Nuggets) - Goga Bitzdze, C, Montenegro
Nets receive Nuggets' top-12 protected first-round pick
Bitadze should go higher in the draft and could end up as a legitimate steal if he falls out of the top 20. The Georgian big man has soft hands, great touch on his jumper, and could eventually develop into an excellent rim-protector.
28. Warriors - Carsen Edwards, G, Purdue
The Warriors haven't really hit on any of their late-round draft picks the last few years, but Edwards is an NBA-ready player. The 6-foot-1 guard can provide energy and bursts of spot scoring behind the Splash Brothers (assuming Klay Thompson re-signs).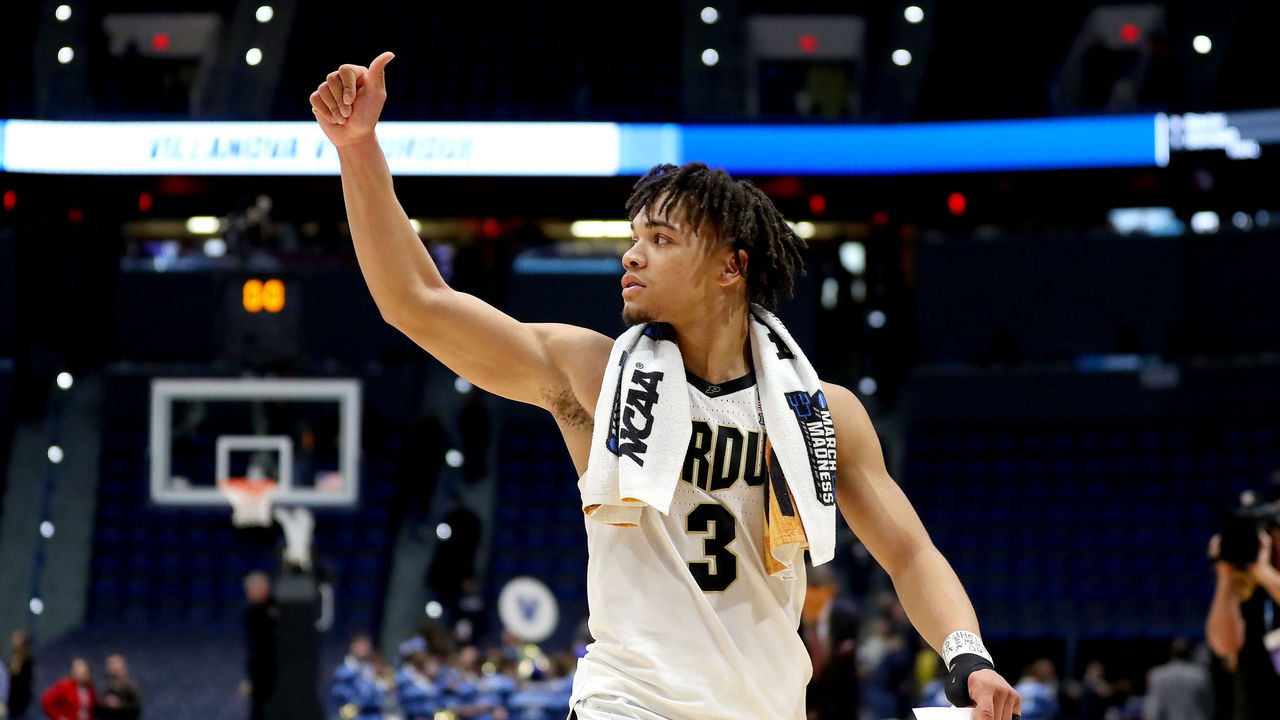 29. Spurs (via Raptors) - Chuma Okeke, F, Auburn
Spurs receive Raptors' top-20 protected first-round pick
Okeke's performance against North Carolina in the NCAA Tournament stood out as one of the most impressive before he suffered a season-ending ACL tear. The good news is that the forward did enough to impress with his two-way play, averaging 1.8 steals and 1.2 blocks while connecting on 38.7 percent from deep last season.
30. Bucks - Mfiondu Kabengele, F/C, Florida State
Kabengele could be one of five Canadians selected in the first round, and he fits the Bucks with some of their big men hitting free agency. A full-sized center with a 7-foot-3 wingspan, Kabengele can block shots and has developed a nice outside shooting touch.
Comments
✕
2019 NBA Mock Draft 3.0: Zion taking over the Big Easy
  Got something to say? Leave a comment below!