When the Western Conference playoff bracket was settled on a frenetic final night of the regular season, no first-round series looked as juicy as the 4-5 matchup between the Houston Rockets and Utah Jazz.
That Houston held serve at home to take a 2-0 series lead isn't exactly shocking, but the manner in which James Harden and Co. have absolutely dominated the Jazz through two games certainly is. Only Bucks-Pistons, which happens to be a matchup between the league's No. 1 and No. 16 overall seeds, has been more lopsided than Rockets-Jazz, which features the No. 6 overall seed beating the No. 8 by 52 points through 96 minutes of basketball.
Here are three reasons why this series hasn't been as competitive as many assumed it would be:
Defenseless against the Beard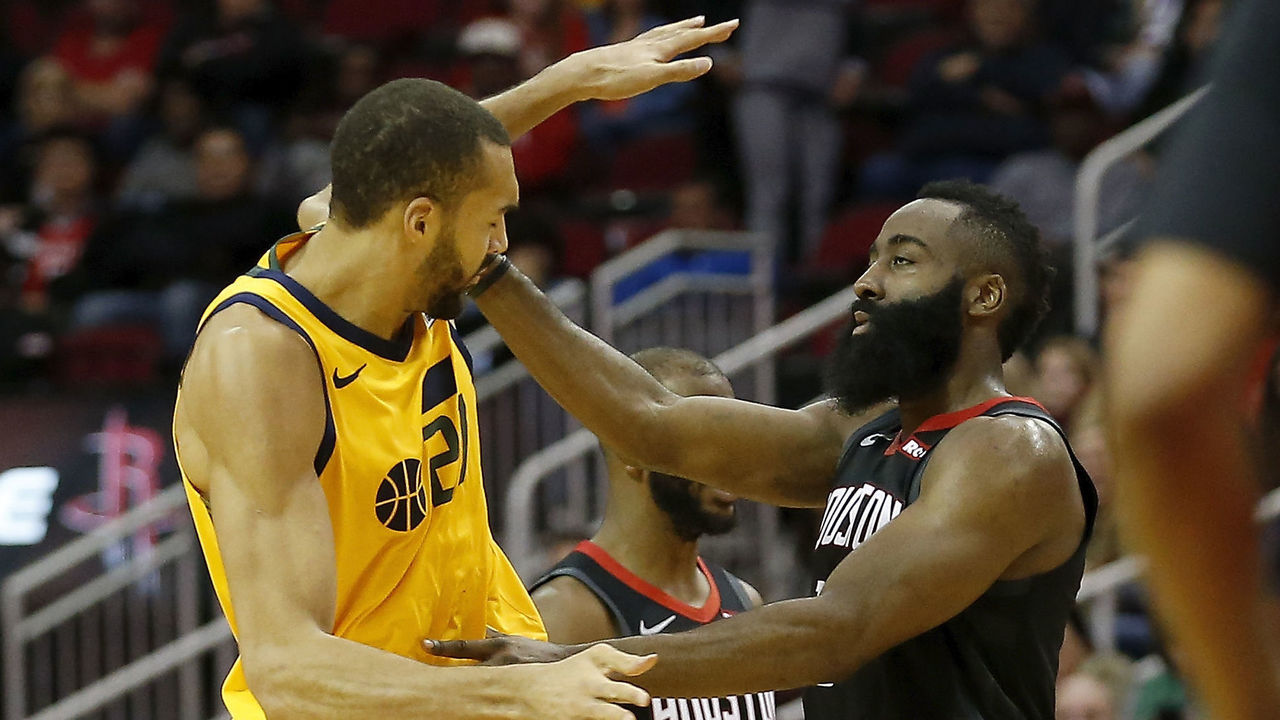 The Jazz are far from the first team this season to realize they have no answers for Harden's remarkable offensive repertoire, but it's been somewhat unsettling to see such an elite defensive team as out of sorts as Utah is right now.
In case you haven't seen it being widely mocked on social media yet, the Jazz have attempted to defend Harden the way the league-best Milwaukee Bucks did earlier in the season - overplaying his left shoulder and forcing the left-handed MVP to his right. The hope is that an uncomfortable Harden gets less 3-point attempts, settles for seemingly low-percentage floaters over reigning Defensive Player of the Year Rudy Gobert, and perhaps even gives the ball up to lesser offensive teammates.
However, there are a number of issues with this strategy for Utah.
For one, though the Jazz own the league's second-ranked defense and employ a number of solid individual defenders, they don't have the mobility that the lengthier, quicker Bucks do. They aren't able to help Gobert in the paint and then recover back to shooters as quickly as Milwaukee can.
In addition, for all his defensive talents, it's no secret that Gobert is less effective the farther he strays from the rim. Against Houston, he keeps being forced to step up when Harden drives because Utah is allowing the Rockets guard to stroll down the middle of the lane more than they are "forcing him" to his unfavorable right side.
It also doesn't help that a usually well-coached, organized defensive team is consistently abandoning basic defensive principles. So far, it feels like the Jazz are helping one pass away (leaving a shooter who's an easy pass away from the ball-handler rather than using a defensive player in a less compromised position to double-team) on every other possession. Doing so gives Harden an easy read, and he's calmly finding those open shooters.
Last, and perhaps most important, Harden's prior experience dealing with this type of defense (against the Jazz last spring and against the Spurs in the 2017 playoffs) appears to have made him a master at manipulating it. As mentioned in our series preview, Harden is now just as comfortable picking teams apart with his floater in the lane as he is demoralizing them with his step-back.
Utah's turnover problem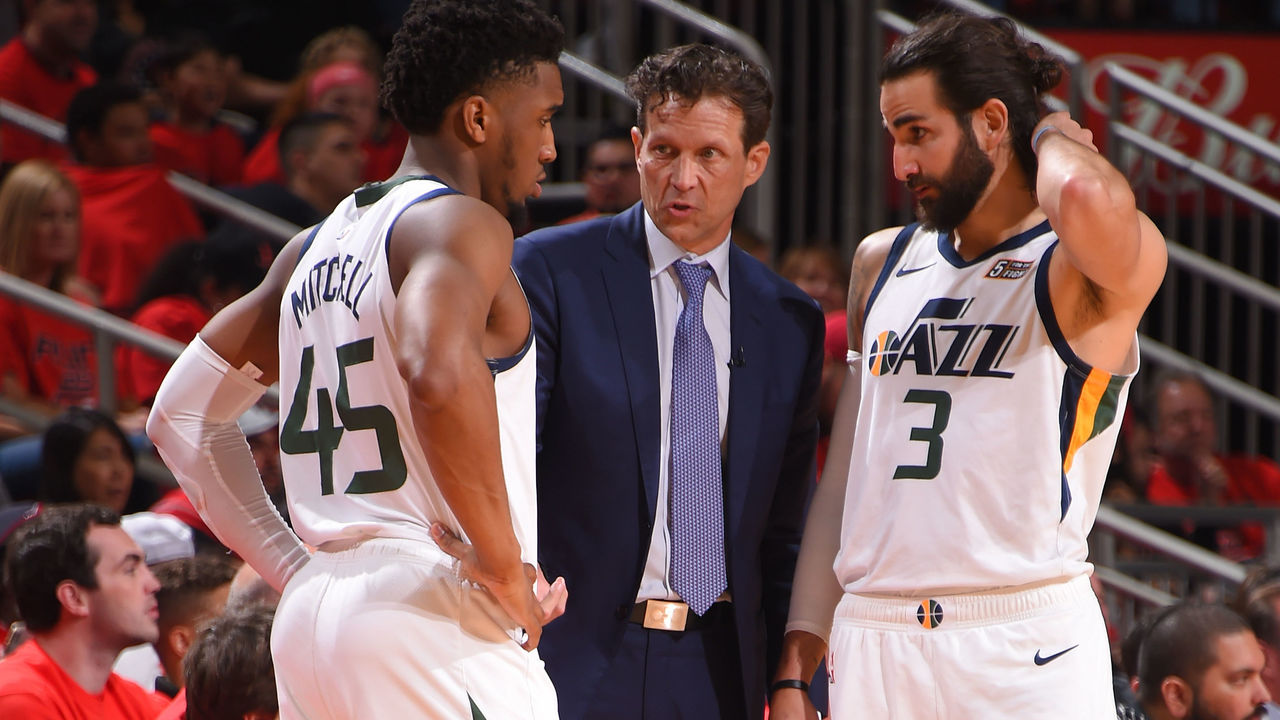 Maybe we should've seen this coming, given both teams' bodies of work over 82 games.
The Jazz finished 27th in turnover rate during the regular season, coughing it up on 14.9 percent of their offensive possessions, while the Rockets finished seventh on the defensive end when it came to turning their opponents over (15.2 percent of the time) and were the third-most efficient team in transition.
Sure enough, Utah's 18 turnovers in Game 1 led to 24 points for Houston, and though the Jazz cleaned that up in the second half of Game 2 (only three turnovers), it was already too late. They turned it over nine seconds into the contest, four times in the first 3:40, and nine times in the first half overall. When the Jazz found themselves down 12-4 less than four minutes into Wednesday's game, 10 of the Rockets' points had been a result of turnovers.
An eight-point deficit early in the first quarter is obviously far from an insurmountable obstacle, but when you're the inferior team, on the road in a playoff atmosphere, and already had your ass handed to you by the same team a few nights earlier, gifting your opponent 10 points out of the gate makes your slim margin for error even smaller.
3-point discrepancy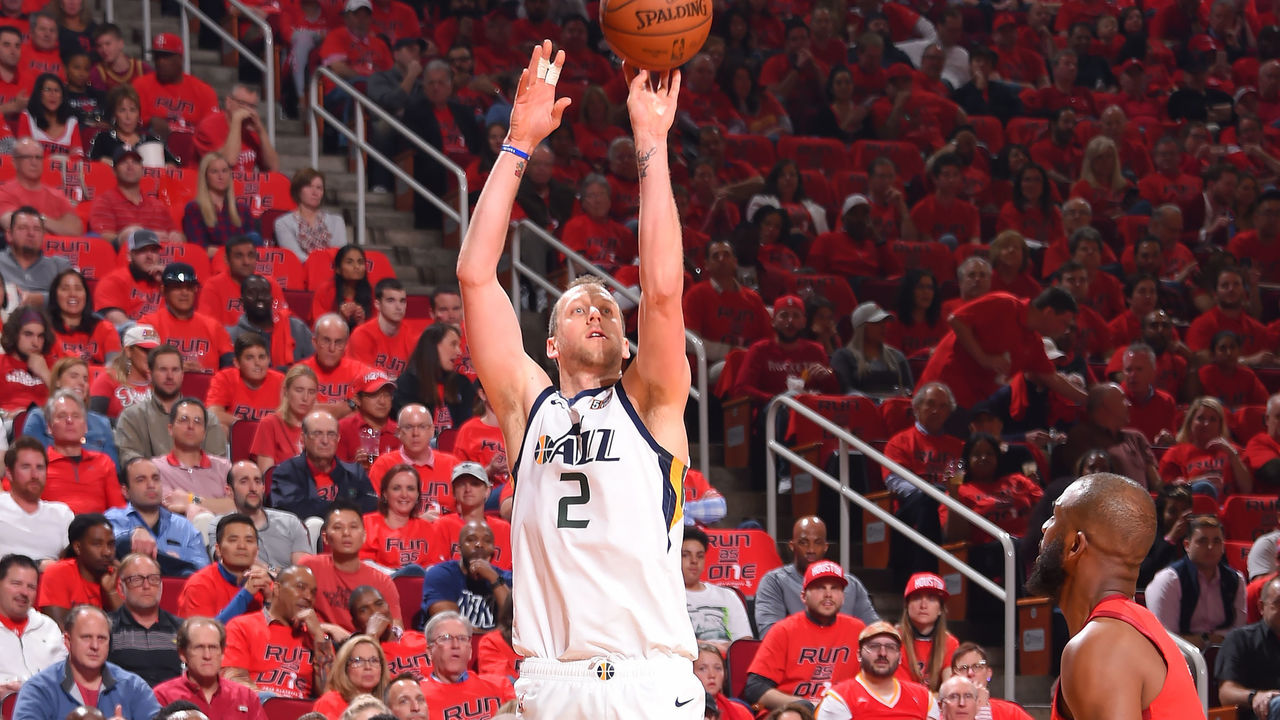 It's one thing to have a bad shooting night as a team. It's another thing when your best shooters can't hit the water from a boat.
Through two games, the Jazz are an abysmal 15-of-65 (23.1 percent) from deep, with Joe Ingles, Donovan Mitchell, Jae Crowder, and Royce O'Neale - four players who combined to shoot better than 36 percent on 1,700 attempts during the regular season - going 8-of-42 (19 percent). Heck, even Kyle Korver missed the only 3-pointer he took during 12 minutes of action between Games 1 and 2.
| Jazz shooter | Regular season | Games 1-2 |
| --- | --- | --- |
| Sefolosha | 43.6% | 20% (1/5) |
| Ingles | 39.1% | 22.2% (2/9) |
| O'Neale | 38.6% | 37.5% (3/8) |
| Mitchell | 36.2% | 26.7% (4/15) |
| Crowder | 33.1% | 15.4% (2/13) |
On the other end, the Rockets have converted 38.6 percent of their long-range attempts in this series. For perspective, Houston and Utah tied for 10th overall in 3-point accuracy during the regular season by knocking down 35.6 percent of their respective threes.
The shooting numbers on both sides should stabilize as the sample size grows. The Jazz did take better care of the ball in the second half of Game 2, and Quin Snyder's team now has 72 hours to come up with some sort of defensive adjustment for Harden. Plus, Utah went 29-12 at home this season.
That said, forget winning four of five to steal this series; Jazz fans will simply take a competitive Game 3 at this point. Baby steps.