Asked about the challenge of defending Kawhi Leonard the day before Game 3 of the NBA Finals, Golden State Warriors guard Klay Thompson - himself no small prize in this summer's free-agent sweepstakes - gave a detailed answer about the eventual NBA Finals MVP.
Thompson lauded Leonard's improved ball-handling and shooting skills and crowed about the Toronto Raptors star's rhythm and playmaking. He summed up the challenge thusly:
"I embrace it. It's fun to measure yourself against the best."
The best. Kawhi Leonard began his basketball odyssey as a positionless oddity with ungodly hands. He was an unheralded recruit who took small-time San Diego State all the way to a No. 3 national ranking in his sophomore season. He was a mid-first-round pick who blossomed into a Finals MVP in three years. He was a question mark with a questionable injury who was cast off to Canada.
Now he is a rejuvenated star who lifted an entire country onto his shoulders, and perhaps the most coveted free agent in perhaps the greatest class in league history.
Throughout the NBA playoffs, there were a lot of questions about who Kawhi Leonard is. It might be better to ask how he got here.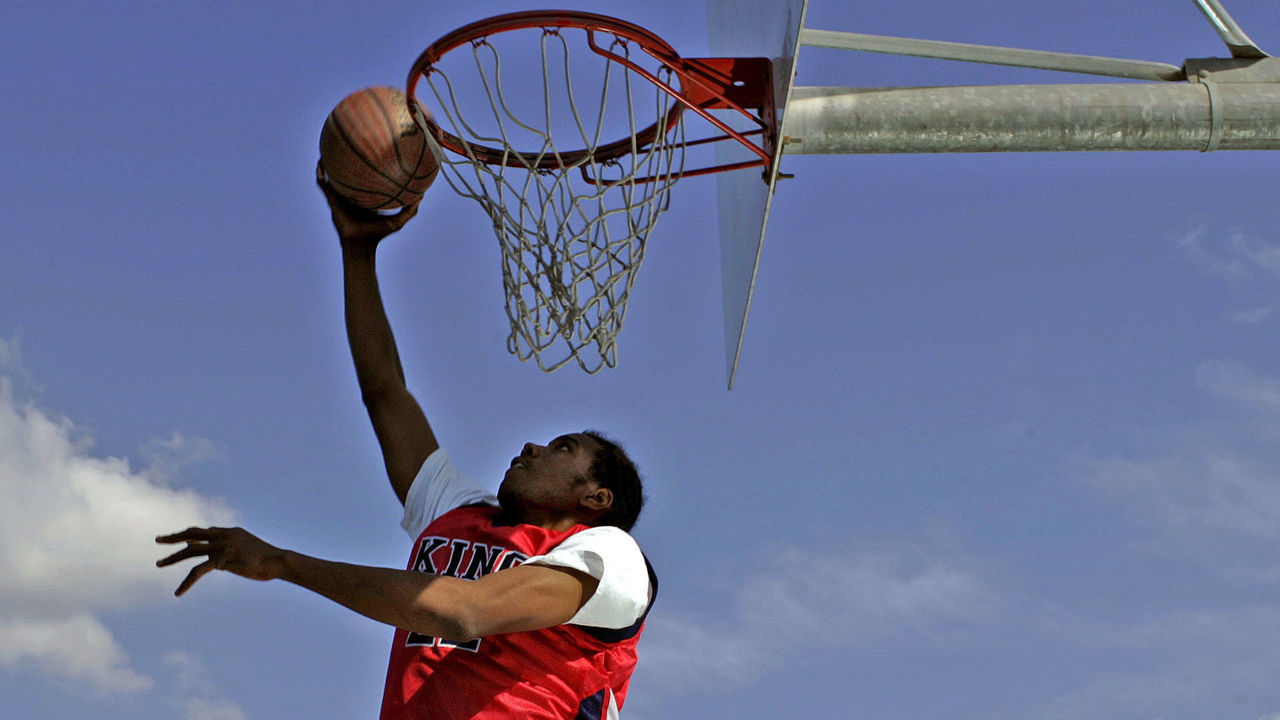 Kawhi Leonard appeared on the hoops radar in Southern California in 2009, when college coaches finally caught on to the senior from Riverside's Martin Luther King High School.
The prevailing myth about Leonard goes that he arrived suddenly, out of thin air, and happened to choose San Diego State after receiving little interest from local Pac-12 schools such as UCLA and USC.
"Kawhi Leonard was certainly being watched by the Pac-12, including UCLA," said Santa Clara assistant coach Scott Garson, then an assistant coach for Ben Howland's Bruins. "Our issue was, is he a four-man? I don't know how he shoots it, man. He has huge hands. But, like, what position is he? He's undersized for what he is.
"We absolutely looked back and said we made a mistake. We should've taken the chance."
UCLA, coming off three straight Final Four runs as Leonard was being recruited, was one of the country's most attractive destinations for many top players. The Bruins might have waited out Leonard until the spring - as they had in 2006 with Russell Westbrook in his senior year of high school - but UCLA had its eyes set on ready-made pro prospects. Leonard was not viewed that way by everyone.
Some people, though, did see him that way.
He made an impression on San Diego State the first time its coaches saw him. Justin Hutson, then an assistant coach at SDSU and now head coach at Fresno State, spotted Leonard during his junior season at a holiday tournament at King. When Aztecs associate head coach Brian Dutcher got his first chance to see Leonard, he immediately called head coach Steve Fisher.
SDSU was enamored with the quiet kid who had just lost his father, Mark, in a shooting at his Compton car wash.
"I watched a workout after his junior year, called (Fisher), and said, 'I think this guy is gonna be a pro,'" said Dutcher, now the head coach of the Aztecs. "His mother was worried the Pac-12 didn't think he'd be good enough. Going into summer, you were almost hoping he didn't play great all the time so other teams didn't see him."
SDSU offered him a scholarship, followed by a host of mid-majors. Early in his senior year, the blue-blood Pac-12 schools still hadn't ponied up, and Leonard committed to San Diego State on Oct. 22, 2008. It barely warranted a write-up in the San Diego Union-Tribune.
Then he averaged 23 points and 13 rebounds in a sensational senior season, earning California's Mr. Basketball award after leading the Wolves to a 30-3 record and a CIF-Southern Section Division I-AA title. Some of the bigger schools came calling. But he wasn't interested.
"His senior year - the (title) game against Mater Dei - he was phenomenal," Garson said. "He just dominated the game. You look back and say the guy is a winner. He turned out."
By then, Leonard was focused on SDSU. Other schools fell off the map.
"I don't remember him being unresponsive in any way, but the only thing I'd say is: In general in recruiting, kids who are reaching out to you, who are overly responsive, those kids, it makes it easier," Garson said. "When you were on the phone with him, it was like, 'Does he even like talking to me?'"
Kawhi couldn't lie, though, as his soon-to-be Aztecs coaches learned quickly.
"People are starting to understand that when Kawhi speaks, he speaks only truth," Dutcher said. "Everyone is looking to write about what he is, who he is, but I think people are craving a quiet superstar. His teammates loved him from the start, because he's real.
"At the end of the day, people find out if you're phony and that's what they don't like. He is who he is. He doesn't try to be someone else's version of him."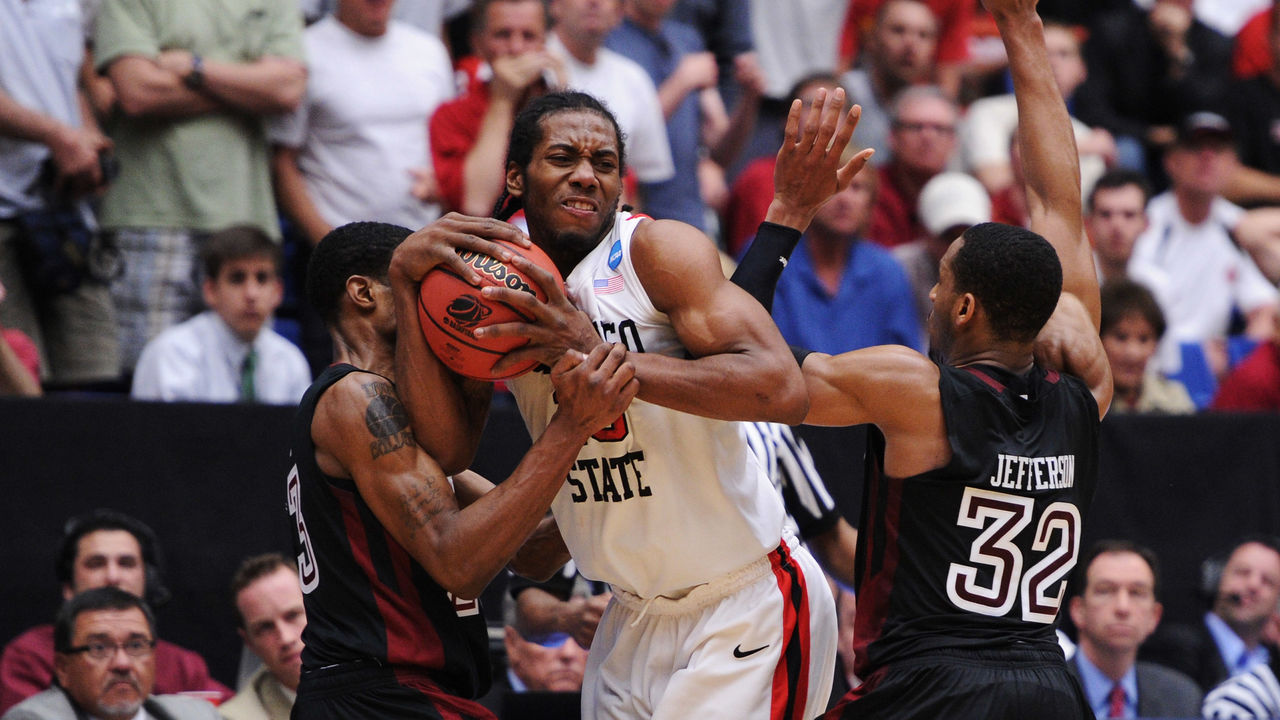 Leonard developed into the best player in school history at San Diego State, and his love for the game remains the stuff of legend.
"To be this good, some has got to be God-given - length, hands - he looks different from guys," Dutcher said. "But you add the work ethic; that's as good as I've ever seen. Most players go to the gym, you go up to them, say hello, they stop what they're doing, chat. He won't interrupt what he's doing. He just keeps going like you're not there. When he's done he'll say hello to you."
When Kawhi arrived on campus in 2009, SDSU was ascending to new heights under Fisher. He'd led the Aztecs to two NCAA Tournament appearances in his first 10 seasons after only three March Madness bids over the previous 29 years. In 2009, SDSU was coming off three straight NIT appearances, including a trip to the semifinals in a 26-win season the season before. Leonard made an immediate splash: He had 13 rebounds - a sign of things to come - in his third game. He scored 23 points in his ninth game and set a new season high with 25 points a month later.
"There was no Twitter really, no Instagram, where you're a celebrity before you step on campus," said SDSU assistant coach Dave Velasquez, then the team's director of player development. "Probably halfway through freshman year it got annoying for him to go to class."
By midway through conference play, Leonard was regularly leading the team in scoring and rebounding, ending the regular season with 16 points and 21 rebounds in a 10-point win over UNLV. He finished the year atop the Mountain West Conference in rebounding and offensive rebounding, becoming the only freshman in conference history to earn first-team all-conference honors. He was also named conference freshman of the year.
As a sophomore, he was even better, leading SDSU to a program-best 34-3 record and its first Sweet 16 appearance. He earned a spot on multiple All-American teams after again leading the league in rebounding and finishing fourth in scoring and steals.
"We got to see the most gifted player ever to come to San Diego State, and we got to see his growth," Velasquez said. "People say he couldn't shoot in college; well, our go-to play was '15 feet and Kawhi.' He just got better and better. It was truly like a weekly thing. By the time we played UConn (in the 2011 Sweet 16), it was like, how do you even guard that guy?"
Almost a decade later, Leonard remains close to the program. He owns a home in nearby Rancho Santa Fe, and he spends much of the offseason at SDSU's JAM Center, where the Aztecs coaches lower a curtain and let him play, free from distractions.
"We don't even run recruits in front of him," Dutcher said. "We know he's running from the spotlight."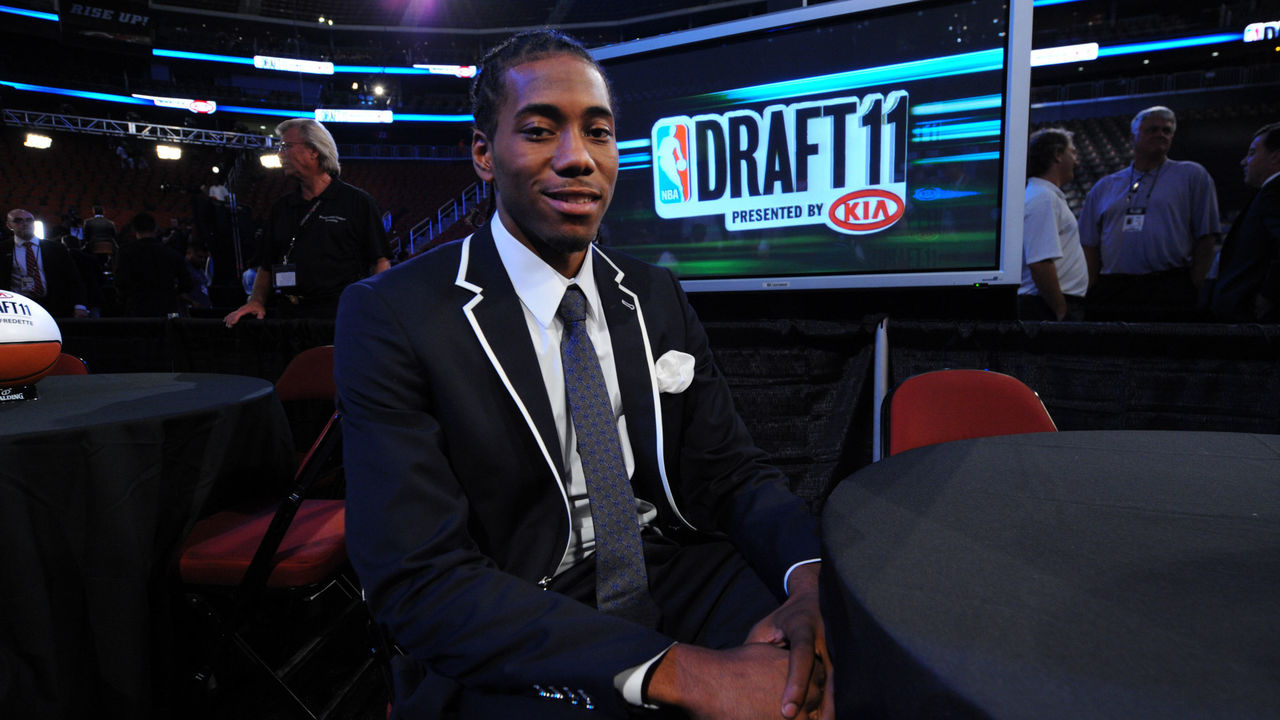 Perhaps you can trace Kawhi's path to the top of the NBA pyramid back to the draft process of 2011, when he was once again considered a question mark.
"The reason he went 15th was the overanalyzing of the draft process," said Joe Abunassar of Impact Basketball, who helped train Leonard for the draft. "I have a lot of contact with NBA scouts and general managers, and the biggest question was: What position is he? Is he a strong, athletic guy who won't translate to a perimeter player? I remember telling several teams - to this day we talk about this - I don't know what he is, but he's really good."
Abunassar's lengthy resume with NBA players dates back to his days working with Kevin Garnett and Chauncey Billups. He currently trains several top players in Las Vegas and Los Angeles, and he remembers his first workout with Leonard at Calabasas High in California.
"There was no air conditioning in the gym, and he had to go get IVs in the hospital after the workout," Abunassar said. "The sweat was just pouring out of him. It's not a made-up story. This isn't a Hallmark movie. But this was totally the truth. Then he got to Vegas, and he never stopped. He was really a student of the game and a tireless worker."
The NBA game has changed greatly in this decade, but back then, talent evaluators were still hung up on positions. Leonard, a Swiss Army knife of epic proportions, is now one of the faces of the modern NBA.
"Today, it's funny where he's at," Abunassar said. "You ask anyone, and they say the NBA is positionless. Back then, everyone was worried: Are you a one or a two or a three? Nowadays, you just can't be slow."
It's not just Leonard's body that moves quickly, Abunassar said. What sets Leonard apart - then and now - is how his mind works; not just faster than most, but with more clarity.
"The difference comes when you see how he can raise his game mentally," Abunassar said. "I think Kawhi's talent, combined with his work ethic, would make him a good player. But the piece that pushes him to where he is today is his mentality. He's unbelievably under control. Kawhi has this ability to get his brain to a place that other people can't get to.
"A lot of people work hard, could put in as much work as he does, but they can't do what he does."
The San Antonio Spurs were enamored with Leonard on draft day 2011. They traded valuable veteran point guard George Hill to the Indiana Pacers for a package that included the 15th pick, which was used to select Leonard.
"We saw his size and his athleticism, his work ethic, the way he practiced, the way he played, his toughness, so we made the decision," Gregg Popovich told theScore in 2017. "But when we made the trade, we were very nervous about it, because we really didn't know. We knew what we were giving up, because George Hill was great for us, but we needed more size, so R.C. (Buford) and I, and Danny Ferry, rolled the bones."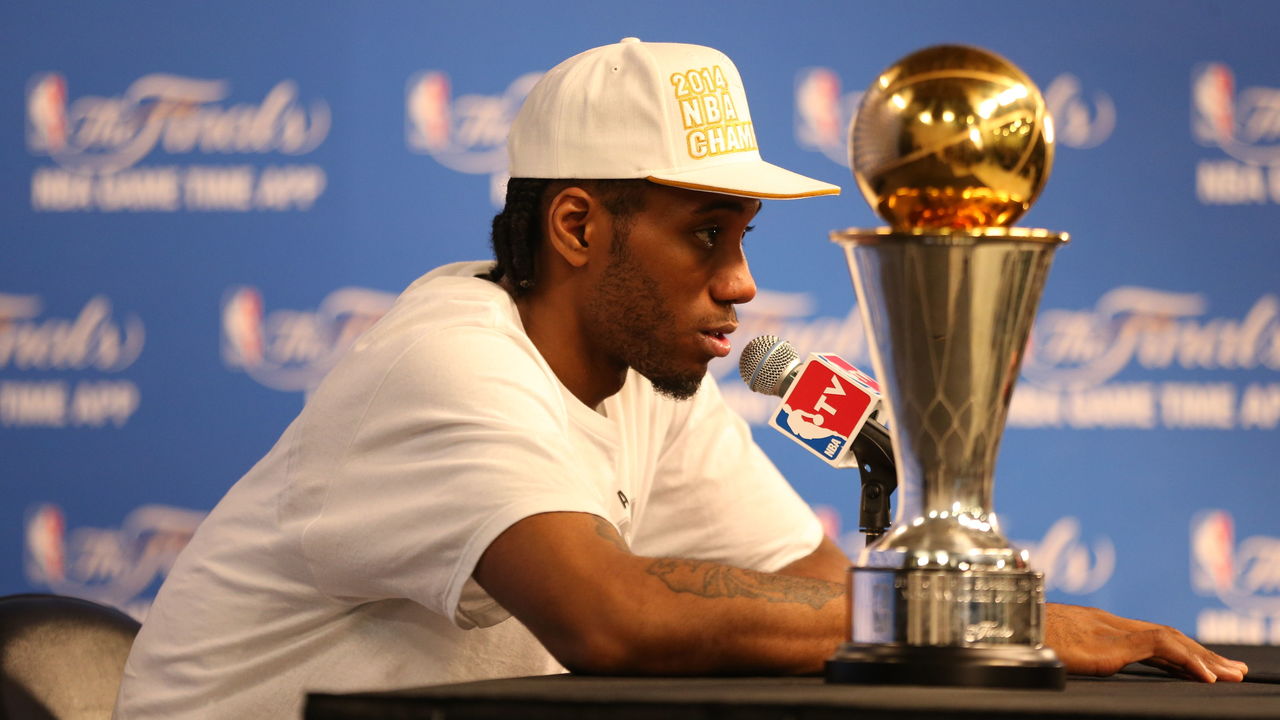 Leonard reserved his place in Spurs history when he was named Finals MVP during the team's 2014 championship season.
The relationship was strong. He was the heir apparent to the Tim Duncan-Tony Parker-Manu Ginobili triumvirate that netted San Antonio four titles and five Finals appearances in 12 seasons. As the Spurs' Big Three aged, Leonard was there to carry the torch.
He earned back-to-back All-NBA first-team selections in 2016 and 2017, a second-place finish in league MVP voting in 2016, and a third-place finish in 2016-17. No longer simply a defensive wizard, Leonard had become the focal point of the Spurs' offense, averaging 21.3 points per game in 2015-16 (with a career-best 44 percent 3-point shooting), and 25.5 points a year later.
But on Sept. 30, 2017, San Antonio announced that Leonard would miss the preseason with a mysterious quadriceps injury. Two weeks later, the Spurs announced Leonard would not be back for the season opener, with his return still indeterminate. In mid-November, Popovich told reporters "he'd be back sooner rather than later." Leonard made his season debut about a month after that, playing nine games (and averaging 25 points and seven boards in the process) before he was ruled out indefinitely again on Jan. 17, 2018.
Five days later, ESPN's Adrian Wojnarowski and Michael C. Wright reported a rift between Leonard and the team. Buford, the Spurs GM, said, "This rehab hasn't been simple, and it hasn't gone in a linear fashion."
By mid-June, the rift had grown into a chasm. On July 18, Leonard and Danny Green were sent to Toronto for DeMar DeRozan, Jakob Poeltl, and a 2019 first-round pick. Following the Raptors' championship run, Leonard revealed that he'd texted Kyle Lowry soon after the deal, saying: "Let's go out and do something special."
By all accounts, Leonard entered this season with a chip on his shoulder that hadn't been there since he was that scrawny, positionless, 19-year-old enigma entering the NBA draft.
"Last year, a lot of people were doubting me," Leonard told reporters after clinching the title. "They thought I was either faking an injury or didn't want to play for a team. That was disappointing to me, that that was out in the media, because I love the game of basketball."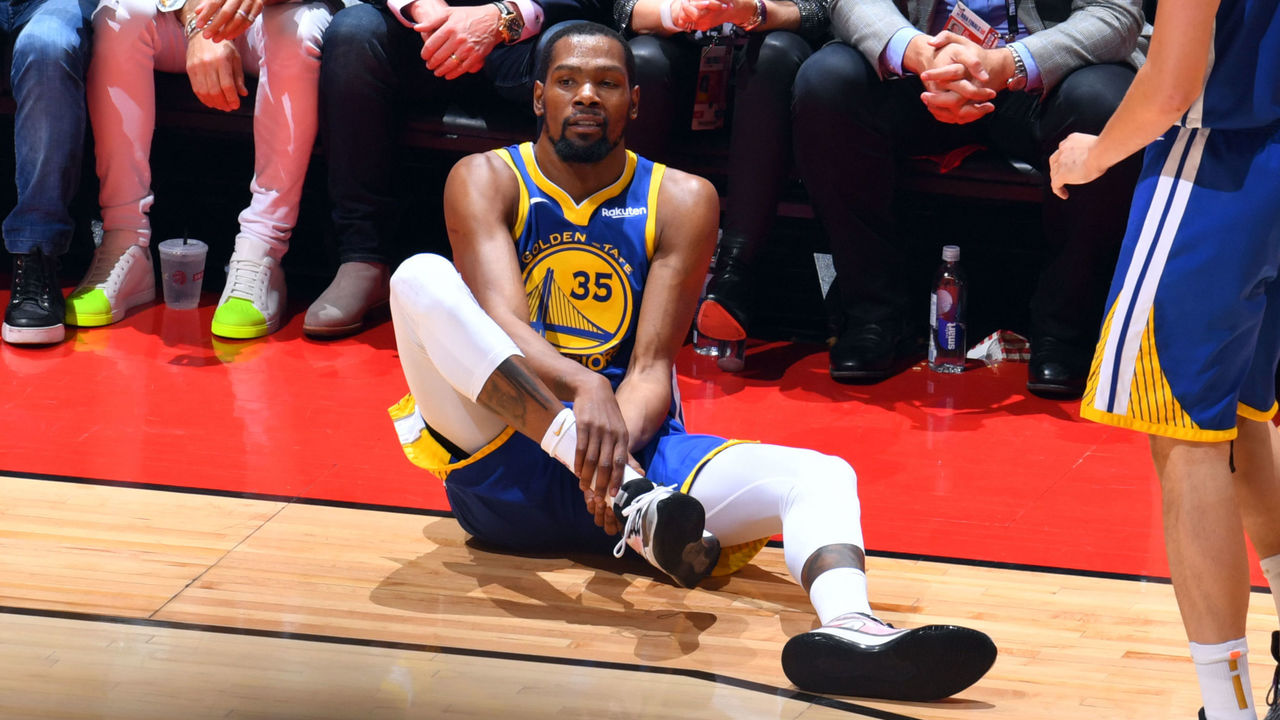 A different injury pushed Leonard to the head of the class this summer.
When Kevin Durant fell to the ground in Game 5 of the recent Finals with a ruptured Achilles tendon, it sent the basketball community reeling. NBA fans are no strangers to this kind of devastating turn - Kobe Bryant was never the same after tearing his left Achilles tendon in 2013 - but the circumstances of Durant's injury were particularly stunning, coming just 11 minutes and 57 seconds into Durant's first game back from a month-long layoff with a calf strain.
If that was the earthquake that jolted NBA free agency, then Thompson's torn ACL in Game 6 was the major aftershock.
In an alternate universe, Durant - fully healthy and coming off his third straight championship at the age of 30 - would have been the kingmaker of the class. Had he and Thompson returned to Golden State, the Warriors' dynasty would probably have continued unabated. A fully healthy Durant also might have chosen Brooklyn, perhaps in tandem with Kyrie Irving, and he would've been the determining factor in the race toward the 2020 title.
In reality, it is unclear when Durant and Thompson will next play in an NBA game. Even if they re-sign, the Warriors' dynasty could either be over or on hiatus for at least a year. The Raptors' unlikely first NBA championship, led by Leonard, changed the free-agent calculus. The Klaw is the biggest catch on the market.
"Through the regular season, he's had big games like this before, but he hasn't played the minutes," Lowry said of Leonard before Game 6 of The Finals. "So you give him more minutes, you give him more shots, you give him more touches, you give him more time to be on the floor.
"I think he's the best two-way basketball player in the NBA."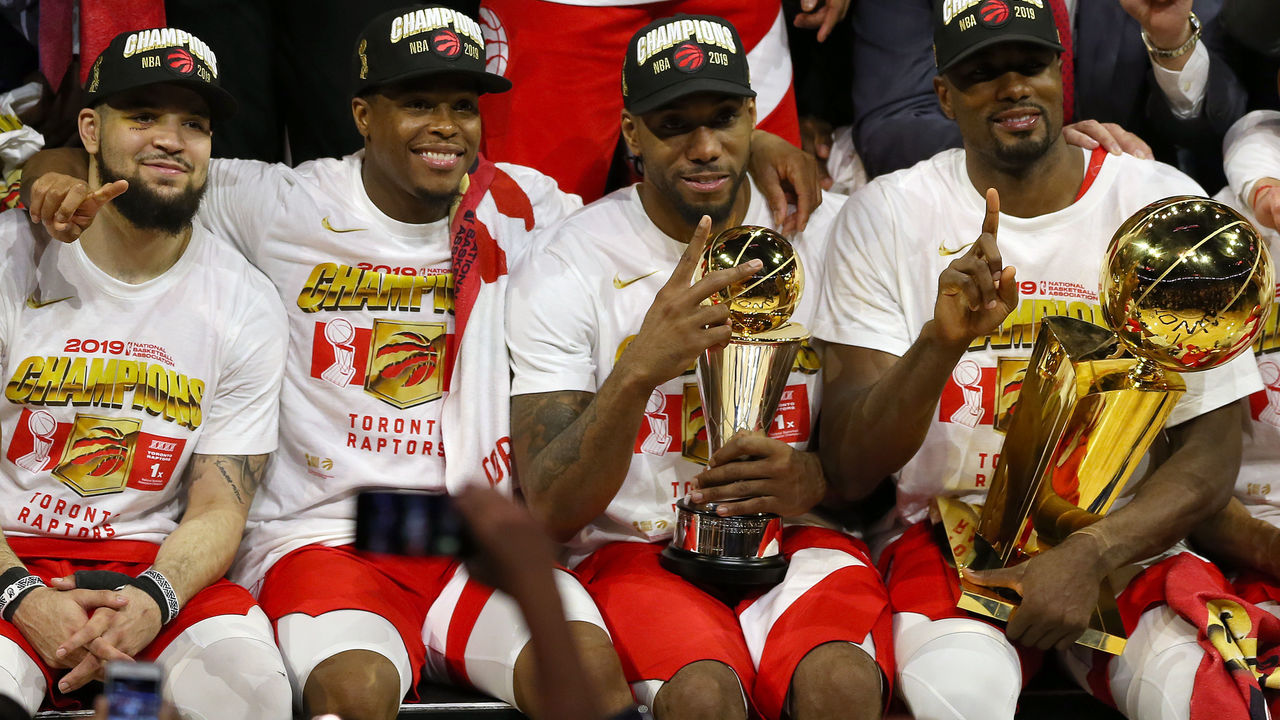 For those who watched Kawhi's rise firsthand, what astounds them most is his continual progression.
"I'm so impressed by his ability to handle the pick-and-roll," Garson said. "I remember watching him back in AAU ball. I would've never thought that was him now. His ability to handle the ball, the reads, the passes, the threes when guys are going underneath - it's just incredible.
"If you go back to his junior year, you'd think he'd be the one setting the ball screen, if you had to bet on it. That is so impressive to me. The fact he plays both ends is not a surprise. That he's a great defender, not a surprise. That he's handling the ball as a point in the middle of the floor? His mid-range game? If you would've told me he eventually became a three, OK. But a guy who is a two and can play one also? Incredible. That's a total credit to him."
Dutcher believes Leonard is "barely scratching the surface," while Velasquez called Leonard "his best teaching tool and recruiting pitch."
"He's still not even what he's going to be," Velasquez said. "I'm just telling you: Two, three years from now, he'll be at an even deeper level. He's not going to find a new hobby. He's not going to find a passion. Other stars might have other business ventures, might be thinking about life after basketball. He doesn't operate that way."
Leonard lets everyone else decide where the turning points were, or what trait brought him to the doorstep of this seemingly unlimited future. Ten years after he was a high school hidden gem, perhaps there's really only one thing we know about the crown jewel of the 2019 free-agent class.
"I think when he gets in the Hall of Fame," Velasquez said, "they are going to say no one ever loved the game more than Kawhi Leonard."