The NBA fantasy league that's been operating for 37 years
A few days before the 1982 NBA season opener between the Boston Celtics and Cleveland Cavaliers, a dozen guys in their late 20s gathered in a boardroom of a downtown Seattle law firm on a Saturday night. The men were a mix of lawyers and reporters, plus a political consultant who would later become chief of staff to a governor and campaign manager to a U.S. senator.
They were relatives, former work colleagues, or friends of friends. The self-proclaimed gym rats and basketball nerds ordered pepperoni pizzas and guzzled Olympia beer as they debated the rules for their inaugural NBA fantasy season before drafting players.
Duff Wilson, a co-founder of the league and a now-retired New York Times investigative reporter, remembers that everyone agreed to keep the league simple. Just points scored. No rebounds. No assists. No salary caps. Commissioner duties would rotate each week, and that person would be responsible for compiling the NBA player totals taken from box scores published in the newspaper, handwriting a report, and mailing it to the other 11 teams.
Thirty-seven years later, the members like to think of their league - the Armchair Basketball League, or ACBL - as a pioneer, and perhaps unique in the sport's fandom.
"It's always hard to say you're the oldest or biggest, or whatever," Wilson says. "I don't see any other ones (fantasy NBA leagues) near this, that are continually operating at least."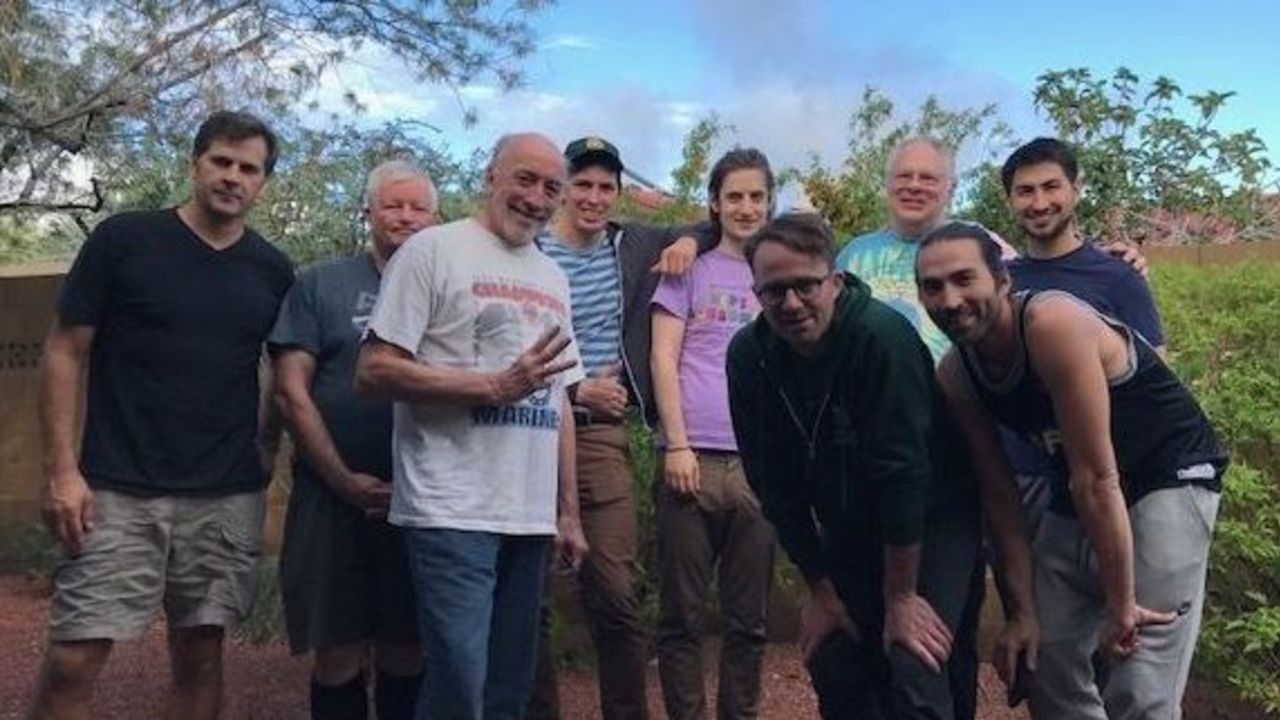 The ACBL was co-created by Wilson, lawyer Joel Summer, and political consultant Ron Dotzauer. It followed another fantasy basketball league started by Wilson's brother Terry, a lawyer in Portland. The NBA was gaining fans in the Pacific Northwest with the success of the Trail Blazers, who won the NBA title in 1977, and the Seattle SuperSonics, who did the same in 1979.
Terry Wilson, a huge Trail Blazers fan, started his league with a bunch of law professors after Portland's 1977 championship, as Duff recalls. But Terry died in 1986 because of a pulmonary embolism, and his league didn't carry on. The ACBL crew was determined to continue as a tribute to Terry.
"My whole family were sports fans. My father used to create pretend baseball games that involved rolling dice. All of us kind of inherited the game bug from him," Duff said.
The first ACBL draft went smoothly. The No. 1 pick was San Antonio Spurs small forward George "The Iceman" Gervin, who'd led the NBA in scoring four of the previous five seasons and averaged 32.3 points a game in 1981-82. Philadelphia legend Julius Erving, Dr. J himself, was selected second, followed by Jazz forward Adrian Dantley.
The middle of the first round featured a run on centers: Dan Issel, Kareem Abdul-Jabbar, Alex English, and Jack Sikma. The selections of Reggie Theus, Dominique Wilkins, and Artis Gilmore concluded the first round.
Celtics Hall of Famer Larry Bird was taken with the 13th pick, about right for the player who had finished 12th in total points scored in 1981-82. Isaiah Thomas went 14th and Magic Johnson, the Lakers linchpin, at No. 36.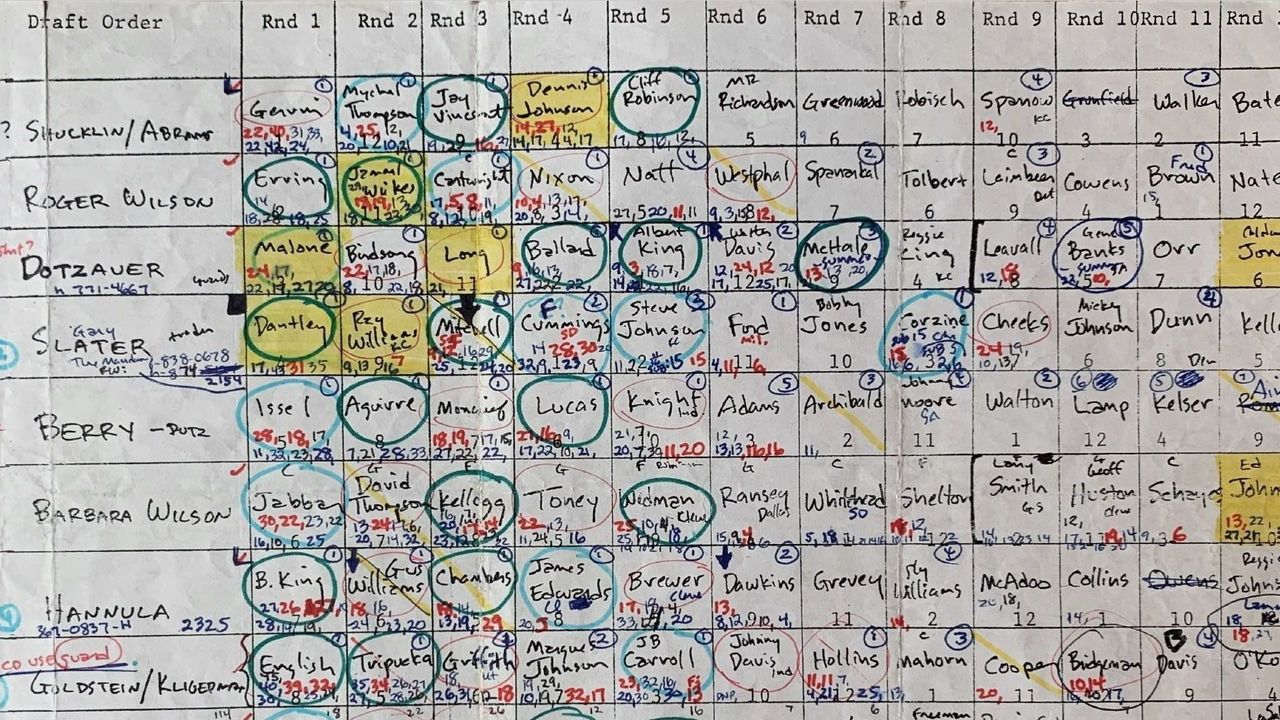 The steal of the draft was Eddie Johnson of the Kansas City Kings: a 12th-round pick who ended up averaging 19.8 points per game after averaging 9.3 as a rookie the previous season.
The inaugural ACBL season took place during a time when communications were limited to mail, telephone, and fax. Trades were conducted on the phone, then communicated in handwriting through the commissioner's weekly report via mail. The report also detailed current beefs among league owners.
Summer, who turns 70 this year, has missed only six ACBL seasons. (He pulled away primarily when he bought a newspaper and became its publisher.)
"It's something everyone looks forward to every year. There's a certain excitement and you kind of get obsessed with the trades and how everybody is doing," Summer said. "It gave me a chance to play with my son. That was meaningful. But staying friends with guys like Duff, who I've known since 1970s, it was primarily through this. We hate to see the season end. It's been a good ride."
Summer says the rules they implemented in 1982 are basically unchanged today. As with any league, it's adapted to the personalities of the owners and player trends. When Michael Jordan started recording a spate of 50-point games - he did it eight times in the 1986-87 season - the league abolished the nine-point bonus given when players scored 50 or more points.
One year, an ACBL manager named Don Hannula became fed up with how the league was run and jettisoned all his good players. The league then adopted the "Hannula Rule" to prevent that from happening again.
Another year, a manager named his team The Fools. The team was so bad, the ACBL decreed that the worst team in the league had to rebrand as The Fools the following season.
As technology improved, the internet and email made league communication easier and faster. Conflicts and grudges between managers developed via email and shared Google Docs. People came and went depending on their level of interest and the time demanded by their jobs and families. Some managers passed away.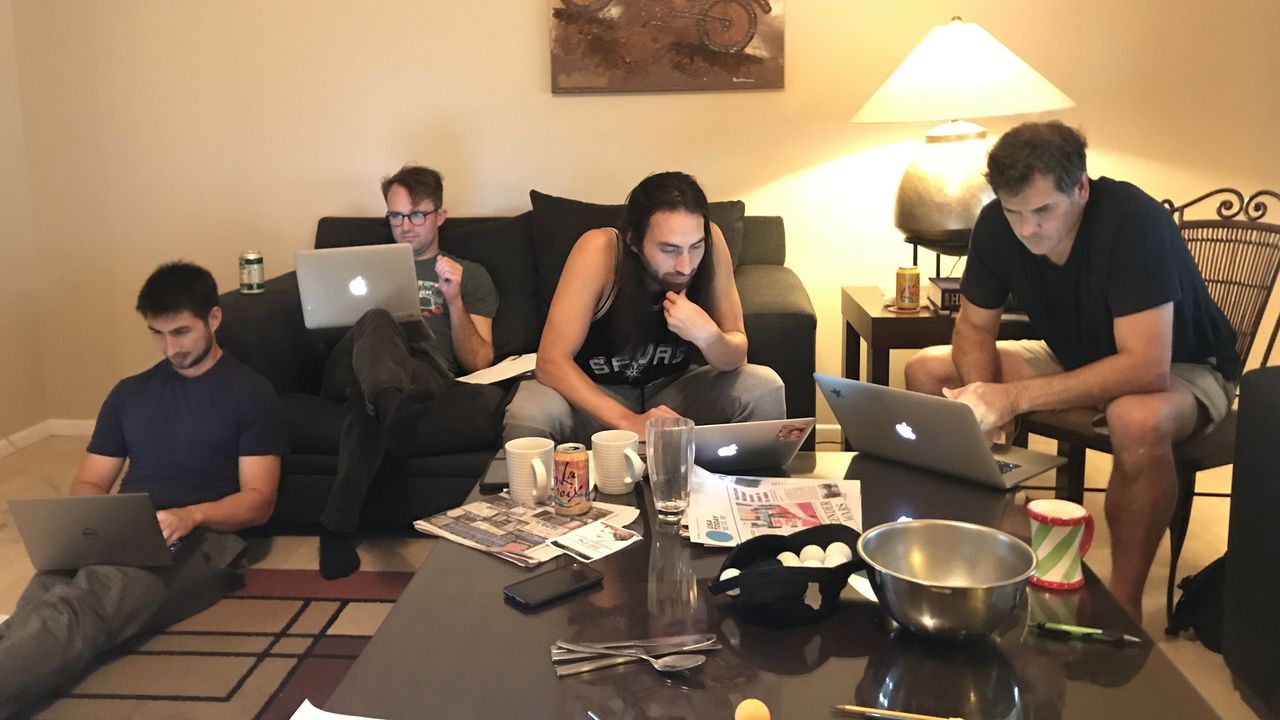 Of the current managers, four have been involved for the past 20 years. One of them is Duff Wilson's son Grant, a 33-year-old environmental lawyer who lives in Boulder, Colo. He is now considered the unofficial caretaker of the league.
Grant Wilson joined in 1997, and his earliest memory of the league is driving to an ACBL draft in the mid-1990s with his dad. At the age of 13, Grant negotiated his first trade over the phone. He won his first championship in 2001, and he's now collected five titles.
"The ACBL is also something reliable and familiar," Grant wrote in an email. "I want the ACBL to remain exactly how it is: simple if not primitive, full of weird traditions."
He's responsible for reviving in-person drafts, and in recent years, he has organized destination drafts. In 2016, they gathered in Las Vegas, and in 2017, they went to Phoenix. Next year, the league is looking at Lake Tahoe. He is a believer that even the manual reports, written by hand, mean you have skin in the game. And that is something worth preserving.
This season, Duff's franchise, the Duffelbagz, squared off against Ginobimura, a team run by Gabe Nishimura, a data scientist from Seattle. The Dufflebagz claimed their 11th title - an ACBL record.
"The ACBL is really important in my life. Everyone in the league shares a deep bond. A lot of the guys are my good friends or family in real life, too, so it gives us another reason to stay in close contact," said Grant, who recently officiated the wedding of another league manager, Jon Fung.
"Having lifelong traditions and community is important. I will keep the league running for as long as I'm alive."
Justin Robertson is a freelance writer in Toronto.
Comments
✕
The NBA fantasy league that's been operating for 37 years
  Got something to say? Leave a comment below!