NBA Power Rankings: Bucks take advantage of Warriors' slump
Stacy Revere / Getty Images Sport / Getty
During the regular season, theScore's NBA Power Rankings will be published every two weeks.
The Bucks have surpassed the Nuggets for the NBA's best home winning percentage (.833) and are a league-best 32-8 against their own conference. Giannis Antetokounmpo is shooting 40 percent on nearly three 3-point attempts per game since the start of February.
The Raptors are in cruise control, dropping just two losses since the start of February. The biggest question over the final 18 regular-season games is how to get their best players on the floor at the same time; Kyle Lowry, Kawhi Leonard, Pascal Siakam, and Marc Gasol have played fewer than 10 minutes together to date.
The Warriors are 3-4 over their past seven games, including a 22-point blowout loss in Portland. Denver is hot on their heels for the Western Conference's top seed but we all know home-court advantage doesn't mean much to Golden State.
The Nuggets followed up a five-game win streak with back-to-back losses. Their latest defeat came against New Orleans, during which the Nuggets squandered a 19-point lead to an Anthony Davis-less Pelicans squad. Denver can't afford to have nights like that if it hopes to secure the West's No. 1 seed.
The Pacers continue to stay afloat in the absence of All-Star guard Victor Oladipo. Indiana is 9-4 after losing its first four games without its marquee player. Wesley Matthews has made a seamless transition in Oladipo's place since being plucked off the buyout market.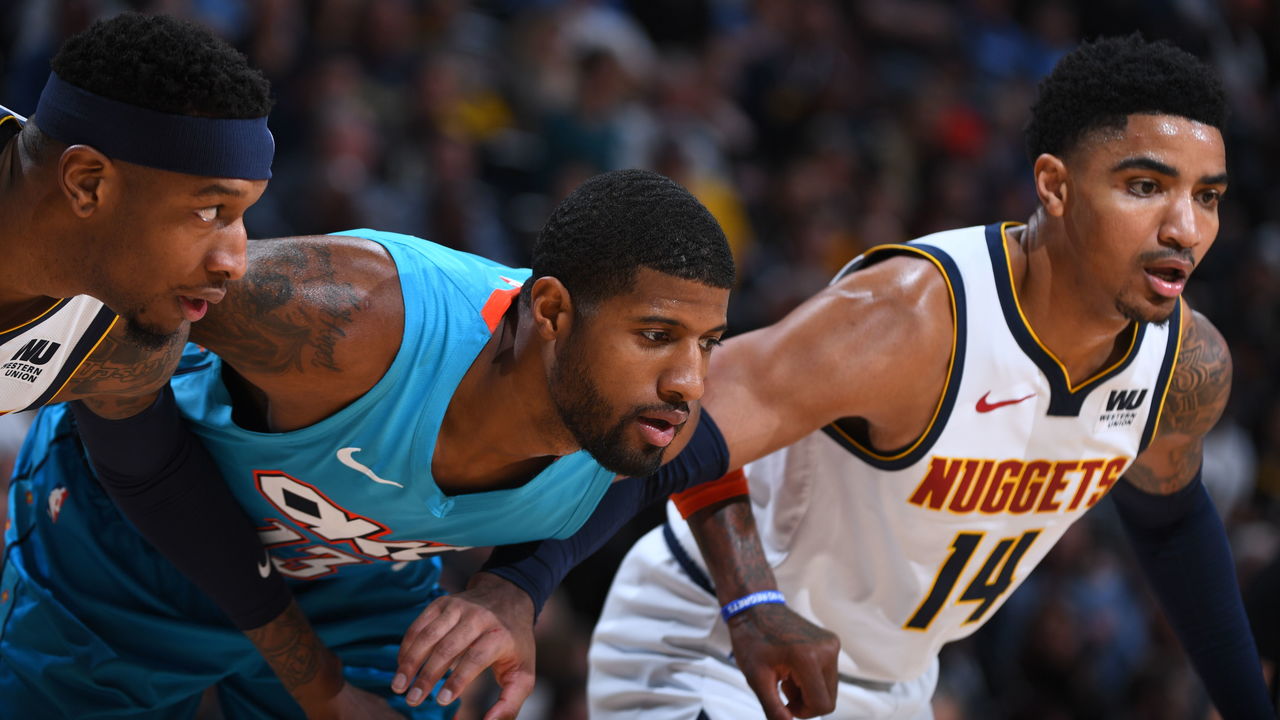 Sunday's comeback win over the Grizzlies snapped the Thunder's four-game slide. With five of their next six games on the road, now is the time for Paul George to really solidify his dark-horse MVP candidacy.
A pair of late miscues cost the 76ers a chance to defeat the Warriors. With plenty of new faces, head coach Brett Brown admits his club is still working through some kinks.
The Blazers were on a five-game winning streak with victories over the Warriors, 76ers, and Celtics before running into a hot Raptors squad. Damian Lillard continues to be a model of consistency as Portland fights to land home-court advantage.
James Harden's 30-point streak came to an end but he continued his dominance, scoring 58 points in a comeback win over the Heat - his sixth 50-point game of the season.
Winners of four straight entering Monday, the Jazz play 12 of their next 14 games against current lottery teams. Derrick Favors is averaging 16.2 points and 12.2 boards on 65 percent shooting in his last five games.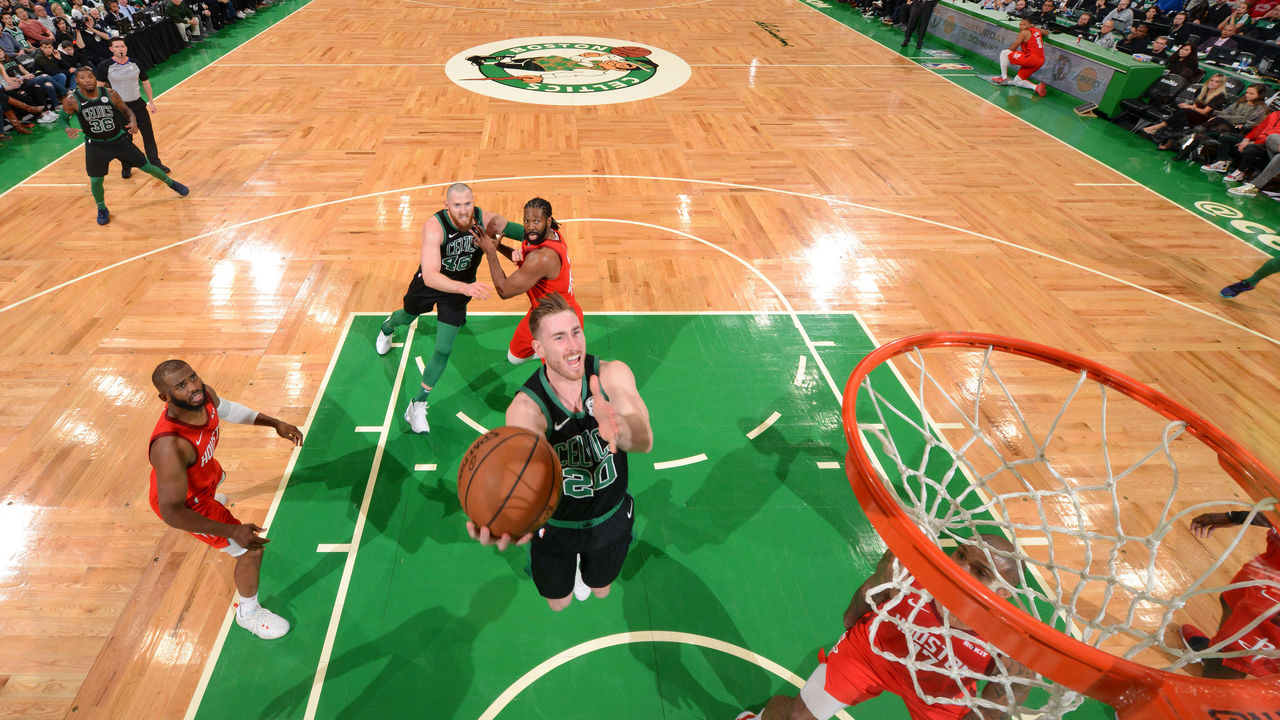 Since Feb. 7, the self-destructing Celtics are a bottom-four offensive team. Gordon Hayward, who looked to be coming around before the All-Star break, is shooting 27 percent from the floor in his last five games.
The Clippers made a couple of trades that should have theoretically damaged their playoff chances. Instead, they keep pulling away from the rest of the pack, sitting three games ahead of the ninth-seeded Kings.
The Pistons are on fire. Since falling to 21-28 on the season, Detroit has pulled off a 10-3 streak which includes wins over playoff-bound teams like the Raptors, Nuggets, and Pacers. They still boast a bottom-10 offense but coach Dwane Casey has pushed the defense into top-10 form.
The return of reserve guard Spencer Dinwiddie should help the club in the pursuit of its first playoff berth since 2014-15. Brooklyn went 6-8 during Dinwiddie's 14-game absence.
After playing quality basketball in December and January, the Spurs' porous defense has re-emerged in the worst way. Only the Lakers have a worse defensive rating since Feb. 4.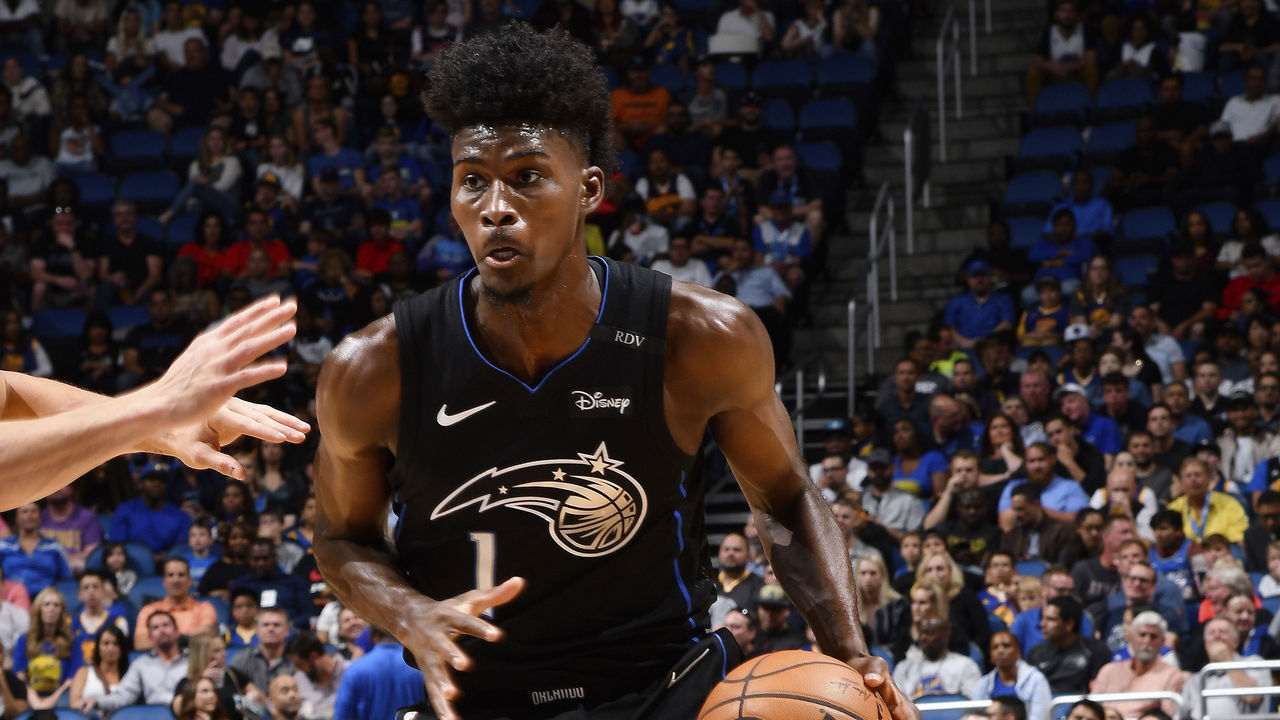 That the Magic are on track to hoist a division banner in a sub-.500 season is...well, it's something. Still, wins over the Warriors and Raptors speak to a team trending toward competency. Just don't expect Orlando to catch anyone off guard if they do drag themselves to the postseason.
Don't count the Kings out yet. Despite some difficult losses - they've dropped five of six - they remain a legitimate playoff contender behind the emergence of Buddy Hield and De'Aaron Fox.
For a team that seemingly rebuilt the right way leading up to last spring's playoff appearance, falling short this season would be a disastrous step back. Their first-round pick doesn't project as a potential impact player so here's hoping Karl-Anthony Towns is ready to come back re-invigorated for 2019-20.
The Lakers sank to a new low after falling to the NBA-worst Suns on Saturday. This was not the situation LeBron James envisioned when he took his talents to the City of Angels.
The Hornets are fighting tooth and nail with the Heat and Magic for the Southeast Division crown. The winner of the Association's worst division will likely claim the East's eighth seed.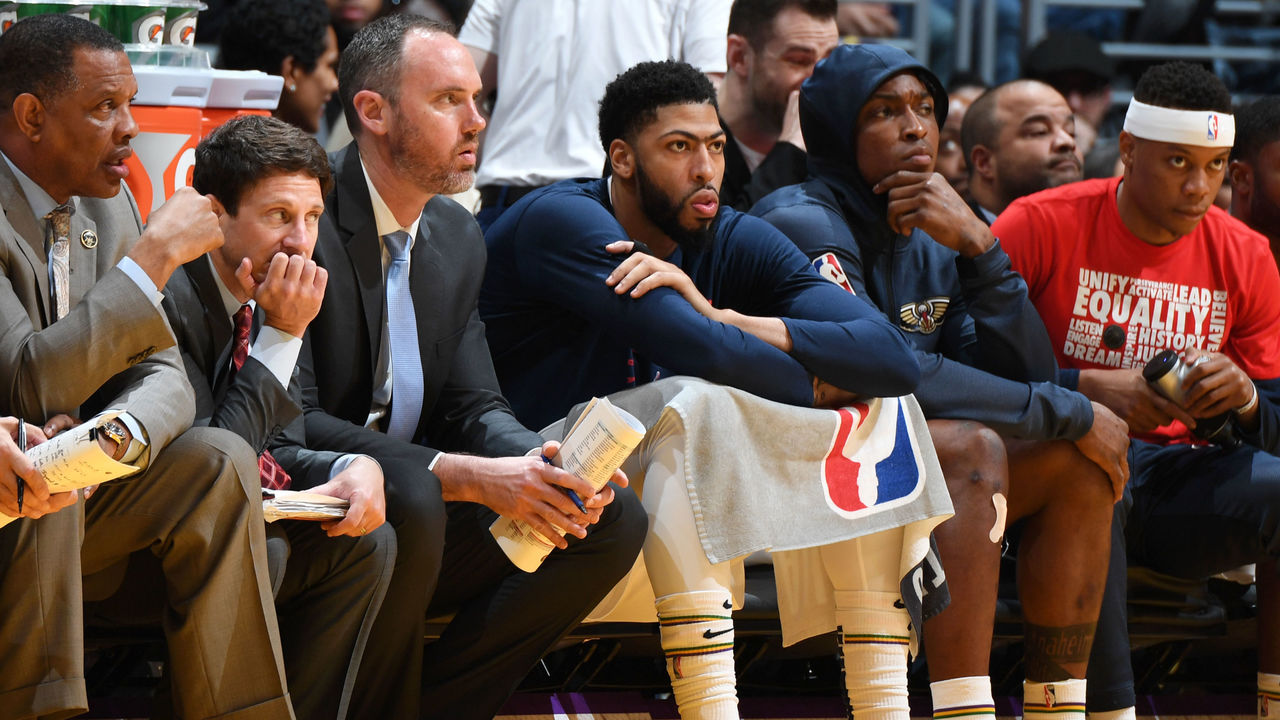 The Pelicans won both games in which they sat Anthony Davis over the past two weeks by a combined 21 points - including a victory in Denver on Saturday.
Blowing double-digit leads has become the story of this miserable campaign for the Heat. After Dwyane Wade turned back the clock and hit an epic game-winner to down the Warriors, Miami relinquished a 21-point second-half lead to the Rockets. There's a legitimate chance Wade's farewell tour ends in the regular season.
Rookie sensation Luka Doncic turned 20 last week but leaves his teenage years with an assortment of records. His 141 made 3-pointers are the most by a teen in NBA history and his 1,194 points are sixth-most behind the likes of LeBron James and Kobe Bryant.
The Wizards flirted with a postseason push in the wake of John Wall's season-ending injury, but have since regressed back toward decrepitude. They're just 4-8 since the start of February, wasting the best season of Bradley Beal's still-young career.
If the season ended today, Memphis would boast a 37.2 percent chance of securing a top-four pick in the draft lottery, according to Tankathon. It's been a solid tank job for a team that started the season with delusions of being competitive.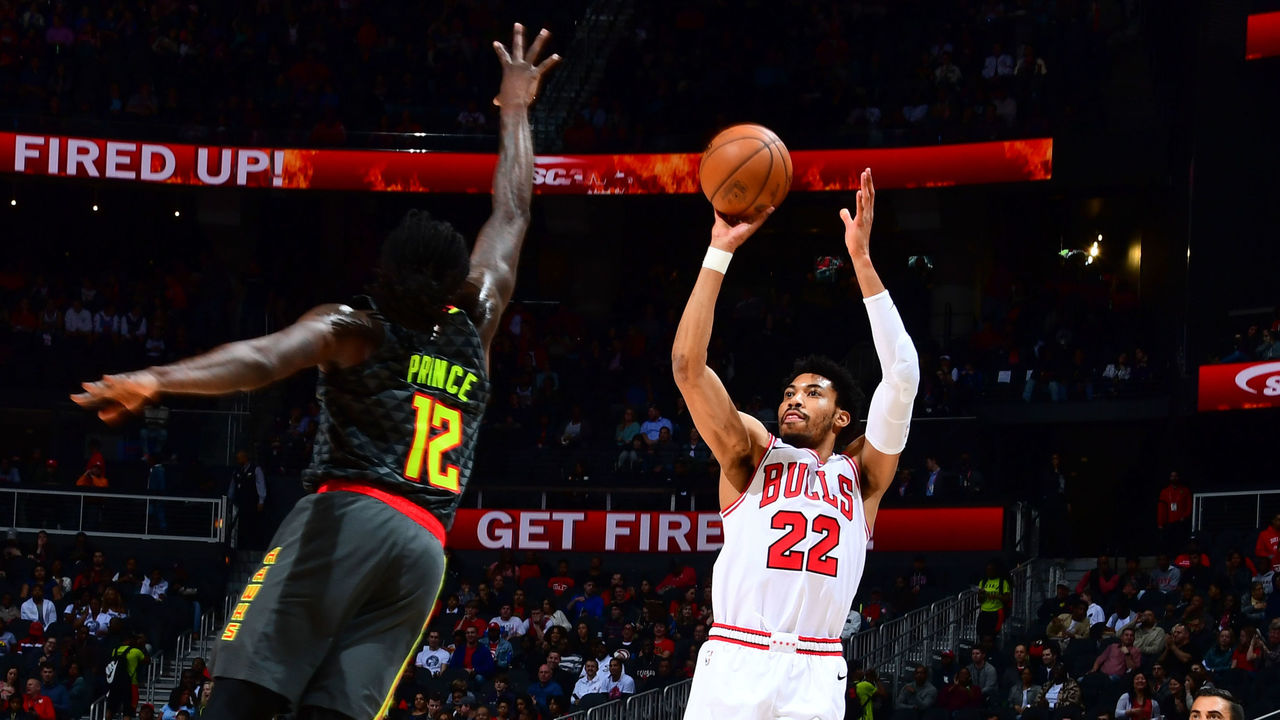 The Bulls are 6-2 when Otto Porter Jr. plays since they acquired him at the trade deadline. Porter is averaging almost 20 points on 52 percent 3-point shooting in those contests.
It's time to start a dialogue about Trae Young. The rookie sensation has been on a tear in his last six games, averaging 32 points and 9.5 assists. Ignore his early woes - he's connected on 51 percent from three-point range on 8.5 attempts over those six contests.
Tristan Thompson hasn't played since mid-January due to a foot injury, but he's still found a way to trend across social media - perhaps a sign the average fan has finally come to appreciate the nuanced game of the offensive-rebounding maestro.
If the Knicks can't land a couple of marquee free agents, they'll be slotted near the bottom of every power ranking next season as well.
Props to the Suns for following a franchise-record 17-game losing streak with wins against a slumping Heat team and an apparently indifferent Lakers squad.
Comments
✕
NBA Power Rankings: Bucks take advantage of Warriors' slump
  Got something to say? Leave a comment below!