It's a cold November night in Toronto, and the defending champion Golden State Warriors are exhausted after an overtime loss to the Raptors.
As the stars finish their postgame media scrums and hastily prepare to head out, I approach Klay Thompson at his locker. I'm reminded by a team staffer that players have already fulfilled their media obligations, but the sharpshooter catches wind of what - or rather, who - I want to ask him about, and speaks up.
"Melo?" Thompson asks, as I nod back. "I'll answer your questions anyway, then. I love Melo."
Over the next month or so, I asked many more players around the Association about Carmelo Anthony. The reactions, the respect, and the admiration became predictable, but that attitude stands in contrast to the way many NBA fans and media members view him these days, and that clear disconnect is why I wanted to ask players about Anthony in the first place.
A polarizing career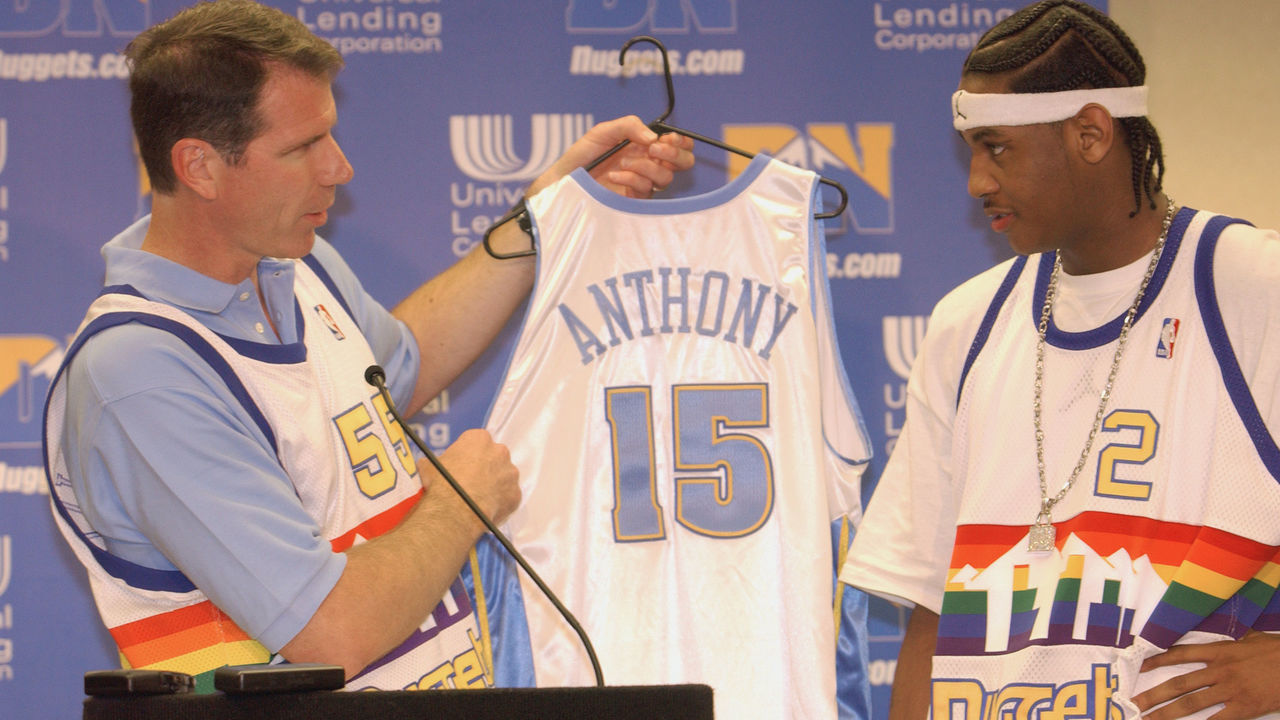 To those on the outside looking in, Melo's become somewhat of a punchline in recent years. Yes, he was a prolific Hall of Fame scorer, but he was less efficient than the all-time greats. And he was a key member of the vaunted 2003 draft class, but he's consistently fallen short of those peers in the playoffs, where he's only made it past the first round twice in 16 seasons.
Even when Anthony tried to handle things the right way, he appeared to handle them the wrong way. During the 2010-11 season, he gave the Denver Nuggets a heads-up that he wanted out, allowing the team to recoup value in a trade rather than lose him for nothing in free agency the following summer. In doing so, however, and in getting to his preferred team - the New York Knicks - in time to ensure he could maximize the monetary value of his contract, Melo also forced New York to deal away core pieces of the up-and-coming roster he was joining.
Recent years haven't been kind to his reputation, either. In Oklahoma City last season, Anthony laughed at the notion of coming off the bench when it seemed a fitting role for the aging veteran, but got his way despite middling production as a starter. Then came the disastrous beginning to this campaign, when Anthony averaged 13.4 points on 41-33-68 shooting in a mostly reserve role for Houston. His Rockets tenure effectively ended after 10 games, and Melo was widely painted as the scapegoat for the team's early-season malaise.
Finally, before he was moved to the lowly Chicago Bulls this week in a salary dump - a team that has no intention of playing him - Melo's name would only flash across our screens when he was piling up points in an empty gym, which only added to the punchline narrative.
Some of the criticism's been fair, and Anthony's far from the only marquee name to become an internet target in a league tailor-made for the social media generation. But something has always stood out about the Melo backlash; perhaps more than any of his fellow targets, he's always had a horde of NBA stars ready to defend him.
As I tried to uncover what makes Anthony such a revered figure among his peers - even while the majority of the basketball-watching world seems ready to discard him - it became clear that the league could still use a little more Melo.
'You can't stop that guy'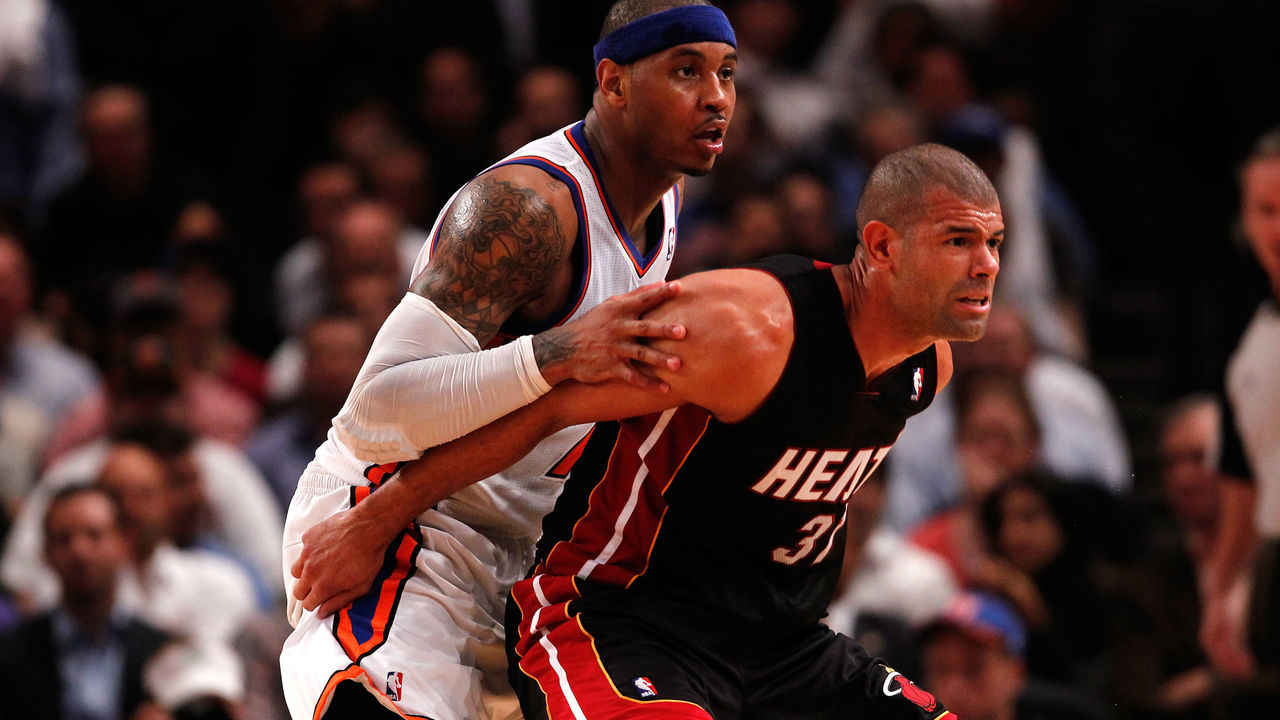 The most glaring difference in the perception of Anthony's game is that while pundits obsess over his pedestrian efficiency and gluttonous usage, players understand and respect the abilities, both physical and mental, that are required to be a No. 1 scorer - to shoulder such an offensive burden, to get your shot off whenever you want over whomever you want, and to produce consistently enough to pile up 25,000 NBA points.
"We're out here playing against the guy, or are teammates with him, and it's totally different than being a fan," Washington Wizards forward Otto Porter told theScore. "Fans only see what they see during the game, but they don't understand, (Anthony)'s highly skilled. He's a true, pure scorer. He has a counter for every (defensive) move you have. He was unguardable for a long, long time, and is one of the top iso scorers that the game has ever seen."
Brooklyn Nets coach Kenny Atkinson was an assistant with the Knicks during Anthony's tenure, and witnessed the lengths opponents would go to in an effort to slow him down.
"Players respect the hell out of Carmelo," Atkinson said.
"I know our guys, in practice, were like, 'You can't stop that guy. He's too strong, and he's too skilled.' I think other players in the league know what a pain in the neck he was to stop. I remember when we played Miami in the (2012) playoffs, Shane Battier was fronting him at the 3-point line. Full-on fronting!" Atkinson exclaimed with a head shake and a laugh.
"Like, you don't see that. You front the post, you front the mid-post, but their strategy was just front him the whole game. It didn't matter where he was, Shane was out there, too."
Something else became apparent in these conversations around the league. While the outside world rolls its eyes at Melo's clock-eating, ball-sticking, jab-stepping arsenal, his fellow players almost seem to believe there's a certain honor in sticking to his guns, even as the league passes him by and a lesser offensive role would clearly suit him.
As Dwyane Wade reminded us, adapting to a new role or style of play isn't as easy as just showing up, particularly for such an accomplished scorer who rose to prominence in an era defined by a breed of iso kings.
"I just think everyone's game is different, and generations and eras are different," Wade told theScore. "When you're a scorer like Melo, (like) the guys he grew up watching, you're not like a point guard. You have to get the ball in certain areas. To be a scorer in this league, especially before the rules changed, you took a lot of shots to get there. That's what he was used to, especially early on."
The unexpected leader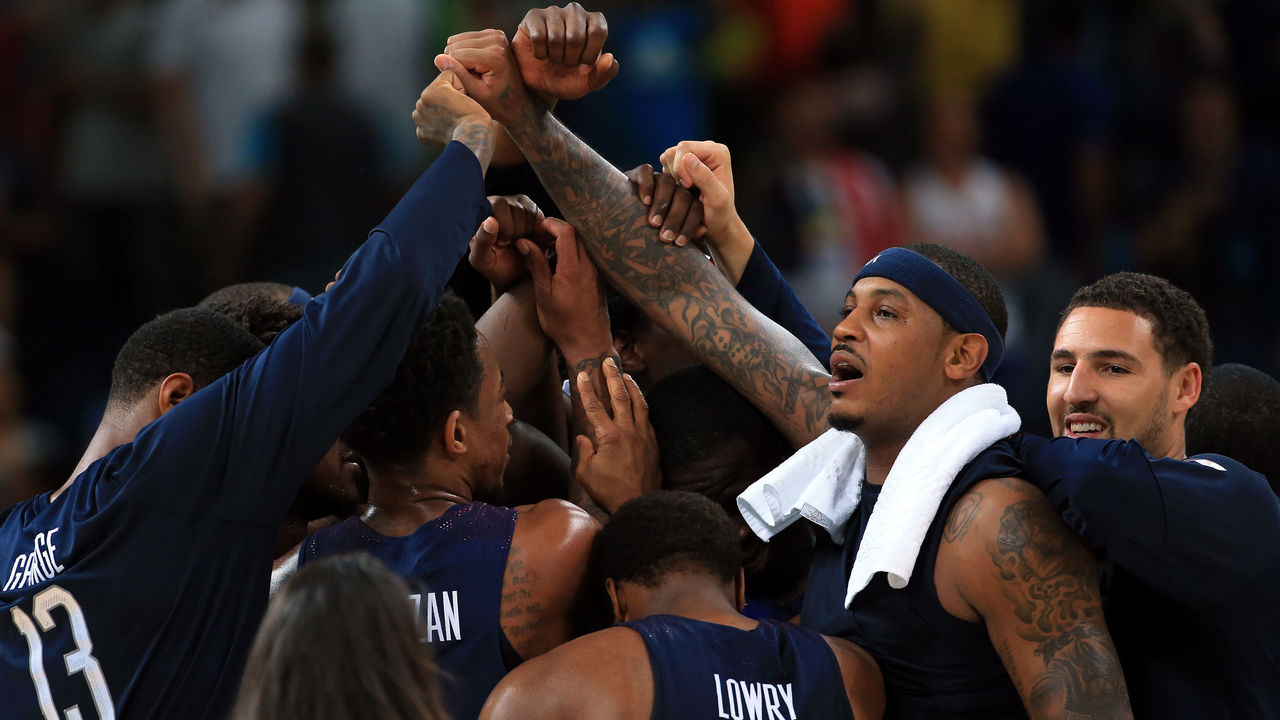 Even pundits who've always been pro-Melo probably never considered him a team leader, but every player I spoke to who's played with Anthony talked about the 34-year-old in those terms, beginning with that conversation with Thompson.
"I got to spend a lot of time with him with Team USA (at the Olympics in 2016), realizing how good of a leader he was," Thompson said. "He took so much pride in being the captain of the USA team, and that trickled down to all of us. He had a great heart, and I just learned from him how to enjoy the moment, enjoy the ride, because it doesn't last forever, that's for sure."
Indiana Pacers big man Kyle O'Quinn, who spent two years with Anthony in New York, saw him as a model of consistency in the locker room. "He really gave you the same look every day," O'Quinn said.
"Good day, bad day, you couldn't tell with him. He didn't let much affect him, as far as his work goes. He got his work in, with a good dinner after. He was the same guy every day, and as the leader of the pack, it's good to see that every day, especially for the young guys, like KP (Kristaps Porzingis), myself. He was just somebody you could look to in a lot of situations as an example."
Those Knicks years were a fitting microcosm of Anthony's career. He was at the height of his powers, averaging nearly 25 points and seven rebounds per game over six-and-a-half seasons and winning a scoring title in 2012-13 (28.7 PPG), when he finished third in MVP voting behind LeBron James and Kevin Durant. But the Knicks only made the playoffs three times in seven tries with Anthony, and only advanced past the first round once.
The organization failed to replenish the young core it shipped out to acquire Anthony, remained top-to-bottom dysfunctional - especially when Phil Jackson took over as president - and averaged just 29 wins over Melo's final four years in town.
From the outside looking in, it was a clear-cut failure, but those on the inside admired the way Anthony continued to go about his business.
"New York had one of the toughest media markets. They dug, dug, dug - that was their job, and he handled it well," O'Quinn recalled. "Obviously, all the pressure was on him, but he handled it in a way that most people couldn't. The media attacked him a lot, he was the fall guy, but he handled it like a true professional and he made the best out of the situation, despite what the circumstances were."
Bulls center Robin Lopez spent a 50-loss season with the Knicks three years ago, and remembers Anthony making life easier for teammates who were less accustomed to New York's wrath.
"He never hid from it, not at all," Lopez said of the scrutiny. "He certainly embraced it. He knew how to deal with it. He knew how to articulate himself to defend himself and his teammates. He always had our backs, and I really appreciated that about him."
'He obviously has an aura about him'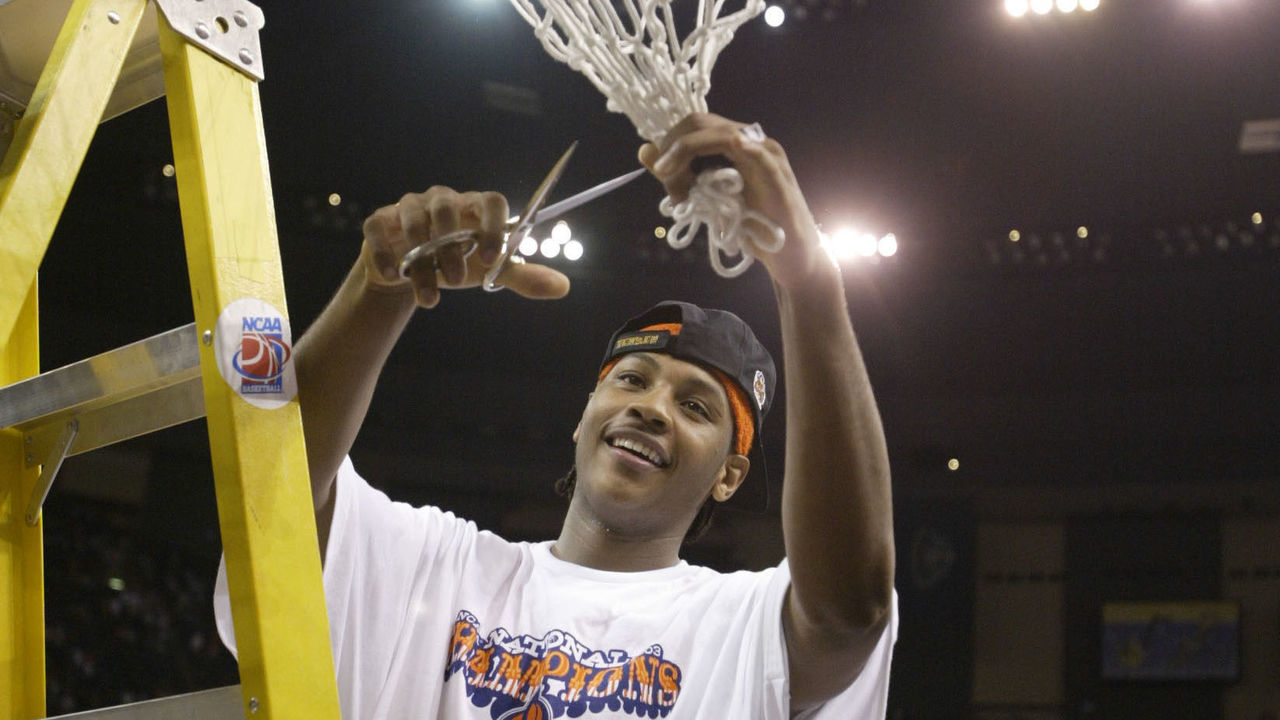 Aside from knowing firsthand how tough it is to stop Anthony, Atkinson hypothesizes that a great deal of the respect Melo commands from his peers comes from years of them watching him perform on so many different stages - be it the NBA, international tournaments, or his national championship-winning season at Syracuse in 2003.
"He obviously has an aura about him," Atkinson said.
The 28-year-old Thompson agreed. "Guys my age, we've been watching him since we were in middle school, playing in the national championship, then in the NBA," he said. "You have respect for guys who have been doing it for decades, and he's one of them."
That aura is also why, despite growing up nearly 5,000 miles away in Athens, Greece, where basketball is played between the Aegean and the Ionian rather than the Atlantic and the Pacific, an 18-year-old Giannis Antetokounmpo knew his NBA debut would be extra special because it was coming against the Knicks.
"One of the best experiences I've had in the NBA was playing against Carmelo Anthony in my first game," Antetokounmpo told theScore. "I was really happy and excited to play against him, one of the best players in the league. He's a friggin Hall of Famer."
When asked about his memories of that initial matchup, Antetokounmpo couldn't help but laugh. "(Anthony) didn't care. He didn't know who I was. I was 18. I was just playing hard, he was trash-talking, we were going back and forth, I was just learning through him."
'A very dope individual'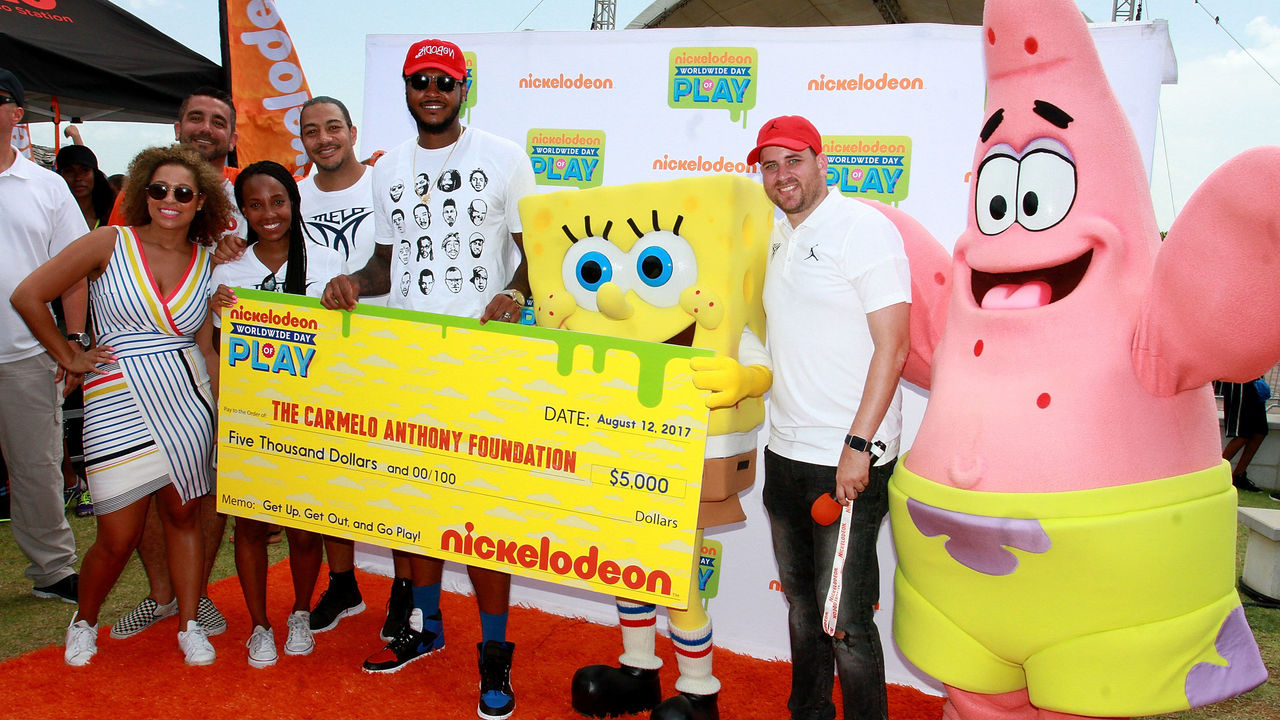 More than any other topic in these conversations, players kept coming back to the fact that while Anthony's a star in front of cameras, he's an even better man away from them, and someone who genuinely cares about the world around him.
"As far as a person, you really can't find a better one (in the league)," O'Quinn said matter of factly.
Anthony's philanthropic efforts and social activism carry weight in NBA circles. In recent years, you could find him calling for peace in his hometown of Baltimore while marching in the Freddie Gray protests, or becoming a driving force in the crowdfunding efforts to assist Puerto Rico after the island was ravaged by Hurricane Maria. In fact, Anthony, who's half Puerto Rican, has been doing community work on the island for over a decade.
"People come into the NBA with a reputation from a public standpoint, but when you get to know someone, you realize he's not that guy," Wade said of Anthony, whose early-career rep took a blow when he sucker-punched former Knick Mardy Collins during a 2006 brawl between Denver and New York.
"Melo's a very dope individual," added Wade, one of Anthony's best friends in the league. "I think if anyone ever had a real conversation with him, you can tell how intelligent he is, how real he is, and how he's in that conversation with you. He treats everybody the same, and I think that goes a long way.
"Understanding what he does in different communities, all around the world. His heart is there. He understands how he grew up, and just like a lot guys, he wants to be able to make a difference. Those are the kinds of things, that with a guy like Melo, don't get enough light shed on it. Anything that's been negative, they've always shed more light on that, but he's done a lot of good."
'Appreciate him while he's still here'
If the reports are true, Anthony should find a new NBA home and be back on the court in the coming weeks. But if his play over the last couple seasons is any indication - the numbers suggest Melo's no longer a viable catch-and-shoot threat, or even an above-average isolation option - the next few months might represent our last chance to watch him in action, and his last chance to be part of a deep postseason run.
If that's the case, his peers just hope the rest of us don't let these final images of Anthony cloud our judgment or the public's appreciation of him.
"I think a lot of the fans are so young now, they've never really seen Melo play in his prime. They only know what they see now," eight-time All-Star Dwight Howard told theScore. "I know how he feels, because I get the same kind of treatment. I know what kind of player he was and is, what he's done in this league, and the damage that he's done in terms of scoring. I still love watching him play."
When asked about the current perception of Anthony, Porter sniped back. "We're talking about a Hall of Famer," he said. "I don't understand what the trolling is about."
"This guy ..." Porter added of Anthony, as his voice trailed off and he shook his head without finishing the thought. "Appreciate him while he's still here. He's a legend."