Film Room: Popovich dials up old play to sink Lakers in OT
Timothy Nwachukwu / Getty Images Sport / Getty
San Antonio Spurs head coach Gregg Popovich dialed up a classic to beat the Los Angeles Lakers in overtime Monday night.
With the Spurs down one, Popovich turned to a pet play in which LaMarcus Aldridge worked a dribble handoff to get Patty Mills an open jumper that went down as the final basket in a sloppy 143-142 affair.
If that play looked familiar, it's because Popovich ran that action for years with Tim Duncan, Tony Parker, and Manu Ginobili. And while all three of those future Hall of Famers have since moved on, Popovich was still able to make it work by casting Mills in the role of Parker, Aldridge as Duncan, and with DeMar DeRozan doubling as Ginobili.
"It was a play we've run over and over again. Timmy, Tony, and Manu are the guys that usually run it. New team, new players, but we executed pretty well," Mills said to NBA TV.
Here's one example of when the Spurs' former Big Three ran it during the 2014 Western Conference semifinals:
There are some small differences in how the two plays were executed, but the basic principles are the same. The goal is to input the ball into the post and bring a guard up from the corner for a quick dribble handoff. At that point, it becomes a read-and-react type of play depending on the defense.
Popovich added some small wrinkles into the 2018 iteration of the play. Instead of passing directly into the post, the Spurs set up a quick down screen along the baseline to see if Mills could pop free for a jumper in the corner, or if Aldridge could get a smaller man on him on a switch.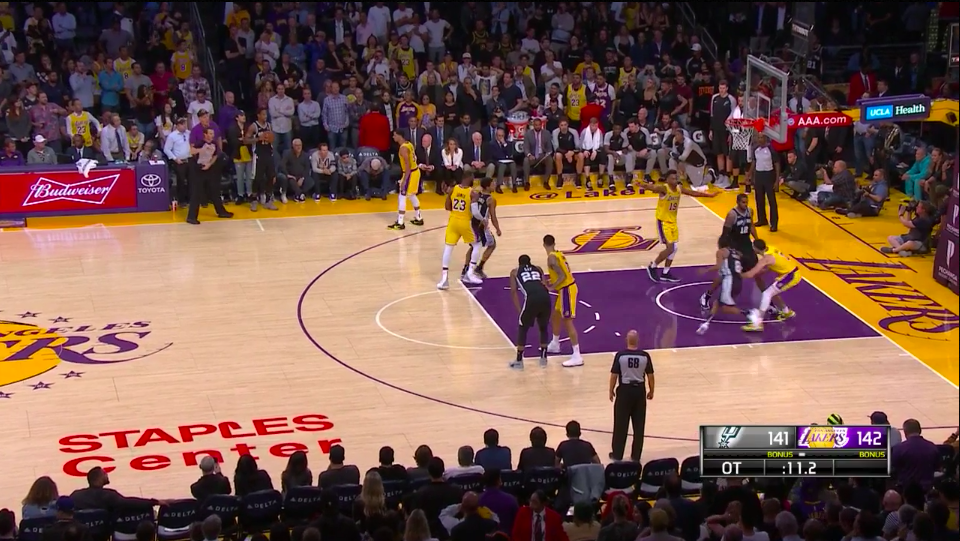 The Lakers successfully navigate this first action without any concessions, so the Spurs seamlessly flow into their next move. Popovich sends Bryn Forbes to screen while Aldridge comes up top to receive the inbound pass from DeRozan. Again, the Lakers navigate it beautifully and manage to maintain their preferred matchups without leaving anyone open.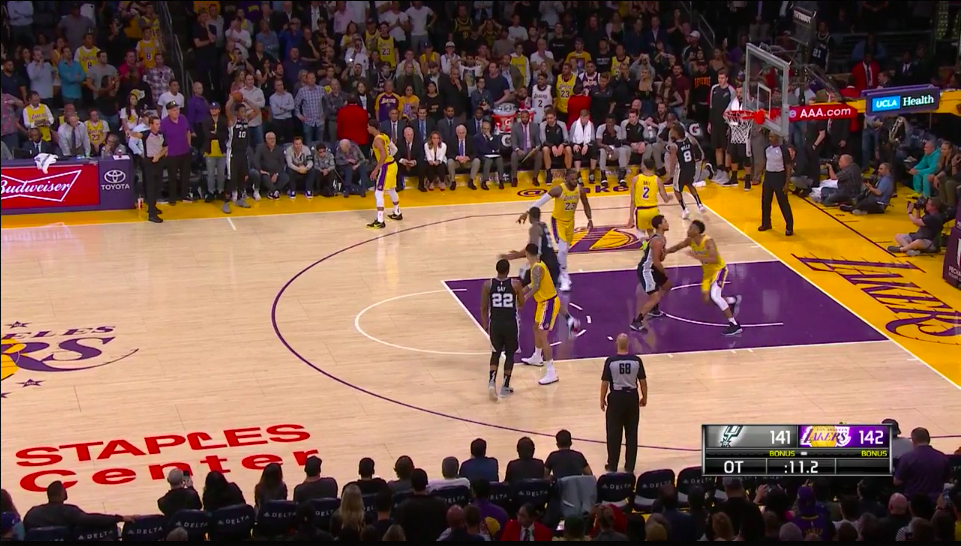 Popovich then sends DeRozan to slice through the lane, just as Ginobili would have, while Aldridge has the ball in the post where Duncan used to receive it. The goal there was to hopefully catch the Lakers napping and maybe DeRozan would be open going to the basket. But again, L.A. is resilient as the lane is too clogged for DeRozan to catch and finish on the move.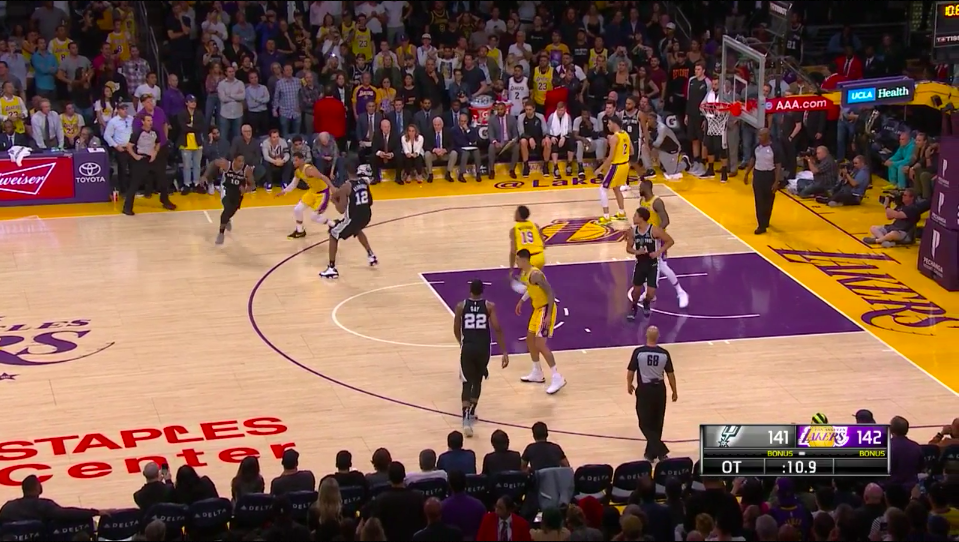 The frills didn't work, so the Spurs pivoted to their main action. Mills darts up from the corner as Parker would have, while Aldridge positions himself for the tango that Parker and Duncan perfected over years. Lonzo Ball had shaded into the paint slightly on DeRozan's cut, which left enough separation for Mills to make his cut. Ball reacts quickly but is caught a step behind.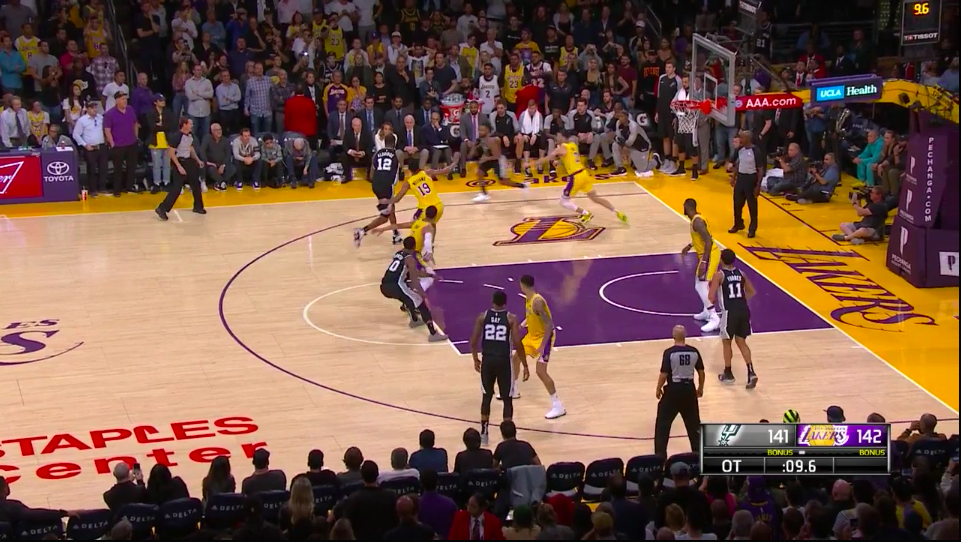 Aldridge does brilliantly to take away the space on the screen. Mills goes around him to receive the ball, while Ball gets caught on when Aldridge subtly turns his hips outward. Jonathan Williams doesn't recognize the action and stays attached to Aldridge for fear of the midrange shot.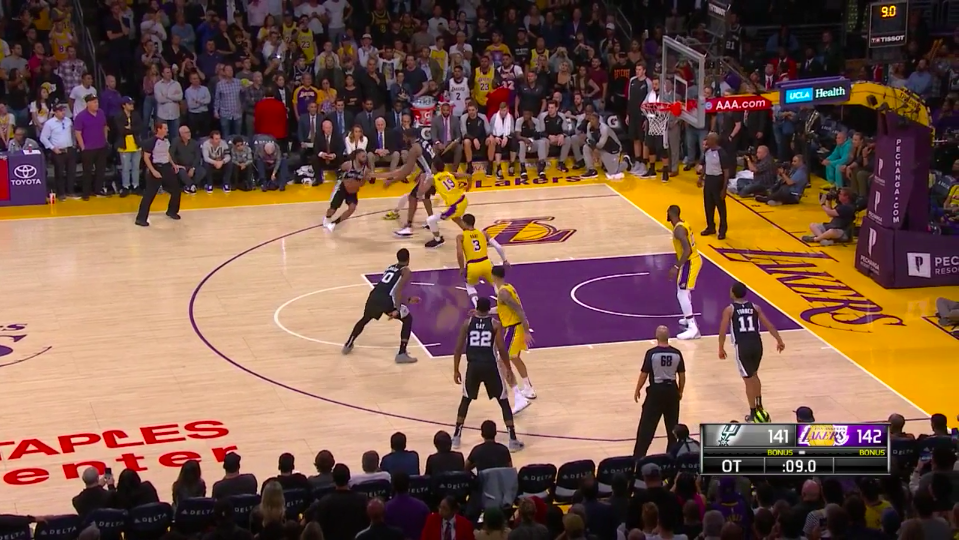 Mills recognizes the advantage and doesn't hesitate. Ball is so late that he doesn't even attempt to contest the shot, and with Williams staying attached to Aldridge, Mills was able to connect on the wide-open look to win the game.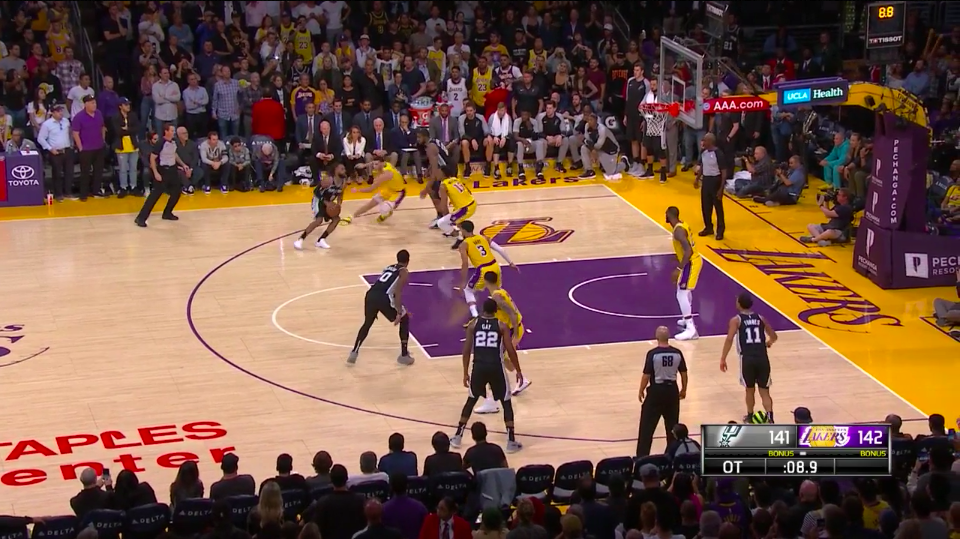 Today's team is a long way from the Spurs' glory days, but this play was one example of how a winning culture continues to endure in San Antonio. Parker, Ginobili, and Duncan are long gone, but Popovich still has his players executing with championship-level precision.
Comments
✕
Film Room: Popovich dials up old play to sink Lakers in OT
  Got something to say? Leave a comment below!