As NBA teams are officially eliminated from title contention, theScore NBA freelance writer Andrew Unterberger takes a look back at the highs and lows of their season, along with the biggest questions ahead of 2018-19. The 27th edition focuses on the Boston Celtics.
The Good
Jayson Tatum's ceiling. Though the Rookie of the Year debate focused on Ben Simmons versus Donovan Mitchell, both of whom led their teams on unexpected postseason runs, by the end of the third round, they'd been overshadowed by another rook still in the playoffs. Tatum followed up an impressive rookie campaign (about 14 points and five rebounds on nearly 59 percent true shooting, with good defense) with a playoff run that saw him come a quarter away from taking the Celtics to The Finals. (Even in Boston's crushing Game 7 loss to the Cavaliers, he posted 24 and seven, and had a show-stopping dunk on LeBron James.)
Considering Tatum was young for a rookie, showed untapped potential on both sides of the ball, produced both as a complementary player and as a first option, and improved when the games meant more, he seems almost guaranteed to grow into one of the league's marquee players. And considering the Celtics picked up another valuable first-round pick from the 76ers in trading down to get him - while Markelle Fultz, taken two spots earlier, couldn't even get on the court most of the season - general manager Danny Ainge looks to have pulled off one of the heists of the decade.
The Kyrie trade. And the Tatum/Fultz swap might not even have been Ainge's best move of the offseason. It's got stiff competition from the deal for Kyrie Irving, in which the team shipped out 2016-17 hero Isaiah Thomas, 3-and-D wing Jae Crowder, and the final first-round pick the Nets owed from the 2013 Garnett/Pierce trade (still Ainge's greatest maneuver) for the All-Star point guard. In Boston, Irving established himself as every bit the first-option scorer and fourth-quarter finisher that Thomas had been a season earlier. He also showed improved defense and distribution, averaging about 24 points and five assists on 61 percent true shooting with a 25.0 PER, and stayed in the MVP conversation for most of the season.
Meanwhile, Thomas and Crowder proved so ineffective for Cleveland that they were shipped off at the trade deadline, and the Brooklyn pick fell at No. 8 - still good, but not guaranteed to land a franchise-changer. At this point, it's a mystery why anyone even picks up the phone when Ainge's name appears on the caller ID.
The winning streak. After losing their first two games of the season, the Celtics bounced back to reel off 16 wins in a row, establishing their Eastern Conference supremacy early and making Brad Stevens a front-runner for Coach of the Year. Irving built his MVP case, Tatum showed flashes of being special, and center Al Horford - one of the roster's few holdovers - developed excellent chemistry with his new teammates. As the Cavaliers struggled out of the gate - already 5 1/2 behind the C's after 18 games - it appeared possible that a changing of the guard in the East was underway.
Scary Terry. After spending two seasons as a Twitter punchline about Ainge overvaluing his players, Terry Rozier broke out in a big way in his junior NBA campaign. His regular-season numbers (about 11-5-3 with roughly 38 percent 3-point shooting and a PER over 15) were all easily career bests, but his moment truly arrived in the playoffs, where he averaged about 17-5-6 on nearly 54 percent true shooting as a starter, with barely a turnover a game. He was particularly lethal against the Bucks and Philadelphia in the first two rounds, making his "Scary Terry" alter ego a national phenomenon and earning former Patriots QB Drew Bledsoe some bizarre publicity in the process.
Beating Philly in 5. Despite everything that went right for the Celtics, enough had gone wrong that they entered their second-round series against the third-seeded 76ers as underdogs. But not only did the undermanned C's beat the ascendant Sixers, they did so in five games, routinely out-executing Philadelphia down the stretch and proving particularly unbeatable at home. With most observers predicting the Celtics will face Philadelphia in the postseason for years to come, that's a pretty huge performance. Boston's future in the East couldn't look much brighter.
The Bad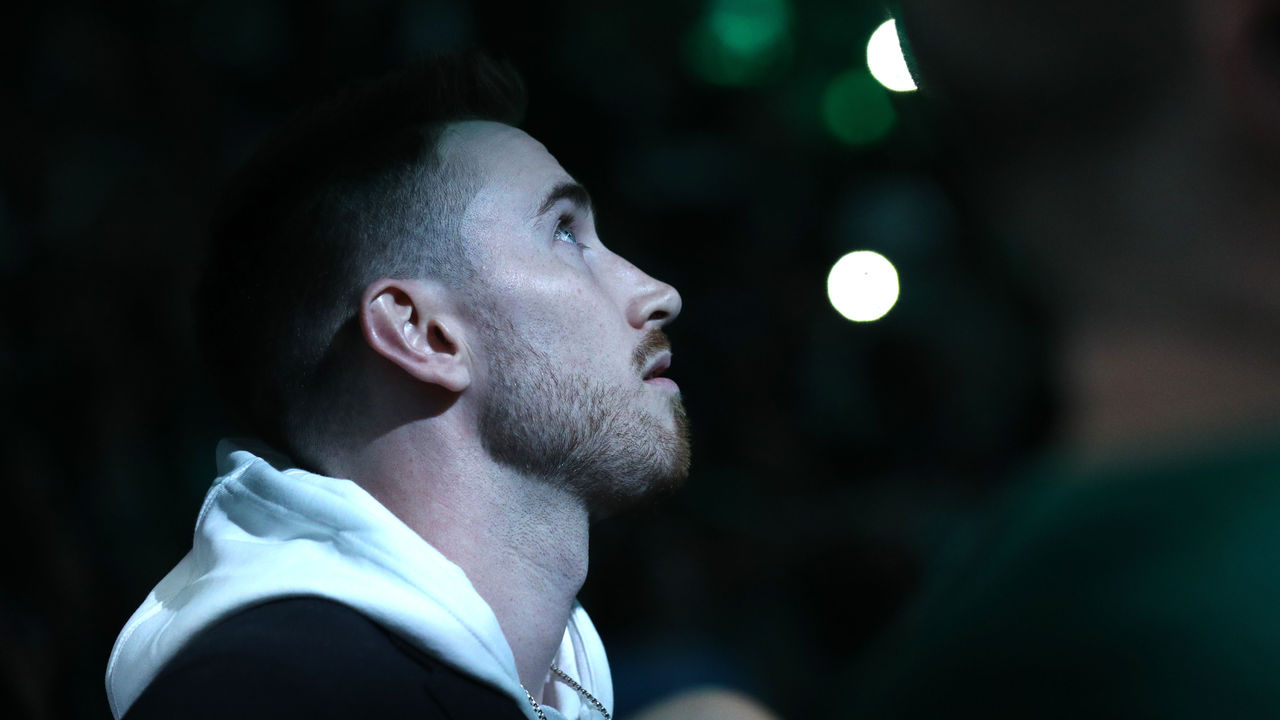 Gordon Hayward's season-starting, season-ending injury. The All-Star small forward, signed from the Jazz as a max free agent over the summer, lasted five minutes before suffering a gruesome leg injury that cast a pall over the NBA's opening night. There was a silver lining for Boston, as Hayward's injury opened up minutes and opportunity for Tatum and fellow blue-chip prospect Jaylen Brown, and both quickly proved capable of stepping up. Still, there's no telling how deadly Boston's already formidable wing rotation would've been with Hayward's stellar two-way play in the mix.
Irving bowing out early. When the Celtics announced in April that their presumptive best player would miss the rest of the season and the entirety of the playoffs recovering from knee surgery, Boston looked like it was finished as a postseason factor. Irving had been that good and that important to the C's through his 60 games, and it didn't seem like Boston had the offense to hang with the East's elite without him. That proved to be wrong, but he was unquestionably missed in big spots in the postseason - the Celtics occasionally had to work harder for quality looks than they would have with one of the game's deadliest, most experienced one-on-one scorers at their disposal.
Brown's scary fall. A franchise that had already endured one high-profile, stomach-churning injury to a crucial player didn't need another one, but when Brown suffered a hard fall on his back (and near his neck) in early March, it looked like it could be even more serious than Hayward's horribly twisted leg. Brown managed to avoid breaking or badly injuring anything significant, and a couple weeks later, he was back on the floor - but it was a moment that no fan base should have to go through twice in a season, and no player should have to experience at all.
Shane Larkin's second-round shoulder sprain. Sensing a theme? Larkin's injury sort of got lost in the shuffle given the health struggles of Boston's marquee players, but he was a valuable rotation cog for the C's in the playoffs. He had a couple big games against Milwaukee and gave them a semblance of guard depth against Philly. Without Larkin, the team's rotation was shortened to just seven players - eight with the occasional Semi Ojeleye or Greg Monroe appearance - and who knows how the increased minutes and responsibility affected Boston's backcourt.
Game 7 against Cleveland. It's tough to isolate many non-health-related issues for a Celtics squad that essentially had a dream season: All their offseason moves panned out to a disquieting degree, their young guys took huge steps forward, their stars played brilliantly, and their future assets look as valuable as ever. The only time they really came up short was in Game 7 at home against Cleveland - their sole home-court loss of the postseason, when Boston managed just 79 points. Tatum continued to thrive but Rozier and Brown combined to shoot 3-for-22 from deep, reliable center Aron Baynes went scoreless, and Horford got shut down late despite a hot start. It was the only game this year that suggested the Celtics still seriously missed a couple of the guys rehabbing on their bench.
The Questions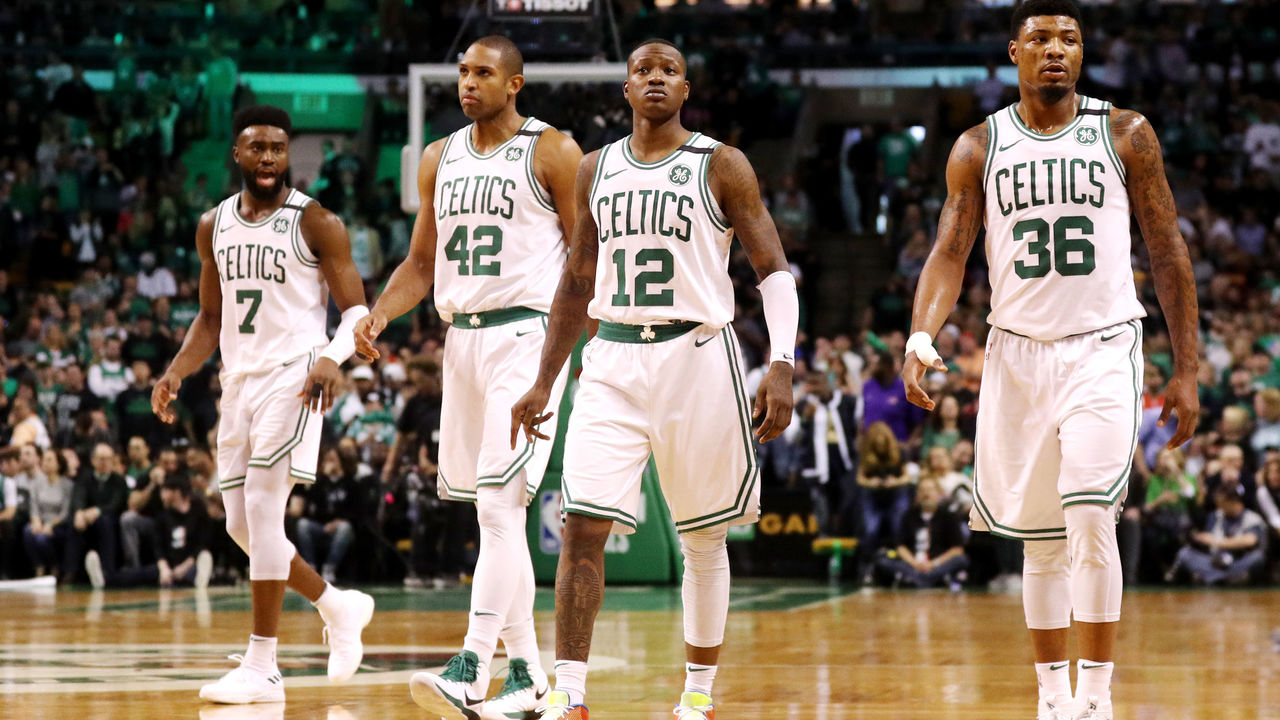 Who's starting? With Hayward and Irving presumably returning at the start of next season - and who knows who else arriving via the draft, trades, and/or free agency - Boston will have a whole lot of starting-caliber players for five slots. Does Rozier go back to the bench? Do Tatum, Brown, and Hayward all start together? Is Horford the team's full-time center? What if another young player emerges to upset the team's hierarchy? It's a good problem to have, but it could still present semi-legitimate challenges for the Celtics.
Do they have any chance of retaining Marcus Smart? Extension talks with the fourth-year combo guard broke down in the offseason, meaning Smart enters this summer as a restricted free agent seeking upward of $12 million-$14 million a year on his next deal. That's a lot of money for a non-scoring guard who doesn't shoot well - in the playoffs, Smart hit nearly 34 percent from the field and about 22 percent from three - but his toughness and playmaking on both sides of the ball has become a huge part of the team's identity, and he'd surely be missed if he walks. Still, with three max-type players already on the roster - and a couple other players near that caliber who'll need extensions in the next couple years - keeping Smart might not be a high priority.
Will Rozier follow Smart to RFAdom? Rozier's playoff run was big for Boston, but the financial timing's not great for the franchise; he's eligible for a rookie extension and he's gone from a buy-low investment to a breakout star. Retaining him will likely require something close to a max extension. For most teams, that's almost a no-brainer - guards with the two-way skill and potential Rozier showed in the postseason don't come around as 24-year-olds very often. But with the Celtics close to capped out and a similar guard ahead of him in the rotation in Irving, they'll likely put off the decision and figure out what to do with Rozier in 2019 restricted free agency.
Is a big trade coming? The Celtics and Ainge never stop moving, and though the roster is in good shape, the franchise might keep swinging for the fences this summer. Could one of Irving or Rozier be on the block if Boston determines it doesn't need both aggressive scoring guards? Will the Celtics make one or two of their four (!!) potential 2019 first-round picks available in order to move up in the draft, where they currently sit at No. 27? Are they preparing a Godfather offer for either Anthony Davis or Kawhi Leonard? All these scenarios are possible, and Eastern Conference rivals gearing up to take on this Celtics squad for the next half-decade should expect that this roster is far from the team's final form.
Does LeBron stay in the East? Though the script changed for Boston, the final scene remained the same: For the third time in four years, the season ended at the hands of LeBron James and the Cleveland Cavaliers. The C's gave the Cavs everything they could handle in the conference finals, but LeBron triumphed again. If the Cavaliers come back healthier (and with a new top-10 pick on their roster, or whoever they can trade it for), or if James joins an up-and-coming East squad like the Sixers, they might not catch him looking so vulnerable again anytime soon. Like every other team in LeBron's radius, the Celtics are hoping he heads west so that the next eight years of Eastern Conference basketball don't turn out like the last eight.
(Photos courtesy: Getty Images)