From handshakes to team dinners, LeBron's Cavaliers are a family unit
Brian Sevald / National Basketball Association / Getty
It feels like several years ago now, but after an opening-night win over the Celtics, several members of the Cavaliers - including LeBron James, Kevin Love, J.R. Smith, Channing Frye, and Tristan Thompson - greeted Boston's Kyrie Irving with the unique handshake routines they'd each developed as teammates in Cleveland.
"I feel like whenever I see him through the course of the rest of our lives, we'll always have that handshake," Love told theScore. "I'm not sure at what point I'll become too old to have a handshake like that with someone. But it shows you where we came from, and that we went to battle together."
The Cavaliers are not the only team in the NBA in which players have a series of personalized handshakes, but they're arguably the most entertaining daps, carefully choreographed and often an entire routine unto itself during player introductions and postgame celebrations.
The process of coming up with the handshakes is very organic in the Cavs' locker room. A pair of teammates will get together during a practice or day off and figure out what makes sense.
"It shows the different personality and creativity here," Smith said.
Smith's handshakes have often involved him taking a golf swing and admiring his shot down the middle of the fairway, referencing his other favorite sport.
Love and Smith, who've been teammates since 2015, have handshake routines that reference Love's "Droppin' Dimes" State Farm commercial with Damian Lillard in 2006 and Smith's famous 3-pointer celebration at Madison Square Garden after hitting a buzzer-beating three in a playoff game against Boston as a member of the Knicks.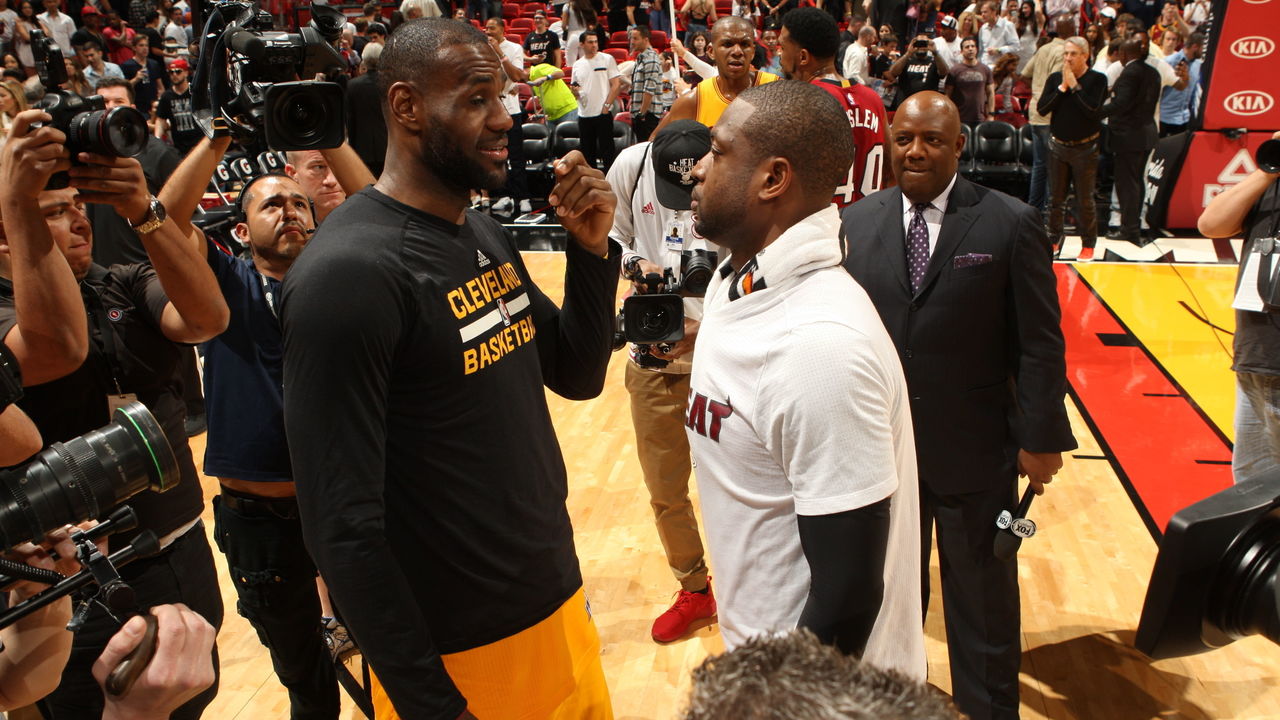 LeBron and Dwyane Wade share an elaborate routine that dates back to their time as teammates in Miami. On the other hand, former Cavalier Matthew Dellavedova greeted each of his teammates with a firm handshake.
"That's just how we shake hands in Australia," Dellavedova said.
"It's like the facial recognition system on the new iPhone," Love added. "You see the guy, you know right away what the handshake is."
The handshakes are fun and perfect for the social media era, which captures every nuanced moment a player has away from the floor. But it's also part of a major emphasis on chemistry and camaraderie that's been part of James' teams everywhere he's played.
When the Cavaliers arrived in Toronto for an early-January matchup, they were starting the process of integrating Isaiah Thomas, who'd missed the first 36 games of the season with a hip injury, into the lineup. At practice the day before, Love was excited about the possibility of coming up with a personalized handshake with Thomas, who was less enthusiastic about the endeavor.
"That's not what I do," Thomas said. "I just score the basketball." He was traded to the Los Angeles Lakers a month later.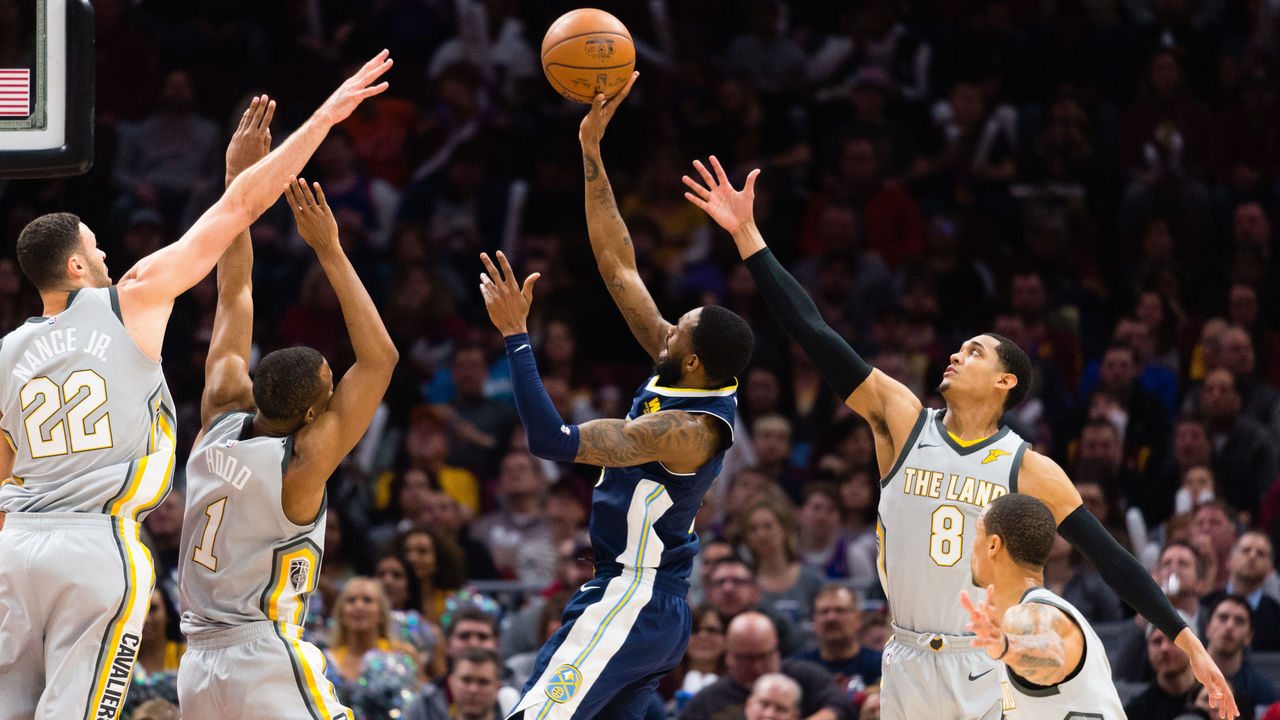 This Cavs campaign has been defined by roster turnover, both heading into the season and at the trade deadline. Three of the five opening-night starters - Jae Crowder, Wade, and Derrick Rose - are no longer with the team. At the deadline, Cleveland acquired four new players in Rodney Hood, George Hill, Jordan Clarkson, and Larry Nance Jr. (all pictured above), while moving six players - including Thomas, Iman Shumpert, and Frye - off the roster.
"There's been a lot less handshakes to go around," Love said at the start of Cleveland's second-round series against the Raptors. It's also made James' task of getting to know his teammates even more difficult, given the short window between the trade deadline and the postseason.
Last month, Richard Jefferson called James the No. 1 camaraderie guy he's ever been around at any level of basketball. And it goes beyond just fostering an environment for handshakes.
James regularly organizes team outings on the road, whether it's getting together to watch other NBA games, or group dinners with a standing invitation for any teammates who wants to come.
When Clarkson and Nance joined the Cavaliers at the deadline, the open environment fostered by James was something they noticed immediately.
"It's just a culture that's been established here," Nance said. "Whether it's a dinner or a movie, the culture here is about trying to be more than just teammates, but to be friends. In Los Angeles, we were still establishing a culture, nothing was set in stone, not like it is here."
"(LeBron) always makes us feel like we're a part of something," Clarkson added.
Throughout his tenure in Cleveland, James has reiterated the importance of health and chemistry over grabbing a higher seed for the playoffs.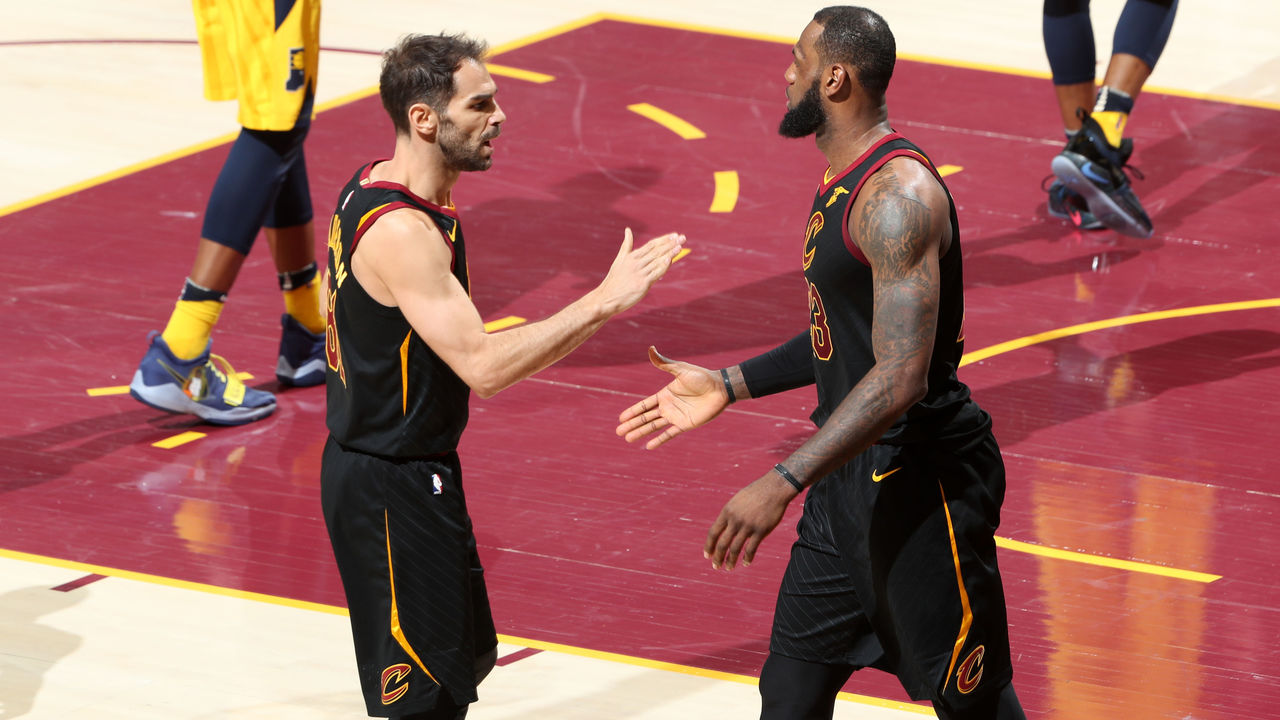 Teammates see its importance in various ways. Jose Calderon buys into the fact that time spent together outside the gym will translate to success on the floor.
"I think it wins more games than just talent," Calderon said. "When you know your teammates off the court, you know how to talk to them. When guys make a mistake, you know who you can yell at, and who you can't (yell at), and you learn to say things differently."
Love believes it's just a matter of keeping everything fresh, especially for a team that plays until June every year.
"It's a long season," he said. "(James has) been to like, what, seven straight Finals? You have to find a way to enjoy things off the court and find a way to have a good balance, and just have an outlet off the floor."
Korver thinks the handshakes are perfect for any workplace environment.
"In today's day and age, we don't always greet each other," he said. "It's very easy to walk into a room and not acknowledge anyone. A lot of people are looking down on their phones. They're not engaged with the world around them. These handshakes make you acknowledge every person in the room, it's a really healthy thing. There's a whole showmanship to it, but guys don't just do it before the game. Everyone does it when they see each other in the locker room. I think it's really positive and healthy to have to greet everyone, and look everyone in the eye, and say, 'I see you.'"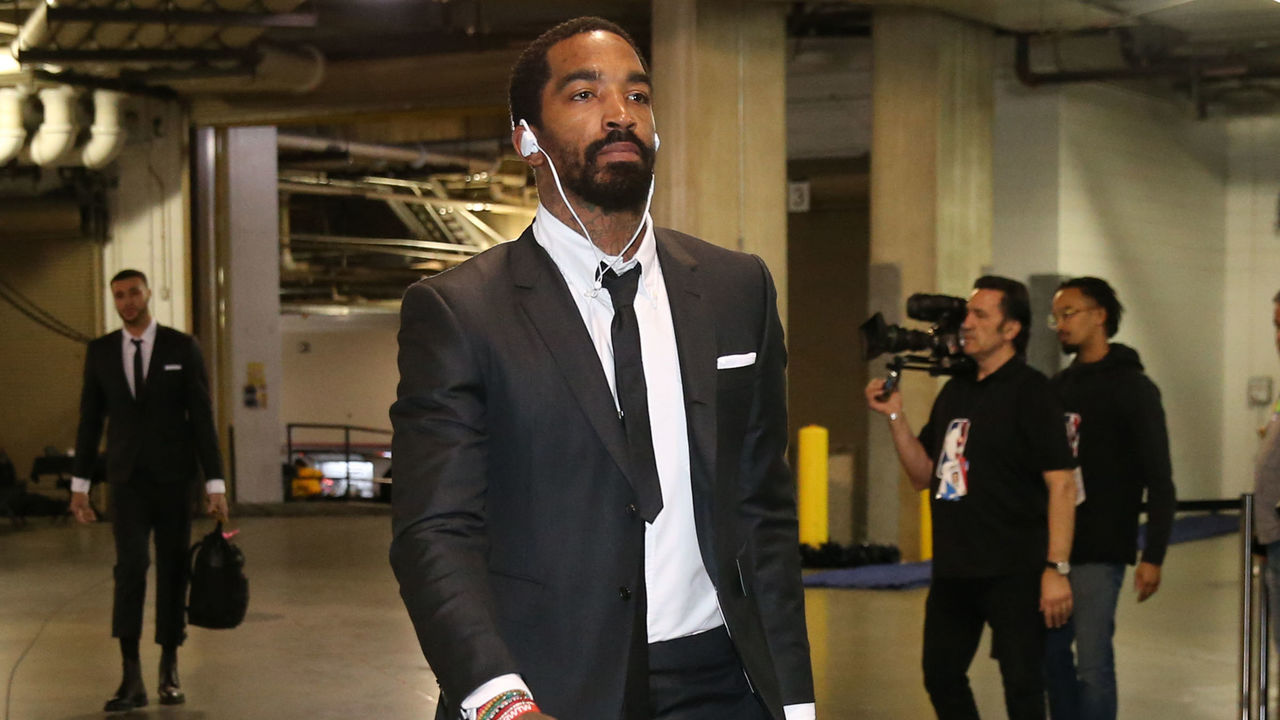 The Cavaliers have also had several fittings for Thom Browne suits, which they started wearing on the road in the first round against the Indiana Pacers. Some people might scoff at the notion of a star player making the rest of his teammates wear the same outfit to a game, but it's part of a larger camaraderie-building effort from James.
"'Bron is a true definition of an all-in guy," Kendrick Perkins said. "I thought it was a great idea. Dress as one. Unity. You're going to have haters who wish they had a suit. I love all three of mine. I thought it was a great idea."
"For certain guys, it's not quite their style," Nance said. "But we're all coming to the arena with the same thing on. It's a business trip. It's a 'we over me' mindset."
Of course, whether the handshakes, the team dinners, and the matching suits contribute to on-court results is really a matter of opinion. Perkins, who's been on several teams that have gone to the NBA Finals, knows that very well.
"You could have it either way," he said. "I've been on teams where the chemistry has been great and we made it to the Finals. I've been on teams where the chemistry was okay and we still made it to the Finals. As long as you show up and strap your shoes up when it's time to get between those lines, nobody really cares too much."
Alex Wong is an NBA freelance writer whose work has appeared in GQ, The New Yorker, Vice Sports, and Complex, among other publications.
(Photos courtesy: Getty Images)