It's NBA law: Every couple of years, we have to declare the Slam Dunk contest dead.
It just takes a year or two where major stars don't participate, none of the dunks really inspire, and the winner is some benchwarmer that nobody's ever heard of, and suddenly the event is on the verge of extinction. Then, a year or two later, some young 'un delivers a star-making performance, or there's a controversy about an undersung contestant who should've won but got robbed, and look, the dunk contest is "back."
That's just the life cycle of the climax of All-Star Saturday Night, and most devout followers of the league have learned not to overreact to any single year too dramatically. However, 20 years ago, it wasn't just Twitter and Reggie Miller complaining about it: The Slam Dunk contest really was dead.
In 1998, during NBA All-Star weekend in New York, the powers that be decided there would be no dunk competition on All-Star Saturday for the first time since the event's inception in 1984.
Instead, the league replaced the it with the 2Ball Contest: a joint venture between the NBA and the then-fledgling WNBA that was a sort of proto-Shooting Stars.
In the contest, one male and one female player from each of the eight WNBA cities teamed up for a jump-shooting competition in which players had 60 seconds to earn different point totals for hitting shots from various spots in the half-court. (Houston's Clyde Drexler and Cynthia Cooper emerged triumphant over Utah's Karl Malone and Tammi Reiss in the finals, while L.A.'s Kobe Bryant and Lisa Leslie finished a disappointing last.)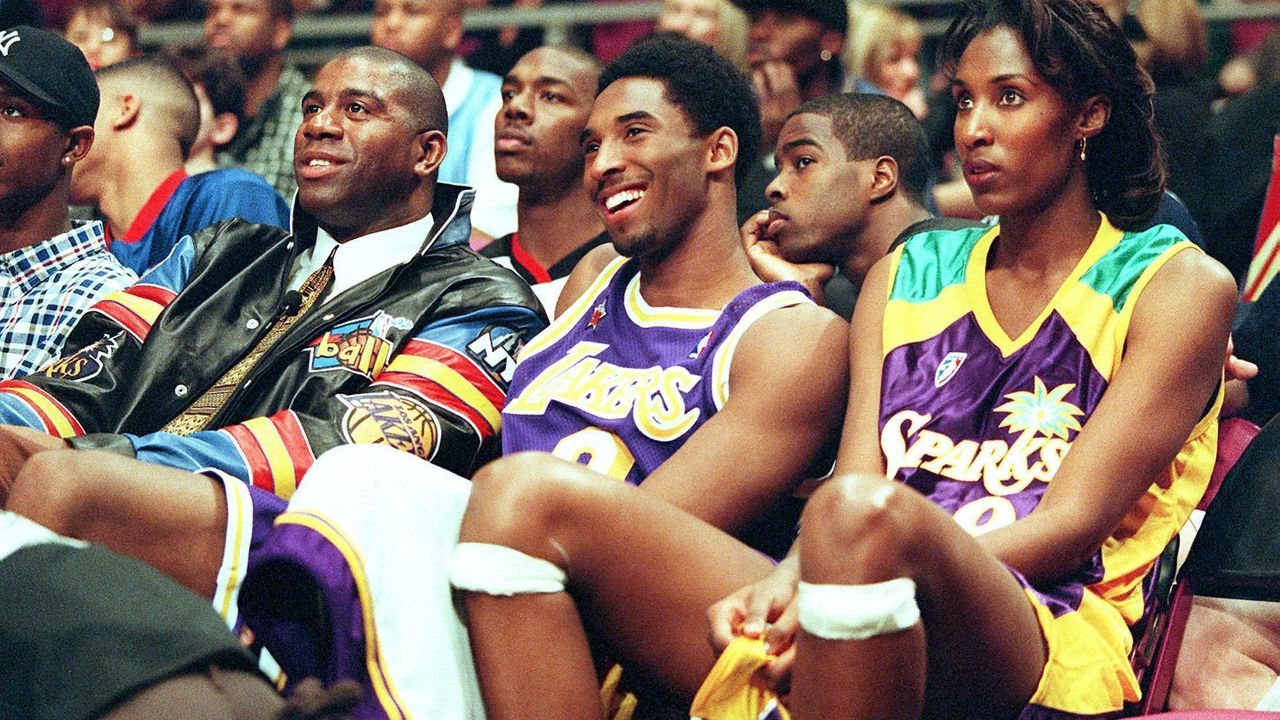 (Photo courtesy: Getty Images)
How did the 2Ball Contest end up supplanting arguably the marquee event of All-Star weekend? Well, in 1998, the Slam Dunk contest was definitely in one of its low-tide moments where the biggest names had declined to participate and the young guns weren't quite exciting enough to make up for their absence, and there was a sense, however vague, that all the best dunks had already been done.
The '88 dunk contest - then the consensus GOAT, with a free-throw-line-leaping Michael Jordan triumphing over a 360-tomahawking Dominique Wilkins - was fresh enough in fans' minds to linger as the gold standard, but distant enough to make them wonder if those days were ever coming back.
In hindsight, it's surprising to see the '97 edition was the death knell: Kobe, at the height of his youthful athleticism (with celebrity prom date Brandy cheering him on!), triumphed over future All-Stars Ray Allen and Michael Finley, among others.
But the real event was underwhelming: Kobe only had one well-received dunk, a fairly nice between-the-legs windmill, and coasted to the win against fellow finalists Finley and Chris Carr. (Cameras captured Bryant ungraciously fist-pumping after a blown Finley dunk, which may not have helped.)
With the dunk contest losing its luster, star players and their coaches expressing injury concerns, and a growing desire to try something new, the league pulled the plug on the event the next year.
"I think we had had two or three (dunk contests) in a row that just were not up to the standards of what we wanted to put on," then-deputy commissioner Russ Granik told ESPN in 2014. "So we said, 'We have to take a breath here and see what we oughta do.'"
Incredibly, in the same article, New York Times columnist Mike Wise recalls: "I don't remember anybody missing it. I don't remember anybody saying, 'Oh, my god, the dunk contest is gone.'"
But the 2Ball Contest failed to take hold in the same way; it would last until 2002, before being replaced by the Hoop-It-Up Tournament. Though there would be no '99 dunk contest because the entire All-Star weekend fell victim to the lockout-shortened season, by 2000, the league was ready to give it another shot.
"There were conversations (within the league) from time to time, talking about, you know, 'Maybe we could do it a little differently,' and, 'Now we've got some pretty good dunkers out there who might be willing to do it,' and, 'Maybe we ought to bring it back,'" NBA VP Rod Thorn recalled to ESPN.
The first dunk contest of the event's resurrection rivaled the star power and electricity of '88, as a couple of those "pretty good dunkers" - Steve Francis, Tracy McGrady, and, of course, eventual champion Vince Carter - put on a show the likes of which NBA fans (especially those congregated that Saturday in Oakland) had never seen before.
The '00 edition was momentous enough that that the Slam Dunk contest was officially, well, "back," and in the 18 years since, there hasn't been any serious movement toward discontinuing the now 35-year-old event.
Could it happen again, though? Last year's dunk contest, following an all-timer between Zach LaVine and Aaron Gordon in 2016, was relatively unremarkable, and with a couple of former losers in Gordon and Victor Oladipo serving as the biggest names attached to this year's competition, there's no guarantee of a turnaround. It's possible that another year or two of diminishing returns and missing star power could sap the event of its vitality.
But it does seem like the NBA has learned its lesson - that no matter how dire the contest can be over short stretches, there's never any telling which group of players will reanimate it in spectacular fashion, and that it's worth suffering through a couple of down years to get back to the dunk contest at its best. And at the very least, if the league wants to kill it, you need something better than a glorified shootaround to replace it.