Meet Kickstradomis, the undisputed king of customized NBA sneakers
Custom NBA kicks have never been hotter - or more in demand.
During a preseason game in China, Karl-Anthony Towns wore a pair of Nike Hyperdunk "Northern Lights" against the Golden State Warriors. In November, Montrezl Harrell sported a pair of Nike "Rocket Power" Hyperdunk Lows that paid homage to the Nickelodeon show that ran from 1999 to 2004. And in January, Wesley Matthews wore a pair of Kobes that were designed in Iron Man colors, referencing the Marvel superhero and Matthews' nickname, which he earned for playing in 250 consecutive games.
Those sneakers - and the growing phenomenon of customized NBA shoe designs in general - are all courtesy of one man: Salvador Amezcua, a Los Angeles-based artist better known as Kickstradomis.
Amezcua was always interested in the arts growing up, and was already drawing, painting, and making his own comic books by the age of 4. He wasn't particularly interested in school, though. By the time he was 25, Amezcua had amassed plenty of artistic skills, but his life lacked direction. He was living on his cousin's couch and working at Finish Line.
"I probably had two pairs of shoes to my name," Amezcua told theScore.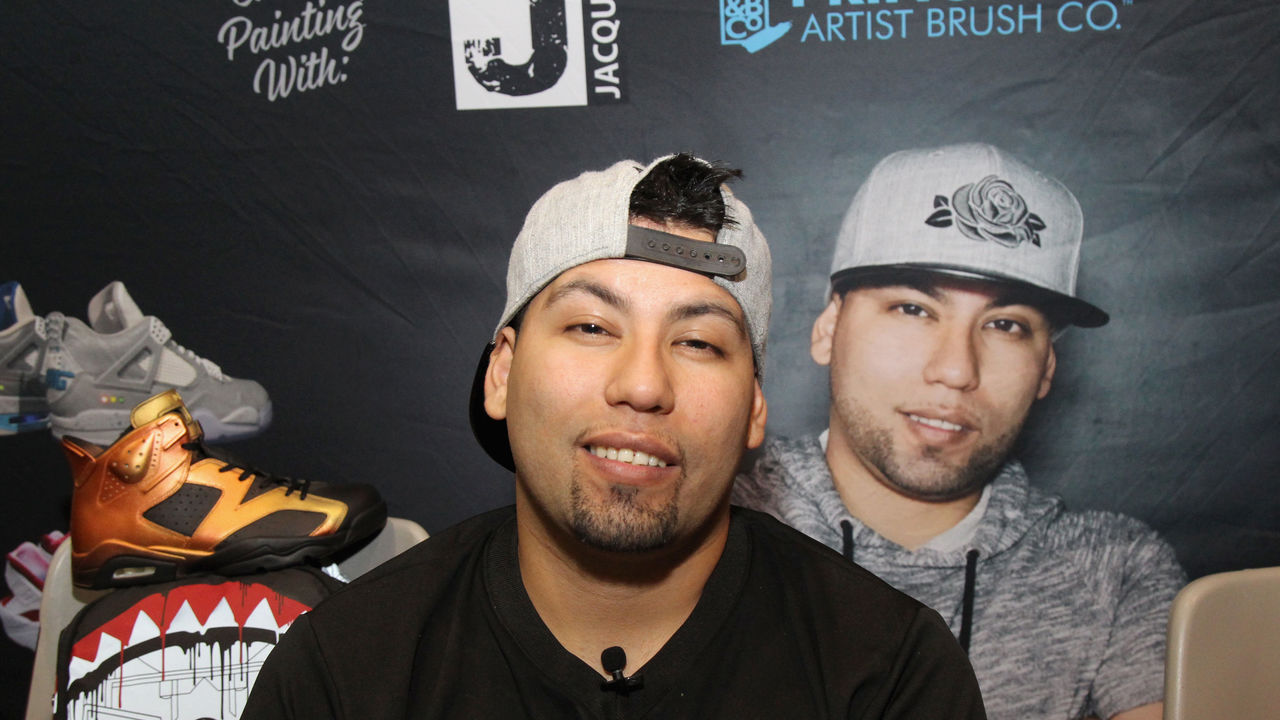 (Photo courtesy: Getty Images)
One day, his cousin asked if he could help restore a pair of sneakers. With his ability to paint, Amezcua got to work, and he soon discovered that people were making a living by customizing kicks.
"That was my light-bulb moment," he said.
In 2016, Amezcua was rehabbing from injuries suffered in a car accident and working a minimum-wage job at a warehouse when a chance encounter online changed his entire career path.
As a huge basketball fan, he decided to message Towns, who was following him, and they started having conversations about sneakers and ways to customize them. Soon, Amezcua was supplying Towns with different pairs of shoes.
At an alumni game at the University of Kentucky last summer, Towns showed up wearing Nikes with the political message, "Love Trumps Hate." It was the first time Amezcua remembers his own work going viral.
On Halloween, Towns debuted a pair of customized Nike Hyperdunks featuring Jason Voorhees from the "Friday the 13th" series, designed to look as though the character is wielding the Nike swoosh as a murder weapon. After those shoes gained widespread attention, Amezcua was able to quit his job to focus on customizing sneakers full time. "The friendship (with Towns) has meant the world to me," he said. "He's the one who revamped my whole career."
Towns has led the way this season when it comes to customized sneakers, working with Amezcua on various designs that paid homage to Netflix's "Stranger Things," Kanye West's "Graduation," and Adult Swim's "Rick and Morty." But as word of mouth has spread, other NBA players have started to message Amezcua directly on Instagram, and his client list has piled up. He's now worked with Harrell, Iman Shumpert, Mario Hezonja, Courtney Lee, James Harden, Donovan Mitchell, Kelly Oubre Jr., Kemba Walker, Hassan Whiteside, and many others around the league.
For Mitchell, Amezcua designed a pair of Adidas "Spida" Dame 4s featuring spiderwebs based on the Utah Jazz rookie's nickname. And after Oubre wore a Supreme shooting sleeve in a game against the Brooklyn Nets that caused a national uproar, the Wizards forward gave Amezcua a simple message: "I want you to do Supreme." The resulting sneaker, which Oubre wore recently against the Toronto Raptors, was titled Adidas "Supreme" Harden Vol. 1 and featured the famous streetwear logo on the toe box.
The design process takes two to seven hours, and players usually leave it up to Amezcua to come up with it.
"At this point, they trust my creativity," he said. "They'll give me a direction and trust that I can somehow make it happen."
After Towns recently wore a pair of Nike "Super Saiyan" Hyperdunks, many of the younger players in the NBA who are huge "Dragon Ball Z" fans reached out to Amezcua, including Spencer Dinwiddie, Jordan Bell, and Lauri Markkanen. Amezcua then provided Markkanen with a pair of Nike "Goku" Hyperdunks, which featured the main character from the series. He also made sure to incorporate the primary colors of Markkanen's Chicago Bulls: red, white, and black.
"Sometimes it's a challenge with certain shoes, but I love a challenge," Amezcua said. "When there's a silhouette that seems really difficult to work with, you just make it work. That's one of my talents is to be creative to make it work."
Other times, players demand a quick turnaround.
After the Philadelphia Eagles defeated the New England Patriots in Super Bowl LII, Towns - a lifelong Eagles fan - asked Amezcua to customize a pair of sneakers to celebrate the win. Amezcua got to work right away, painting a pair of Nike "Fly Eagles Fly" Hyperdunks that included the football team's famous slogan and a Super Bowl trophy. He shipped them to Towns, who wore the shoes in Cleveland against the Cavaliers three days later.
For Amezcua, the entire experience has been surreal.
"I look at all these shoes in front of me right now," he said. "Like I'm really doing this for these guys."
Amezcua has also gotten the attention of teams around the league. After Hezonja wore a pair of Nike "Super Mario" Hyperdunks, Disney reached out to discuss a collaboration. Meanwhile, the Clippers invited Amezcua to a game, where they auctioned off a pair of his customized sneakers. Several other teams have reached out to discuss potential projects.
"It's an incredible feeling to be able to see your hard work on a global stage," he said. "I feel fortunate and blessed to work with these people and have their trust."
Amezcua is now busy working on a bunch of sneakers for All-Star weekend. His work will be worn by players in the Rising Stars Challenge, the All-Star Celebrity Game, and the All-Star Game in Los Angeles.
But he's still waiting to collaborate with his favorite player, Kevin Durant. So, what would Amezcua suggest featuring on a pair of customized KDs?
"Cupcakes," he said, laughing. "We gotta troll them, man."
Alex Wong is an NBA freelance writer whose work has appeared in GQ, The New Yorker, Sports on Earth, and Complex, among other publications.
Comments
✕
Meet Kickstradomis, the undisputed king of customized NBA sneakers
  Got something to say? Leave a comment below!