Inside Lauri Markkanen's incredible journey from Finland to Chicago
Jonathan Daniel / Getty Images Sport / Getty
After four seasons at Utah, Hanno Mottola's name was called at the 2000 NBA Draft, when the Atlanta Hawks selected him with the 40th pick.
Mottola became the first Finnish-born NBA player. In two seasons and 155 games with the Hawks, he made 17 starts and averaged 4.6 points and 2.9 rebounds. He went on to have an esteemed professional career overseas before retiring in 2013.
After retirement, Mottola took an assistant coaching job at the Helsinki Basketball Academy in Finland. There, he met a high schooler named Lauri Markkanen.
"He had a special focus for a high school kid," Mottola told theScore. "Every high school kid says they want to practice hard, but they're not focused. Lauri focused on basketball, took care of school, and wanted to get better."
Mottola worked with Markkanen on his shooting mechanics and taught him how to play in the low post.
"I learned a lot from him," Markkanen told theScore. "Before that, I only played on the perimeter. He taught me how to play inside a little bit."
Even though he saw Markkanen's potential, Mottola rarely talked about the NBA as a goal. One step at a time, the coach thought. He wanted to see how he'd fare in college.
After committing to Arizona in 2015, Markkanen averaged 20.2 points and 9.3 rebounds and shot 42.3 percent from three in his lone season with the Wildcats. On June 22, 2017, he was selected seventh overall by the Chicago Bulls. Almost two decades after Mottola made his debut with the Hawks, another Finnish-born player had finally reached the NBA.
__________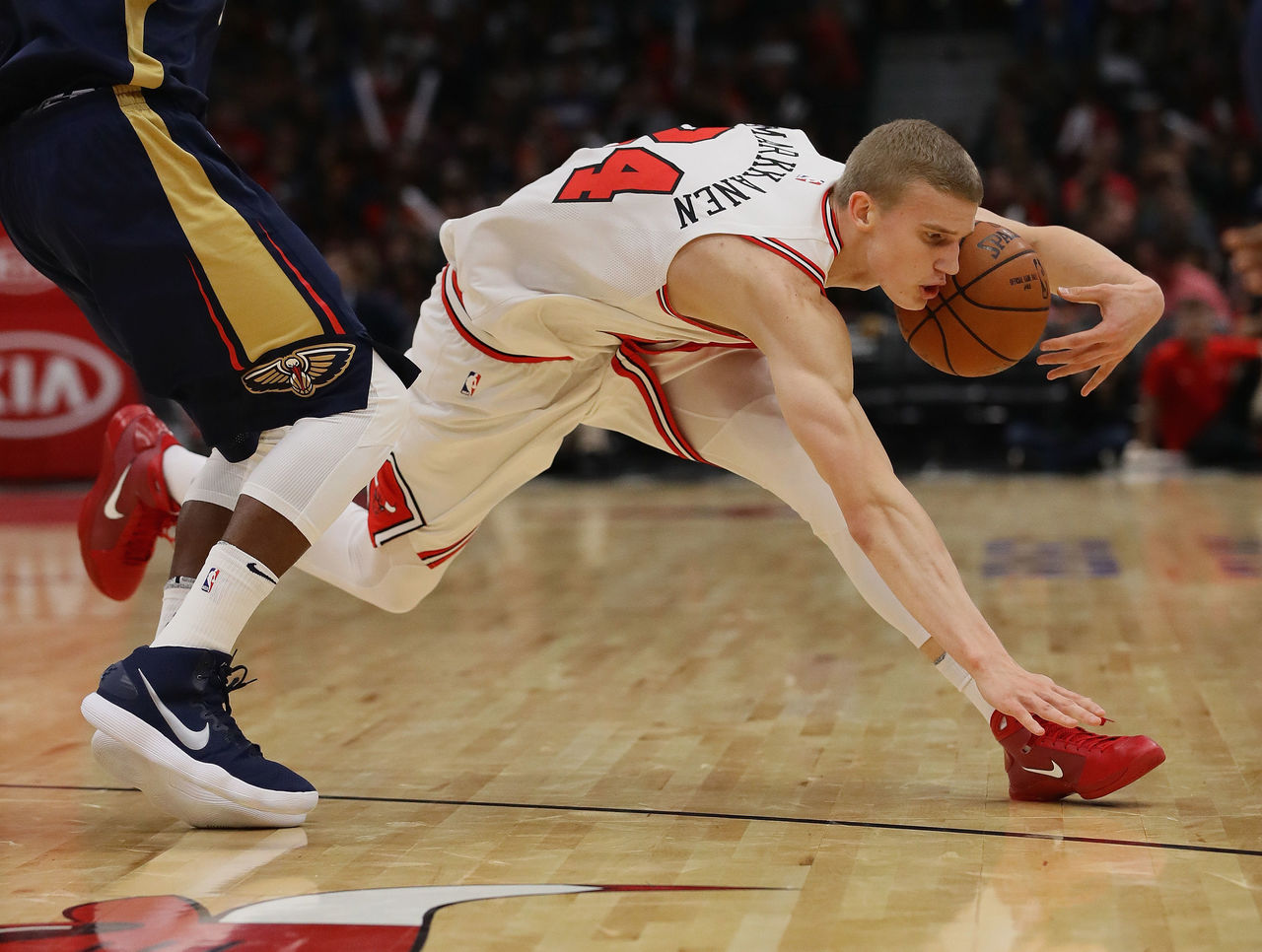 A month into his NBA career, Markkanen has already silenced many critics who were skeptical when the Bulls acquired him in a draft night trade with the Minnesota Timberwolves for Jimmy Butler. In his first regular-season game against the Raptors, he scored 17 points in 33 minutes, eclipsing Mottola's NBA career high of 14 points.
Markkanen has since scored in double digits in every game except one, and is averaging 14.7 points and 7.7 rebounds. His 26 made 3-pointers in his first 10 games were the second-most by any player in NBA history through 10 career games.
Markkanen's quick start has endeared him to the fans in Chicago. Recently, his Wikipedia page was edited with nicknames including The Finnish Mamba, Finnisher, Markksman, and White Death. Markkanen also received praise from LeBron James, who called him a very confident kid after their first matchup against each other.
"It was great to hear from him," Markkanen said. "He was my favorite player growing up."
Sports were a big part of Markkanen's childhood in Jyvaskyla, the largest city in central Finland. His father, Pekka, played for Roy Williams at Kansas. His mother, Riikka, played for Finland's national basketball team.
Lauri's two older brothers also went on to become pro athletes. Eero is a striker for Dynamo Dresden, a soccer team in Germany. Miikka played basketball professionally overseas before retiring due to injuries.
"Having two older brothers who wanted to beat me every time made me hungry," Markkanen said.
Winter in Jyvaskyla meant there were sometimes only five hours of daylight during the day, but Markkanen made sure his life revolved around sports. He tried soccer and ice hockey but soon gravitated toward basketball. He spent so much time shooting hoops in his backyard, Pekka and Riikka had to impose a curfew.
In Finland, he knew of James and other NBA stars, but didn't have a particular sports hero. "I was just trying to become one," he said.
__________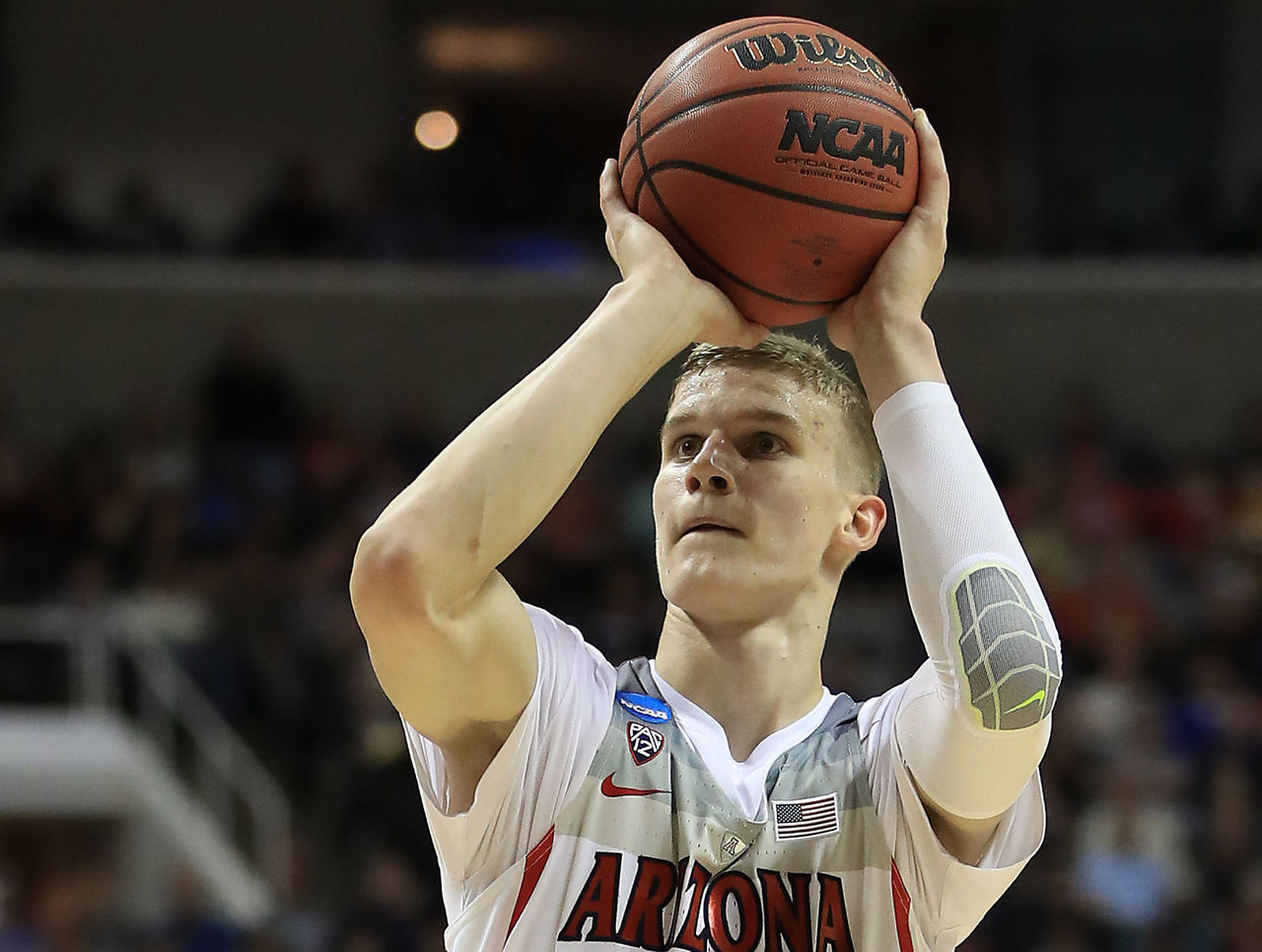 When you ask teammates and coaches about Markkanen, the first thing they'll tell you about is his work ethic.
Joe Pasternack is the head coach of the men's basketball program at UC Santa Barbara. As the associate head coach at Arizona last season, he worked closely with Markkanen.
"He's infatuated with the game," Pasternack told theScore. "You have to actually kick him out of the gym."
When Pekka arrived on campus to visit his son last season, he had to wait 45 minutes after practice was over before Pasternack finally told Markkanen to wrap up his shooting drills so he could go have dinner with his father.
Teammates in Chicago have quickly realized the same thing. Earlier this season, Markkanen approached Quincy Pondexter and asked if he could join him in the weight room. At dinner together before a game in Toronto, he peppered Pondexter with questions about guarding Kobe Bryant and Tracy McGrady.
"He's a sponge," Pondexter said. "He's just absorbing every single thing every day." The NBA schedule can be grueling for rookies, and Markkanen knows he has to pace himself, even if it's difficult for him. "I'm learning," he said. "I want to be in the gym all the time, but I have to be smarter."
Away from the gym, Markkanen has adjusted well to his new surroundings. While at college, he was introduced to Chipotle and In-N-Out Burger. When he has downtime, he watches plenty of movies, and can apparently do a very good Borat impression.
When the conversation at dinner turned to his home country, Markkanen told Pondexter he couldn't wait for it to start snowing in Chicago. "I told him he's crazy," Pondexter said.
It's probably no surprise that Markkanen misses the cold weather in Finland, because home is always on his mind.
"I feel like (I'm representing Finland) because I'm the only one from there in the league," Markkanen said. "Hopefully, we have more players coming, but I'm not going to take more pressure from that."
__________
Basketball isn't the most popular sport in Finland, but Markkanen's journey to the NBA has made him the center of attention back home.
Sami Hedberg is a famous stand-up comedian and actor in Finland, and is also a part owner of the Helsinki Seagulls, who play in the country's top professional basketball league.
Hedberg started playing basketball when he was 7, and remembers watching Michael Jordan's Bulls on VHS. These days, he's staying up until 2 a.m. to watch Markkanen's games, and plans on traveling to Chicago later this season to watch him play in person.
In September, Markkanen was a star for Finland at FIBA's EuroBasket 2017 tournament in front of his hometown fans at Hartwall Arena in Helsinki. Finland went 4-1 in group play before losing to Italy in the Round of 16. Markkanen averaged 22.6 points and 6.2 rebounds in group play.
"The feeling in the arena was extraordinary," Hedberg told theScore.
Markkanen's EuroBasket performance and the flashes of potential he has shown in Chicago so far this season have everyone talking about him.
"Now that Lauri is in the NBA, there are so many more people interested in basketball," Hedberg said. "The thing about Finnish people is, if they get into something, they're really serious about it. You just have to wake them up."
Mottola agrees: "Lauri's emergence has come at a perfect time. The way he's playing, it's not just basketball fans who are talking about him. Everybody knows Lauri Markkanen."
__________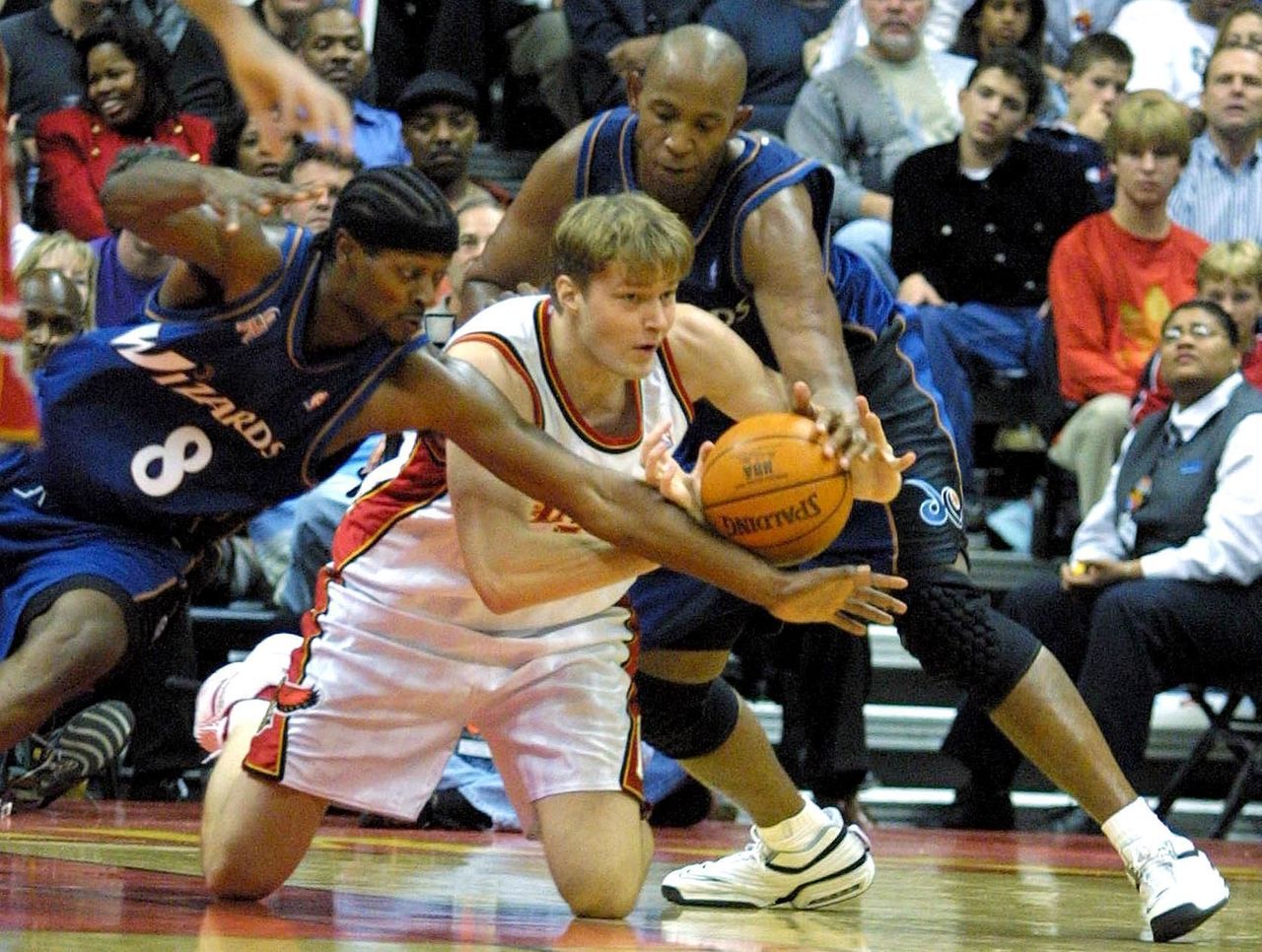 Mottola is considered the best basketball player in Finland's history. While he has great memories of his brief run with the Hawks, he also has one regret.
"I wasn't nearly selfish enough," he said. "For four years at Utah, I was taught what a good shot was. When I got to the NBA, I realized the only bad shot was the one you didn't take. It's a team sport, but everybody is trying to get theirs, trying to get their next contract.
"It's a nice thought to say that everyone plays for the team and no one looks at their own stats, but we all know that's not the reality."
It's why Mottola has told Markkanen to keep looking for his own shot. It's not selfish, he explains, it's about making the most of your opportunity in the league.
He doesn't have to worry about finding shots in Chicago. The Bulls are 2-10 as they begin a long, painful rebuilding process, and Markkanen will be given every opportunity to shoot the ball when he's on the floor. Chicago's hopeful it has landed one of the best players in this year's draft.
Pasternack has been watching, and is confident Markkanen will soon be one of the best players in the league.
"His size, his ability to shoot the ball, run off stagger screens, score in the post, and rebound, I've never seen a guy his size who can do all of those things," he said. Pasternack wrapped up our conversation by predicting that Markkanen will be an All-Star for years to come.
The next day, I told Markkanen about the prediction. "Eventually, I'm going to be that," he said. "I'm setting high goals for myself. I think that's the only way to accomplish them."
Alex Wong is an NBA freelance writer whose work has appeared in GQ, The New Yorker, Sports on Earth, and Complex, among other publications.
Comments
✕
Inside Lauri Markkanen's incredible journey from Finland to Chicago
  Got something to say? Leave a comment below!