DeRozan will respect any Lowry decision, 'As long as he tells me'
Brad Penner-USA TODAY Sports / Reuters
DeMar DeRozan has made it clear that he won't try to influence the free-agency decision of friend and All-Star backcourt mate, Kyle Lowry, but the All-NBA shooting guard does have one request for Lowry - just give him a heads up first.
"As long as he tells me, and I don't have to read it, I'm completely fine with it," DeRozan told theScore on Wednesday, when asked how he'd react to the worst-case scenario of Lowry departing Toronto.
"If he comes to me as a man and tells me it's time to move on, I'll respect it. It's just the choices in life we have to deal with. You're kind of more accepting when somebody close to you like that tells you before they do something, so you're not surprised just like everybody else. As a friend - me calling myself his friend - I have to just respect it."
As for the best-case scenario of Lowry staying put, DeRozan said his focus would simply shift back to seeing what the duo can accomplish together for the Raptors.
Lowry's free-agent status comes a year after DeRozan found himself in a similar situation, which ended when he and the Raptors agreed to a five-year contract shortly after midnight on July 1.
"I can't speak for everybody, but for me, it was more so winning," DeRozan recalls of his mindset going into free agency. "That's the main part - winning. What's your best chance of winning? If you have the opportunity like I did last year to continue with a franchise that drafted you, and build on a legacy with that, you put all that into play, too."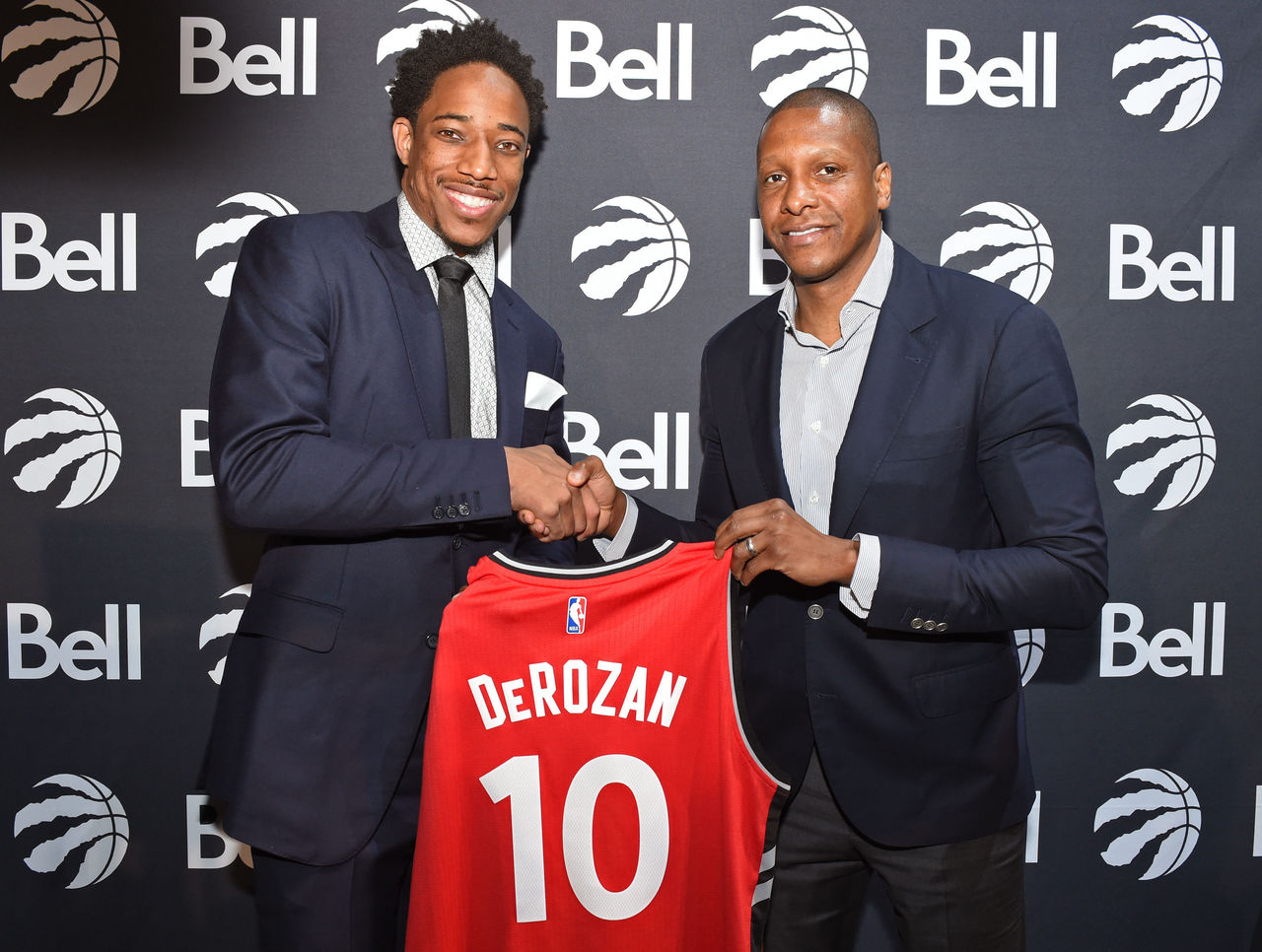 On a day when Raptors president of basketball operations Masai Ujiri was later reported to be a target of the suddenly Phil Jackson-less New York Knicks, DeRozan also spoke of the trust he has in Ujiri and the rest of Toronto's front office.
"It makes going to work easy," DeRozan said. "The franchise has total confidence in me every summer, to know that I'm going to work my butt off to come back better, and I have the same confidence in them. They don't bother me much in the summer, because they know I'm locked in working, and vice versa."
With DeRozan and Lowry leading the charge on the court, and Ujiri steering the ship off of it, the Raptors have enjoyed their most successful stretch in franchise history, winning 204 regular-season games over the last four years - 10 more than any other Eastern Conference team. Toronto has also won three playoff series over the last two seasons after advancing just once in the franchise's first 20 years of existence, combined.
Wednesday began with bombshells in Houston, Los Angeles, and New York, as in addition to the Knicks parting ways with Jackson, the Clippers sent superstar point guard Chris Paul to the Rockets. For DeRozan, who's as much a fan of the game as he is a competitor, the chaotic offseason has only added to the excitement of waiting for next season.
"We (as players) kind of have different type of insights (than fans), but at the same time, sometimes we just figure it out through Twitter, too," DeRozan said through a laugh. "But seeing something like that (the Paul trade), we really aren't so much surprised. It's the league - anything can happen now. You just look forward to what's going to happen next. It just brings anticipation for the upcoming season - to get fans and players ready."
As respectful as DeRozan will be of his friend's decision, he and the Raptors surely hope Lowry is sharing the court with them when that season tips off.
Comments
✕
DeRozan will respect any Lowry decision, 'As long as he tells me'
  Got something to say? Leave a comment below!