How NASCAR silenced its most accurate critic
If baseball has Moneyball, then NASCAR has NASCARnomics. Or, more accurately, had NASCARnomics.
The popular website — created by economist Andrew Maness — was devoted to providing statistics and television ratings to NASCAR fans. It quickly became a much needed source of critical analysis for stock car racing's largest sanctioning body when it was first introduced in May of 2013.
"When the sport dropped in popularity around 2007, I kept seeing articles saying 'here's how we fix it,'" Maness said. "And I just kept wondering, 'what exactly is the problem?' Everybody's throwing out solutions and nobody's actually identifying a problem."
Despite a full-time job, Maness spent 30 hours a week making the website work. In the middle of last season, USA Today reporter Jeff Gluck started mentioning Maness' labor of love on Twitter, and people began to take notice.
"I wish I could say that it grew organically, but I know that a couple of very popular journalists picked up on it early and definitely pushed my work more toward the public eye, so that's when it really blew up."

Things were going well for NASCARnomics. The advanced stats were received with praise, his work was being read and debated by NASCAR notables and his site saw massive spikes in traffic.
While many commended Maness for his work, there were also detractors. Some members of the NASCAR media thought his statistics weren't accurate, and didn't take his site seriously. Maness respected that, and didn't mind the skepticism towards his work.
"We've seen that in all sports," he said. "If you want to take the most mainstream example, a lot of folks have read or watched the movie 'Moneyball.' There were detractors for that, and you have to listen to them and see what their chief complaint is. Sometimes it's just a lot of hot air, but sometimes there are really good points and you have to address those."
Unfortunately for Maness, he wasn't merely battling the opinions of an old guard hesitant to adopt newer metrics. NASCAR also had problems with the work that Maness was publishing. 
It's no secret that television ratings for the sport have declined over recent years, and are now at an all-time low. Maness furnished his site with statistics from Nielsen — a company that uses audience measurement systems to determine the audience size and composition of television programming.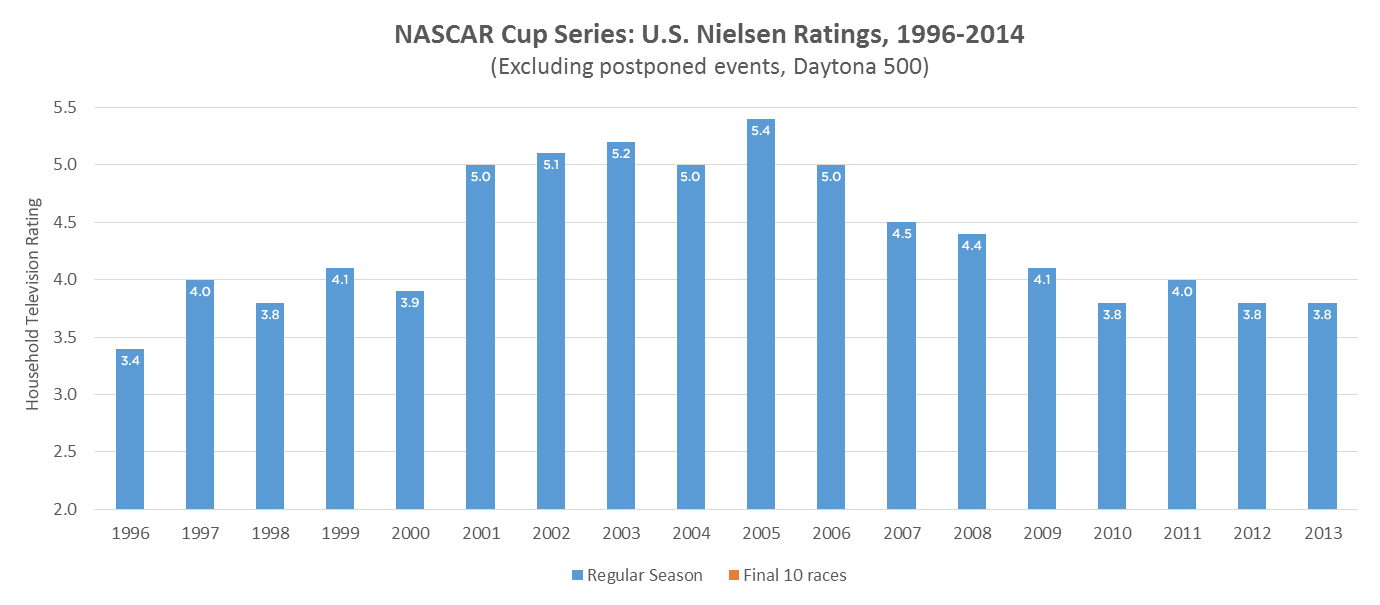 While Nielsen's numbers are available to the public, some allege that non-subscribers are not allowed to publish their findings for research involving those data (at a cost of approximately $3,000 a month).
Despite the website's content potentially threatening the powers that be, most of Maness' followers anticipated good news when he shared a cryptic message through social media last week:
"Sometimes it's tough to understand why things change. Major announcement on NASCARnomics.com this week. Please stay tuned."
Some speculated that NASCAR had hired Maness to provide advanced race stats through its own website. Others thought NASCARnomics had been bought out by Nate Silver's new sports data journalism website FiveThirtyEight.com.
Then, on March 19th, Maness broke the news:
"I am no longer able to share any research regarding NASCAR's Nielsen television ratings. All previous essays that analyze those data have been removed as well. Some other articles have been deleted, too." 
So what happened exactly?
Maness is hesitant to get into specifics. "It was very professional," he said of his encounter with NASCAR that led to the removal of portions of his work. "I'll leave it at that. It's strictly business."
He went on to add that fighting the organization on this wasn't worth the effort. "I don't have the time or energy to engage in a long and drawn out battle with any organizations over the content that I post. So I figured that it was a lot easier, and a lot smarter to take the high road and take my posts down."

 "I'm being positive about it. We're taking this as an opportunity to grow. Getting angry and being negative about a situation never helps. It doesn't help motorsports, it doesn't help me and it doesn't help my website. While I'm sort of sad, I do know that I have a lot of people in my corner. I have a lot of people that like the work I've done, and hope that I can continue to broaden everybody's knowledge in all forms of auto racing. But the key message is to be positive."

His new rebranded site RACINGnomics is going to focus on all series of racing: NASCAR, F1, ARCA and IndyCar to name a few. He'll still write about television ratings (just not in NASCAR), and the site will continue to provide that advanced analytics that fans crave.
NASCAR writer Monte Dutton summarized the change in branding:
The nascarnomics.com web site was honest. It wasn't faultless. It's now RACINGnomics because NASCAR sicced its lawyers on yet another person without the money to make an otherwise sensible defense. The site will no longer contain any analysis of television ratings, this allegedly because the site is not contractually and by rights fees licensed by the Nielsen ratings service. Legal precedent of long standing provides that copyrights do not protect facts, but its practical usefulness is hindered, again, when the matter is between one party with money and another without.

Maness's site didn't have an agenda. It did, however, reveal some truths NASCAR apparently found inconvenient. NASCAR has a tendency to pay attention to those who tell it what it wants to hear. Why use "facts" for anything apart from propaganda?
Whether NASCAR is frightened to face the reality of waning interest in their sport, or they merely didn't want their television ratings to become public knowledge, it's difficult to side with a large organization using its money, power and influence to silence opposition that lacks those three things.

While discouraging on the whole, we can at least take some solace in the fact that Maness isn't going to lose any sleep over the ordeal.
In fact, he remains hopeful for NASCAR's future despite his recent encounter.
"It's going to be tough since they're switching over to FOX Sports 1 and NBC Sports Network next year," Maness said. "But they're going in the right direction. If they can open up their broadcasts to online streaming, I think that it'd be a very big help for them. I don't see the number of subscriptions with both those channels going up and competing with ESPN and TNT, so they need to be more progressive with online streaming. That's their best bet at this point."
NASCAR spent more time and attention on shutting down a website illustrating its challenges than addressing the very real problems that NASCARnomics brought to light. If the future of NASCAR does indeed depend on being more progressive — as Maness suggests — the way the organization handled this situation doesn't exactly inspire the confidence he expresses.
Check out the new RACINGnomics.com
Comments
✕
How NASCAR silenced its most accurate critic
  Got something to say? Leave a comment below!