UFC 283 rundown: Top light heavyweight or not, Jamahal Hill leveled up
Buda Mendes / UFC / Getty
Jamahal Hill claimed the vacant UFC light heavyweight title Saturday night, defeating Glover Teixeira by unanimous decision in the UFC 283 main event in Rio de Janeiro. Afterward, Teixeira announced his retirement from mixed martial arts.
In the co-main event, Brandon Moreno finished Deiveson Figueiredo in the promotion's first-ever tetralogy fight to once again become UFC flyweight champion. Also on the card, Gilbert Burns ran through Neil Magny to return to the win column, and MMA legend Mauricio "Shogun" Rua came up short in his retirement fight.
Here are five takeaways from the first UFC pay-per-view event of 2023:
Order restored at 205 ... sort of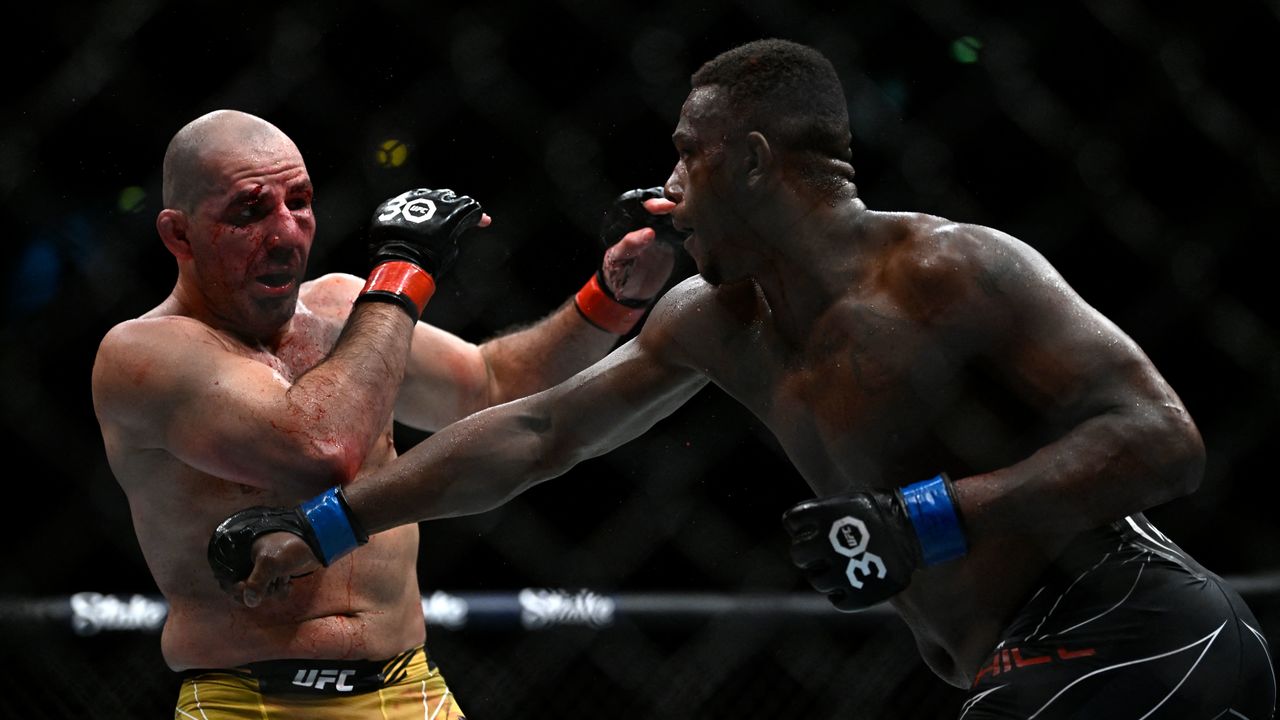 Hill was ranked No. 7 in the light heavyweight division ahead of his dominant win over No. 2 Teixeira. While he now holds the UFC title, several fighters could also stake their claim for top light heavyweight on the planet, namely Jiri Prochazka, Magomed Ankalaev, and even Bellator's Vadim Nemkov.
But damn, Hill sure did as much as he could to climb all the way to No. 1.
Many will still view Prochazka as the cream of the crop at 205 pounds. Prochazka, who became UFC light heavyweight champion last June, never lost the title in the cage: He relinquished it in November due to a severe shoulder injury.
The UFC booked a vacant title bout between Jan Blachowicz and Ankalaev, and when that fight ended in a controversial majority draw in December, the promotion turned to Hill-Teixeira. In all likelihood, both of these fights would just determine the world's second- or third-best light heavyweight. Prochazka would still be the uncrowned king, no matter what.
That said, there's a stronger case that Hill is the top light heavyweight in the world than anyone would have thought. The Dana White's Contender Series alum dominated Teixeira from start to finish. He showed off significantly improved wrestling defense and grappling ability, stuffing 15 of Teixeira's 17 takedown attempts. He also had no issues going five rounds; cardiovascular endurance had been a bit of a question mark for Hill before this incredible performance.
MMA math doesn't work, but it should be noted that Hill's victory came against the same Teixeira who was beating Prochazka on the scorecards of their June thriller before tapping to a last-minute submission that gave Prochazka the title. Of course, it's important to look at the rest of their resumes, too: Prochazka scored highlight-reel finishes of Dominick Reyes and Volkan Oezdemir, while Hill finished Thiago Santos and Johnny Walker.
In the end, Prochazka probably still has the most convincing argument for top light heavyweight. But Hill showed against Teixeira that he deserves to be here. This was a breakout performance in the sense that he's indeed one of the best. With Prochazka out of the picture for now, Hill's championship feels more legitimate than expected.
After a couple of topsy-turvy months at light heavyweight, things are starting to get back to normal.
Retirement the right call for Teixeira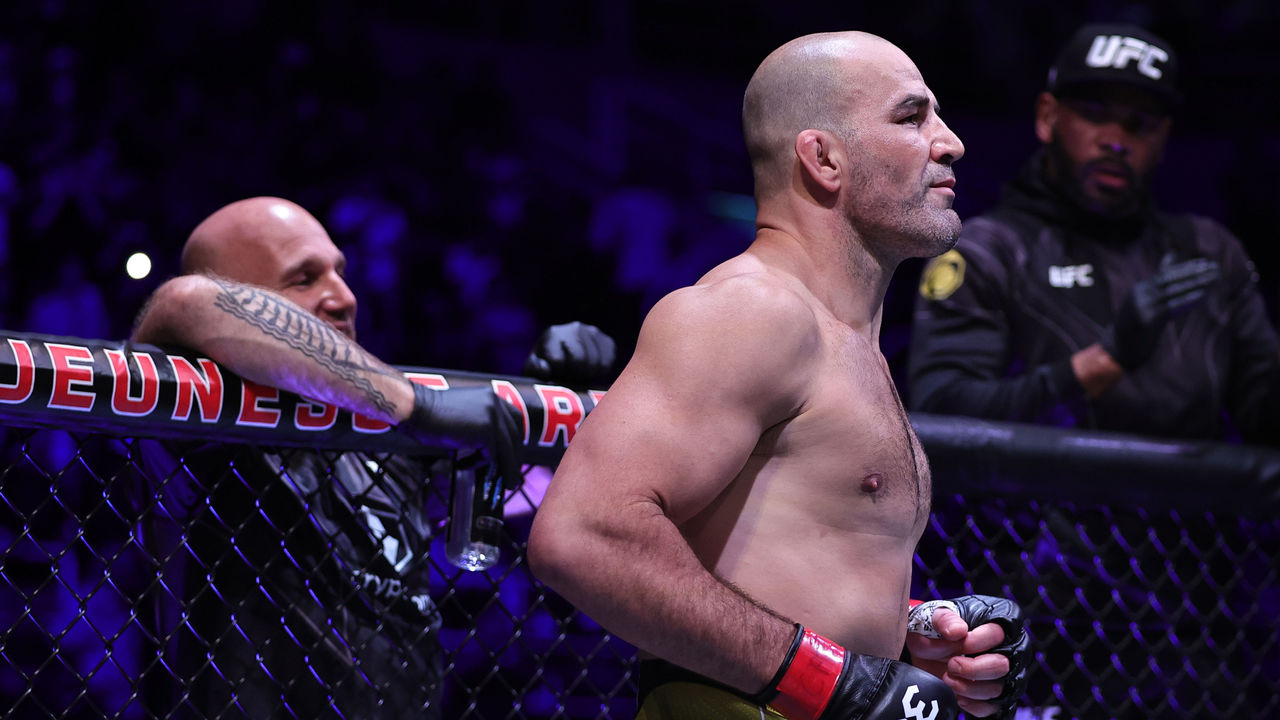 Teixeira showed a sense of awareness by hanging up his gloves: This was the right time to walk away.
It will do Teixeira no favors at 43 years old to continue to endure this amount of damage, never mind when he's in his 50s or 60s. The Brazilian, along with every other MMA fighter on the planet, needs to keep his future in mind. We all know MMA is a dangerous sport. Teixeira took shot after shot, never once dropped to the canvas, and kept marching forward. By the fifth round, it was a little hard to watch. After the fight, Teixeira said it himself: He's too tough for his own good.
From a competition perspective, this likely would have been Teixeira's final hurrah as a title contender anyway. He lost the belt to Prochazka and then got dominated in an opportunity to win it back. There would have been no clear path back to UFC gold.
That, if nothing else, was a sign that it was time to move on to the next chapter. Props to Teixeira for realizing that because so many like him stick around too long.
The importance of Moreno-Figueiredo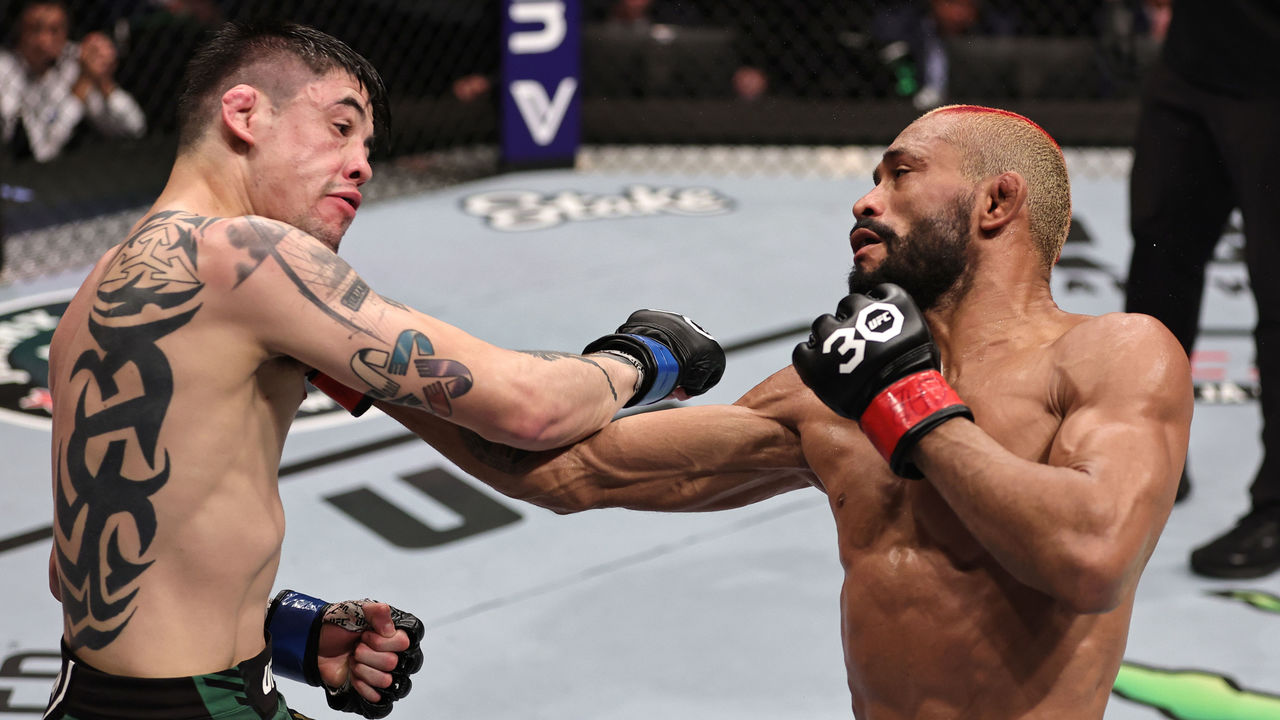 Demetrious Johnson put flyweight on the map. Henry Cejudo saved it. But Moreno and Figueiredo, through their historic rivalry, made it a respected weight class.
Moreno and Figueiredo squared off in four undisputed title fights since December 2020. Before Saturday, never had two fighters faced each other that many times in the UFC. Each matchup between Moreno and Figueiredo offered something different: The first was a wild, back-and-forth slugfest; the second was a masterclass by Moreno; the third was a tactical affair.
In the final chapter, Moreno made a statement by finishing Figueiredo again (this time by doctor's stoppage) and emerged as the consensus top flyweight in the UFC.
Every time Moreno and Figueiredo stepped into the Octagon to face each other, it was evident that both men are supremely talented. They are quick and powerful on the feet and slick on the ground. Ultimately, they are two of the top pound-for-pound fighters in MMA.
Gone are the days of no one caring about the flyweight division, and that's all thanks to Moreno and Figueiredo.
UFC blew Rua's send-off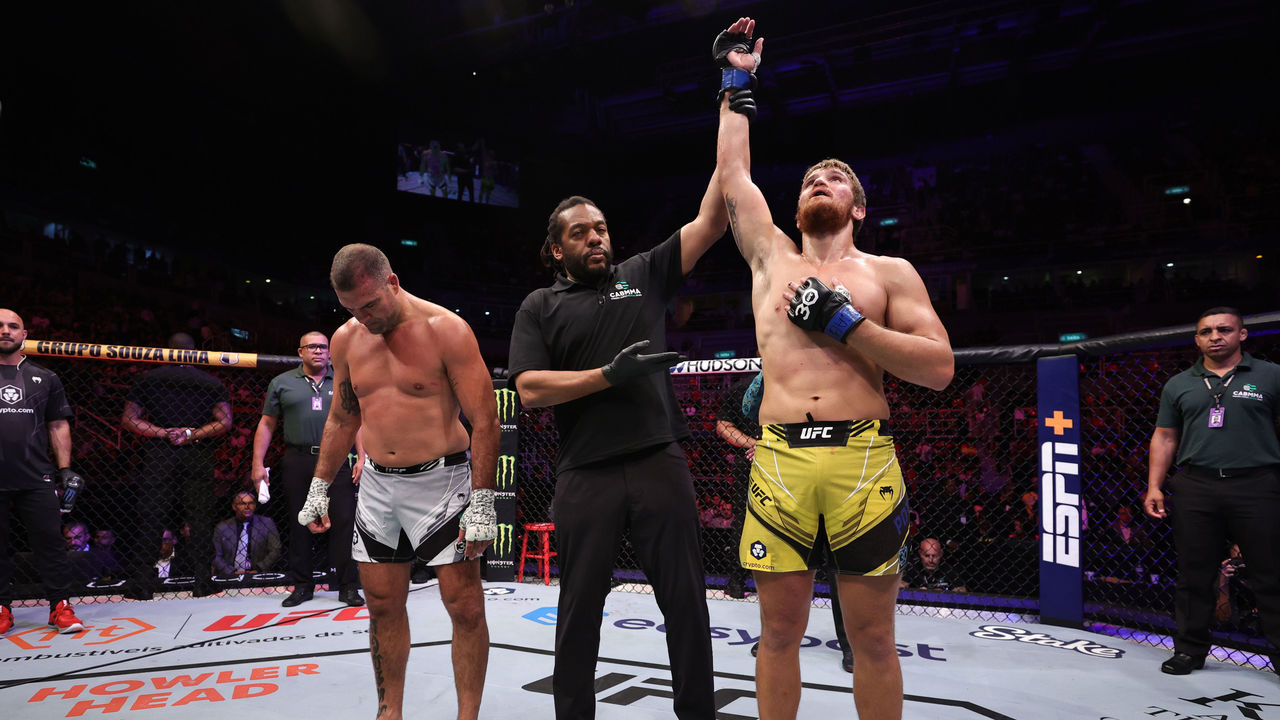 "Shogun" Rua's retirement fight was hard to watch.
The UFC did Rua, 41, no favors by sending him off with a matchup against a young, unknown prospect in Ihor Potieria. As the odds suggested he would, the 26-year-old Potieria handled his business in (very) hostile territory, ending the Brazilian legend's career with a first-round TKO.
It was a disappointing and upsetting moment - for fans watching at home and for the crowd at Jeunesse Arena in Rio de Janeiro. Rua's farewell was the end of an era. He was the last fighter on the UFC roster to compete in PRIDE FC in Japan. He was once one of the most dominant fighters in the sport. He had a Hall of Fame career.
Of course, fairytale endings rarely occur in MMA, and this was another example of that. But the UFC could have given Rua a fellow veteran and somewhat of a favorable matchup. Imagine the scenes in Brazil had Rua won or at least made it to the judges' scorecards after three competitive rounds with someone like Alexander Gustafsson.
Using a retiring fighter's name to build up someone else is the only reason matchmaking like Rua-Potieria should happen. But in this case, it's not like Potieria gains much from having a washed-up Rua on his resume. He's not suddenly a big up-and-comer. He'll probably be on the early prelims of a UFC Fight Night in his next bout.
So, UFC: Can we please stop with these legend versus prospect fights? The fans deserved better, and more importantly, Rua deserved better.
Almeida is a special talent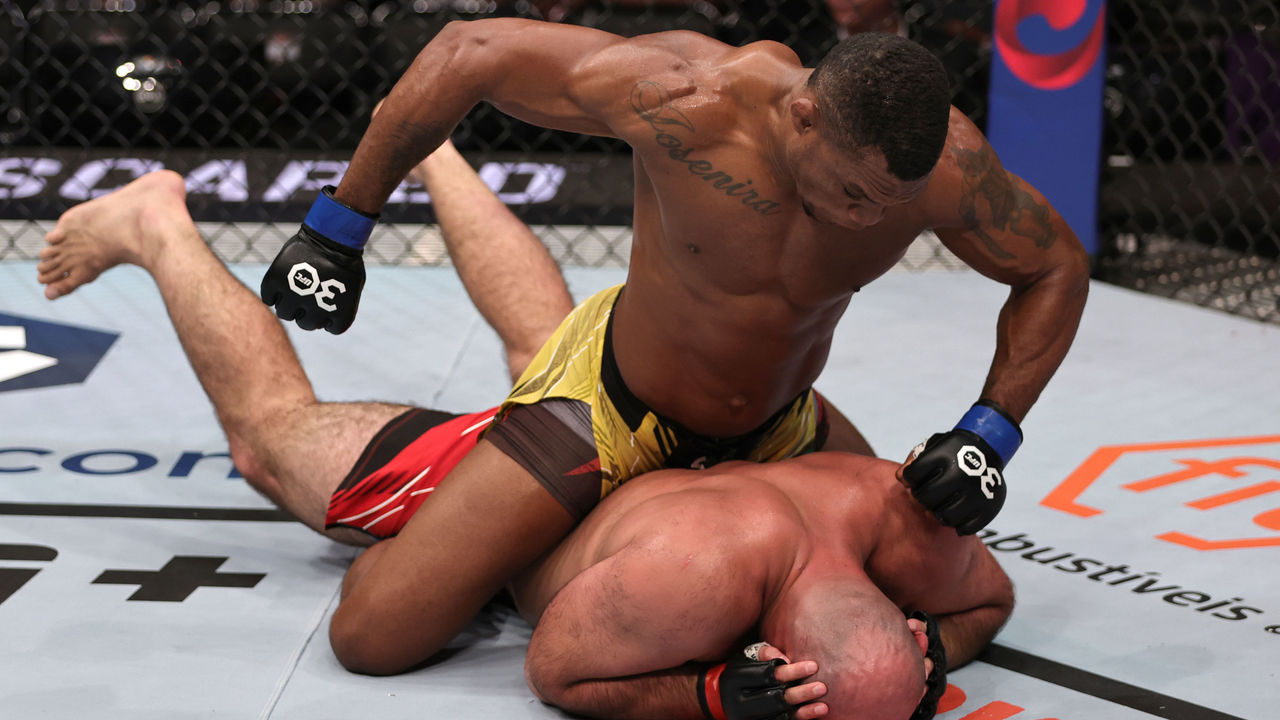 On a night that saw multiple highlight-reel knockouts and one-sided beatdowns, Jailton Almeida's finish of Shamil Abdurakhimov was arguably the standout performance.
The Brazilian heavyweight prospect weighed in 31 pounds lighter than the 263-pound Abdurakhimov, and he rag-dolled the Russian veteran like it was nothing. The strength and freak athleticism that Almeida showed was utterly ridiculous. The referee mercifully waved off the fight in Round 2, giving Almeida his fourth win in the UFC.
Undefeated in the promotion with a 100% finish rate, it's obvious that Almeida is going places. But not in a "yeah, he might do pretty well" kind of way. In a "this guy could be a champion one day" kind of way. That's how talented he is. His suffocating style could give any heavyweight - or light heavyweight, if Almeida decides to return to that division in the future - problems. And, honestly, he's probably ready to face a top-five opponent.
Get on the Almeida train now if you haven't already, because it's starting to move real fast.
Comments
✕
UFC 283 rundown: Top light heavyweight or not, Jamahal Hill leveled up
  Got something to say? Leave a comment below!