UFC 274 rundown: Oliveira is the best, but can he be trusted?
Jeff Bottari / UFC / Getty
Former champion Charles Oliveira maintained his spot as the top lightweight at UFC 274, defeating Justin Gaethje by first-round submission Saturday in Phoenix.
Also on the card, Carla Esparza upset Rose Namajunas in an uneventful rematch to regain the UFC strawweight title, and Michael Chandler stopped Tony Ferguson with a "Knockout of the Year" candidate.
Here are five takeaways from the pay-per-view event:
Oliveira's reputation returns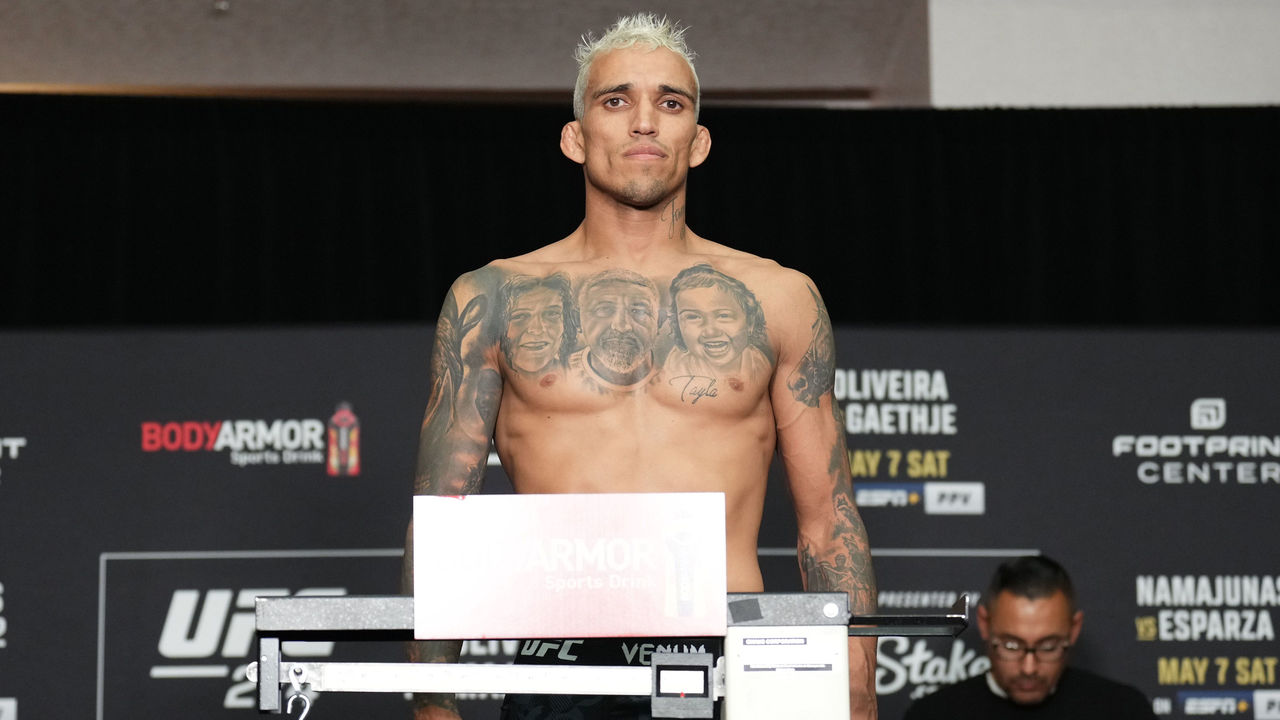 Old habits die hard.
Oliveira's past came back to haunt him - albeit briefly - Friday when he relinquished the lightweight title on the scale, coming in 0.5 pounds heavy. He had a reputation for sabotaging himself back in the day - despite his obvious potential - either by missing weight (this was the fifth time in his UFC career he came in overweight) or having mental lapses in fights.
His career turned a corner when he moved up to the 155-pound division in 2017. That wasn't long before Oliveira kicked off what's become the second-longest winning streak of any active UFC fighter. When "Do Bronx" emerged as a championship-caliber fighter in 2020 and then won the belt in 2021, that seemed to be confirmation that he'd matured and put any old issues behind him.
Not so fast.
Of course, some people might give Oliveira the benefit of the doubt. It was only a half-pound, and several fighters said the official weigh-in scale wasn't aligned with the one they used backstage to check their weights beforehand. But at the same time, 28 of 30 fighters still made weight Friday. Oliveira, as the now-former champion who'll get a chance to recapture the belt in his next fight, needs to make weight if he wants to be taken seriously. It's as simple as that.
The uncrowned king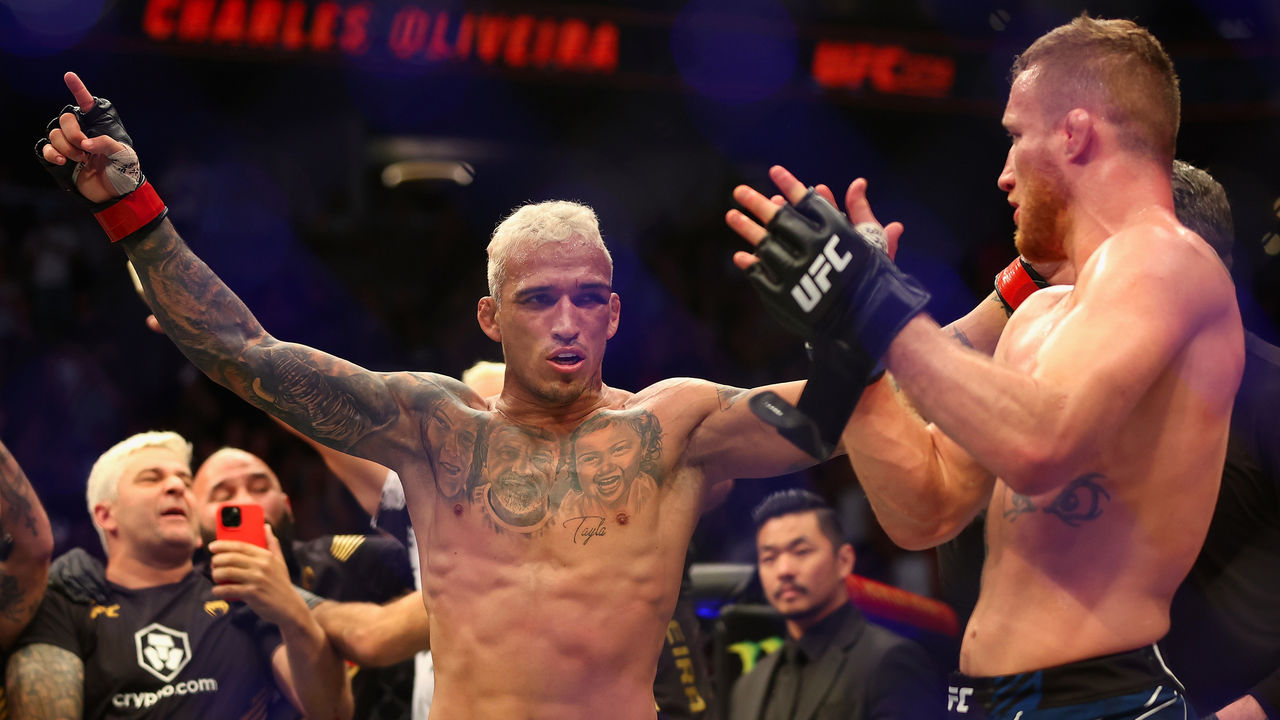 Weigh-ins were one thing, but the fight itself couldn't have gone much better for Oliveira.
It's hard to overstate how big this win was for him. Had he lost, not only would Oliveira have missed out on a shot at the title (and potentially been forced to wait a while for one), but there'd be a greater emphasis on the weight miss in the aftermath of the fight.
But after Oliveira turned in another epic performance, dropping and then submitting Gaethje less than four minutes into their barn burner, some people went as far as to call him the lightweight champion, essentially deeming Friday's debacle irrelevant.
Though Oliveira ought to get his weight issues in check, one thing's for certain: He's the man to beat in the lightweight division - and he's still getting better.
Here are just some of the UFC records Oliveira holds: most finishes, most submissions, third-most wins, fifth-most consecutive wins, most performance bonuses.
And then if we take a look at who he's beaten in recent years, it's the creme de la creme of the lightweight division: Dustin Poirier, Gaethje, Chandler, Ferguson - the list goes on.
For a guy who had the daunting challenge of taking over at lightweight in the aftermath of Khabib Nurmagomedov's Hall of Fame career, Oliveira's done a damn good job of establishing himself as the best in the division. Only time will tell if anyone can stop him.
Afterthought to champion
Sure, Esparza's rematch with Namajunas was a snoozer. That we can all agree on.
But putting the actual performances of both women aside for a moment, Esparza deserves a lot of respect for becoming a two-time strawweight champion.
She became somewhat of an afterthought in the 115-pound division after winning the inaugural title in 2014, which she held for only three months. Over the next four years, Esparza registered a subpar 3-4 record. She lost to the likes of Claudia Gadelha and Tatiana Suarez. She was a top-10 strawweight, but few thought she'd ever challenge for the belt again, never mind become champ.
So to suddenly start rattling off victory after victory, re-enter title contention, and then upset Namajunas to set a new UFC record for longest time between title reigns, Esparza's second championship moment - on paper - was quite remarkable.
Namajunas and Co. shot themselves in the foot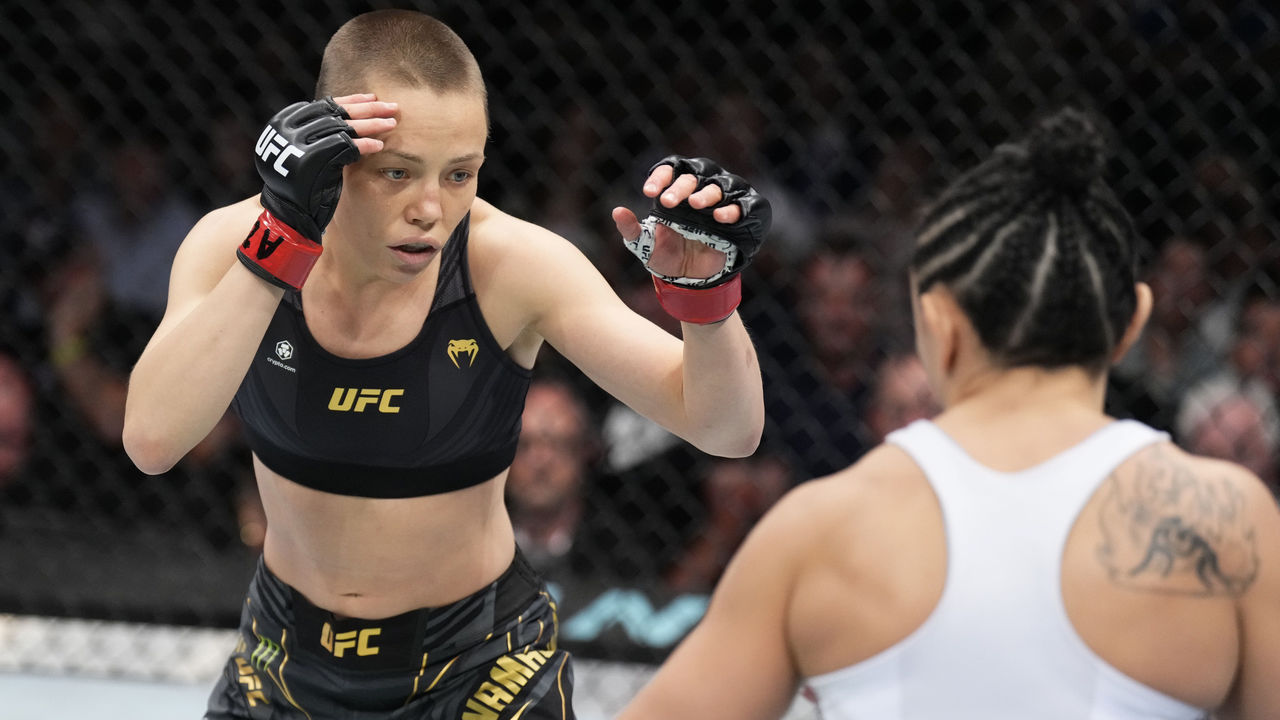 Namajunas and her coaching staff have no one to blame but themselves for Saturday's loss.
This was one of the most mind-boggling, head-scratching, frustrating performances from a UFC champion ever.
While Esparza's performance was just as dull, Namajunas lost, so she's naturally going to take more of the backlash here. The fighters dished out next to no offense over the course of 25 minutes, leaving the result of the fight up to the judges' discretion entirely and forcing them to split hairs over who won each round.
If there's a boring fight that has one fighter clearly ahead, it's up to the one losing to push the action and try to change the bout's direction. The winning fighter doesn't need to take unnecessary risks - they're doing what they need to do to secure their win bonus.
But Namajunas-Esparza 2 wasn't that kind of fight. Neither fighter clearly led at any point, yet both were fighting as if they were dominating. There was no sense of urgency from either side, even in the waning minutes of the contest.
For Namajunas especially, it's also a failure of her corner. She said after the fight that her coach, Trevor Wittman, told her between the fourth and fifth rounds that she was up 4-0. Wittman is one of the best in the business, but no coach should have told either Namajunas or Esparza that they were comfortably winning that fight. The scorecards could have been - and in the end, indeed were - all over the place.
Had Namajunas been told it was anyone's fight going into, say, the fourth round, the last 10 minutes of the bout could have looked a lot different - and maybe she would still be UFC champion.
Ferguson's future still up in the air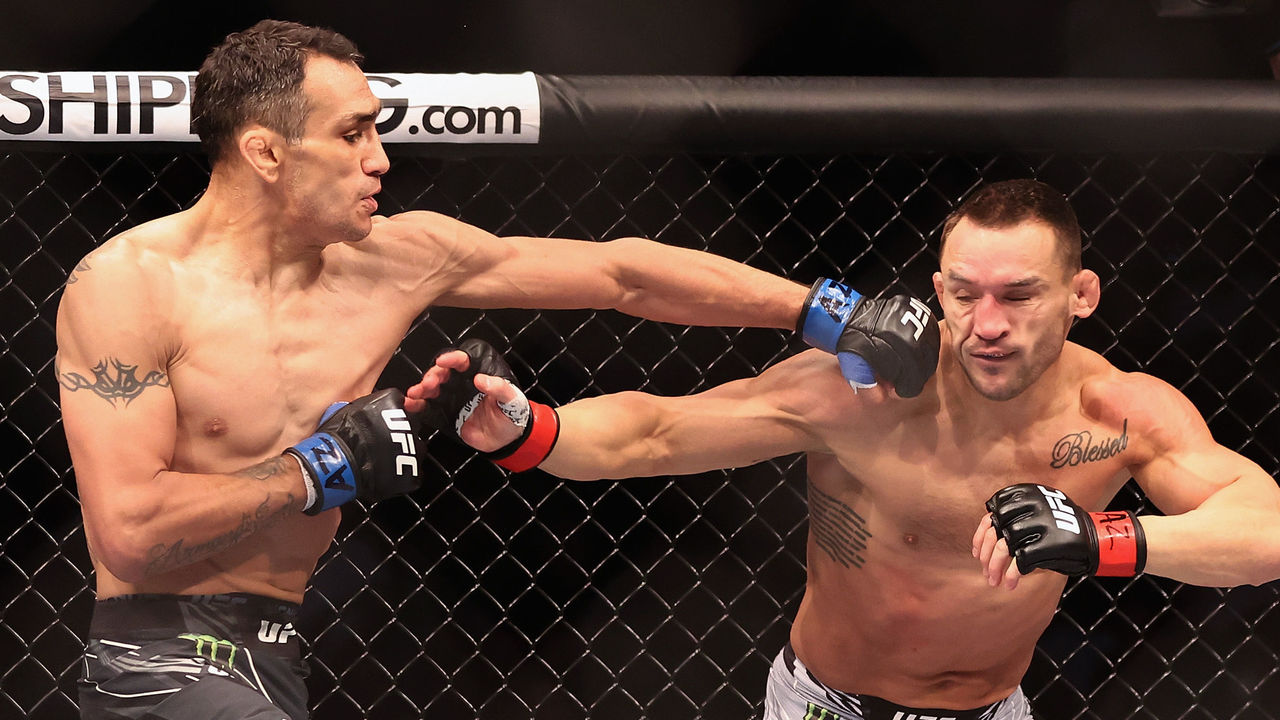 It's hard to say where Ferguson stands in the lightweight division after his devastating loss to Chandler.
The fight seemed to be a do-or-die moment for Ferguson's status as a contender. He entered on a three-fight losing streak and looking like a shell of his former self. At 38 years old, a loss would likely signal that Ferguson was indeed well past his prime, as many suspected.
While it's pretty evident Ferguson isn't quite the same fighter he used to be, there was actually a glimmer of hope for "El Cucuy" early in the fight. He tagged Chandler and landed some good shots off his back. For a moment, it seemed as if the Ferguson of old was back.
But then he got caught. A perfect front kick to the face that sent shockwaves through the arena in Phoenix ended his night and ruined his opportunity to bounce back.
Chandler's kick was a strike that would've knocked out anybody. This isn't any sort of indication that Ferguson - known throughout his career for his supreme toughness - has a worse chin than he used to. It would have knocked out Nurmagomedov, Oliveira ... anybody.
Still, it's another loss, and no fighter can keep taking those without falling out of contention. Ferguson, at 38, especially can't afford to lose. It's also one that could take a toll on him physically.
Time is running out for Ferguson, and he'll need a considerable amount of time off after finding himself on the wrong end of the front-runner for "Knockout of the Year." But at the same time, maybe don't count him out completely just yet.
Comments
✕
UFC 274 rundown: Oliveira is the best, but can he be trusted?
  Got something to say? Leave a comment below!