Ngannou's coach on wrestling tactics vs. Gane, conflict with UFC
Chris Unger / UFC / Getty
Warning: Story contains coarse language
Francis Ngannou retained the UFC heavyweight title for the first time last weekend.
Ngannou defeated Ciryl Gane by unanimous decision at UFC 270, surprisingly using his wrestling to pull away down the stretch and earn his first career decision win.
Now, "The Predator" - who's been at odds with UFC brass in recent months - finds himself in an unprecedented situation. The fight with Gane was the last on his UFC deal, though he remains under contract because of the champion's clause. Ngannou has said he's open to leaving the promotion and believes his contract expires in about a year.
To make matters more interesting, Ngannou suffered a torn MCL and damaged his ACL three weeks before UFC 270 and will likely be out for the rest of 2022.
theScore spoke with Eric Nicksick, Ngannou's head coach, about the champ's gutsy win over Gane, his knee injury, and his future.
(Editor's note: Interview edited for length and clarity.)
theScore: It was a tough start for Ngannou. After 10 minutes, how did you feel about how the fight was playing out? Was there any concern on your part?
Nicksick: I've been able to corner quite a few five-round fights now, and I understand how imperative Round 3 is - that swing round I like to call it. I knew where we were at. I thought Round 1 was close. I would have scored it for Gane, because that's the way I think I coach - I just kind of think of the worst-case scenario. And then Round 2 I scored for Gane. But in my head, I didn't want to come out and be nervous, like, "We need this round or we're going to lose." I just felt like we were going to find a way or a path, and that was with the wrestling game.
theScore: Was the plan going in for Ngannou to wrestle Gane, or was that a mid-fight adjustment?
Nicksick: The game plan was to wrestle early in camp. But, obviously, we had the knee injury about three weeks before the fight, so that did put into question a lot of the things we were able to do with the kicking game and the wrestling game. So, we weren't sure how we were going to be able to do those things.
But you have to understand that he's in a room where he's not just kickboxing anymore; he's doing MMA every day. That means he's wrestling, he's doing jiu-jitsu, and he's sparring all at the same time. I never want it to be where it's a la carte, where one day he's doing one thing and the next day he's doing another thing. It needs to blend. If you're doing a la carte, you don't understand how to put the pieces together. He's got such a good MMA skill set and a good fight IQ now that he knows when he needs to implement those things.
So, I would hate to say our game plan was to wrestle. Our game plan was to give him all the tools he needed to succeed. And when those opportunities present themselves, then he's able to take advantage of that, and that's when he saw that opportunity to wrestle.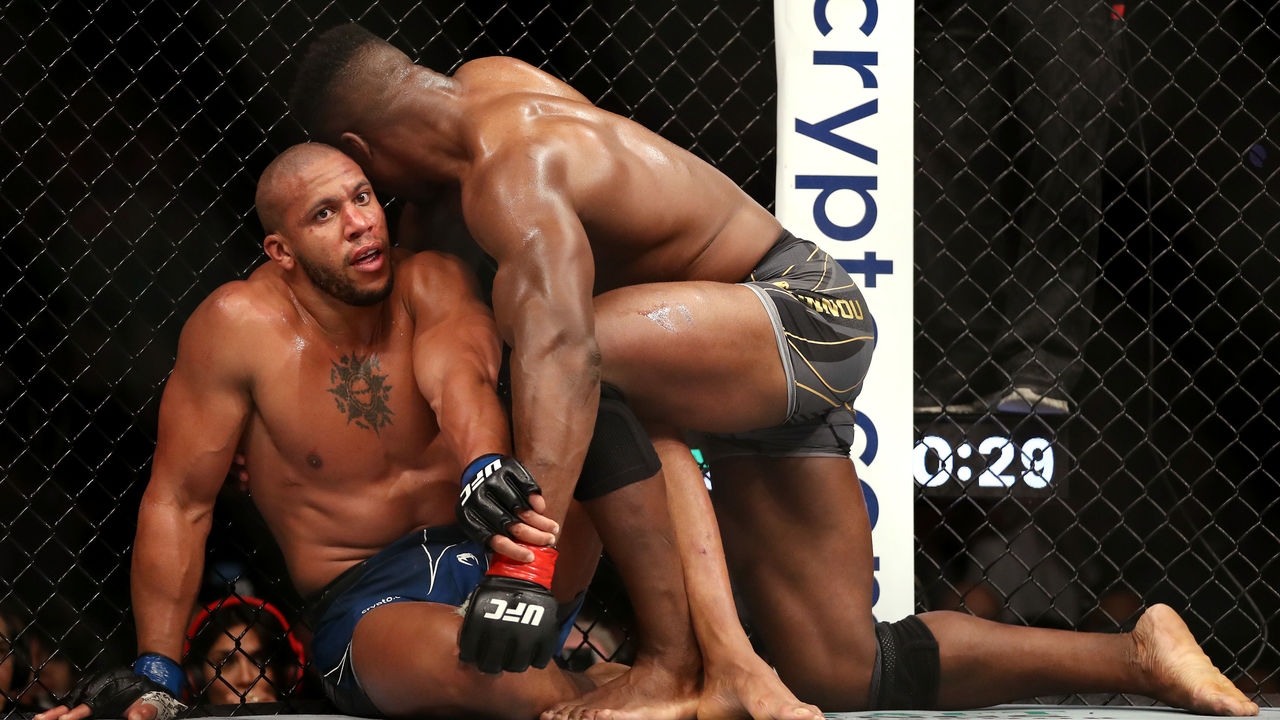 theScore: How much did the knee injury affect the game plan going in?
Nicksick: It definitely affected the leg kicks that we thought about doing on the right side. But it's just a situation we had to figure out. People call it problem-solving, we call it situational-solving. When you think problem, you think something is wrong or bad. I just say it's situational-solving, and here's how we're going to fix it. The injury took us a little bit out of the element, but I think that's what makes a true champion - getting through some adversity.
theScore: On a similar note, how much did the injury hinder Ngannou's physical abilities in the fight?
Nicksick: I don't feel like it did a whole hell of a lot. The guy hits hard already. When he was working with coach Dewey Cooper in the last two or three weeks, I was just watching his hips and knees to see if he was turning everything over the right way and if he had any painful reactions. He didn't seem to have any of that stuff going on. He did say that in the first round or two, he did have a hard time getting his footing and finding where he could explode and couldn't. I think it did hamper him a little bit in the fight, but we didn't see much of it during camp.
theScore: Could we see more wrestling from Ngannou in the future?
Nicksick: Absolutely. My job is to give him more tools. So, when he has the tools in his tool belt, you can expect anything. But know this: Now, when we show some level changes, you're going to be scared shitless that you're going to get taken down or get your head knocked off. It's just more things we get to play. I'm excited to evolve that and round that out.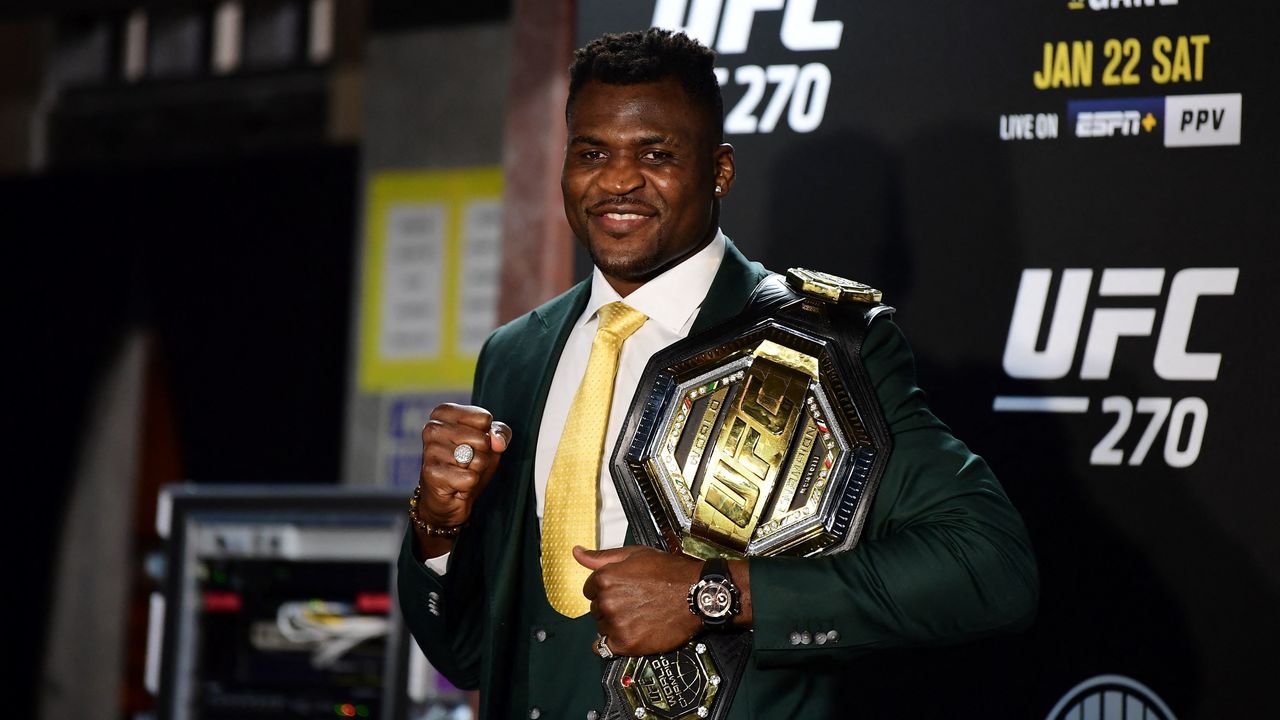 theScore: As his coach, are you glad you likely won't have to answer as many questions now about whether Ngannou can go the distance or is well-rounded?
Nicksick: They'll come up with something. They'll find something to b---- about. The haters will say that he doesn't have a jiu-jitsu game, or his submission game is weak. But I love that stuff. That's what motivates us. We're just built different. Most people will cry under their pillow about it. We welcome it. It wakes us up in the morning and makes us go work harder.
theScore: With Ngannou fighting out his contract against Gane, these next 12 months are going to be fascinating. Do you have an inclination as to what his future holds?
Nicksick: On a personal level, I hope he gets to stay in the UFC, just because I think that's where the best competition is going to be. And he's made it clear that it's not about money. It's his stance and his principles. Me, as a coach, I stand by what he's trying to accomplish. If anyone is going to be able to make some change, I think it's Francis. Whatever he decides to do, wherever he decides to go, he's going to be successful, and I'll always have his back.
Right now, our main focus is to get his surgery done and his rehab worked on and to get him back in there as soon as we can. Whatever I can do to help mediate some of this stuff, I'm definitely going to be available.
Comments
✕
Ngannou's coach on wrestling tactics vs. Gane, conflict with UFC
  Got something to say? Leave a comment below!