Jones accused of pulling woman's hair, headbutting police car
Christian Petersen / UFC / Getty
Jon Jones, who was arrested Friday in Las Vegas, is accused of pulling a woman's hair and headbutting a police car, according to the arrest report that was accessed by ESPN's Marc Raimondi on Tuesday.
The former UFC light heavyweight champion was charged with misdemeanor battery domestic violence and injuring or tampering with a vehicle.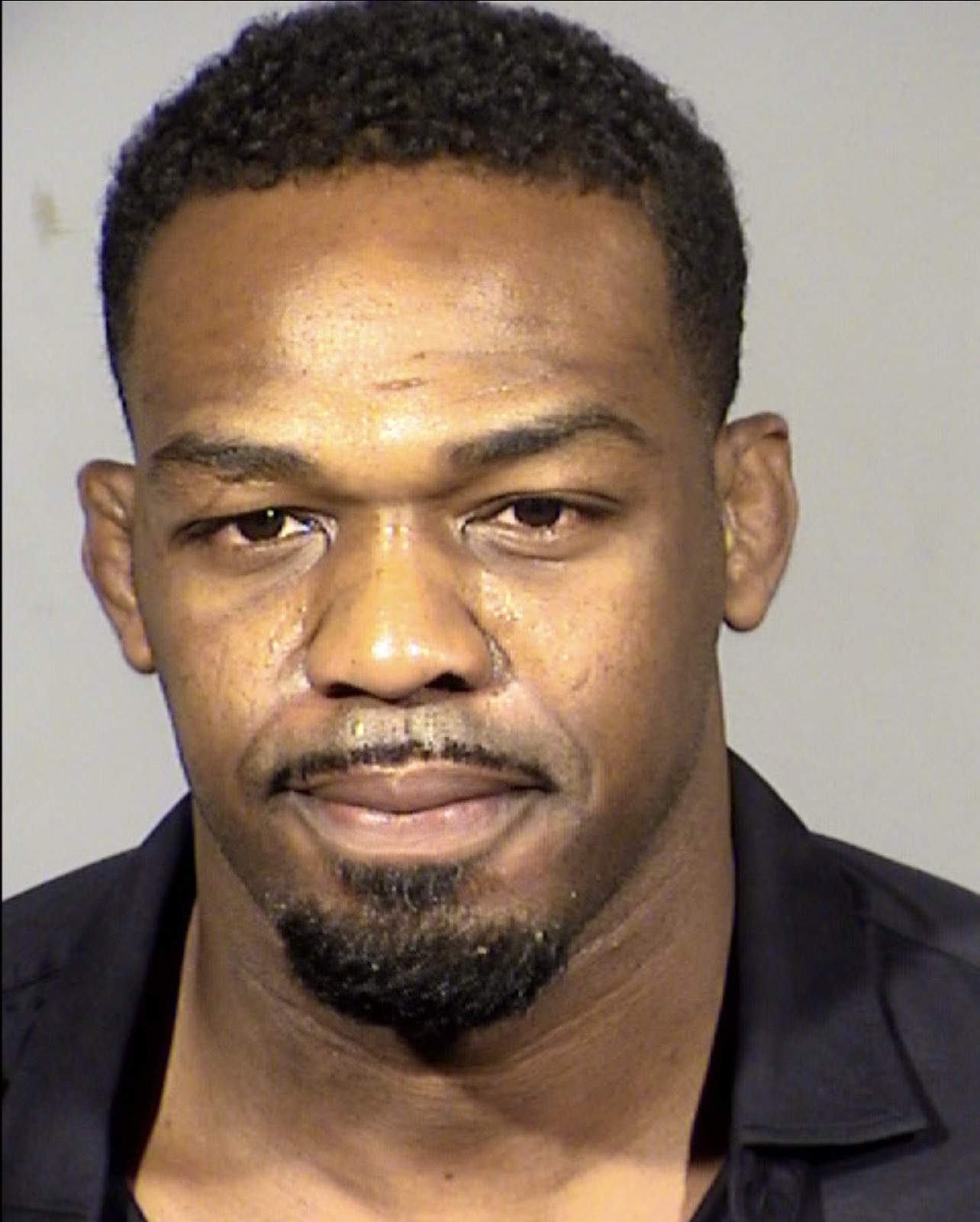 When Jones was arrested just before 6 a.m. on the Las Vegas strip, the report states that he became "irate" and smashed his head into the front hood of the police car, which left a dent and chipped some of the paint.
Police were called to the Caesars Palace resort after a woman - later identified as Jones' fiancée Jessie Moses, the report states, according to MMA Fighting's Damon Martin - went to the security desk to ask for a key to her hotel room and the guard noticed blood on her lips and clothing.
Moses told officers that Jones touched the back of her head and pulled her hair "a little bit," but did not hit her.
However, police saw blood on Moses' shirt and around her lips and chin, and they noted a bump on her lip with dried-up blood. Moses said her lips were dry. Officers also observed blood on the bedsheets in the hotel room, according to the report.
The security guard told police that Moses started to cry when he asked if she was OK, and she told him she was scared to go back to the room. Per the arrest report, one of her and Jones' three children asked, "Can you call the cops?"
Jones told police he didn't touch Moses and said he hadn't noticed she had a bloody lip.
The fighter also said he planned to file a "huge lawsuit" against the Las Vegas Metropolitan Police Department for arresting him "on the biggest night of his life." Jones' 2013 fight against Alexander Gustafsson was inducted into the UFC Hall of Fame on Thursday.
Police said Jones alternated between being agitated and calm and that he broke down into tears. Jones told the officers that he was going through personal issues with Moses and that they had been "arguing about the tension between them."
Jones was released on bond Friday night and has a court date set for Oct. 26.
The ex-champion vowed in an Instagram story on Monday night to "leave alcohol in my past forever," but didn't directly address the charges against him, according to Damon Martin of MMA Fighting. Jones added he intends to "turn this nightmare into the best thing to ever happen in my life."
Comments
✕
Jones accused of pulling woman's hair, headbutting police car
  Got something to say? Leave a comment below!