UFC 263 takeaways: Adesanya still in control of his own division
Jeff Bottari / UFC / Getty
Israel Adesanya retained the middleweight title with a unanimous decision win over Marvin Vettori in the main event of UFC 263 on Saturday in Glendale, Arizona.
Here are three takeaways from the pay-per-view card.
Adesanya still in full control at 185 pounds
Against Vettori, Adesanya entered a fight without his aura of invincibility for the first time.
Adesanya moved up to 205 pounds in March in hopes of becoming a two-division champion. But the 31-year-old suffered his first career loss against light heavyweight champion Jan Blachowicz, prompting him to return to his original weight class.
A single loss changes how fans perceive a fighter like Adesanya, who had been incredibly dominant in the UFC until he ran into Blachowicz; impressive wins against the likes of Robert Whittaker and Paulo Costa were temporarily forgotten when Adesanya suffered that defeat. "The Last Stylebender" went from totally untouchable to slightly vulnerable, and it was critical he returned to his winning ways against Vettori.
And that he did, proving with a lopsided victory that he's still very much in control of the 185-pound division.
Adesanya outclassed Vettori - the No. 3-ranked middleweight who entered Saturday's main event riding a five-fight winning streak - in the striking department. He was also much better getting back to his feet when Vettori scored takedowns than he was against Blachowicz, who controlled the middleweight champ for long periods in their fight. Blachowicz's strength advantage as a natural light heavyweight likely made a difference, as Adesanya found it much easier to scramble out from under Vettori and even got on top of the challenger.
As we saw earlier in 2021, Adesanya might not be the best light heavyweight in the UFC. But that's OK. That was never his division in the first place - he weighed in well under the 205-pound limit for the Blachowicz fight - and only a handful of fighters have ever won belts in multiple weight classes. Adesanya is still the UFC's top 185-pound fighter by a mile, and that's what matters most.
Moreno stole the show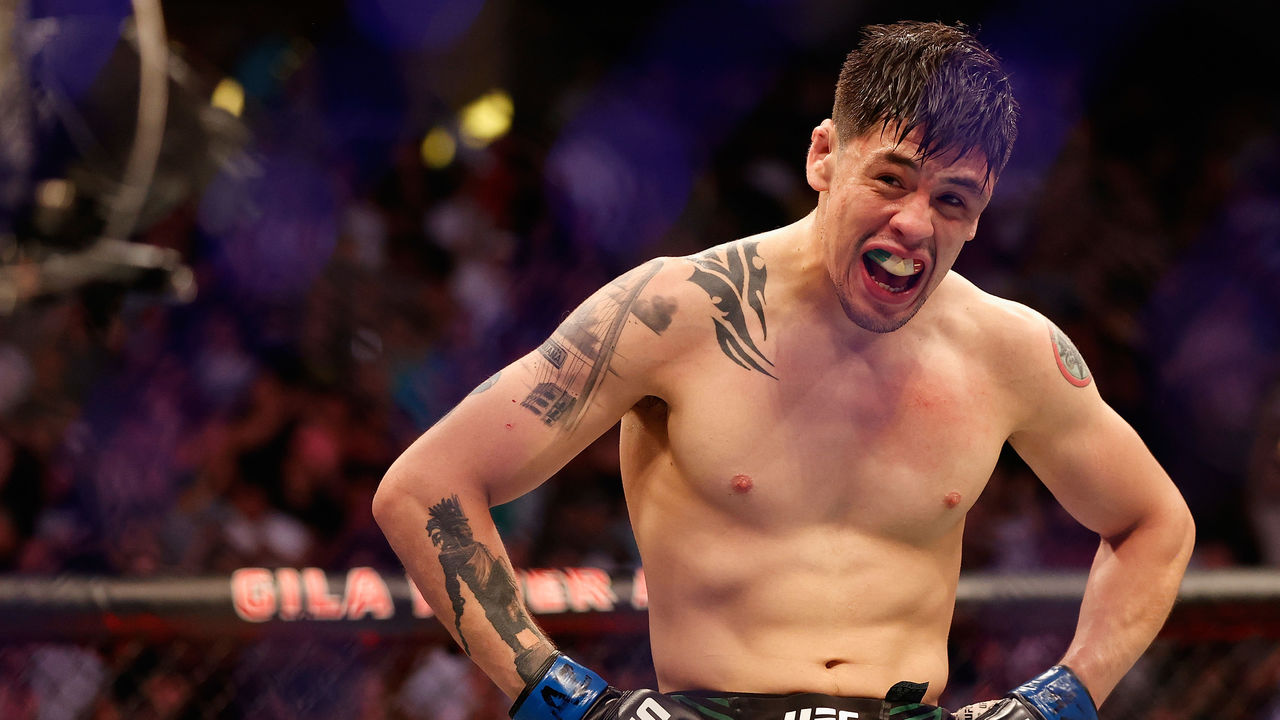 How about "The Assassin Baby"?
Brandon Moreno captured the UFC flyweight title with a stunning third-round submission of Deiveson Figueiredo in the co-main event, becoming the fourth titleholder in division history.
After going toe to toe with Figueiredo in a "Fight of the Year" candidate in December, Moreno left no doubt about who's the best flyweight in the UFC with a dominant performance as the underdog.
One of the biggest storylines heading into the rematch was that Figueiredo fell ill the day before the first fight, which ended in a majority draw at UFC 256. The 33-year-old said he wasn't at full strength against Moreno the first time and that there would be noticeable improvements in his performance in their second bout.
Moreno shut that notion down with a nasty rear-naked choke after clearly winning the first two rounds of the rematch. The 27-year-old's victory was arguably the biggest highlight of the somewhat lackluster event, which broke the record for most decisions on a card in UFC history (11) and featured only two other finishes.
UFC 263 was filled with notable names such as Adesanya, Nate Diaz, Leon Edwards, and Demian Maia. It seemed unlikely Moreno would be the highlight of the card by himself. But the 16th seed on "The Ultimate Fighter 24," whom the UFC released after two straight losses in 2018 - an underdog in the purest form - indeed stole the show.
Diaz's late flurry will be what's remembered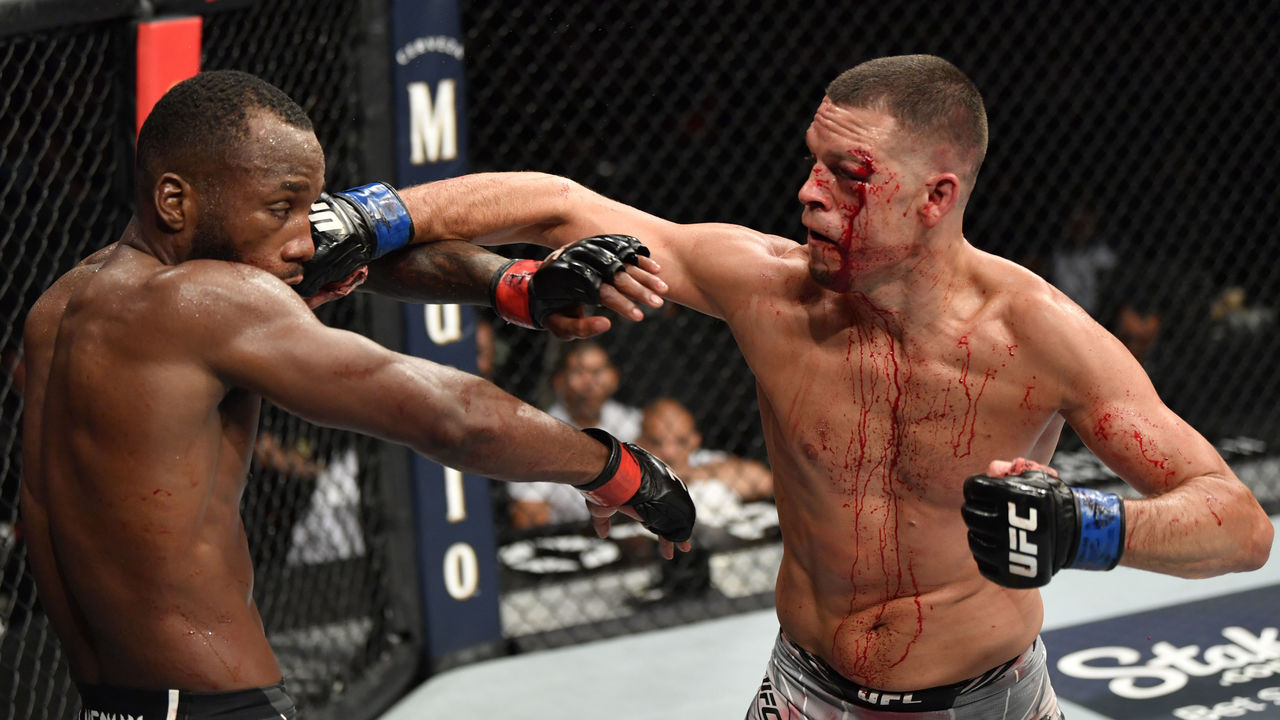 For about 24 minutes, Edwards looked great in his highly anticipated welterweight bout against Diaz, one of the most popular fighters on the UFC roster.
He picked apart Diaz in the striking department with jabs and leg kicks, and he neutralized much of Diaz's offense. It was shaping up to be a showcase performance for Edwards, one that might earn the 29-year-old a long-awaited title shot against Kamaru Usman.
But in the final minute of the five-round tilt, Diaz rocked Edwards with a two-punch combination that put the No. 3-ranked welterweight on wobbly legs and on the retreat. In a fight that featured little violence until Diaz's late rally, that was the moment fans will remember and talk about - even though Edwards ultimately survived and won four of five rounds.
That's not fair to Edwards, who put on a very solid performance through 24 minutes. Diaz's late push was impressive, but it wasn't enough. Edwards won the fight fair and square. The Brit also deserves credit for surviving the onslaught - not everyone would have.
For Edwards, an extremely talented fighter who has struggled to resonate with fans, this was an opportunity to gain some recognition by beating a big name like Diaz. "Rocky" dominated most of the fight, so that mission should be accomplished, right? Not really. In reality, Diaz is being treated as the big winner in the fight, and Edwards will likely have to continue to wait for a title shot.
Clearly, the fight game isn't always fair.
Comments
✕
UFC 263 takeaways: Adesanya still in control of his own division
  Got something to say? Leave a comment below!