Coaches debate: Does Diaz have a chance vs. Edwards?
Steven Ryan / Getty Images Sport / Getty
Leon Edwards and Nate Diaz will collide in a highly anticipated welterweight bout during UFC 263 on Saturday.
Edwards is a massive favorite for the first five-round clash in UFC history that's neither a title fight nor a main event. But Diaz has pulled off major upsets in the past, most notably against Conor McGregor in 2016. Are we in for another stunner?
theScore spoke to three coaches - New England Cartel's Tyson Chartier, Sean Madden, and Hard Drive Performance Center's Mike Rhodes - about whether Diaz can beat Edwards, and what the former title challenger needs to do to win.
(Editor's note: Responses have been lightly edited for length and clarity.)
What are Diaz's chances of beating Edwards?
Chartier: I think his chances are pretty low. It's just because he really has to fight the perfect fight to win. His best path to victory is to catch him in a submission or win a decision, and I just think Leon is too crafty for him. I don't see it happening.
Diaz was kind of a journeyman at 155 pounds, and then he moved up to 170 and had some success because of the whole Conor (McGregor) thing. But it's not like he's had crazy success at welterweight either. He's just got a really good following with a bunch of loyal fans, he's exciting, and people love his attitude. I think that's what's getting him all the clout. But I think if you really just look at the body of work, he's a super-talented fighter, but he's not a guy who's going to challenge for a title at 170. And I think Leon has the skill set to compete with the upper echelon of guys at 170.
Madden: It's Nate Diaz. We've seen Nate take punishment early on in fights and then come back and overwhelm. It's just so tough to count Nate fully out of a fight. It never surprises me when he's able to pull something out, a submission or a TKO or something like that. On paper, I would have to agree with the oddsmakers that it should be a setup fight for Leon to spring him to the next level. But it's Nate Diaz, and it's MMA. I've been wrong about fights with bigger odds than that. It's tough to say with 100% confidence that Leon's got this one in the bag.
Rhodes: Nate Diaz always has a chance to win. I don't know what that percentage would be. I personally don't see it happening. But it just seems like every time we count Nate out, that's when Nate does his "surprise, surprise, motherf------" and is getting his wins. It's just the way that he fights. He's tough, he's game, he's durable, he's always in there so he always has an opportunity to win.
Leon has had some great performances, but even in those performances, he doesn't always fight smart. I think probably to his own fault he would say. Sometimes he just wants to go for the kill so much. And that could be a detriment against Diaz, because if you don't get him out of there, he has that cardio to just wear on you. Leon is that fast-twitch athlete, so if he gets into those later rounds and Nate is still around, I wouldn't be surprised if Nate pulls something out. Leon will have to fight extremely smart.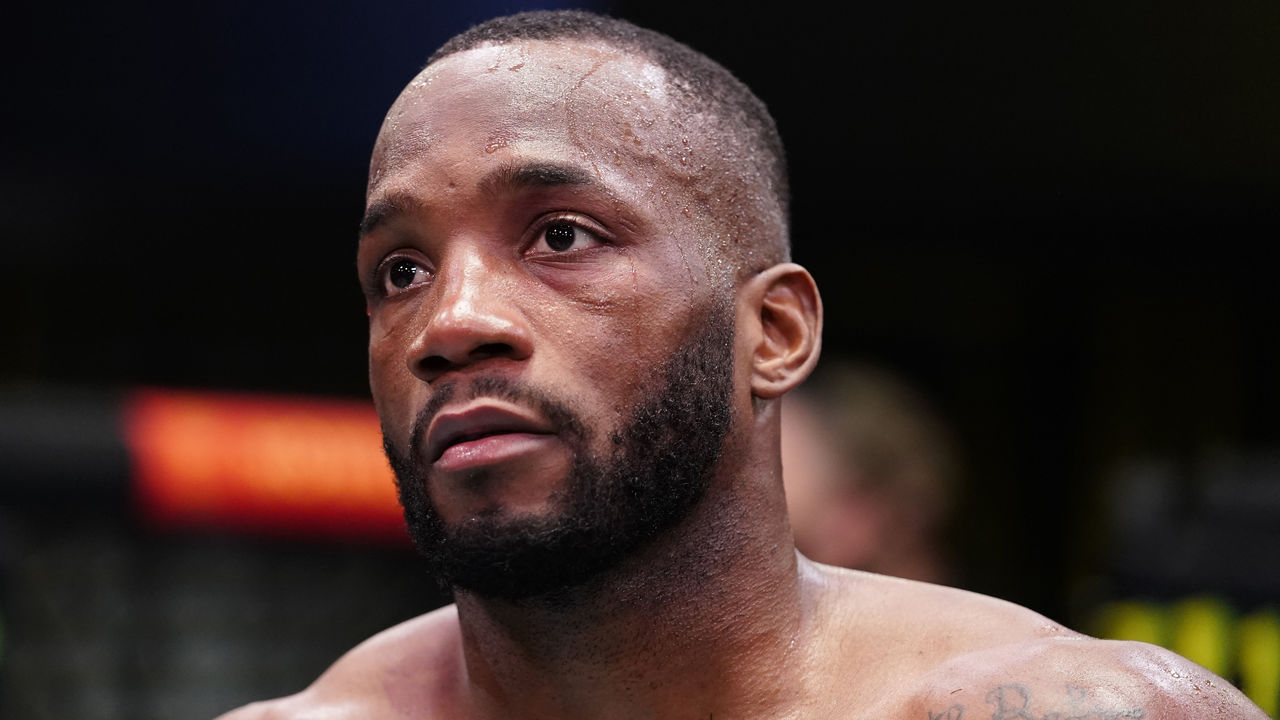 If you were game planning for Diaz, what does he need to do to pull off the upset?
Chartier: I think he has to do what he always does. He has to leverage the volume, stay in his face, dictate the terms, keep Leon on his back heel, keep him reacting to what Nate is doing, and not let him get in the driver's seat. And then hope that you can wear him down when he starts to get tired.
I don't think he can go shot for shot with him. I don't think he's going to be able to rag doll him or anything like that. I really think he just has to use the same approach that he usually uses, which is to dictate the pace, use your volume, try to wear him down a little bit, and then just keep picking him apart and break him down.
Madden: I think the smartest thing that Nate's camp did was agree for this to be a five-round fight. I'm sure that stipulation came from Nate's side of things, and for a good reason. If this was a three-round fight, I think Leon pretty easily cruises to a decision. The way that Nate fights, his pacing in the early rounds, three-round fights just don't favor him. The longer a fight goes, the better he does.
If I'm training Nate for this fight, I'm telling him to still start the same way he normally starts. I would say maybe be a little more defensively responsible in the early rounds. I know that's probably a big ask for the Diaz brothers. But I would ask him to be a little more disciplined early. And then as the fight progresses, especially in the third round, I would be looking for Nate to add more pressure with his boxing and start to close that gap against Leon and look to overwhelm him.
I feel like his best way of winning this fight is by overwhelming Leon later in the fight with some pressure and some volume, forcing Leon maybe to take a bad shot or get out of position, and then catching a submission off a weird scramble or a bad entry by Leon.
Rhodes: If I was Nate's coach, I would try to tell Nate to get in Leon's face early. Leon likes his space, he likes to fight from his range. I would say close that distance on him. Not even to wrestle, but just to get in close. Push Leon, make Leon go on the back foot, and just kind of pressure him. When you're constantly in someone's face, touching their hands, invading their space, that's that striking pressure that can kind of wear on someone mentally and physically. That would be my game plan for him.
As far as on the ground, Nate's jiu-jitsu only comes into play if the other guy wants to wrestle. Nate's not the greatest wrestler. He doesn't really shoot traditional takedowns. He's got some foot sweeps. But if he's on the ground, maybe it's because Leon landed a shot that put Nate down. But Nate is game, he's still in there, and Leon jumps down and tries to finish him, then he could be in some trouble.
Comments
✕
Coaches debate: Does Diaz have a chance vs. Edwards?
  Got something to say? Leave a comment below!