In anticipation of Saturday's UFC 257 main event between lightweight contenders Dustin Poirier and Conor McGregor in Abu Dhabi, United Arab Emirates, theScore asked more than three dozen UFC fighters for their predictions.
(Responses have been lightly edited for clarity)
Alexander Volkanovski, featherweight champion: Conor by knockout, inside two rounds.
Cody Garbrandt, former bantamweight champion: That's a tough one for me. I'm going to say McGregor.
Stephen Thompson, welterweight: I have McGregor winning this one. He looks the best I've seen him, and the guy hasn't stopped training even though he hasn't fought in a while. Of course anything can happen, but I got McGregor.
Gilbert Burns, welterweight: I hope Dustin wins, but I think Conor will get the finish. And the key to this fight relies on where Conor's focus is.
Curtis Blaydes, heavyweight: I'm picking Poirier. I just think he is going to be the more motivated fighter and more willing to dig deep in those fourth and fifth rounds and go to that dark place if need be.
Kelvin Gastelum, middleweight: I'm thinking Conor takes it, but I want to see Dustin get a knockout.
Al Iaquinta, lightweight: I think Conor wins. I think he's got a big brother thing going on with Dustin and a clear mental edge.
Derek Brunson, middleweight: I like what McGregor brings to the table. The best we've seen at hyping and living up to the hype and getting in his opponent's head. But I'm going to go with Poirier for the win. He's been active and motivated. Everyone is counting him out, but not me.
Alex Perez, flyweight: Poirier in the fourth.
Beneil Dariush, lightweight: Hmm. I think McGregor, but I'll pick Poirier.
Jimmie Rivera, bantamweight: That's tough. I got it either way. It's going to be a striking fest.
Lauren Murphy, women's flyweight: I'm cheering for Dustin to pull off an upset. He's got an incredible work ethic and I think he's improved and evolved so much since their last meeting. Also, the fight being at lightweight will be a game-changer. And he's been staying much busier in the cage than Conor over the last four years. He's been fighting the best lightweights and winning. I think the rematch goes Dustin's way.
Ode Osbourne, bantamweight: I think this fight will be great. The first round will probably be a tossup because both fighters are so skilled with their hands. But if Dustin can turn the fight into a brawl the longer the fight goes, he will pull ahead due to the type of fighter he has become. Conor needs to stay on the outside, keep his distance, and avoid going into a brawl. If he can do that and pick his shots, he could knock Poirier out. But I don't think Conor is the same as he once was and Dustin has been on a huge upswing. Two years ago it would have been different and this would have been an even greater matchup, but I'm going to say Dustin is going to put too much pressure on him with his hands eventually and run away with the win.
Belal Muhammad, welterweight: I have Poirier by decision.
Cody Stamann, bantamweight: I honestly believe Conor will pull it off again. I don't know if he will get a first-round knockout like he's predicting, but his footwork is a step above everyone else's in that division. It's hard to get big shots off on him without walking into something big.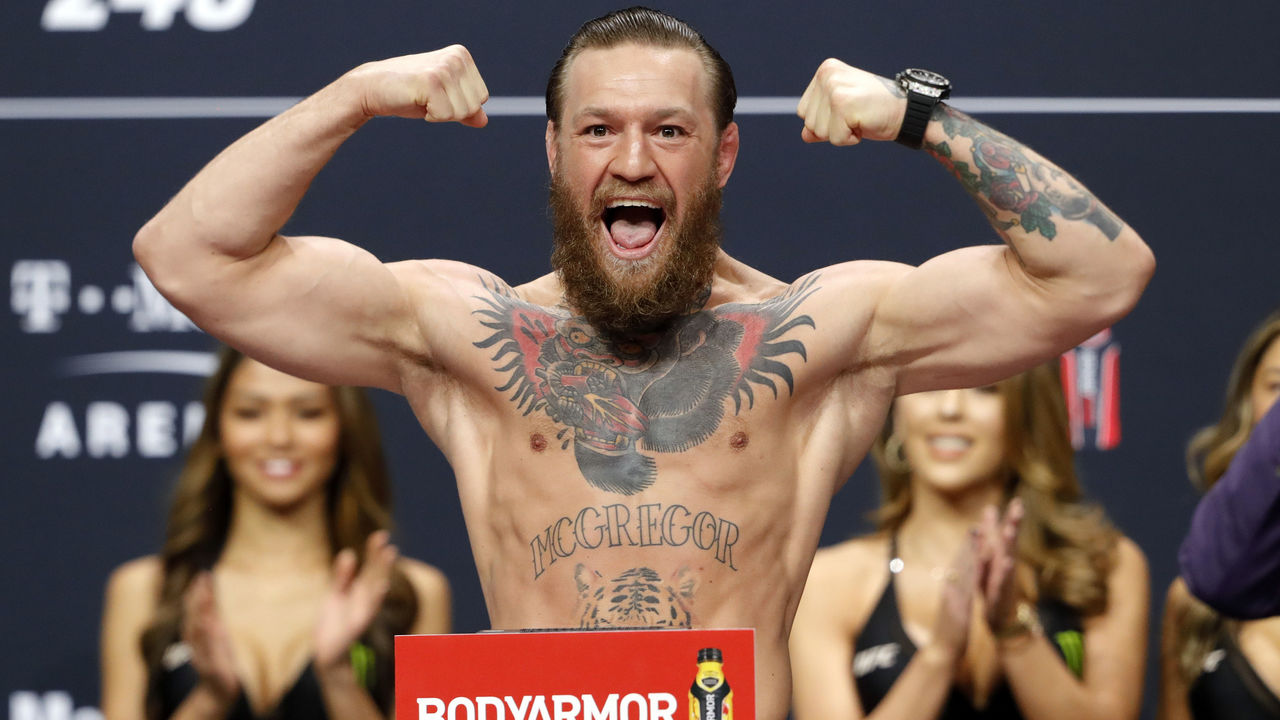 Louis Smolka, bantamweight: McGregor is going to win quickly. Videos of Dustin working out show him still holding his right hand to his chest and looking over it when angles change. Same tendency McGregor exploited last time. McGregor, first-round knockout.
Jake Matthews, welterweight: I believe Poirier will want to show his progression with his striking, but McGregor's volume and pace will wear Poirier down. Unanimous decision win for McGregor.
Casey Kenney, bantamweight: I'm thinking Poirier gets it done in the later rounds.
Peter Barrett, featherweight: McGregor. Landslide victory, finishes Poirier before the championship rounds.
Tristan Connelly, lightweight: Tough one. I think Poirier gets knocked out again, but in Round 2 this time.
Yorgan De Castro, heavyweight: McGregor, first-round knockout.
Christos Giagos, lightweight: McGregor. I've always been a fan and still am. I think he is better.
Bryan Barberena, welterweight: I would love to see Poirier get the win, but I think McGregor is going to catch him.
Jared Gordon, featherweight: Poirier by decision. I just like him more.
Nik Lentz, featherweight: It's a pretty straightforward fight. McGregor has the early advantage and Dustin the late advantage. I know Dustin and hope for him to win.
Mike Rodriguez, light heavyweight: Mystic Mac baby! You pick the round!
Zak Cummings, middleweight: I've been going back and forth. I started feeling strongly about Poirier grinding Conor out, but as we get closer, I think McGregor is too accurate and powerful. Dustin allows himself to get hit too much and that will cause him to get finished by McGregor.
Jesse Ronson, lightweight: Going to be the only guy to say this: Dustin Poirier wins by submission in the third or fourth round.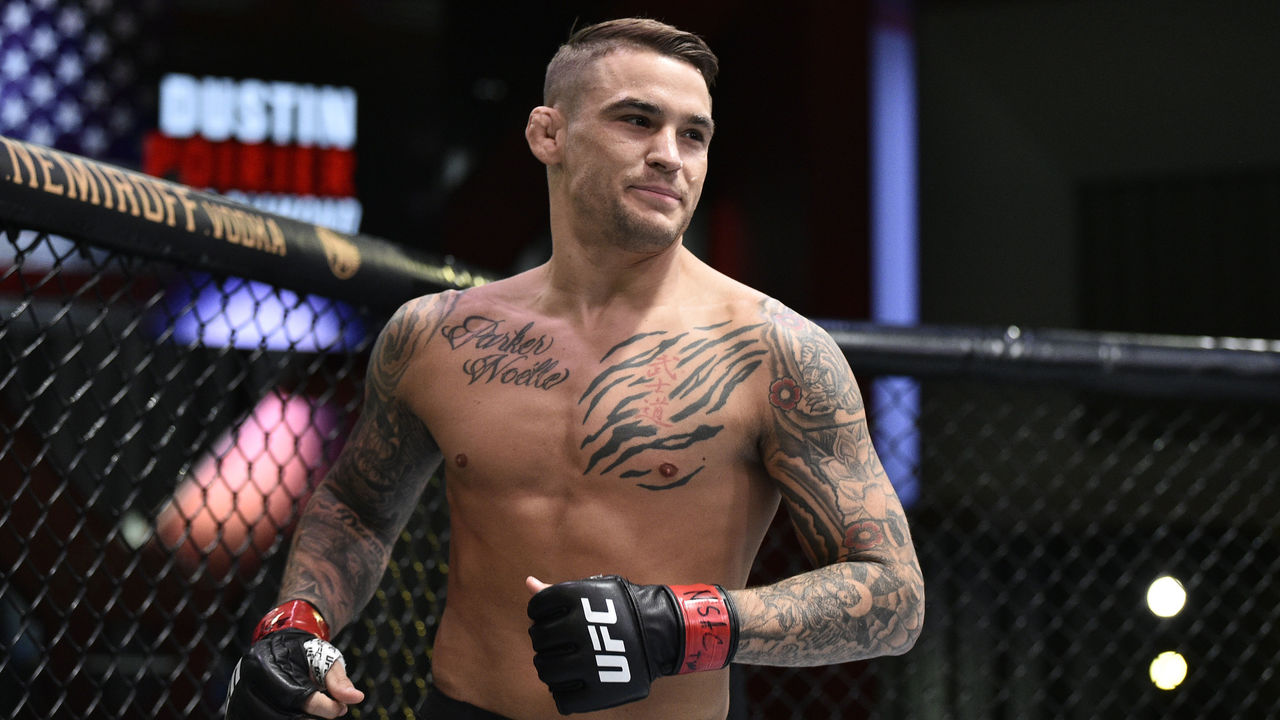 Alexander Hernandez, lightweight: I have McGregor, second-round TKO.
Julian Marquez, middleweight: I have Conor McGregor. If you watch Dan Hooker versus Poirier, Hooker got some good punches in, good licks on Dustin. Even though Dustin won, I don't know if he can handle that power from Conor. That's Conor's bread and butter. He has that crispy, hard right hand, and his solid, slick left hand. I have Conor McGregor inside two-and-a-half rounds.
Sam Alvey, light heavyweight: I think I'm going to take McGregor. If McGregor wins, he is title-shot bound. If Poirier wins, I don't think he gets another title shot. McGregor has more to fight for.
Khama Worthy, lightweight: Poirier by fourth-round submission. But they both should know I'm coming for them.
Max Griffin, welterweight: I have Conor by a second-round finish. Poirier is great, but Conor has that magical X-factor. Mystic Mac for the dub.
Andre Fili, featherweight: McGregor early or Poirier late.
Marc-Andre Barriault, middleweight: For me, I think Conor is going to show us some crazy things as usual. But Poirier will be tough as hell and catch Conor with strong shots. I see McGregor winning by unanimous decision.
Rick Glenn, lightweight: McGregor, first-round knockout.
Darren Stewart, middleweight: Conor will win if he uses his fight IQ, but if he tries to be too aggressive, Dustin might win that fight. But I'm going with Conor anyway.
Tanner Boser, heavyweight: McGregor.
Fighters picking Poirier: 10
Fighters picking McGregor: 25
Fighters undecided: 3