Thompson: UFC 'trying to make me a gatekeeper' with Neal fight
Josh Hedges / UFC / Getty
Editor's note: This piece was originally published on Dec. 3, 2020.
Stephen "Wonderboy" Thompson is set to end the longest layoff of his career when he faces Geoff Neal in the main event of UFC Fight Night on Dec. 19.
The former welterweight title challenger broke both his hands in his last fight - a unanimous decision win over Vicente Luque at UFC 244 in November 2019 - and ended up sitting out the first 11 months of 2020.
Now healthy, Thompson, 37, looks to extend his winning streak to two and work his way back to another title shot. theScore caught up with him to talk about the Neal fight, potential matchups against Khamzat Chimaev and Leon Edwards that didn't materialize, UFC rankings, and more.
theScore: How does it feel to be three weeks away from your next fight after spending over a year on the sidelines?
Thompson: It feels amazing to be honest with you. I have something to focus on and to train for. It feels good. Not just for the body, but for the mind, as well, knowing that I have an opponent, I have a face that I can focus on when I'm training. It just makes me train that much harder. I'm just excited to get back out there for the UFC and for the fans. I've been itching to step back out there and do it again.
theScore: You suffered multiple hand injuries in your last fight against Luque. Is that the only reason you've been out for a year, or was there something else?
Thompson: That's what started it out - the broken hands. Those took forever to heal. I guess just because you don't get a lot of good circulation to your hands. And the older you get obviously, the slower you heal up. It was my hands for a while, trying to make them stronger, being able to make a fist again. And then the pandemic hit. We were looking for a fight. Chris Weidman is in South Carolina now, he had a fight coming up (against Omari Akhmedov on Aug. 8), so I was helping him get ready. He ended up dumping me on my head, and I ended up tearing the cartilage in my collarbone.
theScore: How long have you been fully recovered?
Thompson: Just a few months. But I feel like I'm 100%. And I haven't stopped training, even though I was injured. There's always something that I can do. When my hands were broken, all I did was kicking.
theScore: Is Dec. 19 the earliest you could've returned?
Thompson: I think it's the best timing for me. For me to get back into a full camp and not try to rush anything - and that's the last thing I want to do, rush a camp, and then next thing you know you're out there dying halfway through a fight. I've been there before, and it's not fun. Being out for so long, I just wanted a good camp - an eight-week, nine-week camp.
theScore: Before the Neal fight was announced, there was talk of a potential matchup against Chimaev, but you weren't interested. Was that fight ever offered to you officially? What happened?
Thompson: I think it might've been Khamzat's manager, Ali (Abdelaziz), kind of throwing some stuff out there. I got on Instagram one night and I saw it kind of blew up: "Wonderboy's fighting Khamzat, Wonderboy's fighting Khamzat." They were all foreign media outlets, and I'm like, "What? What is this?" I had no idea what it was, and I called my manager, and they were like, "I have no idea what this is."
So, not really, man, it really wasn't (offered to me). It was just kind of his team trying to get that fight. They were kind of leaking some stuff to the media, saying this thing was actually happening. That's just my theory. But no, not at all.
Even then, it still wouldn't be a fight that I would want. The guy's had one fight at welterweight (in the UFC). One fight. What gives this guy the right to jump over everybody that worked their behinds off to get to where they're at? It just didn't make sense.
theScore: Leon Edwards was another opponent that seemed to be discussed at one point. Were you interested? Was that fight on the table?
Thompson: I definitely wanted that fight. He was kind of saying to everybody on social media, "Everybody at the top is keeping my name out of their mouths." I was like, "Well, dude, I'm here, let's make this thing happen." I kind of jabbed at him a little bit on Twitter in the nicest way possible. He just kind of turned me down: "No, I'm not fighting you. You're ranked No. 5." He was only No. 3, and he said it doesn't make sense. I was like, "What? I'm still in the top five, man. Come on."
And then I guess the UFC kicked him out of the rankings. And maybe for him to be put back in the rankings, they were making him fight Khamzat. That was the gist that I kind of got.
theScore: How do you feel about the UFC having that level of control over its rankings, with Edwards being removed until he agreed to the Chimaev fight?
Thompson: I just think it's a business tactic for the UFC. I think the Fertitta brothers worked really hard when they were in charge to make the rankings a legit thing. But now that the UFC is owned by an entertainment company, it's the bigger, better fight - whatever fight seems the most exciting, what the fans want to see, is the fight they're going for.
At this point, it doesn't look like the rankings really matter anymore. And that kind of stinks, because where do you lie? How do you work your way up then? Do you have to talk crap on social media? I'm not going to do that.
theScore: It almost seems like the UFC can choose to use the rankings to its advantage. That's how much control the promotion has over them.
Thompson: I agree with you there. Like I said, Khamzat has had one fight at welterweight, and now he's ranked No. 15? How does that work?
theScore: And it was against Rhys McKee, a former lightweight who's 0-2 in the UFC.
Thompson: Yeah. It's wild, man. I'm with you. I feel like they shouldn't have that much control over that.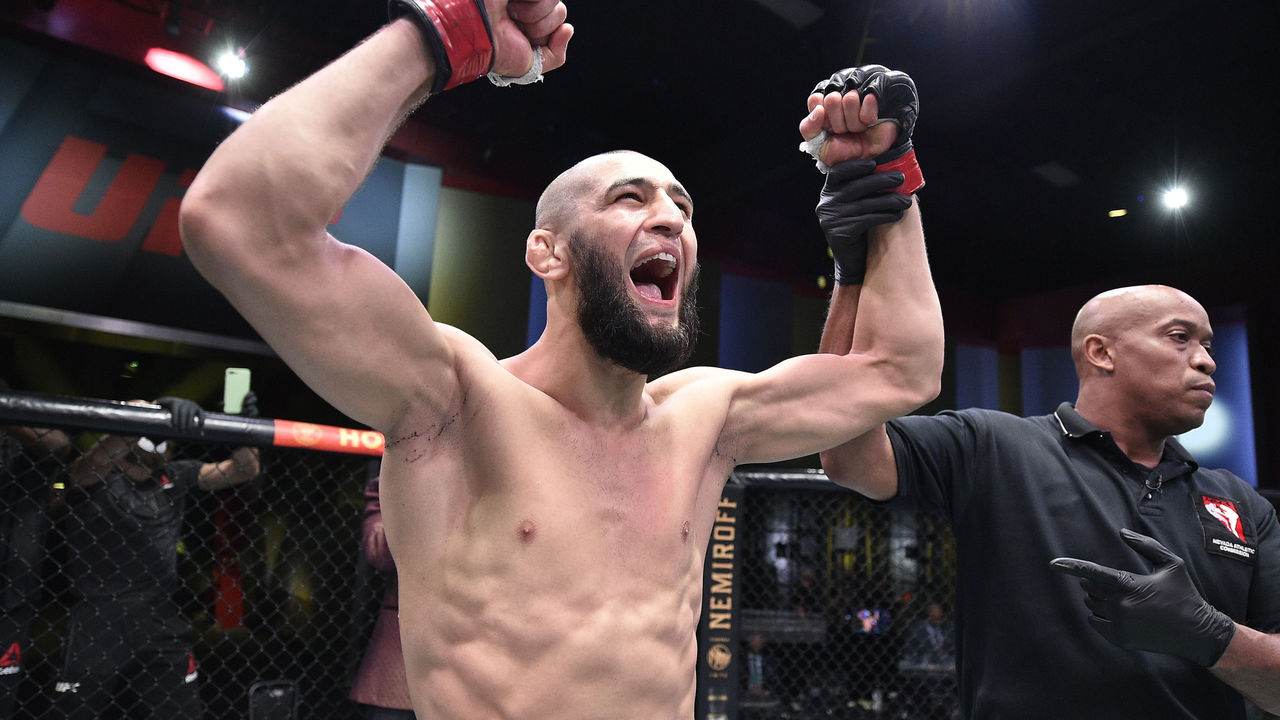 theScore: Let's talk about your upcoming fight. How did you feel about Neal as an opponent when you got the call?
Thompson: At first, I wanted somebody in the top five, but either they were booked or just didn't want to fight. It made sense. The guy's tough. He's on a five-fight winning streak (in the UFC). When I fought Luque, he was on a seven-fight winning streak. (Neal) is tough, he's got knockout power, he's a stand-up fighter. I think he's been really working on his wrestling, so we'll see where the fight goes. I'm prepared for wherever it goes.
But it's awesome knowing that he's a striker. ... He's been knocking dudes out, man, and that's what excites me: to test my ability in the stand-up striking against somebody like him. This matchup definitely puts a smile on my face.
theScore: Neal and Luque are both up-and-coming fighters in the division. Do you see any similarities between this fight and your last one?
Thompson: There are some similarities, for sure. Luque is ranked No. 10, and Neal is No. 11. But I wanted somebody in the top five, because it kind of almost seems like they're trying to make me a gatekeeper - which I'm not. I'm definitely not. I definitely got more in me and want to go for the title. But there are some similarities. Both strikers, both ranked in the same spot, and both tough as nails. Hopefully I don't break my hands on this guy's head this time, or any serious injury, because I know he's tough.
theScore: You raise an interesting point about the UFC wanting to make you a gatekeeper. Why would they want to put you in that position?
Thompson: I don't know. You see it happen time and time again in the UFC. Guys that fought for the title, you have to filter out these top guys, so that way these top guys aren't constantly fighting each other. They got to get these guys who are up-and-coming, undefeated, or on a good winning streak to work their way up.
I was ranked out of the top 10 at one point and I had to work my way in, and Jake Ellenberger was that guy. He was ranked inside the top 10 and I went out there and knocked him out in the first round and worked my way up. I was in Neal's and Luque's shoes. They have to give these guys a chance, and I'm willing to do that.
theScore: Do you think this is the last fight you'll have to take against a prospect before getting another big-name opponent?
Thompson: I hope so. I was trying to get a big name before this fight. But just to get a fight this year, I'm excited about that. I took this fight, and with a good win over Neal, hopefully we'll get somebody in the top five for my next fight. I'm keeping my fingers crossed.
Comments
✕
Thompson: UFC 'trying to make me a gatekeeper' with Neal fight
  Got something to say? Leave a comment below!