In "Split decisions," theScore's Nick Baldwin weighs in on the hottest topics in mixed martial arts.
This week, Conor McGregor versus Dustin Poirier was announced as the UFC 257 main event on Jan. 23.
Valentina Shevchenko defeated Jennifer Maia in her fourth defense of the women's flyweight title at UFC 255.
And Deiveson Figueiredo versus Brandon Moreno was set to headline UFC 256 on Dec. 12.
Let's discuss.
Did UFC drop the ball by making McGregor-Poirier a non-title bout?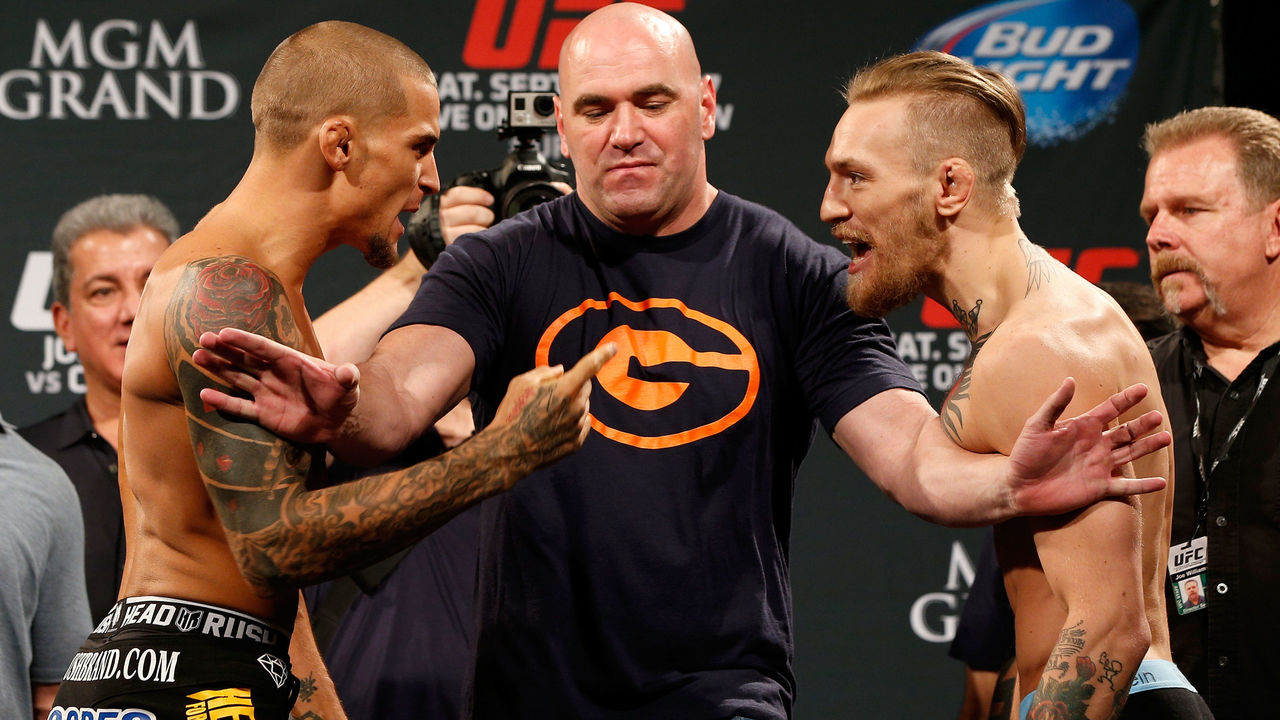 McGregor versus Poirier was the obvious vacant title fight to make following Khabib Nurmagomedov's retirement.
Instead, UFC president Dana White has been clinging onto Nurmagomedov - who remains the lightweight champion - in hopes of him returning. White has said multiple times that he believes Nurmagomedov will fight again, and therefore he won't move forward with the division just yet. But the undefeated Russian continues to double down on his decision and has offered no signs of a comeback.
The 155-pound weight class is the deepest in the sport, and it would be a shame if the UFC holds it up well into 2021 by keeping a retired fighter as the champion. It's time for White and Co. to move on.
It's not as if there are no good options. The UFC should be going crazy over a potential McGregor-Poirier title bout - it's almost too good to be true. McGregor likely wasn't going to win back the lightweight title as long as Nurmagomedov was champion, and now there's a serious possibility that he will. McGregor holding the title is big business for the UFC, and the promotion should've jumped on that opportunity.
Should Nunes, Shevchenko collide in a trilogy bout?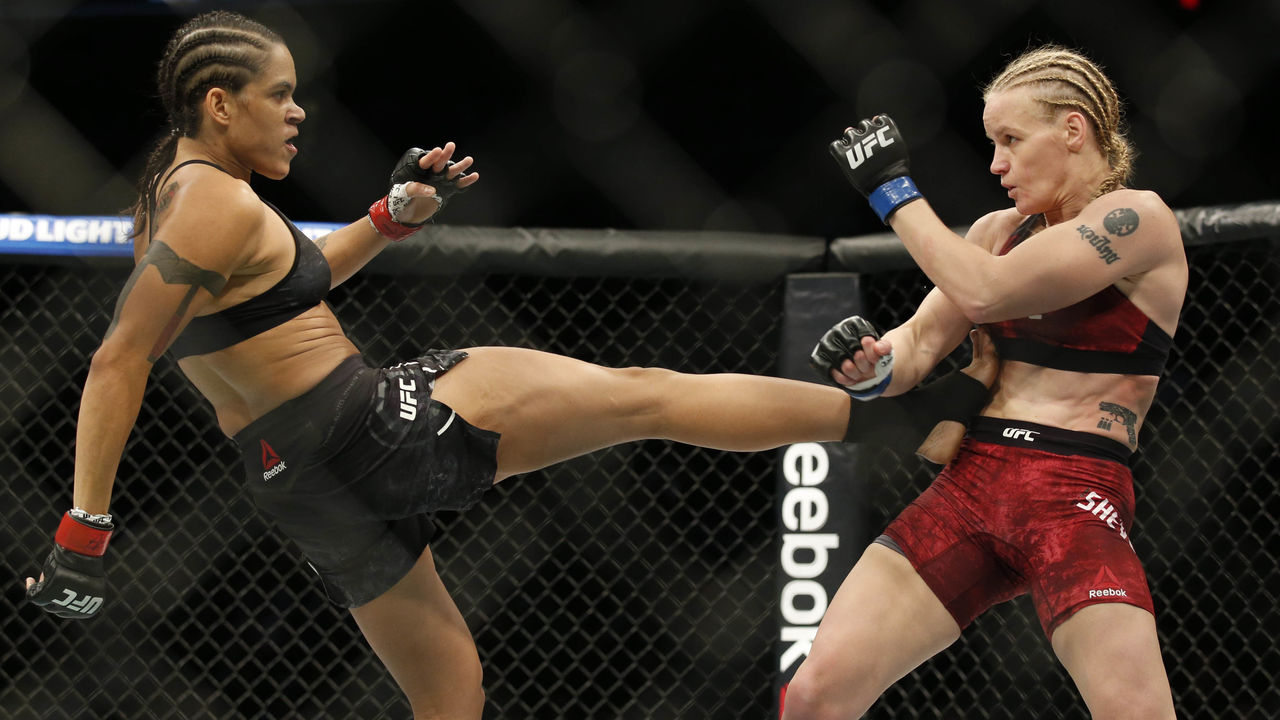 Ever since Shevchenko moved down in weight and won the flyweight title, there's been talk of a potential trilogy fight against Nunes, the women's bantamweight and featherweight champion.
That's because Nunes and Shevchenko are two of the most dominant fighters in the sport today. Nunes has laid waste to the 135-pound division since becoming champion in 2016, taking out challenger after challenger in impressive fashion. Shevchenko, meanwhile, is well on her way to cleaning out the 125-pound weight class.
It's gotten to the point where Shevchenko and Nunes are seemingly the only fighters who can challenge each other. Nunes won their 2017 rematch via split decision, but the 22 media members who submitted their own scorecards to MMADecisions.com were split on the result.
However, there seems to be a lack of interest in the trilogy bout, presumably because the rematch - a tactical yet cautious fight on the feet - wasn't the most entertaining.
Regardless of how a trilogy bout might play out in the Octagon, it's too good on paper to pass up. Nunes and Shevchenko - ranked No. 1 and No. 2 in the women's UFC pound-for-pound list, respectively - are the two titans of women's MMA. This would be a once-in-a-decade superfight.
It may not be the perfect bout because of how their styles appear to match up, but Nunes-Shevchenko 3 is significantly more intriguing than any title defense for either champion.
How could UFC 256 be improved?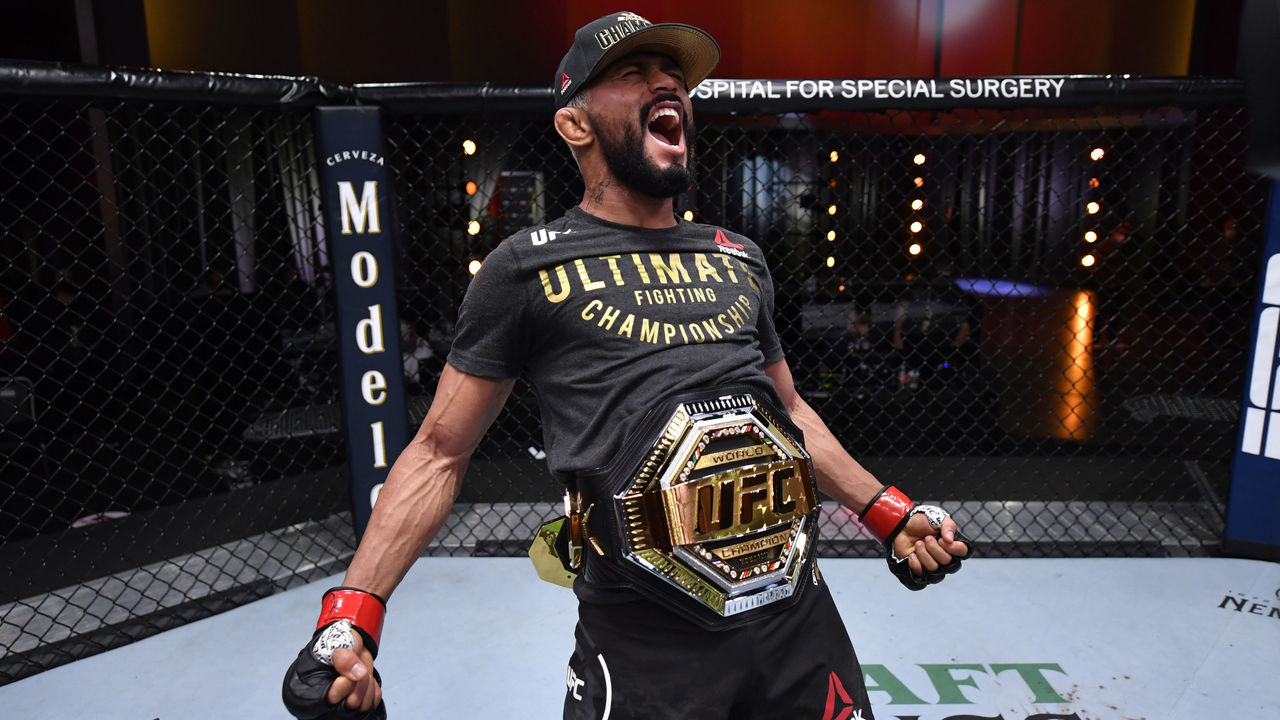 UFC 256 on Dec. 12 isn't the blockbuster pay-per-view we're used to seeing at the end of every year.
In addition to the Figueiredo-Moreno flyweight title bout, former interim lightweight champion Tony Ferguson will face Charles Oliveira in the newly added co-headliner.
These are solid matchups, but the main event doesn't carry the same magnitude of recent year-end headliners such as Nunes versus Ronda Rousey, Jon Jones versus Alexander Gustafsson 2, or Kamaru Usman versus Colby Covington.
Of course, it's important to recognize that UFC 256 has lost three main events: Usman versus Gilbert Burns, Nunes against Megan Anderson, and, most recently, Petr Yan versus Aljamain Sterling.
But there are still ways to make the card better. The Fight Night event on Dec. 19 is loaded with exciting matchups, and the UFC could take from that lineup to improve the pay-per-view show, which should be prioritized.
People are going to tune in to the Fight Night card regardless because it's headlined by a highly anticipated welterweight clash between Leon Edwards and Khamzat Chimaev. Moving the Stephen Thompson-Geoff Neal, Marlon Moraes-Rob Font, and Jose Aldo-Marlon Vera bouts to Dec. 12 while keeping Figueiredo-Moreno and Ferguson-Oliveira would make for a great pay-per-view card, even if it's still lacking a marquee headliner.
That would leave the Dec. 19 event with Edwards-Chimaev, Greg Hardy's next fight, a banger of a welterweight matchup between Michel Pereira and Khaos Williams, and some other fun matchups. If the UFC wanted to add a bit more name value, it could move either Junior dos Santos-Ciryl Gane or Ronaldo Souza-Marvin Vettori to Dec. 19.
Will any of this happen? Probably not. But as it stands right now, the December Fight Night is better than the December pay-per-view. And that's definitely an avoidable scenario.