In anticipation of Saturday's UFC 254 main event between lightweight champion Khabib Nurmagomedov and interim champ Justin Gaethje in Abu Dhabi, United Arab Emirates, theScore collected predictions from nearly two-dozen UFC fighters.
(Responses have been lightly edited for clarity)
Stephen Thompson, welterweight: I think it's gonna be a very tough fight, but it's kind of hard to pick against somebody that's only lost one round their entire career, which is Khabib. Everybody's talking about Justin's takedown defense and his wrestling but I don't think it's going to help him too much versus Khabib. His advantage is definitely gonna be the stand-up. I don't think Khabib has fought anybody as aggressive and tough as Justin. I think Khabib will win it but an upset could definitely be possible.
Curtis Blaydes, heavyweight and Gaethje's teammate: I'm gonna pick Gaethje, obviously. Not only because he works out with Team Elevation, but because I've seen him up close, I've seen a lot of his rounds. I know he's got the cardio to get up if he has to, and I know he's got the wrestling to defend takedowns. I'm not predicting he's going to be able to defend all of the takedowns, but the majority of them. And the ones that he isn't able to defend, I think he has the ability to get up.
For a guy like Gaethje, all he needs is one opening, and I think it can change the whole fight. He rocks Khabib once, I think he puts him to sleep. I think he can put him away in the later rounds. Maybe the fourth round.
Cody Garbrandt, former bantamweight champion: I feel like whoever is willing to die in there that night will be the victor!
Gilbert Burns, welterweight: Got Khabib by domination again.
Santiago Ponzinibbio, welterweight: I think Khabib and Justin Gaethje is a great fight. Everybody is talking about Justin Gaethje having good wrestling, and for this reason, he can defend Khabib's takedowns. But in my opinion, he is a very frontal fighter. He goes forward. His punches are very strong, but he goes forward. He doesn't move. He doesn't have footwork. He doesn't fight at a distance and move around. He only goes forward, takes punches, and gives punches - heavy punches.
He's a tough guy, but I think this style won't work with Khabib. If you go in front of him, Khabib will switch levels and take you down. This is the fight I imagine happening. Khabib going to work on the wrestling, putting in good takedowns, and getting Gaethje to the floor. I think Khabib will win the fight. I can't see Justin Gaethje knocking him out.
Vicente Luque, welterweight: No doubt Khabib is the favorite. I think he's going to get that win. But I think it's going to be much closer than people anticipate. Gaethje can surprise everybody and get a win. Gaethje's wrestling is something that really can complicate for things for Khabib if Khabib cannot get the fight down, especially in the early rounds. And Gaethje has power in his hands through the whole fight, so he could get a knockout even in the fifth round. So, that's something that could surprise Khabib and maybe get the win for Justin. But it's hard to go against the favorite. I think he's going to get the win, but it's not going to be an easy fight. It wouldn't surprise me if Justin got the win.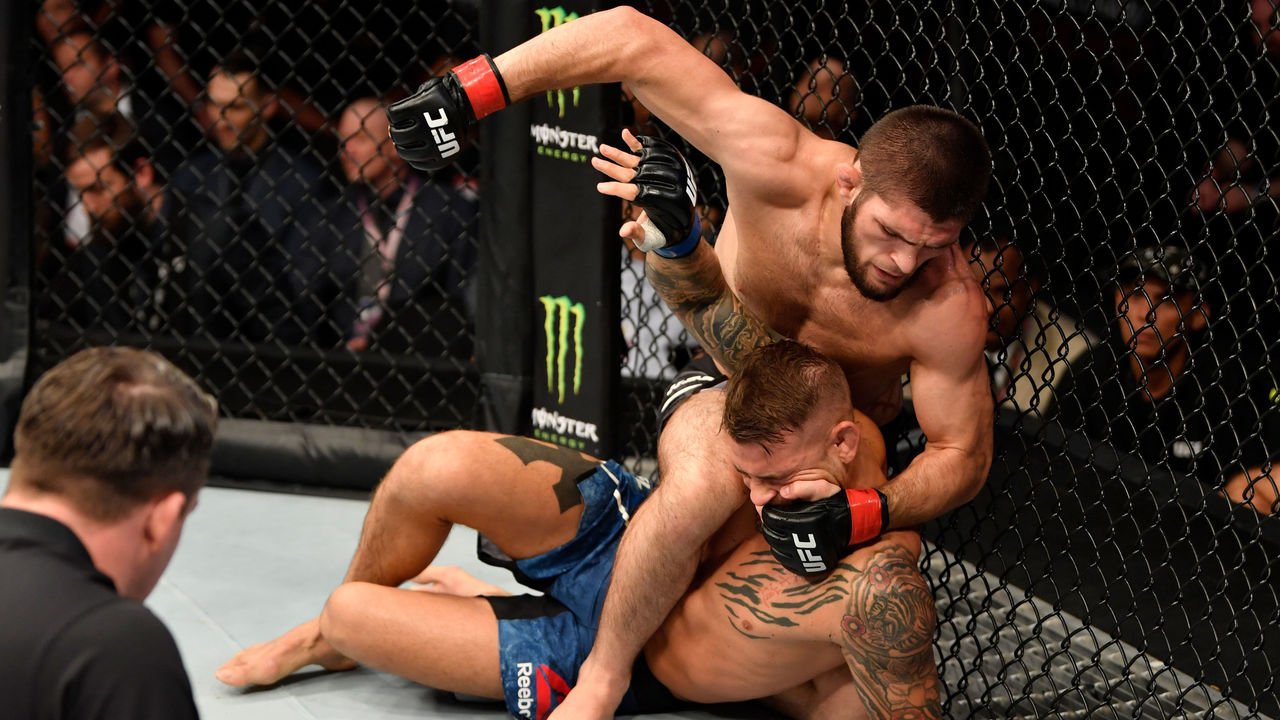 Beneil Dariush, lightweight: Gaethje, second-round KO.
Jimmie Rivera, bantamweight: Man, I don't know. Either man could win. If Justin can stop the takedowns, I think he wins. If Khabib can get him down, then Khabib wins. It's a tough one.
Marlon Vera, bantamweight: Justin stops him.
Cody Stamann, bantamweight: Two other times I bet against Khabib thinking that someone with great striking and good takedown defense would be able to nullify his top position, and both times I lost money. Conor McGregor and Dustin Poirier. Why not make it three! Justin might have the best takedown defense out of all of them, but it's hard to know because no one really shoots on him. Regardless, I think his striking and pressure will be something Khabib has not seen yet in the cage. I think Gaethje will win this fight via decision. But it's a long shot.
Zak Cummings, middleweight: Damn, I've been running with Gaethje this whole time. Not changing it now. He's the best wrestler Khabib has faced with tons of power. I truly think Khabib is one of the best fighters to ever do it but I think Gaethje catches him.
Sam Alvey, light heavyweight: I'm taking Justin. He is an incredible wrestler who might be able to stop Khabib's takedowns. And his hands are far better than Khabib's.
Eryk Anders, middleweight: Going with the underdog.
Christos Giagos, lightweight: I say Khabib will just have too much pressure and grind out a decision.
Jesse Ronson, lightweight: I think Justin late. End of the third or fourth round by TKO. He's tough and can take the abuse and is apparently a great wrestler. Khabib won't break him. Justin will come in in great shape and bring it to him and clip him.
Andre Fili, featherweight: I don't know honestly. I think Gaethje has a better style to win than almost anyone else, but it's hard to bet against Khabib. Gonna be a fun one.
Alexander Hernandez, lightweight: Gaethje, fourth-round TKO.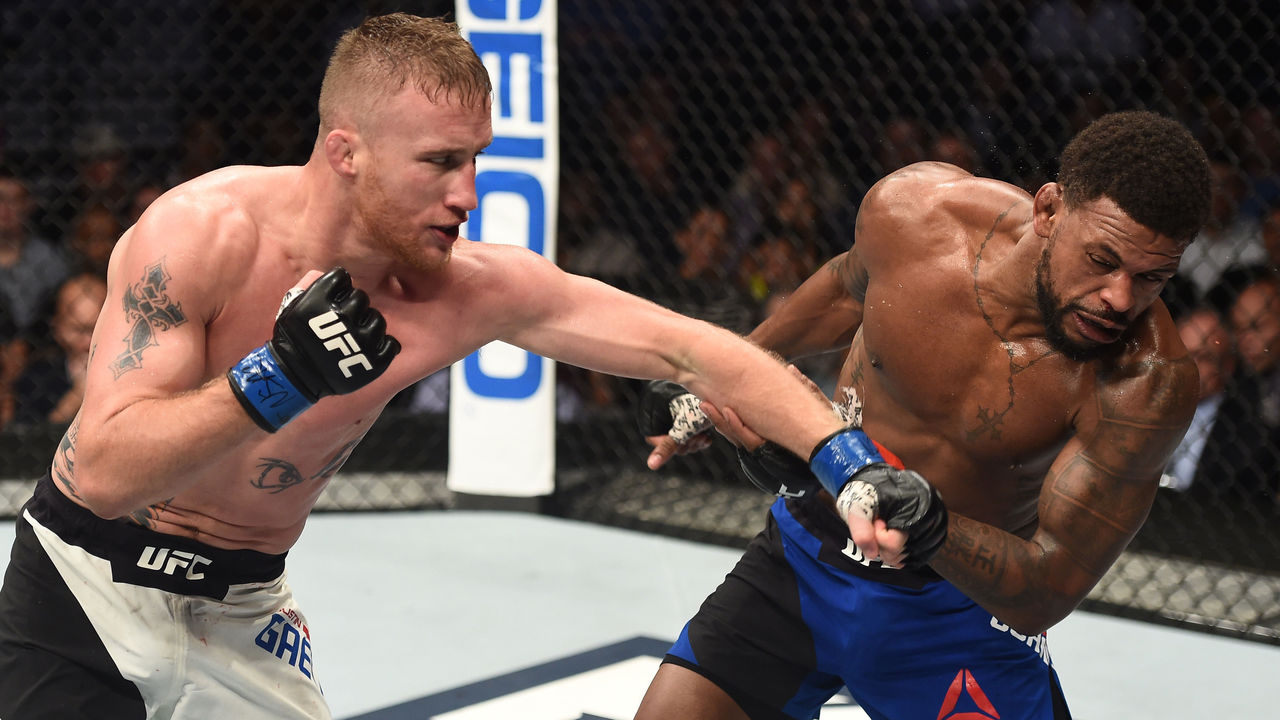 Ode Osbourne, bantamweight: Khabib versus Gaethje is a great matchup. Both are built like a brick house. Justin is a hard person to take down and hold down. I think if he can keep the fight standing, the fight is his, but the only downside to that is that Khabib only has to worry about the threat of his stand-up. If Khabib mixes in his striking with his wrestling and keeps Gaethje on his toes, Khabib will win. It's difficult when you have to worry about someone's striking and their takedowns. It's not a matter of if Khabib is going to take Gaethje down, it's whether Gaethje can get back up against someone with as much force as Khabib.
Gaethje has a lot of power, and one solid connection could be it for Khabib. This fight will be about who wants it more and I'm going to say with Khabib's father passing recently, he has a little more of a mental edge. The fight could go either way but I'm going to say Khabib will take it.
Tanner Boser, heavyweight: Choosing against Khabib is kind of an exercise in futility at this point. The guy's 28-0. That's definitely the smart pick. But Justin Gaethje hasn't shown any sort of susceptibility to being controlled grappling-wise. And he's tough as nails and he throws bombs. I think it's his time to shine. I realize Khabib's probably the smart pick, but I'm leaning toward Gaethje.
Ian Heinisch, middleweight: Justin by KO. Colorado boys all the way.
Max Griffin, welterweight: I'm taking Gaethje. I believe he can keep it in the center of the Octagon and away from the cage, forcing Khabib to strike. And his takedown defense will be great if necessary. I got Gaethje by second-round KO.
Tristan Connelly, lightweight: Gonna say Khabib but my heart is pulling for Justin.
Peter Barrett, featherweight: Gaethje by sheer heart.
Fighters picking Nurmagomedov: 7
Fighters picking Gaethje: 13
Fighters undecided: 3