Khabib Nurmagomedov is well on his way to becoming the most dominant fighter in MMA history. The UFC lightweight champion owns a 28-0 record, has lost only one round in his career, and has virtually never been in trouble during a fight.
Everyone who faces Nurmagomedov knows what he's going to do, but no one has been able to stop him. He takes you down and then he suffocates you, leaving you no choice but to tap out, or the referee no choice but to intervene. Nurmagomedov is one of the only fighters in modern MMA who has found success excelling in one area.
You could argue Nurmagomedov has done more than succeed: He's the UFC's No. 2-ranked pound-for-pound fighter, and many of his bouts aren't even contests.
But on Saturday in Abu Dhabi, United Arab Emirates, Nurmagomedov will put his belt on the line against a man who many pundits believe has the best chance at pulling off the upset and uprooting the 155-pound division: interim champion Justin Gaethje.
"I think this is gonna be Khabib's toughest challenge by far," Xtreme Couture head coach Eric Nicksick said.
theScore spoke to three other coaches - Fortis MMA's Sayif Saud, Glory MMA & Fitness' James Krause, and New England Cartel's Tyson Chartier - who agree with Nicksick: If anyone can do the unthinkable and beat Nurmagomedov, it's Gaethje.
"I think the Justin Gaethje we saw in his past two fights with 'Cowboy' (Donald Cerrone) and Tony Ferguson, he's turned a corner as far as his fight IQ goes," said Nicksick, who trains the likes of Francis Ngannou and Dan Ige. "He's not this crazy, wild brawler. He's very calculated, and he's efficient in his striking."
Krause, who's also a UFC welterweight, thinks Gaethje's open-mat takedown defense, pressure, and power make him Nurmagomedov's biggest challenge.
Though Gaethje is best known to the MMA world as a striker, he's a former NCAA Division I All-American collegiate wrestler. That background will likely help against Nurmagomedov.
"Khabib's open-mat shot is not what wins him fights," Krause said. "His wrestling on the cage is what wins him fights. With Justin, he typically marches out to the middle, and he's hard to push back. You're gonna have to take a nice, open-mat shot. And if you reference his fight with Al Iaquinta, Khabib couldn't take Al down in Rounds 4 and 5 in the open mat."
When discussing Gaethje's chances to stay standing, Saud - who trains Geoff Neal, Uriah Hall, and Diego Ferreira, among others - also pointed to Nurmagomedov's April 2018 title win over Iaquinta.
"In the Al Iaquinta fight, sometimes Khabib shoots in the middle of the cage, and it's not super explosive," Saud said. "But against the fence, you've really never seen anybody stop that. The issue is, can Gaethje touch Khabib faster than Khabib can wear him out, and start taking him down and grinding him out? The fight really comes down to that question."
Though Saud considers Gaethje to be a challenging opponent for Nurmagomedov, he thinks the interim titleholder and Dustin Poirier are "equally as dangerous" against Nurmagomedov. That may not be a good sign for Gaethje, as Nurmagomedov submitted Poirier with relative ease at UFC 242 in September 2019.
"I think Dustin Poirier is unbelievable, so talented. And look at what Khabib did to him," Saud said. "You don't want to ever start thinking you know exactly what's going to happen. MMA math doesn't always work. I thought Dustin was going to do a whole lot better than he did, honestly."
Chartier, who trains the likes of Calvin Kattar and Rob Font, said the fight will come down to who controls the cage. If Gaethje takes the center of the Octagon, pressures Nurmagomedov, and forces him to panic wrestle, there's a good chance he'll be able to defend Nurmagomedov's takedown attempts.
Chartier believes Nurmagomedov's style will start to get less effective sooner rather than later.
"Five years ago, no one had ever seen Dagestani-style wrestling in MMA," Chartier said. "The whole Dagestani handcuff and all that stuff, it was so new to everybody. No one knew how to handle it. If you go back to the Michael Johnson fight, you saw he got put in that position, and it was so foreign to him. He was like, 'What is this?' Now, you see Khabib get people in that position and they get out."
Gaethje's toughness and endurance also make him a difficult matchup for Nurmagomedov, according to Nicksick.
"I don't see (Gaethje) getting broken," Nicksick said. "Let's say Khabib gets him down in the first two rounds, and then (Gaethje) starts to have some success with defending that takedown. Gaethje's still gonna be there. He's still gonna be there with power, and he's still gonna be there with accuracy."
Gaethje has one of the best leg kicks in MMA. In one of many instances, he used them against Edson Barboza before knocking him out in the first round in March 2019. Krause sees that as a weapon that could negate Nurmagomedov's wrestling attacks. Saud and Nicksick also believe Gaethje should use the low kick.
"It's hard to pressure somebody if you're getting your leg beat up," Krause said.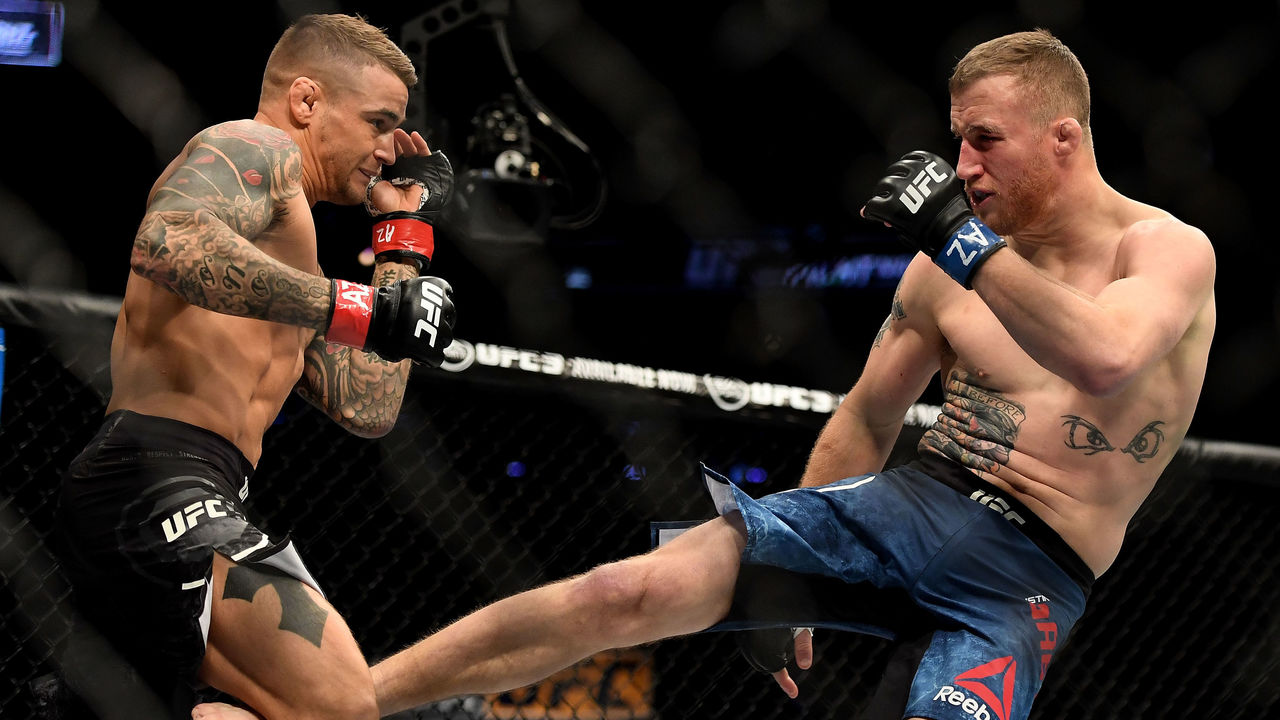 We know what Gaethje brings to the table. His wrestling background, pressure, power, and low kick are all worth taking into consideration when weighing his chances against Nurmagomedov.
But Gaethje will still need to execute the perfect game plan to pull off the upset.
"I think you have to feint a lot," Chartier said. "Khabib reacts to feints and he knows Gaethje is tough on the feet. When you know someone is a good striker and you don't necessarily want to be on the feet with them, you're going to overreact to feints."
Chartier said it's crucial for Gaethje to be first, and also for him to throw multiple attacks in a row. A four-strike combination will give him a better chance of hitting and potentially hurting Nurmagomedov than a single punch.
Chartier also believes Gaethje can gain momentum if he establishes cage control, makes Nurmagomedov panic wrestle, and blocks his first shot.
"If they panic wrestle again, that's the second shot, and now you're starting to snowball it," Chartier said. "That's when they start to get anxious and they're gonna get more tired."
However, Gaethje will need to stay calm in those situations or he'll get into trouble, Chartier warns.
"If you come forward and you try to knock Khabib out with a big overhand right or a big looping hook, he's gonna shoot under it, and now you're grappling," he said.
Instead, Chartier believes Gaethje should look to throw "half-jabs" to make Nurmagomedov react.
"Every now and then, you change the tempo and sprinkle in a big power shot," Chartier said.
Nicksick suggested Gaethje avoid kicks and knees to Nurmagomedov's body since that could give the champion an opportunity to score an easy takedown. He said Gaethje should try to push Nurmagomedov toward the fence, which could force him to get front-foot heavy and overthrow on a cross. Then, Gaethje could capitalize with a counterpunch or a low kick.
Nicksick also echoed what Chartier said, stressing that Gaethje needs to be patient and not overthrow on a strike, or else he'll find himself on the bottom of Nurmagomedov.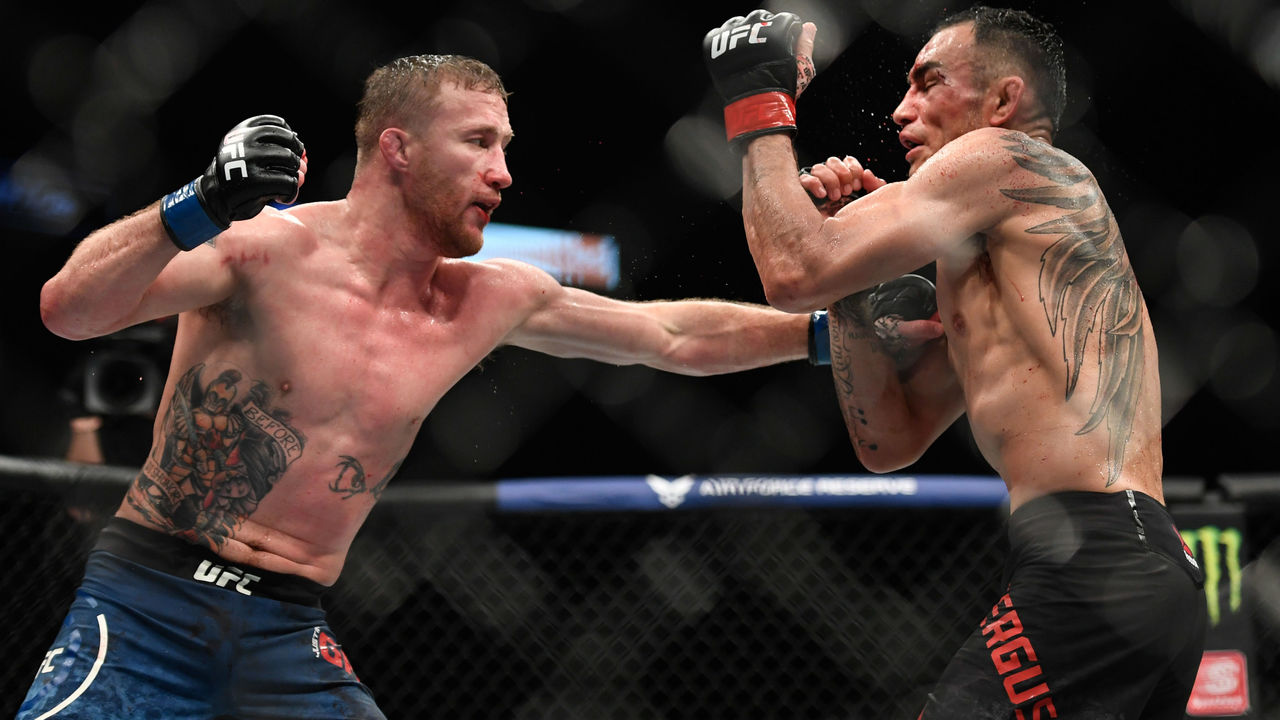 But what if Gaethje shoots on Nurmagomedov? Based on Nurmagomedov's elite ground game, you would think that's Gaethje asking for trouble. But Nicksick isn't so sure.
"It's a calculated risk, and I absolutely love that mentality," Nicksick said. "I've seen that guy, where you have this accomplished wrestler, and they're so top-heavy dominant, how often are they working off of their back? Very rarely. Very, very rarely."
But Nicksick would only go for a takedown on Nurmagomedov late in the round, so if it does backfire, you're only on the bottom for a few seconds.
"Let's say Gaethje scores a takedown with about 30 seconds left in a round. It would keep Khabib guessing," Nicksick said. "You go, 'Oh, shit, maybe this guy is looking to take me down?' Your lead hand starts to drop to look to under hook. And now the other guy is setting up his power right hand, and he has a clear path to your chin."
Krause and Chartier would avoid shooting on Nurmagomedov if they were Gaethje.
"You give (Nurmagomedov) a free pass to the fence game," Chartier said.
At the end of the day, it's tough to pick against Nurmagomedov. He's undefeated for a reason. He hasn't been hurt during a fight for a reason. He's one of the most talented fighters in UFC history.
However, Saud can't help but believe in Gaethje after his "master-class performance" against Ferguson.
"I think it's 60-40 (in favor of Nurmagomedov), honestly, or 65-35," Saud said. "I think Gaethje has a great chance."
Krause agrees with Saud, pinpointing it as a 60-40 fight. His biggest concern is we haven't seen Gaethje off his back. If Nurmagomedov takes him down - which will probably happen at some point - what will Gaethje do and how will he react?
Nicksick and Chartier are even more confident in Gaethje's chances, deeming his title fight with Nurmagomedov "50-50."
"Has Khabib shown us anything at all to make us feel like he's not going to win this fight?" Nicksick asked. "No, man, this guy's a machine. So, if he went in there and took him down and beat him up for five rounds, would any of us be surprised? No.
"But I think with a game plan and the time that he's had to understand Khabib's game - you have a mastermind in (trainer) Trevor Wittman behind him - I feel like he's going to set some good traps for Khabib to walk into. ... I think he can put Khabib's lights out."