Stipe Miocic will defend his heavyweight title against Daniel Cormier in a trilogy bout in Saturday's UFC 252 main event at the UFC Apex in Las Vegas.
Here are five key questions heading into the pay-per-view event.
How will the rubber match compare to the first two fights?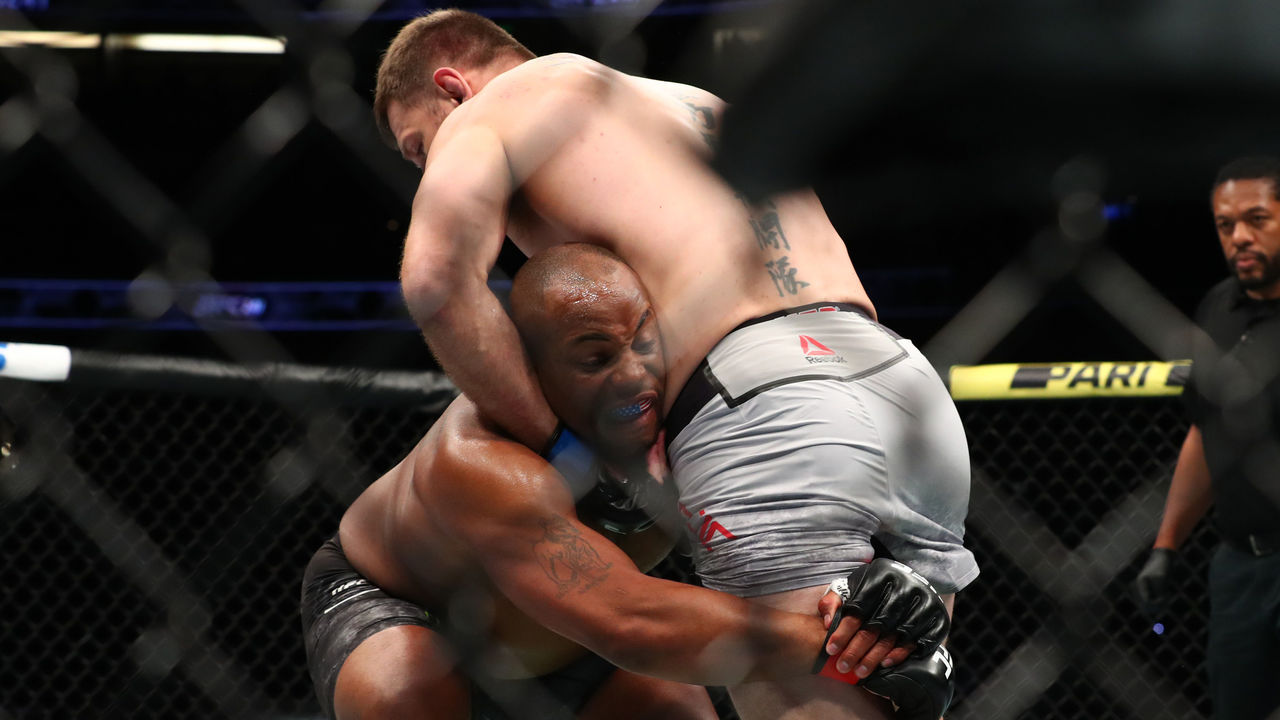 Miocic-Cormier 3 will likely look a lot different than both of the previous encounters; Cormier won in 2018 via first-round knockout and Miocic won in 2019 via fourth-round TKO.
If I had to pick which of their fights the trilogy bout will resemble more, it'd be the rematch. Cormier could stun the champion early again, but that's not the most realistic outcome. Miocic generally has a solid chin, proving in the rematch that he can absorb much of Cormier's punishment.
However, Cormier has vowed to wrestle more in the trilogy bout, and I believe he will. That's easily his best path to victory against Miocic, as "DC" is one of the greatest wrestlers the UFC has ever seen. He took Miocic down in the first round in 2019 and Miocic couldn't do much to get back to his feet. But Cormier barely shot for another takedown in the later rounds. That might've cost him, and he's probably learned from his mistakes.
Is that to say Miocic won't - or can't - win? Not at all. He absolutely could retain his belt if he manages to defend Cormier's takedown attempts and strike from the outside. This is guaranteed to be a close fight. But there are too many variables at play - including the UFC Apex's smaller cage - to make me think it'll look at all similar to the first two meetings.
Will this bout determine the greatest heavyweight in UFC history?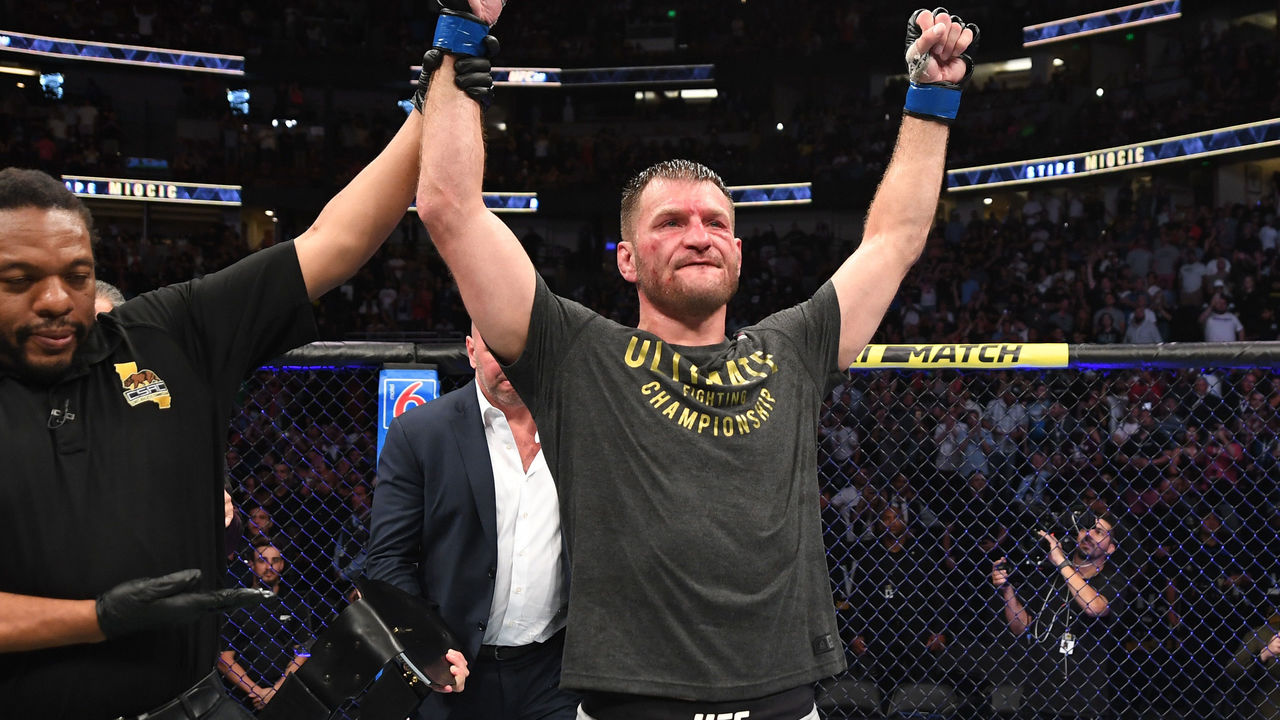 This is tricky.
If Miocic wins, he'll break the record for most heavyweight title defenses in company history (4), and it'd be tough to deny him as the greatest UFC heavyweight ever. No one would have a better case: two wins over Cormier, a former two-division champion; finishes of Fabricio Werdum, Junior dos Santos, and Alistair Overeem; and a dominant performance over Francis Ngannou. That's not including Miocic's knockout of Andrei Arlovski during the height of Arlovski's career resurgence, or his destruction of Mark Hunt, both of which occurred prior to Miocic's first title run.
The debate gets a lot more interesting if Cormier reclaims the heavyweight title. And really, there may not be a right answer. Nine of Cormier's 14 Octagon bouts have taken place in the light heavyweight division. His heavyweight wins in the UFC include stoppages of Miocic and Derrick Lewis, as well as decisions over Frank Mir and Roy Nelson.
Let's be honest: The Miocic win was great, and adding a second one to Cormier's record would be tremendous, but that doesn't sound like a GOAT resume to me. Here's the catch, though: Would you be able to call Miocic the best UFC heavyweight ever if he loses to Cormier again? I don't think so. Miocic and Cormier are from the same era; it's not as if Miocic is past his prime and Cormier simply caught him at the right time.
So, should Cormier defeat Miocic on Saturday, I'd ever so slightly lean toward Cormier being the greatest UFC heavyweight of all time. You earn that title if you twice beat the person who'd otherwise be the GOAT. Would it be a landslide in Cormier's favor? No. Would Fedor Emelianenko still be the greatest MMA heavyweight of all time? Yes.
Is this really Cormier's last fight?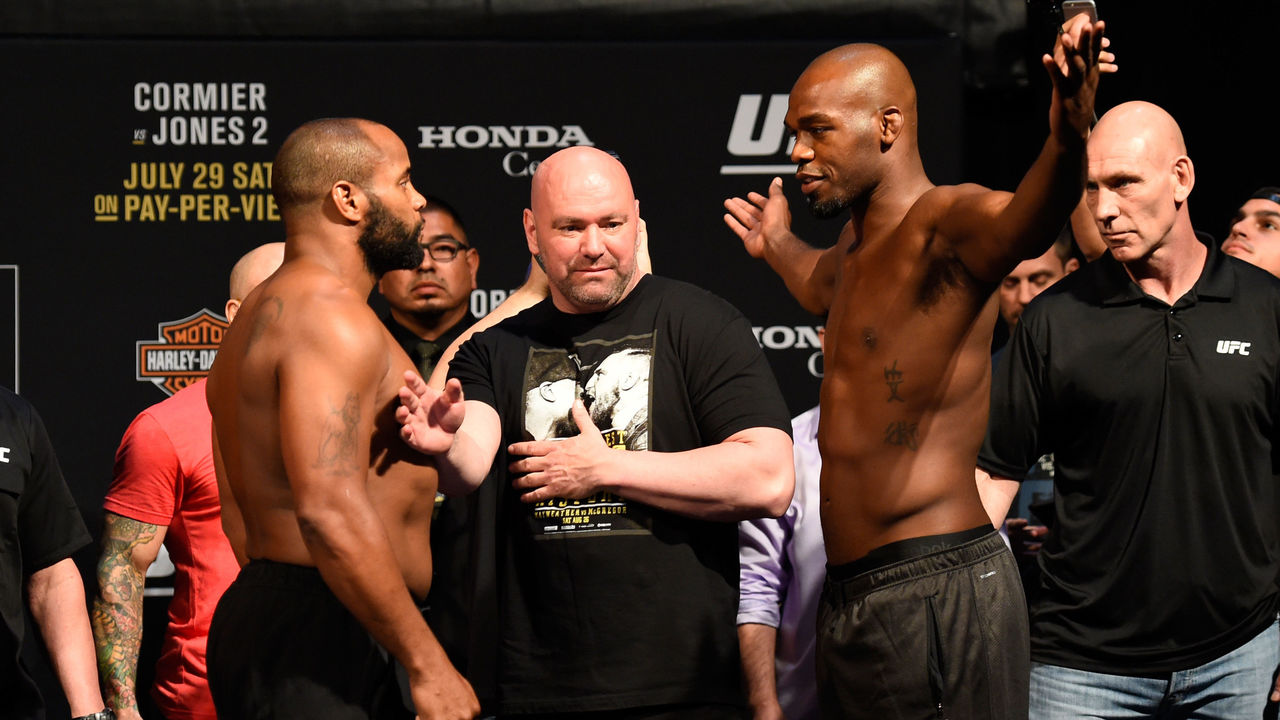 It's been well-documented leading up to UFC 252 that Cormier plans to retire after the trilogy bout against Miocic - win or lose. But as with any MMA retirement, there's been some skepticism. After all, this is the man who initially said he would walk away from the sport after his 40th birthday in March 2019.
I want to believe Cormier, and I mostly do. If he loses to Miocic, that'll be it for the 41-year-old. While it wouldn't be the ideal end to his career, there wouldn't be anything else for Cormier to do at that point. If he beats Miocic and becomes a three-time UFC champion, it'd be the perfect way to ride off into the sunset and turn to the next chapter in his life. But that's where I start to hesitate.
Even if Cormier truly believes that he'll retire off a win over Miocic, it wouldn't be surprising if "DC" gets suckered into taking one more fight.
Why?
Because Jon Jones is still out there, and the light heavyweight champion is looking for an opponent that would force the UFC to pay up. If it isn't obvious, Cormier fits that bill.
Jones and Cormier had one of the UFC's all-time greatest rivalries back in the day. Jones won both fights - although the second was overturned to a no-contest due to Jones' failed drug test - but a trilogy bout would still be intriguing if it takes place at heavyweight. The first two fights were at 205 pounds, and Cormier seems to be better in the heavier weight class.
If the UFC waves a fat stack of cash in front of "DC," could he really resist the opportunity to defeat his archnemesis once and for all? I'm not so sure.
Will O'Malley be a star after UFC 252?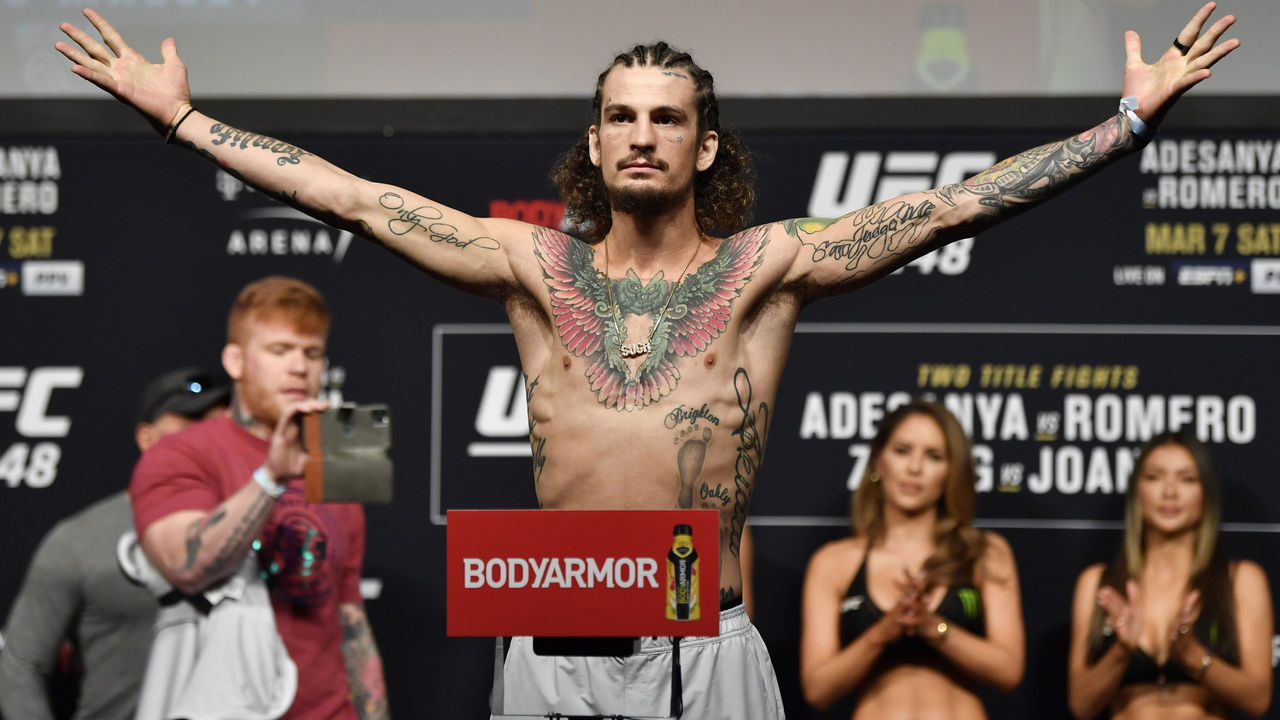 One of the UFC's hottest prospects is set to take another leap toward stardom.
Bantamweight Sean O'Malley will meet Marlon Vera in the UFC 252 co-headliner. This is a huge opportunity for "Sugar" to make his name even bigger than it already is.
The event should sell well since Miocic-Cormier 3 is arguably the biggest heavyweight bout in UFC history. That means O'Malley will have more eyes on him than ever before, as he's in a prime spot on the card. The UFC clearly sees something special in him, or else he wouldn't have been given co-main event status ahead of the likes of former UFC champion Dos Santos and Jairzinho Rozenstruik. If O'Malley performs to the best of his ability, the 25-year-old's fan interest would likely skyrocket.
A victory would also further cement O'Malley's hype as a future contender. Vera isn't an easy outing for anybody at 135 pounds. He's made massive improvements since moving to California from his native Ecuador a few years ago to train at Team Oyama. "Chito" was riding a five-fight winning streak before losing to Song Yadong earlier in 2020, though many people scored the fight for Vera.
If O'Malley beats Vera - especially if he becomes the first fighter to finish "Chito" - he'll walk away as a surefire future star and contender.
What's at stake for Dos Santos?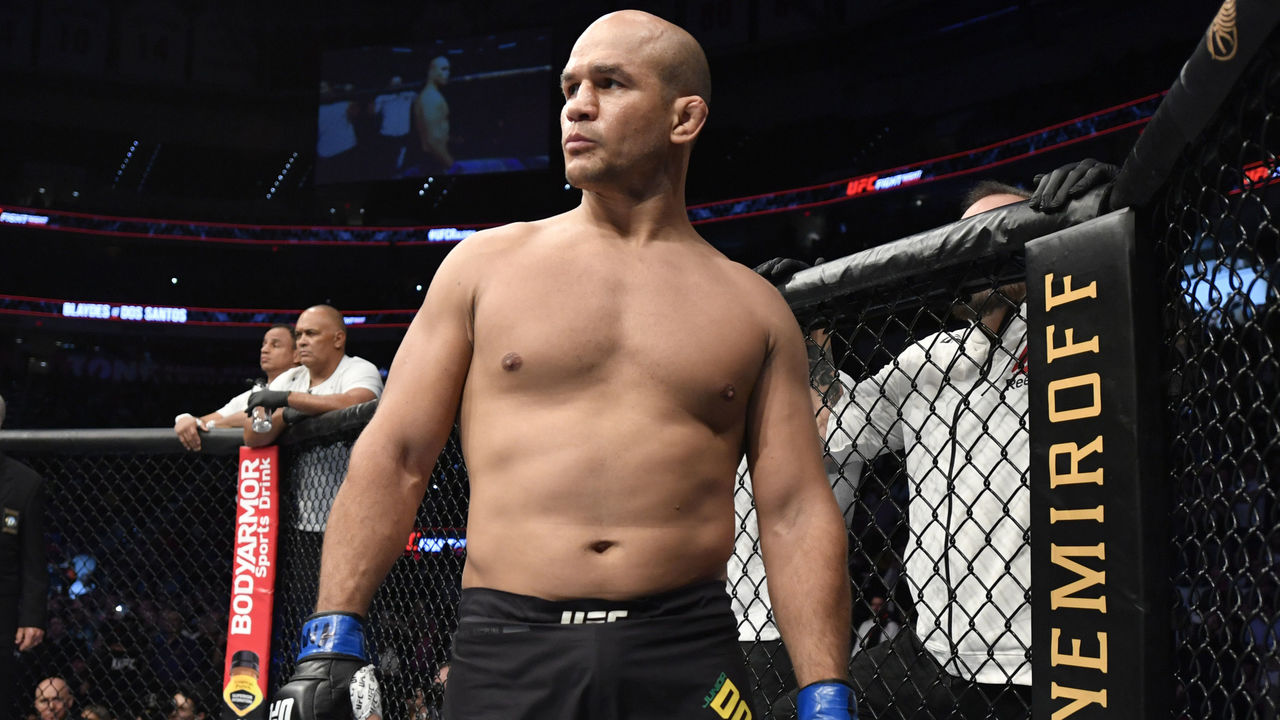 Former heavyweight titleholder Dos Santos will enter his fight against Rozenstruik riding the first losing streak of his professional career.
Let that sink in. Dos Santos, a 36-year-old veteran who's been in the UFC since 2008, had never lost two fights in a row before his knockout defeats to Ngannou and Curtis Blaydes in June 2019 and January 2020, respectively.
Dos Santos is still considered a heavyweight contender - mostly because the division has a lack of top fighters - but that won't be the case if he loses a third straight fight.
There hasn't really been a sign that Dos Santos is washed up. He's only lost to the best, and it wasn't too long ago that the Brazilian had won three bouts in a row, including a TKO of Lewis in 2019. A loss to Rozenstruik - whose only career defeat is against Ngannou - wouldn't necessarily indicate that Dos Santos is done.
But it would move him further away from the top of the weight class. And at 36 years old, Dos Santos doesn't have much time left in the sport. Based on that alone, a win over Rozenstruik - one of the division's most promising up-and-comers - will be critical if "Cigano" wants to have a chance of getting back to where he once was.