With the UFC's first stretch of Fight Island events in the books, theScore looks back at the five biggest highlights to come out of Abu Dhabi, United Arab Emirates over the past three weeks.
5. Jiri Prochazka arrives at the big show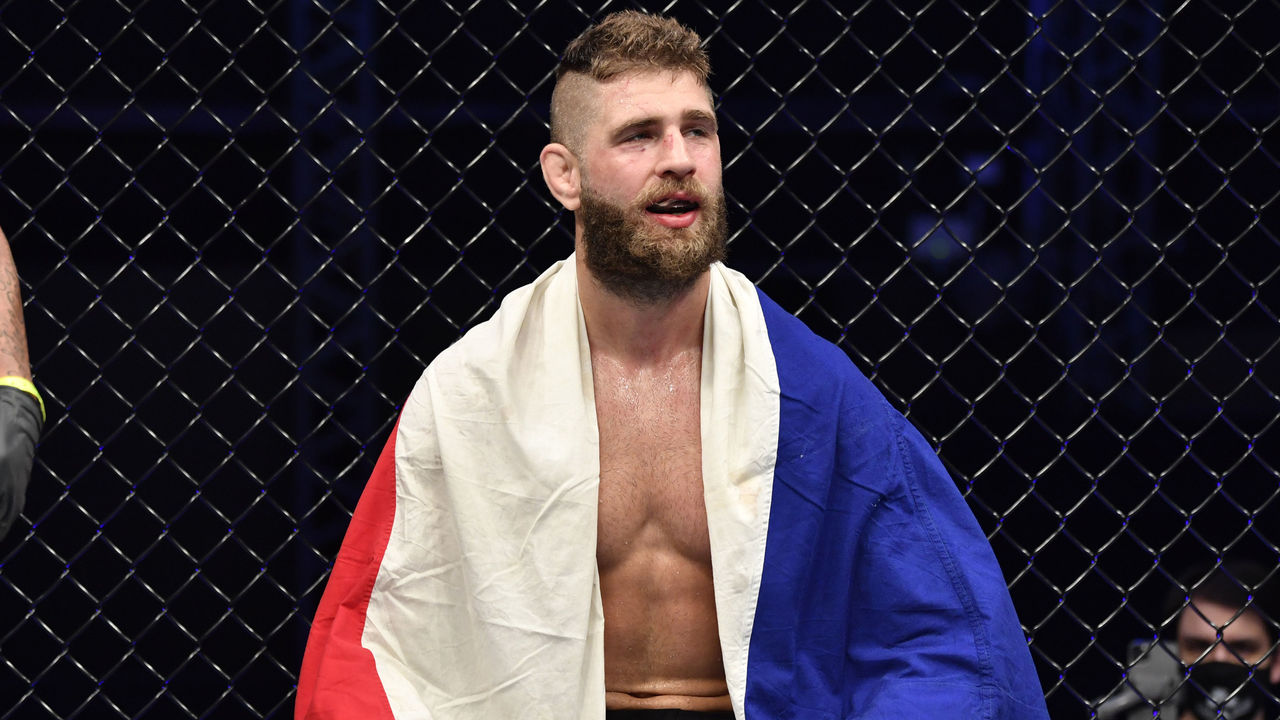 Hardcore fans already knew about Prochazka when he made his promotional debut at UFC 251 on July 11.
They were looking forward to seeing him take on former light heavyweight title challenger Volkan Oezdemir - a tough test for anyone - under the bright lights of the Octagon.
That's because Prochazka made a name for himself under the Rizin FF banner in Japan over the past several years. He entered the bout against Oezdemir riding a 10-fight winning streak, which included finishes of UFC veterans C.B. Dollaway and Fabio Maldonado, as well as former Bellator contender Muhammed Lawal. Perhaps more importantly, Prochazka ended nine of those 10 bouts inside the distance.
Prochazka's wild approach in the UFC 251 featured preliminary bout resulted in a difficult opening round. But less than a minute into the second, the 27-year-old put Oezdemir out cold with a devastating right hand. Prochazka arrived in a big way, and he's already shaping up to be a contender at 205 pounds.
4. Jesse Ronson notches first UFC win in return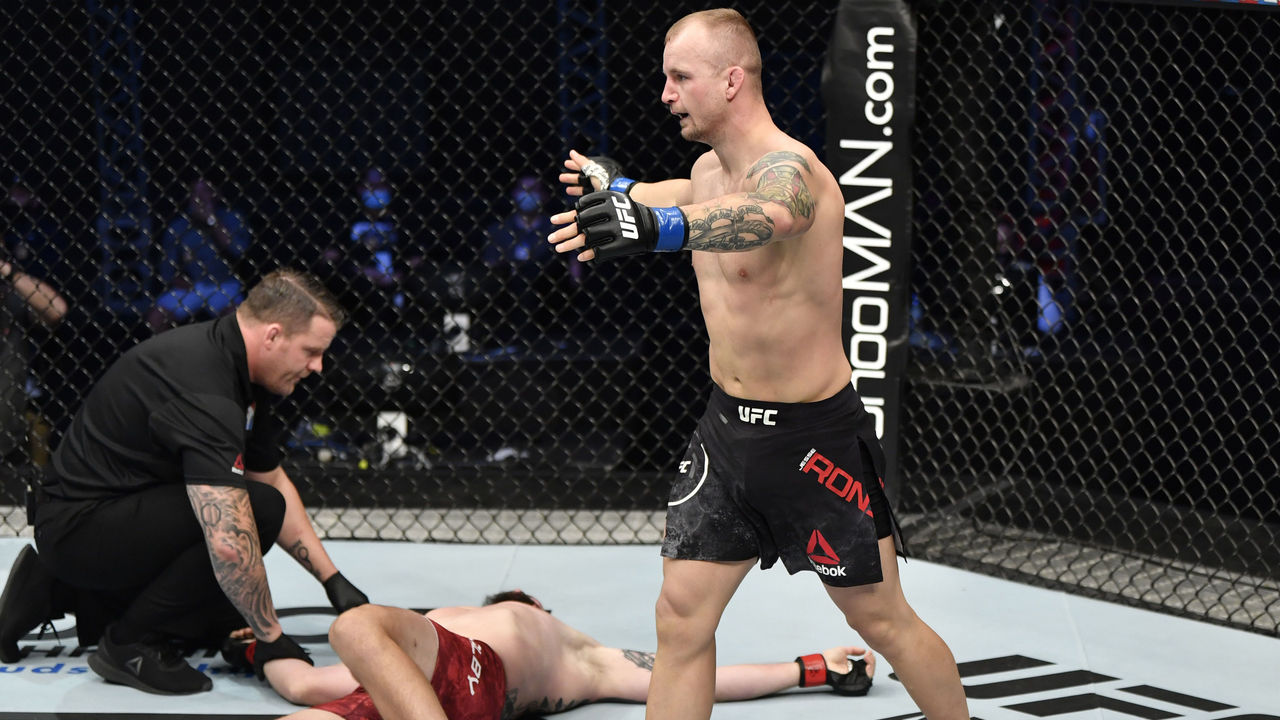 It'd been over six years since the last time Ronson made the walk to the Octagon prior to UFC Fight Night: Whittaker vs. Till on July 25.
The Ontario native originally signed with the UFC in 2013, only to lose three straight fights to tough competition in Michel Prazeres, Francisco Trinaldo, and Kevin Lee. The promotion released Ronson in 2014, forcing him to return to Canada's regional circuit.
After picking up five wins in a row from 2016-18, Ronson had an opportunity to fight on short notice at UFC 231 in December 2018 in Toronto. However, doctors ruled "The Body Snatcher" out of the contest because they didn't think he would be able to make weight safely, and the UFC once again parted ways with him. For a while, especially after suffering back-to-back losses in PFL in 2019, it didn't seem like Ronson would ever make it back to the big leagues.
But after Danny Roberts fell out of a welterweight bout against Nicolas Dalby scheduled for July 25, Ronson - who returned to the winning column earlier in 2020 - got the call.
It was a tough ask: Ronson had to travel to Abu Dhabi from Canada and fight a bigger man on short notice. He was the underdog for good reason. But Ronson made the most of the opportunity, submitting Dalby with a rear-naked choke in the first round and securing his future within the UFC.
3. Amanda Ribas gets a breakthrough victory
Ribas showed why she was an 8-1 favorite against Paige VanZant.
The Brazilian prospect made it look even easier than expected, tapping out VanZant - once considered a rising star in the strawweight division - with an armbar in the first round of their women's flyweight bout at UFC 251 on July 11.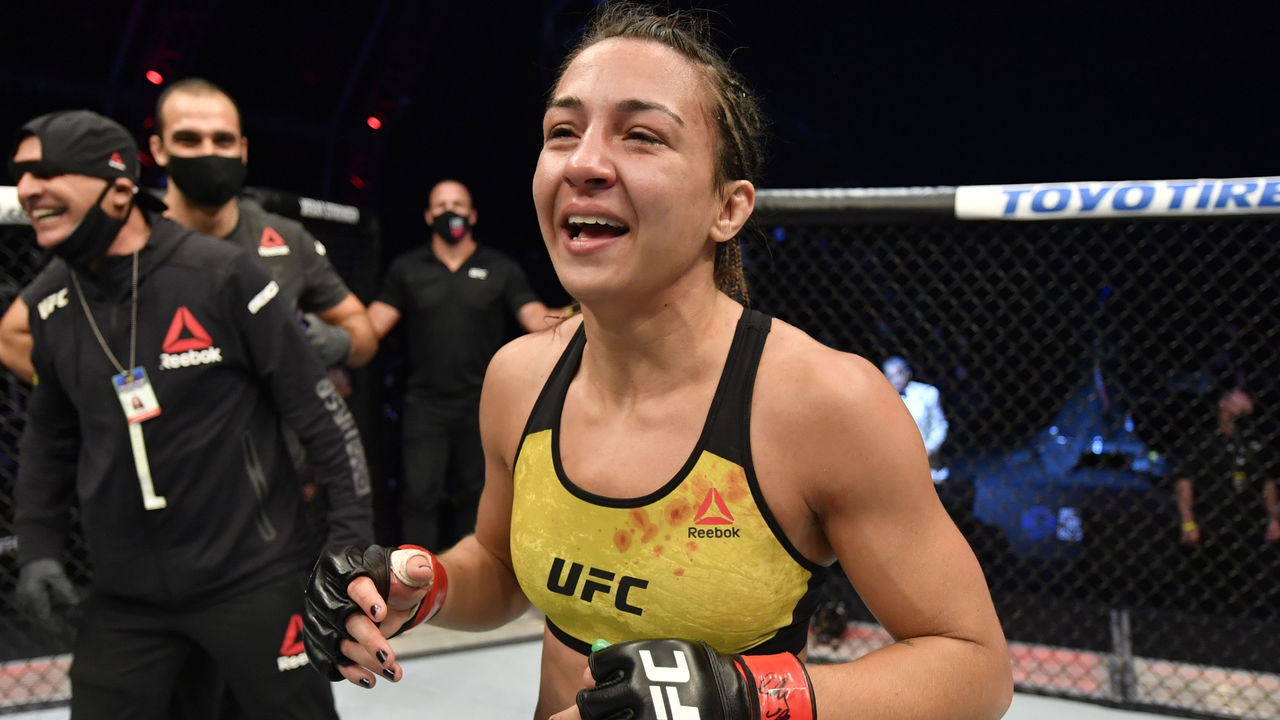 It was a huge moment for Ribas, who's now a perfect 4-0 in the Octagon. It wouldn't be surprising if this victory is eventually seen as the one that brought her career to new heights. Ribas' social media blew up after the fight and she sat cageside with UFC president Dana White at the promotion's next event July 15, an honor typically reserved for the UFC's most promising fighters.
Not only does the 26-year-old appear to be a future contender at 115 pounds, but she has a very likable personality that has made fans eager to tune in to her interviews and upcoming fights. Ribas will be a superstar if she continues to win, and that will have all started with her impressive takedown of VanZant.
2. Deiveson Figueiredo takes home belt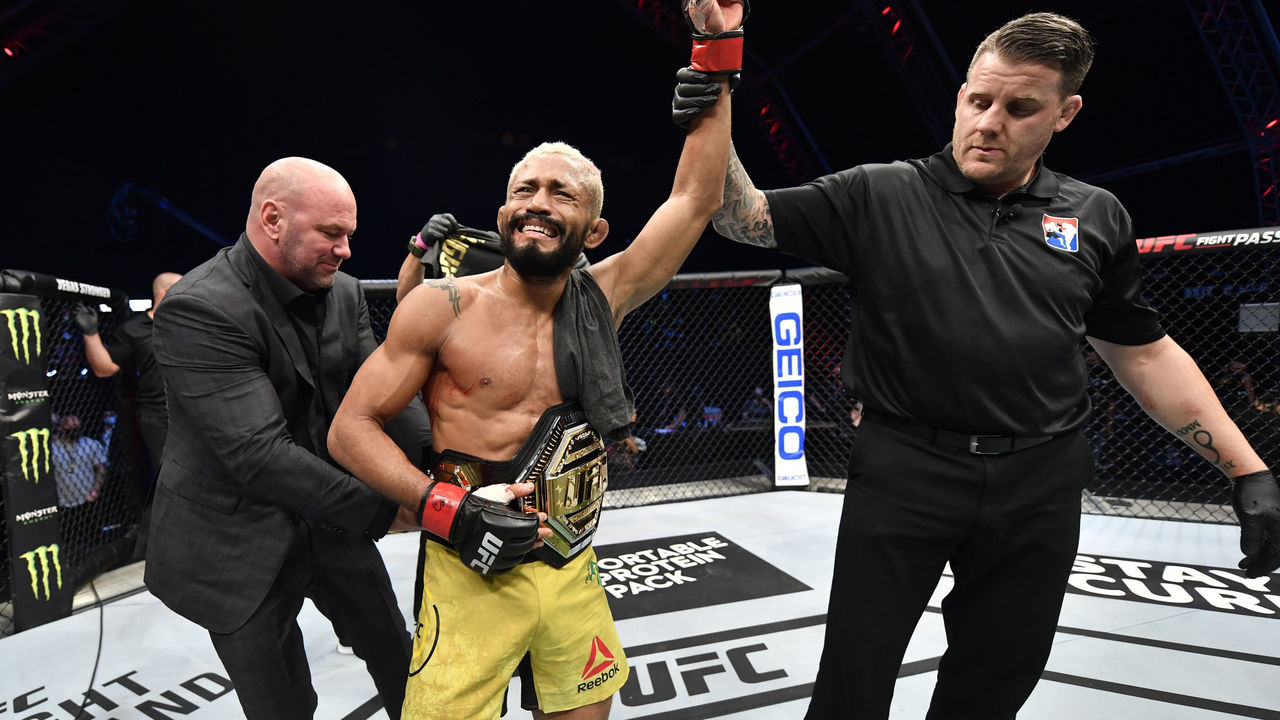 Figueiredo threw away his opportunity to win UFC gold in February. The Brazilian missed weight for his vacant title bout against Joseph Benavidez at UFC Norfolk but still went on to win the fight via second-round TKO.
There will always be an asterisk surrounding that victory, especially after Benavidez said an accidental clash of heads possibly led to the finish.
But Figueiredo was given a chance to right his wrong, presumably because there was no one else who deserved to compete for the vacant belt. He was booked to fight Benavidez again in the main event of UFC Fight Night on July 18. This time, Figueiredo left no doubt.
The 32-year-old made weight for the rematch and dominated Benavidez from start to finish. He destroyed the veteran with three knockdowns before sinking in a rear-naked choke that put Benavidez to sleep late in the first round.
The flyweight belt was wrapped around Figueiredo's waist, and the spotlight was officially on him. The division returned to normalcy after Henry Cejudo relinquished the belt last December. It's a memorable moment whenever a fighter reaches the pinnacle of the sport, but this was even bigger because of Figueiredo's previous blunder.
1. Khamzat Chimaev makes UFC history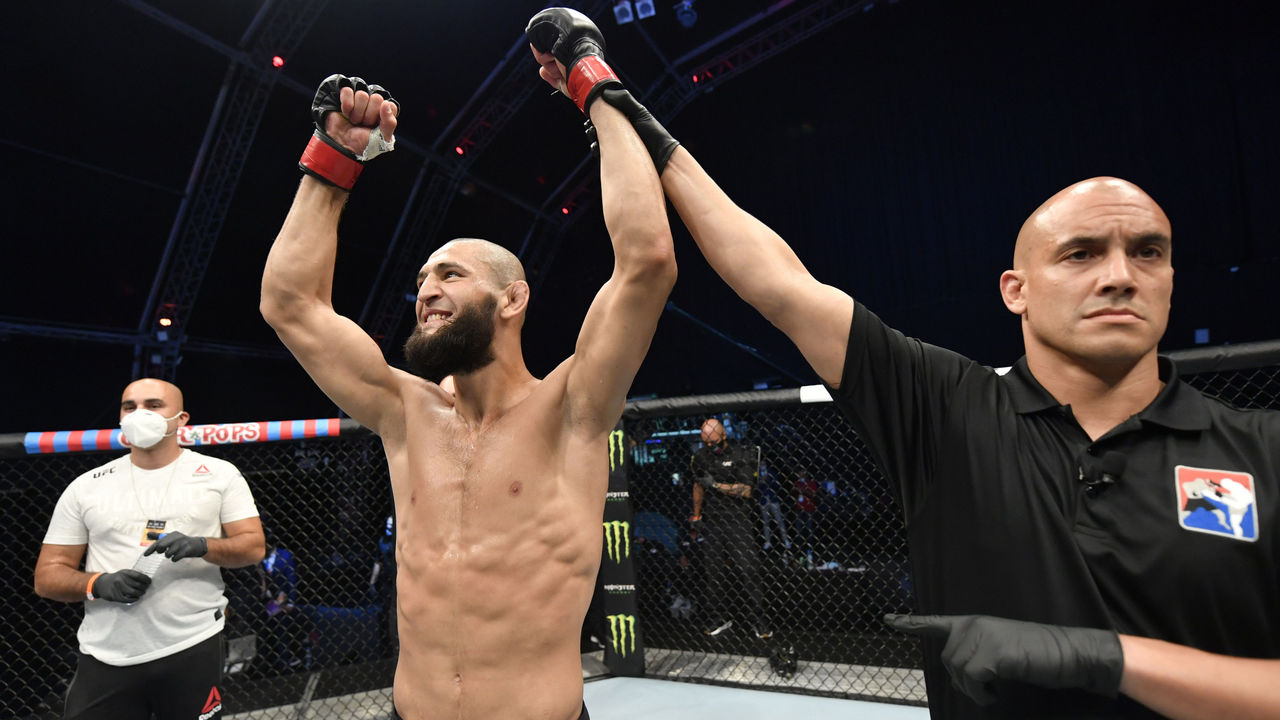 The entire MMA world is talking about Chimaev, and he made his UFC debut just two weeks ago.
Chimaev is the definition of an overnight sensation. He entered the Octagon for the first time at UFC Fight Night: Kattar vs. Ige on July 15 and pummeled John Phillips en route to a second-round submission on short notice. This wasn't just any other debut win, though. The competition level wasn't high, but it didn't have to be for fans to realize that Chimaev is special. He outlanded Phillips 124-2 in total strikes and became the first middleweight in modern UFC history to land at least 100 strikes in the first round, according to ESPN's Ariel Helwani. If anything, Chimaev's D'arce choke was merciful.
The 26-year-old said in his postfight interview that he wanted to fight again in a week, and while fans reacted well to Chimaev's mindset, no one really took his wish seriously. That was until he actually fought newcomer Rhys McKee 10 days later at welterweight, 15 pounds lighter than his debut bout. Chimaev broke the record for the quickest turnaround in UFC history, as well as the quickest turnaround between wins.
No one thought you could get a more dominant fight than Chimaev's debut. After all, one judge gave him a score of 10-7 in the first round, which is almost unheard of. But somehow, the Russian-born Sweden resident topped that performance.
He took McKee down almost immediately in the opening main-card fight at UFC Fight Night: Whittaker vs. Till, the final event on Fight Island. Chimaev destroyed McKee with ground-and-pound until the referee stepped in, saving McKee from even more punishment. This time, Chimaev outlanded his foe 68-0 in total strikes.
There have been disagreements on how quickly the UFC should move Chimaev along, and whether or not the prospect should be regarded as a future champion after having only competed in the Octagon twice. But one thing is for certain: His introduction to the UFC was incredible, and if Fight Island had a king, it'd undoubtedly be Chimaev.