It might feel like 2020 has stretched on for decades, but we somehow just passed the six-month mark.
The coronavirus pandemic caused nearly every major sport to shut down, and only in recent weeks have events begun to return. But in characteristic fashion, the UFC has soldiered on, with only a brief interruption to its schedule.
So with UFC 251 - which is stacked with three title fights, including a new main event featuring welterweight champion Kamaru Usman versus Jorge Masvidal following Gilbert Burns' COVID-19-related withdrawal - set to kick off a month on Yas Island on Saturday, as well as the second half of 2020, theScore hands out some midyear awards:
Best male fighter
Winner: Justin Gaethje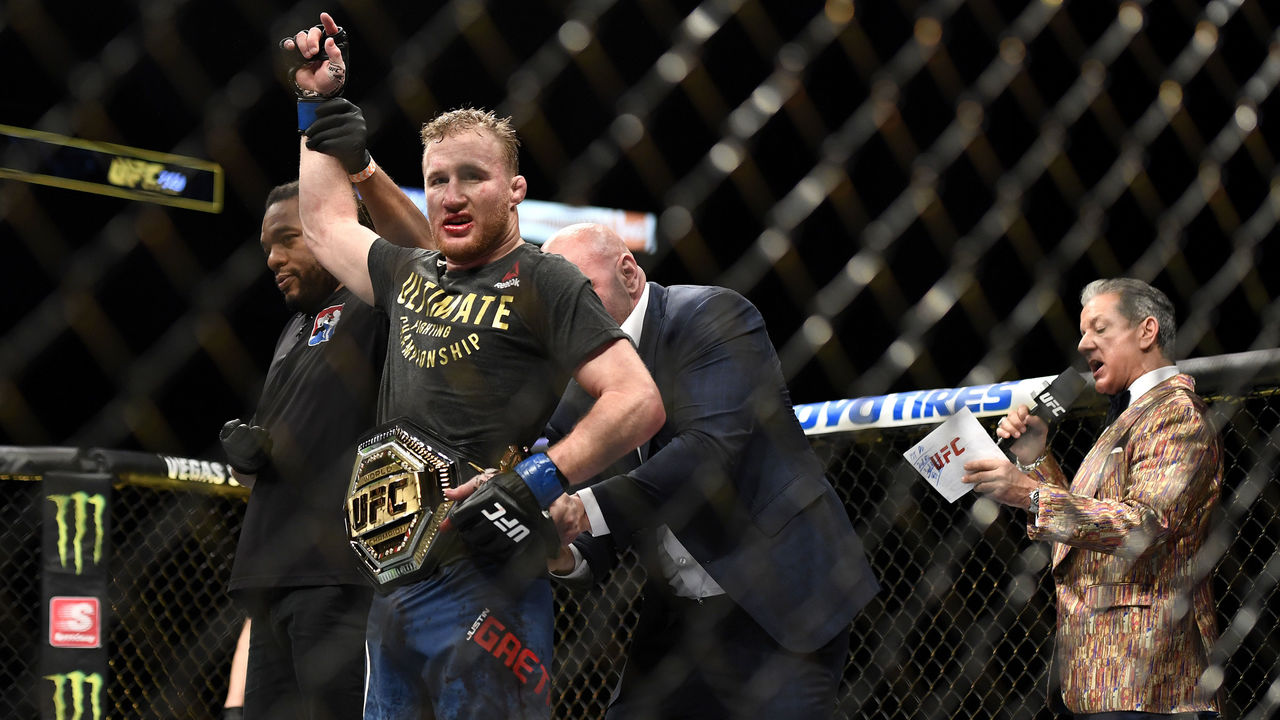 Honorable mentions: Gilbert Burns; Curtis Blaydes
For over four years, one question has dominated the discourse at 155 pounds: What would happen if the undefeated Khabib Nurmagomedov faced off with Tony Ferguson? Each time the UFC attempted to answer, the MMA Gods laughed. Freak accidents, injuries, and weight-cut issues led to five failed attempts to lock these two men inside the Octagon together, with the latest coming at UFC 249.
When Nurmagomedov withdrew from the April main-event bout after getting stuck in Russia due to the COVID-19 pandemic, many called for the UFC to postpone the fight. The unprecedented clash of winning streaks was too important for the lightweight division. We'd all suffered too much to lose it. But Gaethje didn't care. He didn't care that Ferguson made every opponent during his 12-fight winning streak look like they'd been in a car crash. He didn't care that he had to step in on short notice. With each deadly combination landed on Ferguson, Gaethje slowly and painfully forced the MMA world to recognize that its dream was over.
Known for his reckless style, "The Highlight" fought with the perfect blend of aggression and patience, picking apart Ferguson for four rounds. With Ferguson looking as bloodied as his opponents usually do, referee Herb Dean mercifully stepped in during the fifth to save "El Cucuy." Gaethje became the division's newest interim titleholder, leaving the smoldering wreckage of what was destined to be at 155 pounds in his wake.
Best female fighter
Winner: Zhang Weili
Honorable mentions: Amanda Nunes; Valentina Shevchenko; Cynthia Calvillo
All three female UFC champions have successfully defended their respective belts in 2020, but it was the strawweight queen that put together the most impressive display against the most dangerous competition.
Zhang was already a star in her home country of China after stunning the world by knocking out Jessica Andrade in 42 seconds back in August. But March's five-round war against Joanna Jedrzejczyk was her true coming-out party. "Magnum" put any doubts about her worthiness as the champion to rest by going toe-to-toe with the fighter who has long reigned as the division's self-proclaimed bogeywoman.
What makes Zhang's career-best performance even more impressive is the fact that she earned the split-decision win following an unprecedented disruption to her training camp. Few would've faulted the 115-pound champion if she'd pulled out of her first title defense after fleeing China for Bangkok a month before the fight due to the COVID-19 crisis, only to have to move to Abu Dhabi before eventually getting to Las Vegas. But Zhang stood tall in the face of adversity both inside and outside the Octagon, and she could be the female fighter of the year with one more successful defense.
Best fight
Winner: Zhang Weili vs. Joanna Jedrzejczyk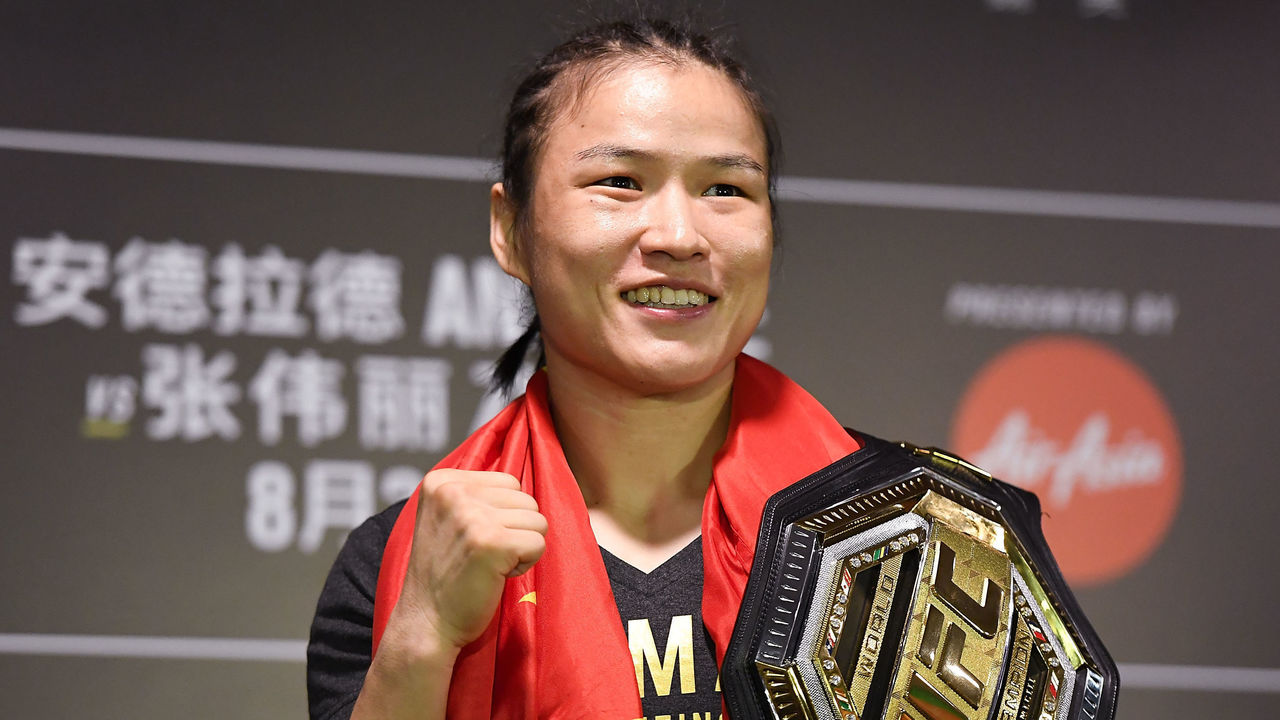 Honorable mentions: Dustin Poirier vs. Dan Hooker at UFC Vegas 4; Josh Emmett vs. Shane Burgos at UFC Vegas 3
The back-and-forth war courtesy of top lightweight contenders Poirier and Hooker - which is fresh in the memory - would be a worthy winner of this award if not for the masterpiece put together by Zhang and Jedrzejczyk at UFC 248.
Jedrzejczyk's face was almost unrecognizable due to the hell these two women put each other through. They fought at a pace rarely seen inside the Octagon, and it was anyone's guess as to who was ahead on the judges' scorecards through four rounds.
All in all, the two fighters combined for 351 significant strikes, the third-most in UFC history, and 96 head strikes apiece. It was Zhang who ultimately snagged the victory with a strong final round, proving that she is not a flash in the pan. There have been some spectacular female fights in the UFC, but it's not hyperbolic to say Zhang versus Jedrzejczyk stands head and shoulders above the rest. It was mixed martial arts at its very best. While Zhang has other contenders to take on next, it would be a tragedy if there's never a rematch.
Best round
Winner: Round 2 of Dustin Poirier vs. Dan Hooker
Honorable mentions: Round 4 of Zhang Weili vs. Joanna Jedrzejczyk; Round 2 of Beneil Dariush vs. Drakkar Klose
By the end of the main event of UFC Vegas 4, it was clear that Poirier had gotten the better of Hooker. That lack of uncertainty led us to pick Zhang versus Jedrzejczyk for the best fight. But the level of insanity Poirier and Hooker reached in Round 2 of their bout couldn't go unrewarded.
The two lightweights managed to inflict more damage during the final 15 seconds of that round than some fighters manage in an entire contest. To highlight this round's insanity, the two fighters landed a mind-blowing 114 significant strikes - 48 for Poirier and 66 for Hooker - just 80 fewer than their combined total over the other four rounds (194).
It was a rarely seen simultaneous display of toughness, resolve, and durability. The 155-pound division is widely believed to be the UFC's best, both in terms of elite talent and depth. If you need to convince any remaining doubters, it will only take these five minutes of balls-to-the-wall action.
Best knockout
Winner: Cody Garbrandt's buzzer-beater KO of Raphael Assuncao
Honorable mentions: Francis Ngannou destroys Jairzinho Rozenstruik in 20 seconds; Sean O'Malley ends Eddie Wineland with a walk-off right in the first round
Arguably no UFC star gained and then lost as much hype over the last several years as Garbrandt, the former bantamweight king. So, how does a fighter erase all the pain and reputational damage that comes with a three-fight losing skid after being anointed the promotion's next golden boy?
The answer:
Garbrandt's wild knockout at UFC 250 in June happened with one second of the second round remaining. It was a true leap-out-of-your-seat moment, one that stood out as special even on a card that had some of the year's best finishes so far.
"No Love" seemingly channeled every ounce of anger and frustration that he must have felt while falling from a champion to an afterthought into the swinging right that connected on Assuncao's chin. And with it, Garbrandt reminded the 135-pound division that he still has a lot to offer.
Best submission
Winner: Thiago Moises catches Michael Johnson in a heel hook
Honorable mentions: Charles Oliveira snatches Kevin Lee's neck; Aljamain Sterling makes a statement against Cory Sandhagen
It seemed like Johnson was well on his way to victory against Moises.
"The Menace" dominated his opponent in the striking department over the opening five minutes at UFC Fight Night: Smith vs. Teixeira in May. Johnson used his jab to pick apart Moises, a standout grappler who struggled to find his groove.
Moises changed his approach in the second round, and it paid off. As soon as the referee signaled the start of the frame, the Brazilian underdog raced across the Octagon and dropped down for a single-leg takedown. Moises pulled guard and began attempting a submission, but to viewers, it didn't look like there was anything there.
In a matter of seconds, though, Moises rolled over to his stomach and latched onto his opponent's foot. Johnson grimaced in pain, and the 34-year-old could do nothing but tap out.
The incredible turn of events, as well as the fact that this was a move only an expert submission specialist like Moises could pull off, make this the year's best submission so far.
Most surprising storyline
Winner: Jon Jones takes a public stand for improved fighter pay
Honorable mentions: Henry Cejudo retires after his UFC 249 win; Jose Aldo gets a bantamweight title shot off a loss
Jones has been called a lot of things during his storied yet tumultuous career, but a man of the people isn't one of them. If you'd asked a room of MMA fans which star would publicly dispute the UFC's pay structure in 2020, we'd bet that none would've picked the light heavyweight king. In fact, in The Athletic's survey of 170 pro fighters on who would best lead a fighters' union, Jones - one of the UFC's biggest heels - received fewer than 2.4% of the vote.
This all made Jones' stand for improved fighter pay a major shock. Now, it's fair to question his intent. Jones' beef with the UFC was sparked by the promotion's apparent refusal to even consider bumping his pay to make the leap to heavyweight for a fight with Francis Ngannou. Is Jones really fighting to improve the pay of all UFC fighters? Would having his own desires fulfilled end his activism? Only Jones can know that, but the champion has said he's willing to sit out years in order to facilitate change.
Jones' place as an all-time great inside the Octagon is secure. But with his career entering its final chapters, perhaps the polarizing star wants to make sure he's remembered for something better outside of it.
Biggest rising star
Winner: Sean O'Malley
Honorable mentions: Dan Ige; Drew Dober
No two UFC superstars are alike, so how can we tell when a fighter is becoming one? With O'Malley, he showed in March that the UFC could have something special on its hands when he recaptured all of his former hype following a two-year layoff with a first-round TKO of Jose Quinonez.
Momentum is fleeting in combat sports. There's always another man or woman ready to take your spot. O'Malley was gone from MMA's collective consciousness for two years, a lifetime in the sport, due to a dispute with the United States Anti-Doping Agency. The fact that the bantamweight returned to the Octagon without missing a beat speaks to how compelling he is.
O'Malley pushed himself into the 135-pound rankings with another first-round knockout in June, this time against the always game Eddie Wineland. While a title shot is still a ways away, "Suga" has the skills, the look and personality, and the social media savvy to become a household name in 2021.
Best social media game
Winner: Darren Till
Honorable mentions: The Funky Family; Angela Hill
Most people have learned new skills while quarantining. For Till, it's been all about mastering photoshop. The Liverpool-born fighter has spent the last few months photoshopping the likeness of his fellow fighters on Twitter to create pictures that are as funny as they are off-putting.
And this tweet is Till's Sistine Chapel:
Till has kept himself at the forefront of peoples' minds with his trolling skills despite not fighting since November. If Till's as sharp in his upcoming bout against Robert Whittaker on Fight Island as he is online, it could be a long night for the former 185-pound champion.
The Most MMA Moment
Winner: Jorge Masvidal saves UFC 251 main event
Honorable mentions: Mike Perry has his girlfriend as his lone corner person at UFC Vegas 4; Diego Sanchez's controversial trainer enters the spotlight after UFC Rio Rancho; Fight Island is revealed to be on Yas Island
What other sport could've produced the drama of last weekend? Where else could you find an athlete crazy enough to take on a world title fight on six days' notice? Only in MMA.
Initially, it appeared Burns' withdrawal would bump the card's number of title fights down from three to two. It was too soon to find a replacement for Usman and fly both fighters out to Abu Dhabi, especially with all the additional protocols in place for COVID-19. Plus, Saturday's card would've survived with Max Holloway versus Alexander Volkanovski as its main event. Fans were of course praying that Masvidal, the man who should've been headlining the card all along, would step up - as he claimed he was willing to do - but the obstacles appeared to be too much.
Then, the teasing began. Masvidal posted pictures of himself receiving a COVID-19 test and negotiating on the phone with the UFC; reporters hinted that the main event could still be saved; and the champion appeared to be more than ready to take on "Gamebred." The MMA community held its collective breath for 24 nail-biting hours until Sunday afternoon, when it was reported that the UFC and Masvidal had done in days what they'd failed to do in months. Against all the odds, the fight was on. A big event suddenly became a must-see blockbuster thanks to the UFC's flexibility and willingness to do whatever it takes, and thanks to Usman's and Masvidal's desire to break each other's faces regardless of the circumstances.
Most anticipated fight in 2020's second half
Winner: Khabib Nurmagomedov vs. Justin Gaethje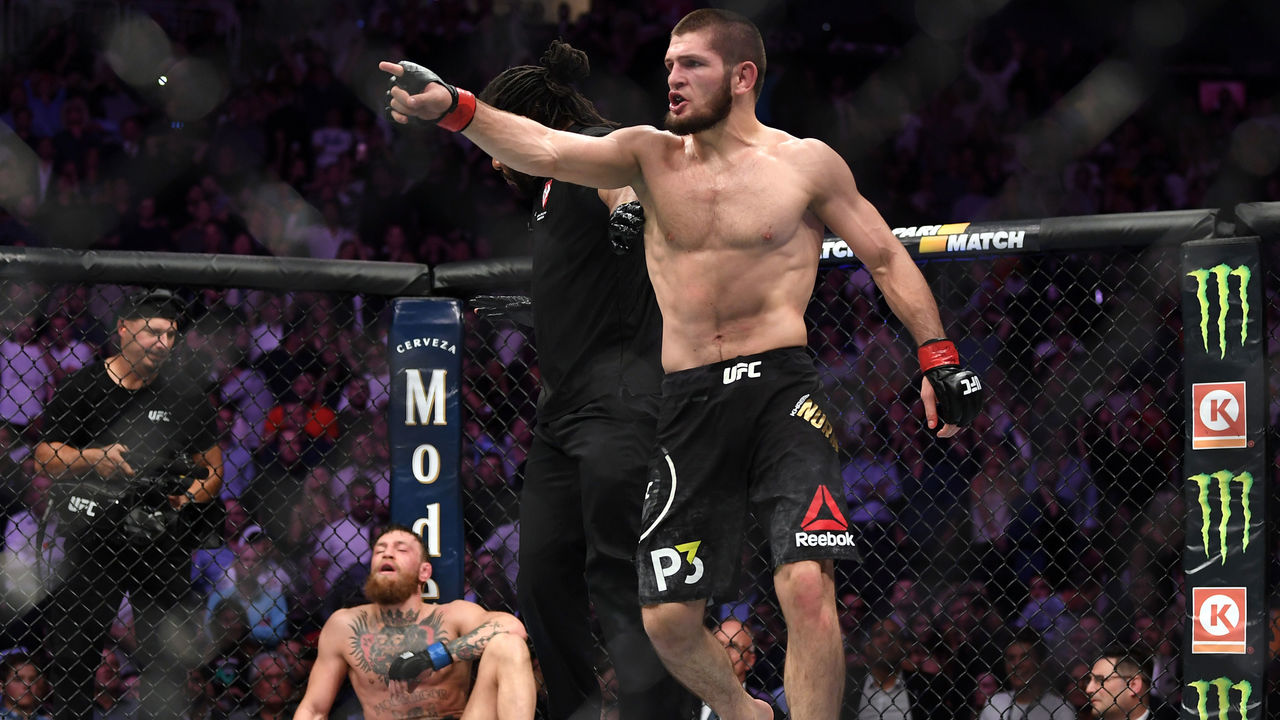 Honorable mentions: Stipe Miocic vs. Daniel Cormier 3 at UFC 252; Israel Adesanya vs. Paulo Costa (TBD); Darren Till vs. Robert Whittaker at UFC Fight Island 3
Looking beyond UFC 251, the promotion has a host of fun matchups set for the rest of 2020. The cream of the crop, though, is easily the unification bout at lightweight between Nurmagomedov and Gaethje. We're still waiting for it to be officially announced, and the death of Nurmagomedov's father and coach, Abdulmanap, an MMA legend, could potentially cause the bout to be pushed to late in the year.
No one should take issue with a grieving Nurmagomedov waiting, but the undefeated Russian did say during his father's health struggles that he would be willing to fight Gaethje in September. So, it appears more likely than not that this must-see matchup takes place in 2020. Regardless of exactly when this year the fight takes place, the eyes of the world will be watching.
We might've been robbed of Nurmagomedov against Ferguson after years of buildup and five failed attempts to book the bout, but the stakes here are still as high as it gets. Nurmagomedov, arguably the world's most dominant fighter, facing off with Gaethje, arguably the world's most exciting fighter. A classic scenario of an immovable object versus an unstoppable force. Ask any MMA fan which fight they'd pick to watch for the rest of the year, and we'd bet this one would be the overwhelming selection.