Media groups: Locker rooms must not be 'unnecessarily limited'
Ron Turenne / National Basketball Association / Getty
Representatives from six sportswriter organizations released a joint statement in response to multiple professional and amateur sports entities adjusting their approach to media access due to concerns surrounding the spread of the coronavirus.
The statement is signed by presidents and directors of the Associated Press Sports Editors, Pro Football Writers of America, North American Soccer Reporters, United States Basketball Writers, Professional Basketball Writers Association, Professional Hockey Writers Association, and the Baseball Writers Association of America.
"We the entities covering pro and college sports in North America are concerned with the developing international outbreak of coronavirus and the need to contain it," the statement reads. "We understand precautions may be necessary in the name of public health. We are intent on working with the leagues, teams, and schools we cover to maintain safe work environments.
"We also must ensure the locker room access - which we have negotiated over decades - to players, coaches, and staff is not unnecessarily limited in either the short or long term. We look forward to open communication with the leagues as, together, we deal with this serious health matter."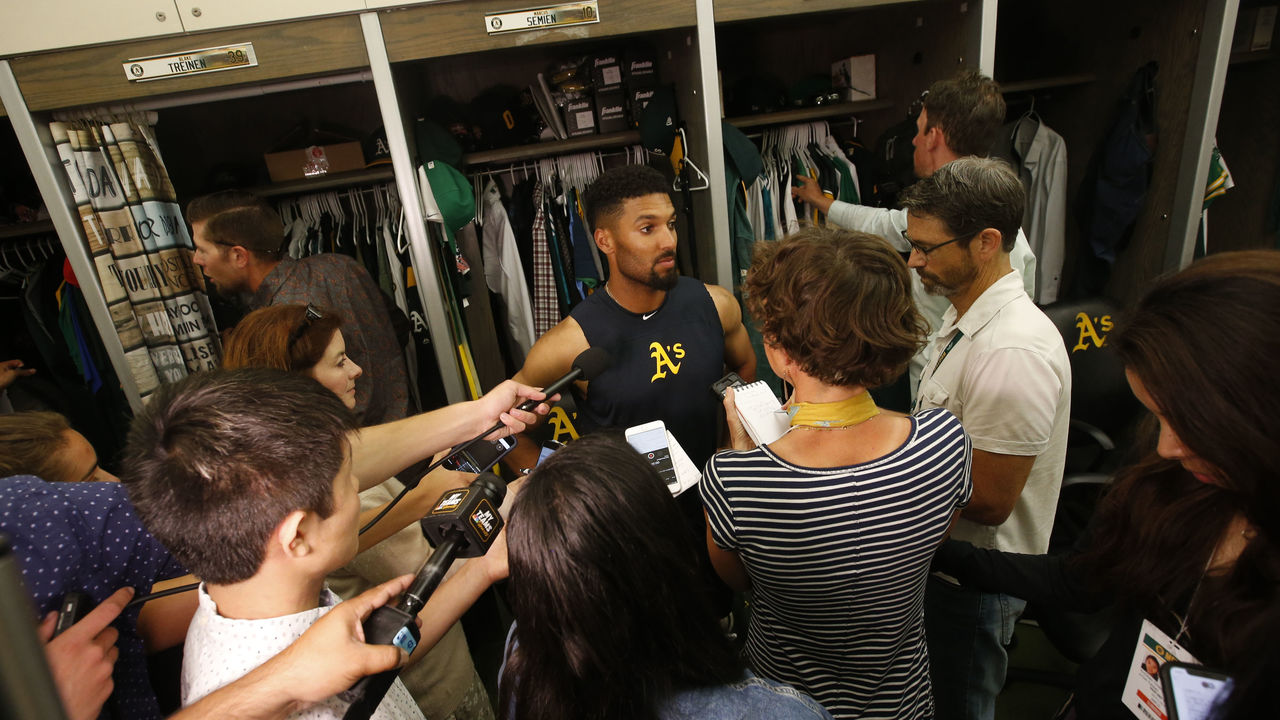 The North American sports landscape has undergone rapid change regarding media access as the coronavirus spreads throughout the continent.
The National Basketball Association, National Hockey League, Major League Baseball, and Major League Soccer released a joint statement of their own on Monday, announcing that "all team locker rooms and clubhouses will be open only to players and essential employees of teams and team facilities until further notice."
"Media access will be maintained in designated locations outside of the locker room and clubhouse setting," the statement added. "These temporary changes will be effective beginning with tomorrow's games and practices."
The NHL has already begun to implement the changes to dressing room media access.
Media access may not be the last restriction put in place as leagues, teams, and schools attempt to mitigate the spread of the coronavirus, which has resulted in 423 confirmed cases (including 26 deaths) in the United States as of 4 p.m. ET on Monday, according to the Centers for Disease Control and Prevention.
Other changes have gone well beyond simply reducing media access or restricting attendance. The 2020 edition of the BNP Paribas Open tennis tournament in Indian Wells, California, was canceled outright mere days before its scheduled start due to a public health emergency in the Coachella Valley. The International Ice Hockey Federation also canceled the upcoming Women's World Championship in Halifax, Nova Scotia.
Meanwhile, in the world of collegiate athletics, some minor basketball programs have canceled games or played in empty arenas, but the National Collegiate Athletic Association intends to proceed with this month's upcoming March Madness tournament with fans in attendance. As of March 6, the NCAA's COVID-19 Advisory Panel was not yet recommending the cancelation of athletic events.
Comments
✕
Media groups: Locker rooms must not be 'unnecessarily limited'
  Got something to say? Leave a comment below!