The shift and baseball's forces of change
Bob DeChiara-USA TODAY Sports
In 1927, Baseball Magazine set out to answer a question familiar to all baseball fans: Who was the greatest batter of all time? Article author J. Newton Colver plans to attack the problem with data, but he acknowledges the issues with the approach.
Even cold figures might not satisfy -- probably will not -- the contentious bugs of this and older generations who will scoff at statistics and readily find a different and perhaps equally credible and logical basis of figuring the thing out.

However, it is curious how even the figures force a conclusion that must parallel pretty closely popular opinion. Some old famous names rise up out of the musty past, yet even the present day fan will quickly recall having "heard of that guy."
Colver pledges to take three approaches to the problem in a series of articles. This one, the first of the series, covers the question, "Who was Baseball's Most Consistent Batsman?"
Some will say Keeler, some Anson, some Wagner -- and probably more will say Cobb. But how about the proof? Cobb, some will immediately point out, has the best grand batting average of all time, .369 for 22 years of Major League play.

Fair enough and correct. But before we pass this as a completely adequate final test, might we not fairly consider the fact that a batting average has been a freakishly variant thing in these 50 years of Major League play? A .320 once won the National League championship, on another year it took a .438.

Against the old dead ball of the '70s, against 45 and 50 foot pitching, and in the old parks where outfielders could roam backward as far as their legs would take them for long drives -- your old timer may have some background for his demand that we wait a minute and dig a little into the thing and see if there isn't a way of taking account of these "ups" and "downs" of batting conditions.
To prove his point, Colver presents one of the most fascinating sabermetric charts I've ever seen, much less from a pre-computer, pre-SABR author: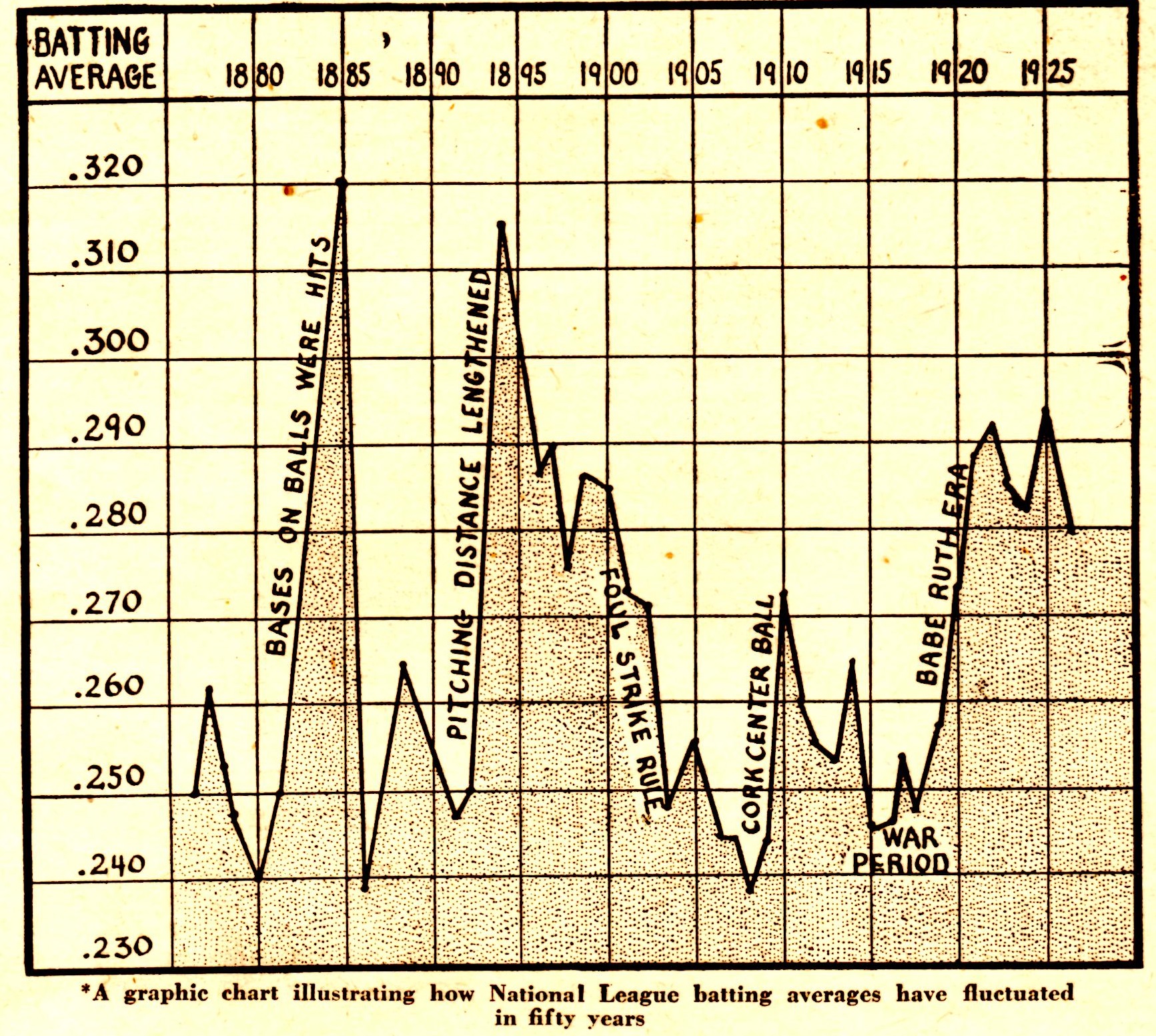 A graph of National League batting averages dating back to the league's inception created without the aid of computers or calculators is impressive enough, but Colver and Baseball Magazine go a step further with the annotations. Batting averages skyrocketed in the one season bases on balls were scored as hits (1887), dipped after foul balls became strikes as opposed to treated as no pitch, rose after the dead ball was replaced with the cork center, dipped again during World War I, and rose again following the rise of Babe Ruth-style power hitting, something discussed in an earlier entry in this column (and indeed the same issue of Baseball Magazine) 
Based on batting averages relative to league averages, Colver arrives to the conclusion that Cobb was indeed the most consistent batsman to date, with "Sockless Joe" Jackson, Pete Browning, Rogers Hornsby and Tris Speaker rounding out the top 5. Colver acknowledges, however, this analysis doesn't factor in for "driving power." He teases such an analysis in the magazine's next issue, with a note that perhaps "the Bambino" will finally show up.
Let's fast forward 87 years. In today's game, some feel shifting is becoming a problem. Things have gone so far that Sports Illustrated writer and self-appointed font of baseball wisdom Tom Verducci presented the case for an "illegal defense" rule earlier this week. The specifics of such a rule would need to be worked out, but Verducci's rough idea would limit shortstops or second baseman from going any further from their typical position than the second base bag, therefore preventing overshifts against left-handed hitters with three infielders between first and second base.
Verducci presents clear evidence of how the shifts have affected hitters, especially left-handed pull hitters like David Ortiz, Ryan Howard, Jay Bruce, Adam Dunn, and other similar sluggers. He concludes:
Is it time for an illegal defense rule? We can all sit here and pretend nothing is wrong and count on the natural "ebbs and flows" of the game to self-correct the decline in offense. Or we can do what the lords of baseball have done many times when offense was down, such as outlawing the spitball and putting a clean baseball in play (1920), lowering the mound (1969) and introducing the DH (1973): we can update the rules.
Verducci is right about one thing. Baseball's lords have been making rule changes in similar situations for ages. Colver revealed a few in his study (and mentions the clean baseball rule as well), and the rule changes Verducci notes had clearly discernible impacts on the game over the years to come. But Colver makes it clear these rule changes are not the only thing to change the game -- there are also changes in the player pool, as he saw with the war, and there are changes in playing style, as he cited with Ruth.
The shift could end up being one of those defining changes in the game, although we can't be sure yet. There have been many other changes over the past decade or so with potentially similar offense-depressing effects: the decline of the steroid era, the rising importance of defensive skill to executives, ever-increasing fastball velocity, and the advent and full acceptance of matchup relievers all could have some responsibility for the offensive drought. But the shift is a radical change in the way teams play defense, and the way it has caught on in recent years suggests the change could eventually overtake the whole league.
To me, calling for an illegal defense rule this early in the process seems hasty. Hitters -- whether those in the majors right now or those developing in the amateur and minor league ranks -- have hardly had a chance to adjust, and as many are fond of saying, baseball is a game of adjustments. Most of the great advancements in sport, from the forward pass to the three point shot to the home run swing, are a result of having to adjust, throwing something at the wall and seeing if it will stick.
From Verducci and others worried about the increase in shifts, there appears to be concern not just over the decline in offense, but in the mere fact that the game is starting to look vastly unlike the game that was played 100, 50, or even 20 years ago. It may turn out the balance of power is shifting too far towards pitching, to the point where asking hitters to make an exciting game of it is simply too difficult.
But the home runs are still flowing, and a few hitters (like Matt Adams) are figuring out ways to be productive and beat the shift. If the balance of power needs to be fixed, there will always be time to implement a rule like an illegal defense or a redefined strike zone to give the hitters a nudge in the right direction. But hitters might not need that nudge, and the shift may allow totally new and different styles of hitters (like Ruth in the 1920s) to prosper in baseball's brave new world. Baseball could come out of the shift just as fun as before, but with a radically different look.
Perhaps that's what people are afraid of. But so many of baseball's characteristic qualities wouldn't exist today had the league so swiftly legislated every new strategic quirk out of existence. Major League Baseball and its media backers can fret and wring their hands about the shift all they want, but sometimes we should keep our hands off and just let the game be the game. Particularly from a curious observer's standpoint, this is one of those times.
Comments
✕
The shift and baseball's forces of change
  Got something to say? Leave a comment below!