Odrisamer Despaigne shows he belongs
Lance Iversen / USA TODAY Sports
The Padres may be a dumpster fire this season, with issues across the lineup and pitching staff, but it looks like they have something in Odrisamer Despaigne. The 27-year-old Cuban made his debut Monday night in San Francisco and shut out the Giants over seven innings. Despaigne needed just 86 pitches and may have made a run at a complete game if he wasn't still in spring training form. Monday night's outing was Despaigne's eighth since signing with the Padres in May and his first over six innings.
That probably explains how Despaigne could have been so bad in Triple-A -- 23.2 IP, 4.9 BB/9, 6.85 ERA, albeit with 29 strikeouts (11.0 per 9) -- and come right into the major leagues and dominate a strong lineup like San Francisco's. The Giants have continued to score runs despite a recent losing streak as the club ranks in the top five in the National League in both runs scored and wRC+. Any rookie would fear a heart of the order containing Mike Morse, Hunter Pence and Buster Posey, particular one coming off five horrendous starts at Triple-A.
Those five starts, however, were more about stretching out and getting acclimated to the American professional baseball world than they were about results. Despaigne had uncharacteristically poor control in his warm-up starts but allayed any concerns over his ability to find the zone with Monday's start. Despaigne filled the zone, as 59 of his 86 pitches (69 percent) went for strikes.
Despaigne was never a big strikeout pitcher in Cuba -- his gaudy strikeout numbers in the minors were likely as fluky as his control issues. He drew five swinging strikes and struck out just one Giant, but induced 12 ground balls and generally weak contact to hold San Francisco to four hits. Despaigne was able to keep Giants hitters off balance by constantly changing speeds, especially with his fastball-slider combination.
The algorithm at Brooks Baseball picked up three different fastballs from Despaigne, a four-seamer, two-seamer and a cutter. Despaigne brought the 4-seamer as high as 94 MPH as the cutter dipped as low as 88. Despaigne's slider, meanwhile, sat anywhere from 84-90 MPH according to the algorithm, leaving hitters never quite sure what pitch was coming at which speed. The overlap, as shown here, leaves ample room for wrong guesses: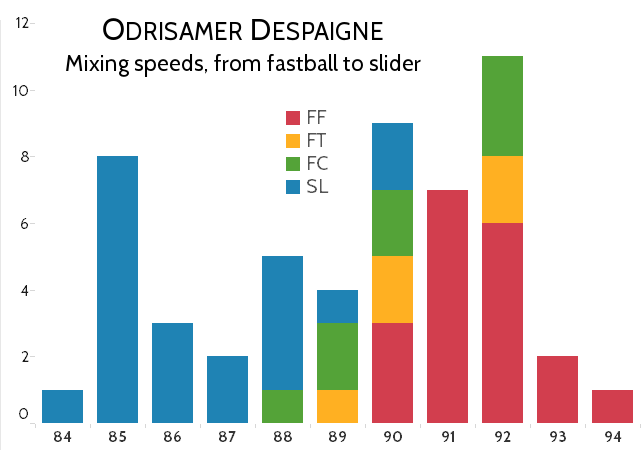 It's unclear whether these are actually four pitches with distinct grips or if Despaigne is simply putting some extra mustard on the ball here and taking it off there. Regardless, Despaigne is able to put a subtle wrinkle on many of his pitches, and it can be just enough to turn what might have been a screaming line drive into a ground ball, or a would-be home run ball into a can of corn. Hitters went just 2-for-11 on his fastballs and sliders. Perhaps more importantly, Despaigne was able to use them to get into favorable counts, as the pitches combined to get 23 strikes on balls not put in play (i.e. fouls or called strikes).
If Despaigne is to be successful as a Padre, Monday night will be the prototype start. He won't always have such low strikeout numbers, and his control won't always be so impeccable, but his ability to make his fastball(s) dance in the strike zone and keep hitters off balance. Combined with a changeup in the mid-70s and a curveball in the high-60s and Despaigne has enough to stay one step ahead of hitters. As scouts put it when he came over from Cuba, his stuff is average at best, but if he can continue to throw strikes, he appears well positioned to use his arsenal to its maximum.
Despaigne is on a minor league deal and took a $1 million signing bonus from the Padres. Unlike many of the game's recent Cuban arrivals, Despaigne was not a massive star in Serie Nacional nor was he considered a prospect, much less a can't-miss one. But as Despaigne said when he came over, his dream is "playing against the best in the big leagues." There's a long way to go before his career is established, but Monday night, Despaigne proved he deserves a shot against the best in the major leagues.