Gary Sheffield is right about race in baseball
Jessica Rinaldi / REUTERS
Gary Sheffield was quoted as follows in Dean Chadwin's 2000 work "Those Damn Yankees: The Secret Life of America's Greatest Franchise:"
You want to know why there aren't any black players? Because you've got to be twice as good as anyone else. If you're not, you just won't make it. Why do you think you hardly ever see any black bench players? You better be a star, or you're not making this team. They don't want a black player sitting on the bench making money. You got to be white.
Gary Sheffield has said plenty about race throughout his career. But every time, Sheffield found himself dismissed. He was too angry, too bitter, and he said things people didn't want to hear.
It is now over a full year since Bud Selig convened one of his famous committees to study the issue, yet African-American participation in Major League Baseball continues to decline. There are zero African-American catchers and just 12 African-American pitchers across all 30 teams. The 67th anniversary of Jackie Robinson Day was met with hate mail for Hank Aaron because he dared to speak up about the issue.
Maybe we should try listening to Sheffield. A simple test of the players we've seen thus far in 2014 supports his claim. There is no way to perfectly identify players as "bench players" or "starters," but whether or not a player is qualified for the batting title (3.1 plate appearances per team game) comes pretty close. Observe, the percentage of qualified position players based on race: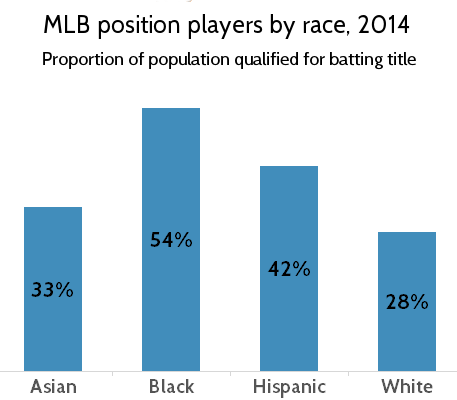 Only among black players are there more regular, qualified players than bench players, a remarkable fact considering this analysis includes every non-pitcher to take even one plate appearance this season. Sheffield's argument is not just about the hypervisible players, but also about the players who toil through Triple-A looking for opportunities throughout their twenties and the players who hang around on non-roster invites. And by and large, these players are white.
Sheffield's suggestion that the black player must reach a star level to even earn a chance has been around since before he entered the league. In his 1973 book Sociology of Sport, UCLA sociologist Harry Edwards analyzed racial breakdowns across positions in multiple sports. His data suggested the same thing: "The evidence at hand would indicate that blacks probably must show performance superior to their white competitors before they can occupy any particular position. (Cumulative major-league batting averages in 1968 were higher for black than for white players at every position.)"
Edwards also analyzed participation rates through a lens of the "centrality" of each position. Edwards provides the definition of centrality from a paper by sociologists J.W. Loy and J.F. McElvogue, as follows:
Centrality designates how close a member is to the "center" of the group's interaction network and thus refers simultaneously to the frequency with which a member participates in interaction with other members and the number and range of other members with whom he interacts and the degree to which he must coordinate his tasks and activities with other members.
Through the sociological jargon, the concept should be a recognizable one for baseball fans who have heard announcers repeatedly gush about "up-the-middle players." In baseball, the "central" positions are primarily pitcher and catcher, secondarily the middle infielders, followed by the corner infielders and the outfielders. The battery positions are the ones connected with "guts" and "leadership" by scouts, whereas exciting outfielders tend to be described as "toolsy" or "athletic."
Looking at data from 1956-1967, there is a significant correlation: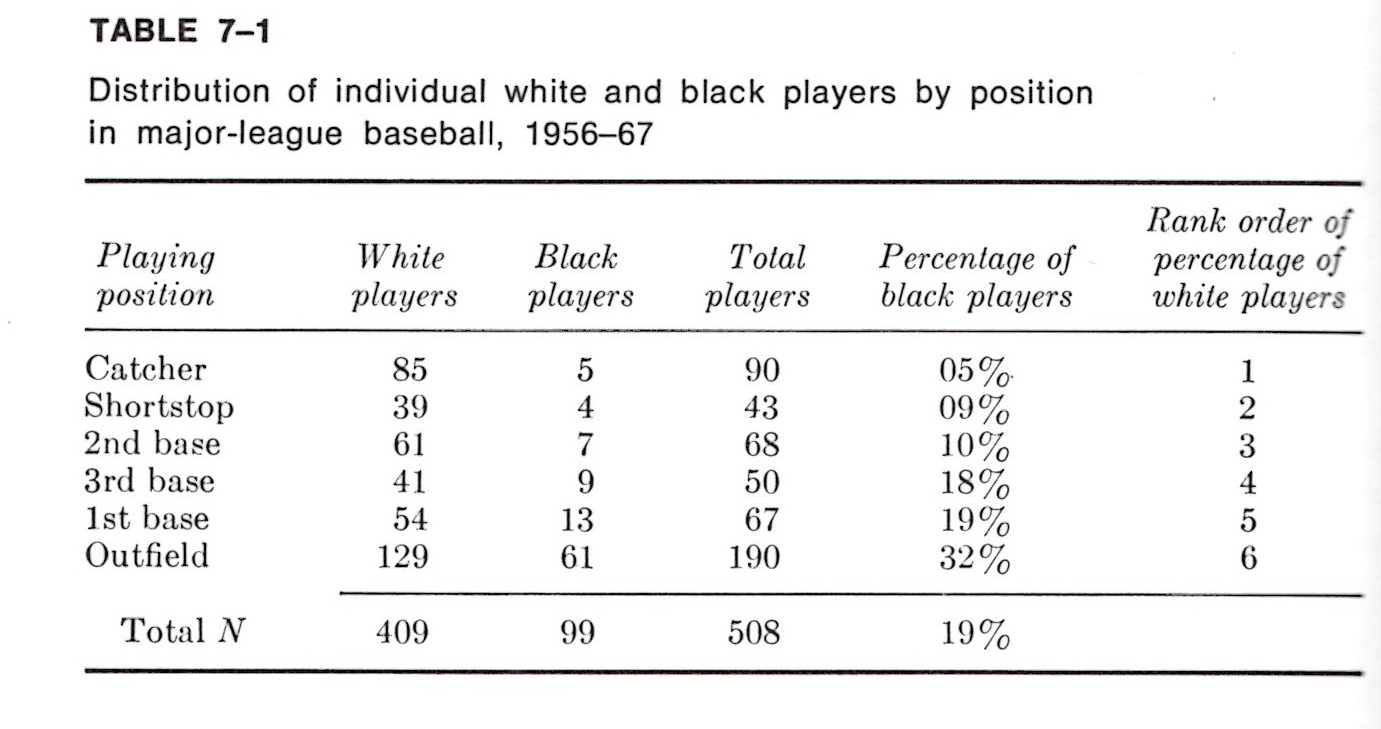 And if you doubt my explanation of centrality as set out above, consider this rather literal definition using the number of assists each position records: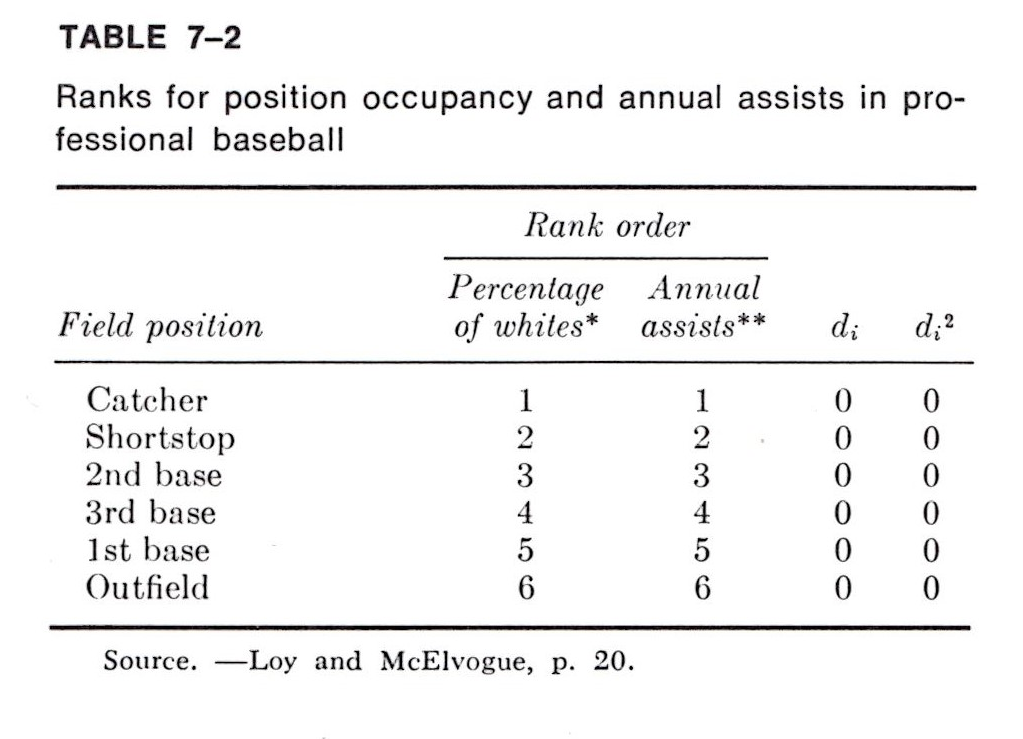 Edwards offers an explanation of why we see this correlation:
In order to completely understand this apparent positional segregation we must once more recall sports are believed to be the laboratory in which those characteristics necessary to the "perpetuation of the American way of life" are developed. One of the specific beliefs about sports is that it develops leadership ability which could prove vital to America. Remember also the fact that American society manifests a strong tendency to "ascribe... value and privilege to individuals based upon racial heritage." Taking all this into consideration, one should expect to find whites predominating in those positions involving leadership and control in sports having fixed zones of role responsibility.
At catcher, the position most commonly associated with leadership -- the catcher is the "field general" of baseball -- there is not a single black player in 2014's major leagues. Edwards, looking at data from the 1950s and 1960s, was confused to see that blacks were actually overrepresented at pitcher. But that relationship has not held, as just 12 of 150 starting pitchers were black as of April 15th. I suspect this is due to an influx of black pitchers as Major League Baseball raided the Negro Leagues, and that once major league scouts and coaches got their hands on black players from the start of their professional careers, they started to push them more and more towards the outfield and corner infield and away from pitching.
Either way, by 1981, the bias against black pitchers had made itself clear. Jim McLaughlin, a former scouting director for the Reds and Orioles, said in Dollar Sign on the Muscle, "At one time it was the conventional wisdom that a black kid couldn't become a successful big-league pitcher, because he wouldn't have any guts when he walked out to the mound, because he'd be only sixty feet, six inches from home plate." Whether or not that conventional wisdom is still explicit or merely baked into the culture of scouting and coaching, the bias against black starting pitchers Edwards expected now exists.
Black players are still most represented in the outfield, at 21 percent. And Sheffield's issue, that black players generally do not make the team without star talent, still shows up here. Blacks make up 21 of the 64 qualified outfielders (33 percent) but just 20 of the 123 outfielders to take fewer than 3.1 plate appearances per game (16 percent). There are 22 qualified white outfielders (34 percent) but 76 white outfielders who haven't qualified for the batting title (62 percent).
It's unclear if Selig has received any help from his committee. It's unclear if he has even found the source of the problem. If he is still looking, however, Selig should consider Sheffield's words. Dating back to Jackie Robinson, black players have had to not just measure up to but fully outplay their white counterparts. And when black players do get chances, they get funnelled away from central positions and into peripheral roles like those in the outfield.
If Major League Baseball wants more black players, it must work hard to enable black athletes have chances to succeed in all positions and roles. As is, when he looks at baseball, it is unlikely the black athlete can see anything but barriers and limited opportunities.
Comments
✕
Gary Sheffield is right about race in baseball
  Got something to say? Leave a comment below!