How Prince became a pauper
Kim Klement-USA TODAY Sports / Reuters
Prince Fielder's final game for the Brewers, an 0-for-4 performance in Game 6 of the 2011 National League Championship Series, both belied his superb tenure in Milwaukee and seemed a decidedly fitting way for his time there to end.
Just as there was no pretense of Fielder spurning free agency to remain in Milwaukee, there was no hope in his final game wearing a Brewers uniform, a 12-6 loss to the Cardinals that ousted them from the playoffs.
A rare commodity on the open market — just 27 years of age and, ostensibly, improving — Fielder was seen by many a safer investment than Albert Pujols, whose skills had already started to erode. So when Fielder unexpectedly signed a nine-year, $214-million deal with the Detroit Tigers three winters ago, many presumed the burly first baseman was destined for a fruitful stint as the danger lurking behind Miguel Cabrera, his power a perfect complement to his teammate's all-around awesomeness.
Things were idyllic for a while. Fielder shined in the first year of his mammoth contract, managing a career-best .313 batting average with an equally impressive 151 OPS+ that effectively mitigated any whispers of dwindling power. He blasted 30 home runs, got on-base all the time, made it to his fourth All-Star game, and helped his team to the World Series.
Then 2013 happened.
Amid rumors of discord in his personal life, Fielder's performance on the field dwindled. The $214-million slugger didn't really slug, eking out career-lows in both home runs (25) and isolated power (.178), while producing his lowest on-base percentage (.362) since his rookie season.
As disappointing as he was during the regular season, Fielder was even worse during the postseason, stumbling to a .225/.311/.250 line with just one double in 11 games. His struggles amplified as Detroit fell in six games to the Boston Red Sox in the American League Championship Series.
Tigers fans were not pleased, and their ire only intensified after the taciturn first baseman suggested moments after his club's defeat in the ALCS that the loss wasn't overly bothersome.
"It's not really tough, man. It's over," Fielder said in the clubhouse after a 5-2 loss in Game 6 of the ALCS. "I got kids I got to take care of, I got things I got to take care of. It's over."
That was it. Fielder was shipped to Texas several weeks later despite an increasingly cumbersome contract set to pay him $168 over the next seven years. The nascent stages of his tenure down south have done little to inspire much faith, as Fielder is only hitting .233/.357/.342 with two home runs through his first 33 games in a Rangers uniform.
He has yet to celebrate his 30th birthday, and just 12 months ago was still considered one of baseball's greatest hitters. Fielder's accomplishments through his age 29-season stand alongside some of history's most celebrated batsmen.
His combination of production and durability remain truly astounding, as only 20 other men in the history of the game have played at least 1,300 games with an OPS+ greater than 139 before turning 30 years old.
If the appreciable decline Fielder foreshadowed last season persists, it will be unprecedented. Each of the 20 other players remained at least above-average hitters through their age-30 season, with the vast majority of them performing at elite levels.
And then there's Prince, on the verge of his 30th birthday, languishing under the hot Texas sun.
| Name | G | wRC+ | ISO | AVG | OBP | SLG |
| --- | --- | --- | --- | --- | --- | --- |
| Prince Fielder | 33 | 80 | 0.108 | 0.233 | 0.357 | 0.342 |
A cursory glance at Fielder's swing metrics only complicates matters. The former first-round pick is making more contact than he did last season, and he's hitting balls inside the strike zone with his greatest frequency since 2011, his final season with the Brewers.
The power nonetheless remains absent. Fielder is chasing a little bit more, but his 12.6 percent strikeout rate represents, curiously, the second-lowest mark of his career.
| - | Contact% | SwStr% | Z-Contact% | O-Swing% | F-Strike% |
| --- | --- | --- | --- | --- | --- |
| CAREER | 77.6 % | 9.8 % | 87.2 % | 28.7 % | 53.8 % |
| 2014 | 80.5% | 8.1% | 91% | 30% | 49% |
It's tempting to dismiss Fielder's early-season struggles as small-sample randomness, but when viewed in the context of his career trajectory, it becomes increasingly difficult to ignore the signs of decline.
Fielder's isolated power has decreased each season since 2011, a development consistent with the aging trend identified by Fangraphs' Eno Sarris.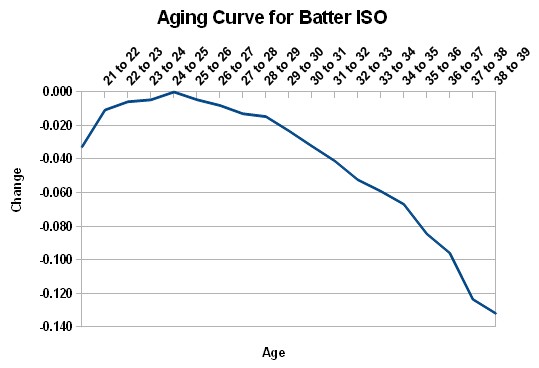 Not surprisingly, Fielder's mighty bat was most powerful from ages 23 to 25, during which he earned two All-Star appearances and averaged 43 homers per season. However, the effects of age have already curbed Fielder's productivity, and pitchers around the league seem to be cognizant of that. Fastballs comprise 57.7 percent of the pitches Fielder has seen this season, his highest rate since his rookie campaign.
Fielder's round body has always informed people's opinions of him, and though it wasn't a liability at the beginning of his career, Baseball Prospectus' Mark Anderson suggested in October that Fielder "looks worn down," adding that his hefty workload — he's played at least 157 games every year since 2006 — "may be taking a toll."
No human being has appeared in more Major League Baseball games over the last nine seasons than Prince Fielder, a man who consistently defied those critical of his bulky physique by showing up to work every single day, blasting towering home runs with aplomb.
Under the accommodating auspices of the American League, Fielder will likely remain durable, receiving the occasional -- or, eventually, not-so-occasional -- start in the DH spot to remain fresh. But don't consider his presence in the lineup, even in the vaunted No. 4 spot, as an endorsement of his current abilities.
The royal first baseman is no longer the same player whose regal swing was the pride of Wisconsin; it's a humbler, less powerful Prince that now calls Texas home. From prince to pauper, Fielder reminds us that every reign comes to an end eventually.
Comments
✕
How Prince became a pauper
  Got something to say? Leave a comment below!