Which team could be this year's Phillies?
Michael Reaves / Getty Images Sport / Getty
Major League Baseball's postseason is different from its regular season.
Very different.
The nature of the game changes dramatically, more so than in other sports. The best starting pitchers throw a greater percentage of innings in the playoffs due to extra rest via travel days and the greater sense of urgency. Teams shelve fifth and sometimes fourth starters in their rotations.
Moreover, average fastball velocity increases in the postseason, which is partly why there are more strikeouts in October. The home run becomes more important because it's more difficult to string hits together. (This bodes well for the Braves, who tied the MLB record with 307 home runs this season.) The increase in velocity is also in part because the best relievers throw additional relative innings, taking more work from all but the best starting pitchers.
Player rotations also narrow in other sports' playoffs, but quarterbacks still dominate as they do in the regular season, taking the same percentage of snaps. NHL starting goaltenders generally take the crease every playoff game, and NBA stars get the most run on the court.
Whether MLB's playoffs are too different in nature from the regular season is a question for another day, another piece. But what we do know is that some teams are better equipped for playoff baseball than the 162-game marathon. The playoffs are a true sprint, and with a recently expanded field, it's even more of a parity-driving machine. See: last year's Phillies.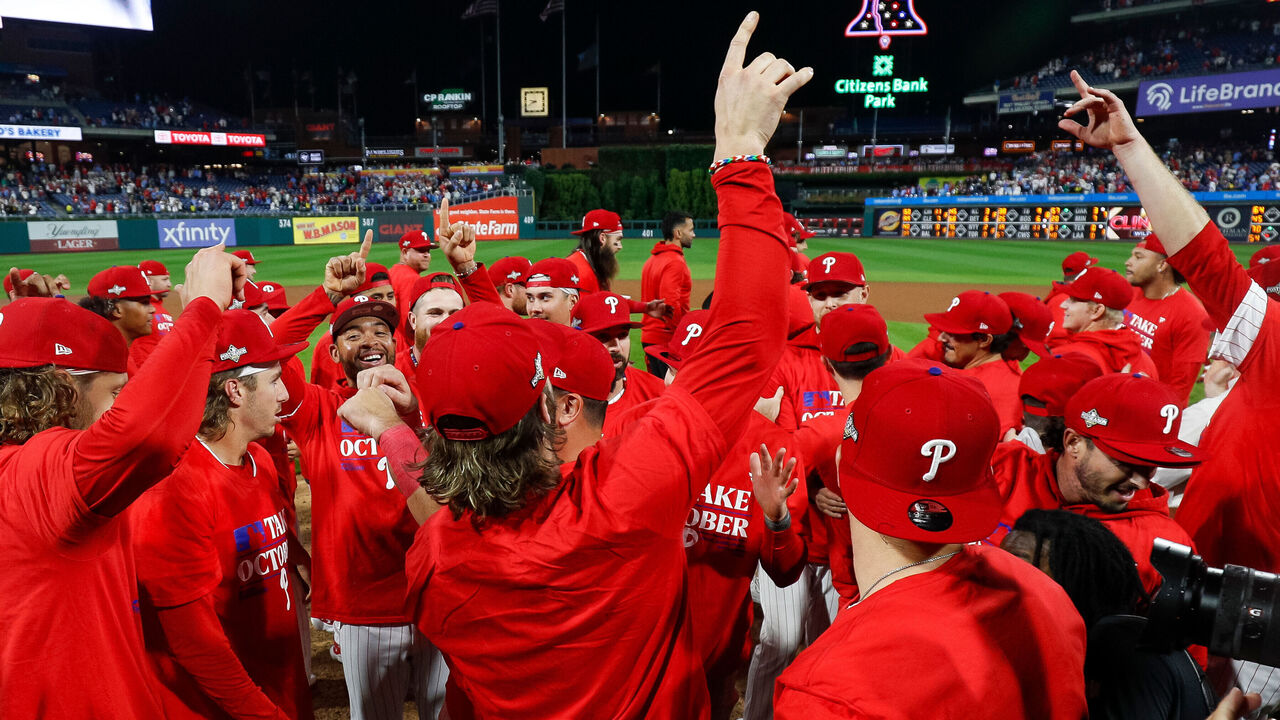 So, the question as the play-in wild-card round begins Tuesday is: Which club has Phillies-like Cinderella potential? Which team might surprise us? Let's investigate.
First, though, we must consider how the 2022 Phillies were constructed and what enabled them to tear through the field and capture the NL pennant (while the 111-win Dodgers went home early). Though much of last year's run could be down to the randomness of short playoff baseball series, the 2022 Phillies possessed some traits that may offer something of a road map for navigating October.
Trait No. 1: Good but concentrated pitching
The Phillies had the third-ranked pitching staff by fWAR last season, but Aaron Nola and Zack Wheeler, two top-of-the-rotation arms, produced nearly half of that value - 45.9%.
It was the second-highest WAR share from two pitchers on a quality, well-above-average pitching staff, which we defined as 18-plus WAR in the regular season. Their share trailed only the Yankees - Gerrit Cole and Nestor Cortes accounted for 50.5%. Teams can rely on such duos even more in the playoffs.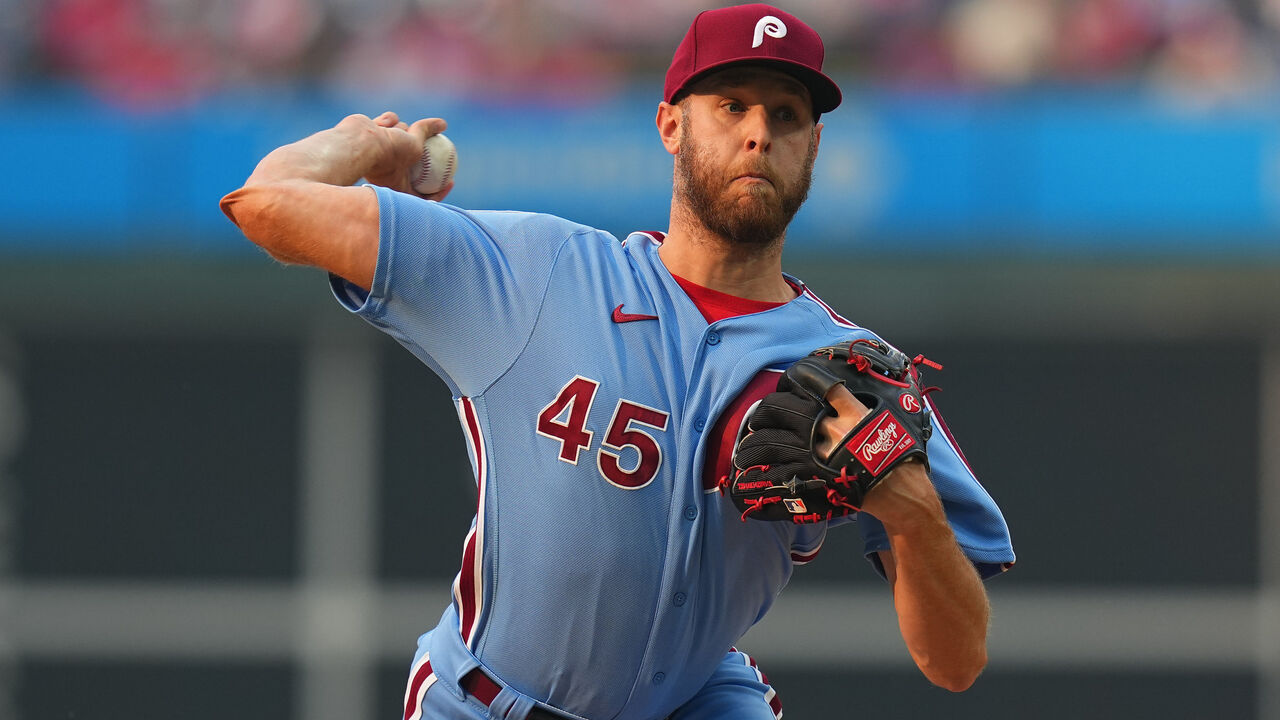 Nola and Wheeler combined to throw 25.1% of the Phillies' regular-season innings last year, but 40.9% of postseason innings. Top-level arms become even more valuable as they soak up more work.
The Phillies also concentrated their bullpen work as some of their strongest relief options - Ranger Suárez, José Alvarado, Seranthony Domínguez, Zach Eflin, and Connor Brogdon - combined for another 37.3% of playoff innings and a 2.73 ERA. All in all, seven Phillies combined for nearly 80% of the team's postseason innings.
Trait No 2: Power plays
The Phillies ranked 12th in WAR among position players last season, slightly above average. They were also slightly above average in offensive efficiency (106 wRC+, 10th) and on-base percentage (.315, 11th).
Philadelphia was at its best when hitting for power, ranking sixth in home runs (205) and slugging percentage (.422).
In 17 playoff games, Bryce Harper, Rhys Hoskins, and Kyle Schwarber each hit six home runs; Harper slugged .776, Schwarber .554. It helps to have hitters who can change a game with one swing.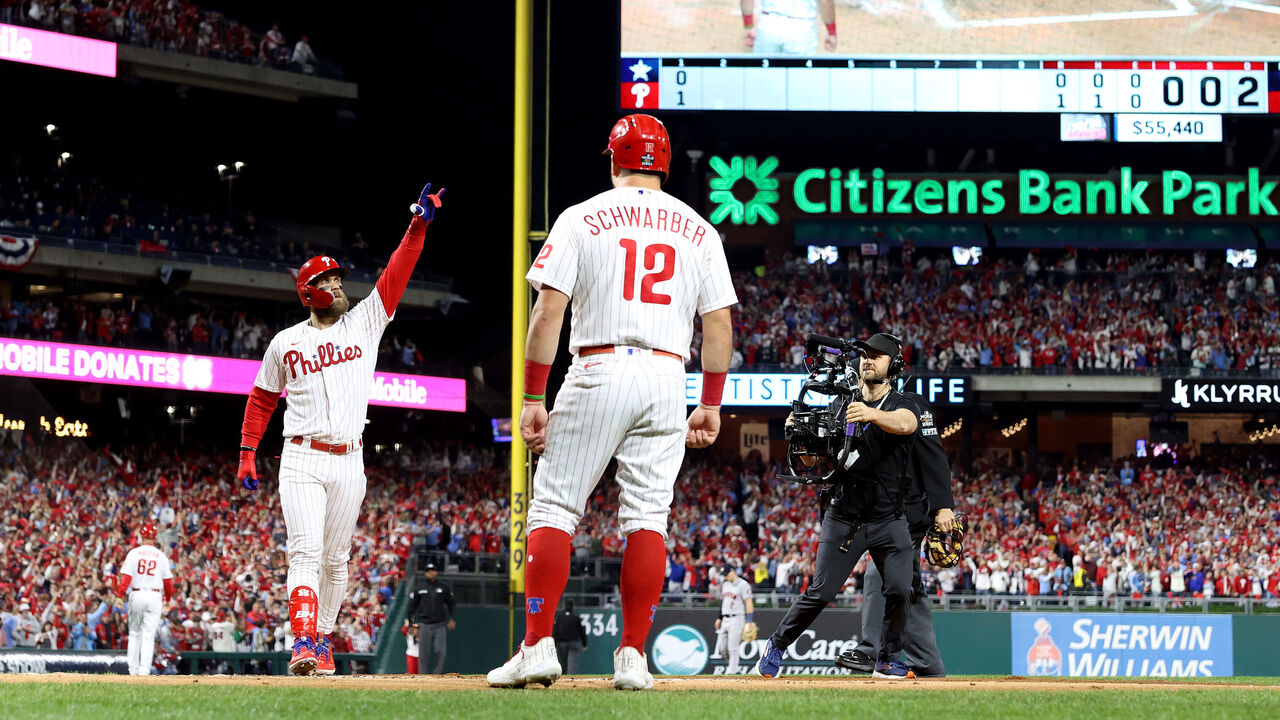 Trait No. 3: No glove? No worries
The Phillies rostered the only below-average defense in the 2022 playoff field, according to defensive runs saved. (They again field a below-average defense this October.) Last year, the Phillies often played two should-be DHs - Schwarber and Nick Castellanos - in corner outfield positions (though to Castellanos' credit, he was at his defensive best last postseason).
So, who could this year's Phillies be? Remember: We're not looking at obvious contenders with first-round byes, but lesser seeds that may be built to navigate October better than the previous six months.
One common thread about postseason teams: they generally have above-average power. This is particularly true this year, as seven of the top eight homer-hitting clubs are in the field, including the historic Braves lineup.
Two play-in-round teams fit the 2022 Phillies' mold of an above-average offensive club that ranks even better in power categories.
One is the Twins, who rank third in MLB in homers (233) but sixth in wRC+ (109). The other team? The Phillies. They rank eighth in home runs (220) and 10th in wRC+ (105).
An issue for the Twins, though, is that Carlos Correa and Royce Lewis are banged up, and Byron Buxton may also not factor in their postseason plans.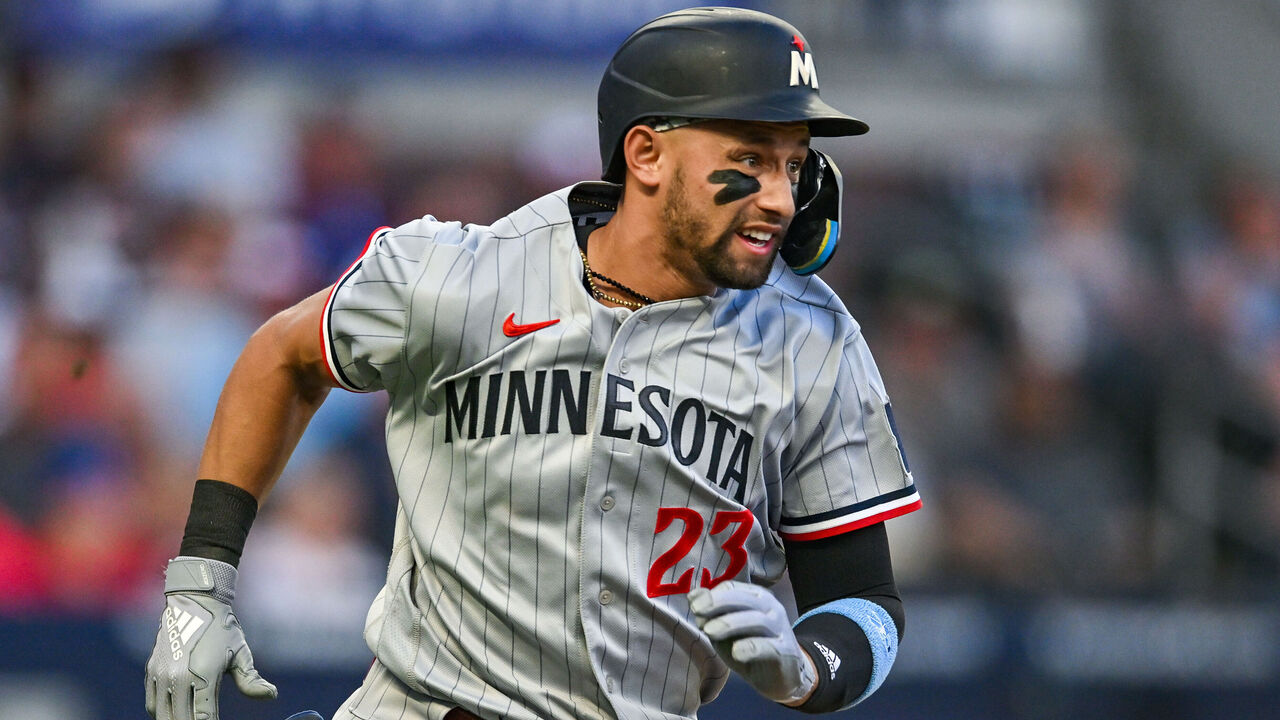 On the pitching side, the Twins again look quite a bit like the 2022 Phillies. They rank fourth in fWAR (19.4), but pitchers Sonny Gray and Pablo López account for 50.5% of that production (9.8 WAR). The Phillies led the majors in pitcher WAR (24.4), and Nola and Wheeler are again their top two arms, though they account for a lesser percentage of this year's total (40.2%).
On the Blue Jays' staff, Kevin Gausman and José Berríos account for 44.4% of Toronto's pitching WAR - the next best top concentration among non-bye clubs with quality pitching production. Chris Bassitt gives the club a third strong option.
That brings us to defense - which clubs could get away with being poor in this area?
Most playoff teams are above average to excellent defensively. Turning more balls in play into outs than other teams is a positive trait, after all.
But in the higher-strikeout, more homer-dependent postseason environment, it becomes a little less important to have a great glove. While a team should ideally have no weaknesses, the Phillies squeezed as much offense as they could into their lineup last fall and it worked.
There are two teams that rank below average according to DRS: the Phillies (again) and the Marlins.
The problem for the Marlins is they're both a below-average power and overall offensive team, so any Phillies comp falls short.
It should also be noted: This year's Phillies are attempting to play better defense. Schwarber's played less outfield lately. He DH'd almost exclusively in September. Brandon Marsh recently shifted to playing more left field with prospect Johan Rojas manning center.
So, who are this year's Phillies?
The Blue Jays have some premium starting pitching to lean into, and their bats could get hot at the right moment, though they lacked the Phillies' regular-season power production.
It's perhaps, well, the Phillies. Their roster and key contributors are very much the same as a year ago.
The closest comp is the Twins.
And like the Phillies a year ago, the Twins played their best baseball in the second half after a slow start. The caveat is that a number of injuries dampen their outlook.
Still, perhaps Minnesota can still follow the road map, end a dubious postseason streak, and surprise the baseball world. It can happen - the Phillies proved it a year ago. The postseason is a much different beast.
Travis Sawchik is theScore's senior baseball writer.